Recipes
Thai Red Curry by Chelsea Goodwin
Calculated automatically based on ingredients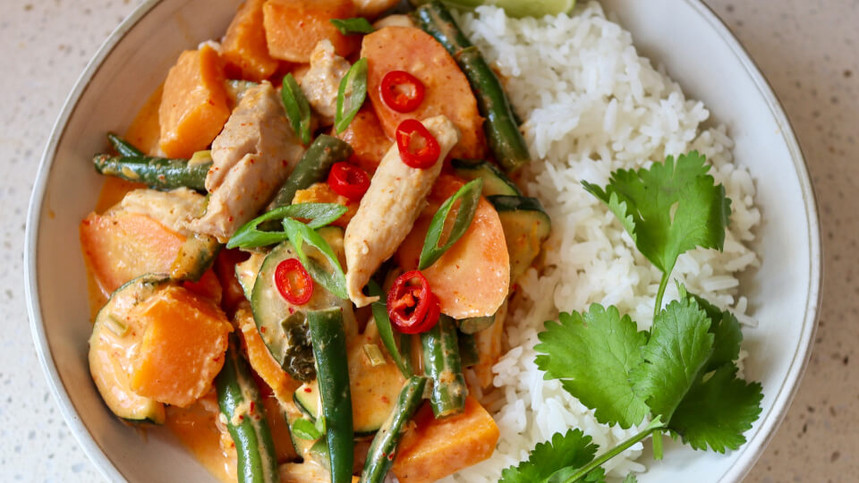 Ingredients
2 Tbs Vegetable Oil
1 Can Maesri Red curry paste (or other brand paste)
4 Cloves garlic, crushed
1 Tbs ginger, grated
2 and a 1/2 x 400ml cans coconut cream
1 Tbs fish sauce
1 Tbs brown sugar (can use white)
1 Tbs fresh lime juice
1/3 Bunch coriander- stems finely chopped, leaves for garnish
500g Chicken breast or thigh, thinly sliced
300g Pumpkin, chopped into small cubes
2 Large carrots, sliced
200g Green beans chopped into 3 cm pieces
1 Zucchini halved lengthways then sliced
Lime
Chilli and coriander for garnish
Directions
Heat oil over medium high heat in large wok or frypan then add in paste, garlic and ginger. Stir for 2 minutes.
Add 1/2 can of coconut cream to paste mixture and cook, stirring for about 2-3 minutes until the liquid has visibly reduced.
Pour in 1 and a half cans of coconut cream (you should still have at least 1/2 can remaining), then add fish sauce, lime juice sugar and chopped coriander stems (if using) and bring to a gentle boil.
Add pumpkin, carrot and chicken, reduce heat to medium low and simmer for about 10-15 minutes or until pumpkin is tender.
Add zucchini and beans and cook for another few minutes or until vegetables are cooked to your liking. Taste to check spice level and add more coconut cream for a milder curry.
Garnish with coriander leaves, chilli or lime wedges- serve with rice.