Recipes
Thai Chicken Fried Rice by Chelsea Goodwin
Calculated automatically based on ingredients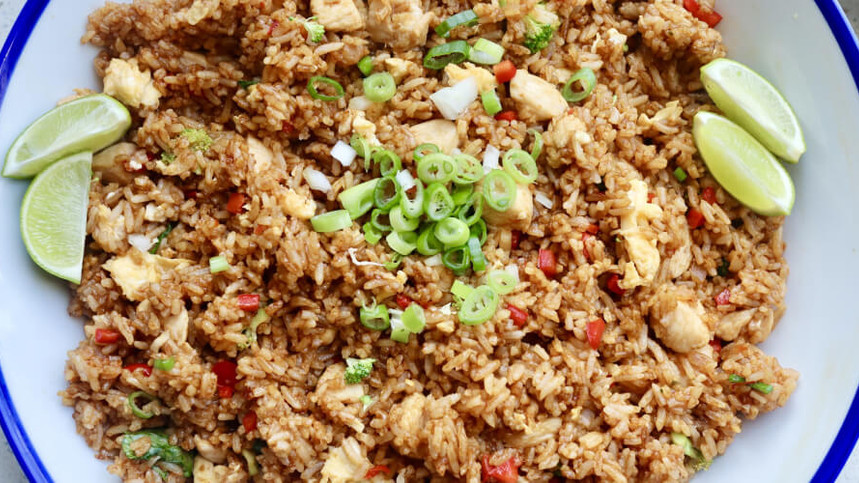 Ingredients
2 Tbs oil (I use peanut)
200-300g chicken breast, diced and velveted (optional)
6-7 Cups cooked, chilled jasmine rice
3-4 Eggs, whisked
1 Small onion, finely diced
3 Garlic cloves, finely chopped or minced
1 Red capsicum, diced
1/2-1 Cup additional veggies, finely diced (optional)
1/2 Cup green onions
3-4 Tbs Fish Sauce
2 Tbs Dark soy sauce
1 Tbs chilli paste or sriracha
1 tsp brown sugar
Lime wedges to garnish
Directions
Heat 1/2 Tbs of oil over medium heat high heat in a wok or large pan and add the eggs, cooking and stirring them until they're scrambled but soft. Remove to a plate or bowl.
Add another 1/2 Tbs of oil, then cook diced chicken until opaque then remove to a bowl.
Turn the heat up to high, add in the onion and capsicum, cook for a minute or 2 then add garlic and stirfry for another minute. Add in any additional vegetables and stirfry for 1-2 mins.
Add the rice and sauces, sugar and chilli paste and stirfry for a few minutes then add in the chicken and egg back in and stir through well.
Taste it and add in extra fish sauce, soy sauce or chilli if you want to amp up the flavour (be careful it doesn't get too salty! You can add in a bit of pepper too if you like.
Add green onions and basil, stir through then serve immediately.