Recipes
Spinach, Pumpkin & Chickpea Curry by Chelsea Goodwin
Calculated automatically based on ingredients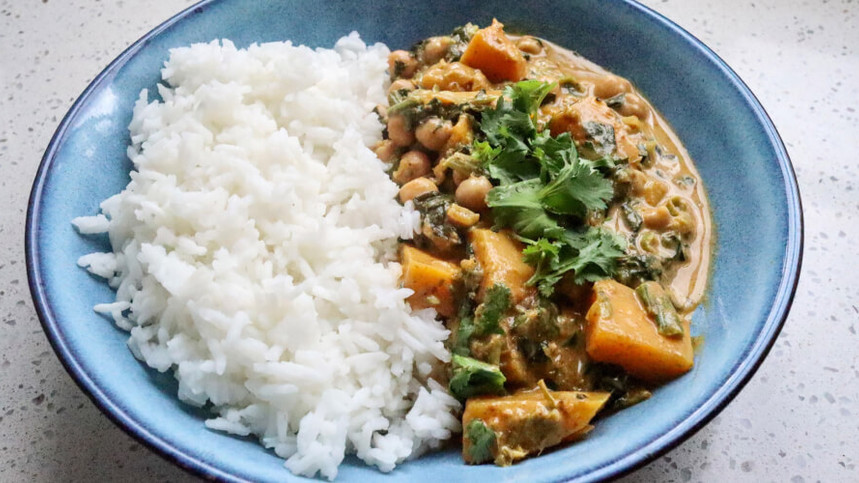 Ingredients
2 Tbs vegetable oil
1 Onion, diced
3 Cloves garlic, diced
1 Tsp ginger, grated (optional)
1/2 Jar korma curry paste
500g Butternut pumpkin, chopped into 2cm pieces pieces
400ml Can coconut cream
400g Can of chickpeas, drained
250g Frozen chopped spinach
Directions
Heat oil in large frypan or saucepan on medium high heat.
Add onions and gently fry until they start to brown and soften.
Add garlic (and ginger if using) and cook and stir for 1 minute, being careful not to burn them.
Add in curry paste and stir for 2-3 minutes.
Add butternut pumpkin, stirring to coat in paste mixture for 1 minute then turn heat down to low and add coconut cream.
Put lid on pan and simmer for 15/20 minutes or until pumpkin is almost perfectly cooked. Put your rice on now if you're planning to serve with rice.
Add in spinach and chickpeas and stir to combine. It may look really thick but the spinach will release some liquid into the curry as it defrosts. I still added about 1/4 cup of stock (you can use water) to get it to the right consistency.
Simmer for another 5 minutes add salt to your own taste then serve with rice.