Recipes
Roast Chicken with Hasselback Potatoes and Asparagus by Chelsea Goodwin
Calculated automatically based on ingredients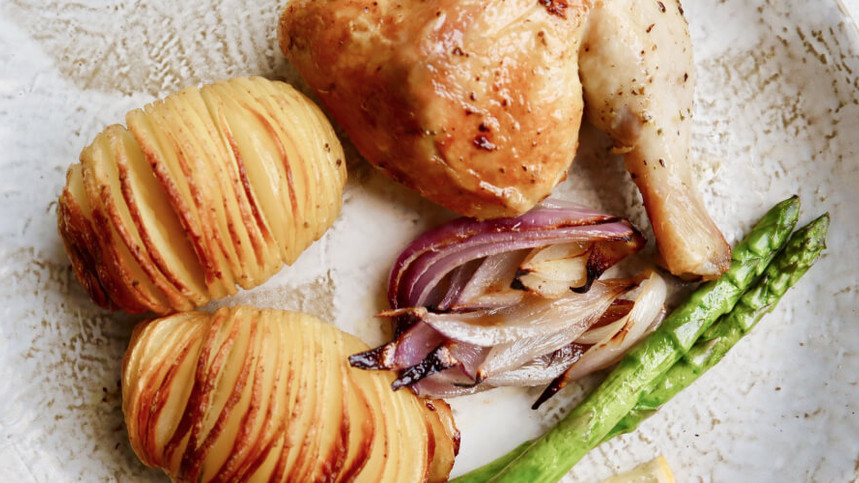 Ingredients
1 small whole chicken
2 Tbs melted butter
2 Tbs olive oil
1 Tbs lemon juice
2 tsp Italian seasoning
Salt and pepper, to taste
500g Baby potatoes (preferably red)
Olive oil or butter (or a combination of both)
Salt and any other seasoning or herbs, to taste
Asparagus, trimmed
Directions
Preheat the oven to 200 degrees Celsius.
Prepare the potatoes by slicing them thinly but not all the way through, leaving about 3/4 of the potato intact.
Arrange the potatoes in a baking tray, cut side up, and drizzle with a few tablespoons of olive oil or butter, making sure to coat the potatoes evenly. Sprinkle with salt and any other desired seasoning or herbs.
Bake the potatoes in the preheated oven for approximately 1 hour, basting with additional oil or butter halfway through.
While the potatoes are baking, prepare the chicken by mixing together the melted butter, olive oil, and lemon juice in a small bowl.
Rub the mixture all over the chicken, making sure to coat it well. Season the chicken with salt, pepper, and Italian seasoning.
Place the chicken in a baking tray and roast in the preheated oven for 40 minutes or until cooked through.
While the chicken is cooking, prepare the asparagus by trimming the ends and washing them.
When the chicken is done, remove it from the oven and let it rest for a few minutes.
While the chicken is resting, place the asparagus in a baking dish and drizzle with a little bit of olive oil. Season with salt and pepper to taste.
Roast the asparagus in the oven for approximately 10-15 minutes, or until tender.
Serve the roasted chicken with the Hasselback potatoes and roasted asparagus on the side.