Recipes
Pan Fried Barramundi by Chelsea Goodwin
Calculated automatically based on ingredients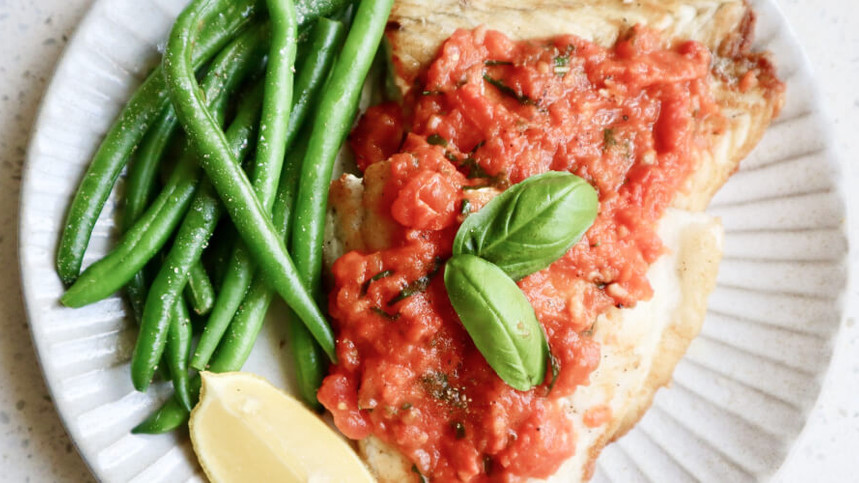 Ingredients
800g Barramundi fillets (or similar white fish)
1 Cup finely diced tomatoes
2 Tbs fresh basil leaves, torn
Salt & pepper
1 Tbs Olive oil (for tomato sauce)
2 Cloves garlic, crushed
2 Tbs butter
Juice of half a lemon + other in wedges for serving
Oil for cooking (I used olive oil spray)
Fresh parsley and/or basil for garnish (optional)
Directions
Mix tomato, basil, garlic, olive oil and a generous amount of salt and pepper in a small bowl and put to the side until later.
Heat a frypan (I used non-stick) over medium high heat.
Dry fish fillets with a paper towel and season on both sides with salt and pepper.
Spray or lightly coat the fish with oil then place the fillets in the pan.
Cook for about 4 mins on each side until lightly browned and cooked through. Turn heat down to low and move fish to a plate while you make the sauce.
Add tomato mixture to the pan with the butter and stir it until it starts simmering. Cook for 1-2 minutes, if it thickens up too much just add a tsp of water or veggie stock at a time to thin it out. Taste it and add additional salt and pepper if you wish, then spoon the sauce over the fish and serve with sides.