Recipes
Pad Thai by Chelsea Goodwin
Calculated automatically based on ingredients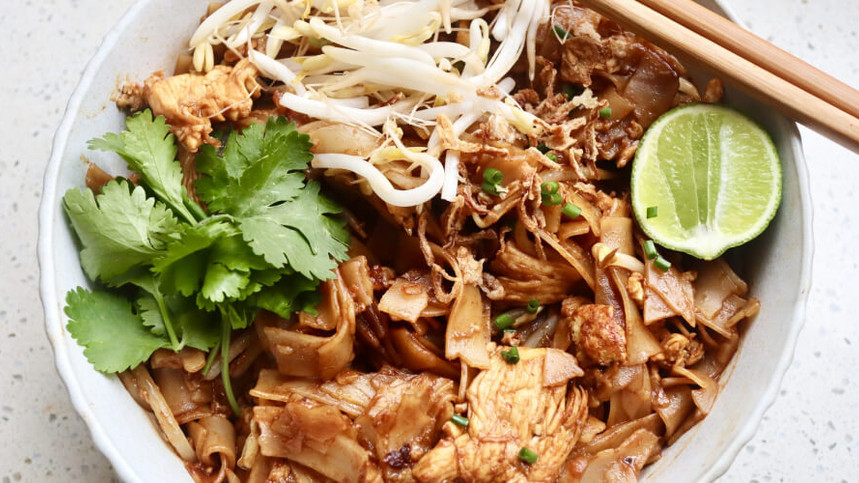 Ingredients
1/4 Cup brown sugar
1/4 Cup fish sauce
1 1/2- 2 Tbs tamarind puree
1 1/2 Tbs dark soy sauce
300-400g Pad thai noodles
Peanut oil or vegetable oil for cooking
250-300g Chicken breast, thinly sliced
3-4 Eggs, beaten
1/2 Brown onion
3 Cloves garlic, thinly sliced or minced
250g Bean sprouts
Fresh coriander, lime, crushed peanuts and/or green onions for garnish
Directions
Soak noodles in a large, covered bowl or pot of boiling water for 15-20 minutes. Do this about 5-10 minutes prior starting the stirfry so the noodles are ready at the right time.
Mix sauce ingredients and set aside.
Heat 1-2 Tbs of oil in a large pan or wok over medium-high heat and stirfry chicken until cooked through, then remove and set aside.
Add a small amount of oil to the wok and scramble the eggs until they're cooked but still very soft and remove to a bowl with the chicken.
Wipe the wok out with a paper towel, drain the noodles then add 2 Tbs of oil and stir fry the onion and garlic for about a minute.
Crank up the heat to high and add the noodles in with the sauce and stir fry for a few minutes. Add in the bean sprouts, chicken and egg and stirfry for another minute or so until everything is well combined.
Serve into bowls and top with your garnishes of choice.