Recipes
Mexican-Style Chicken Tray Bake by Chelsea Goodwin
Calculated automatically based on ingredients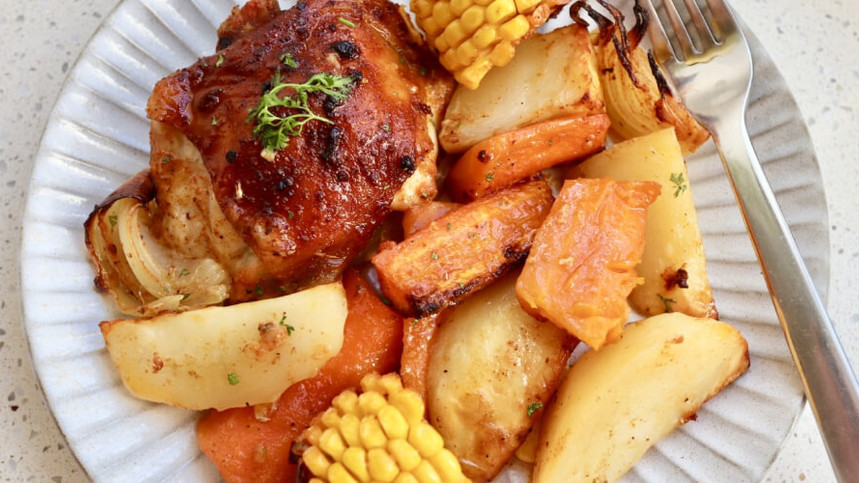 Ingredients
4 x Skin on, bone in chicken thighs
800g Potatoes, cut into wedges
4 Carrots, peeled and cut into quarters
1-2 Cobs of corn, sliced into 4
1 Brown or red onion, cut into wedges
10g (1/2 pack) Masterfoods mexican spice blend
3 Garlic cloves, crushed
Juice of 1/2 a lemon
1/4 Cup Olive Oil
Salt & pepper
Directions
Mix olive oil, lemon juice, garlic, seasoning mix, 1 tsp salt and 1/4 tsp pepper in a large bowl then add chicken pieces, turning to coat well in the marinade. You can marinate in the fridge for 1 hour- overnight or bake immediately.
Preheat the oven to 200 degrees celsius and prep the veggies. Arrange the chicken in 1 or 2 large shallow baking trays, reserving the marinade in the bowl then put the veggies into the bowl and toss to coat well.
Arrange the veggies around the chicken pieces, add additional salt, pepper and drizzle with a little more oil if necessary. Pour 1/4 cup of water or chicken stock into the corners of the tray.
Cook for 40-45 minutes or until chicken & veggies are cooked through then serve.