Recipes
Lamb Massaman Curry by Chelsea Goodwin
Calculated automatically based on ingredients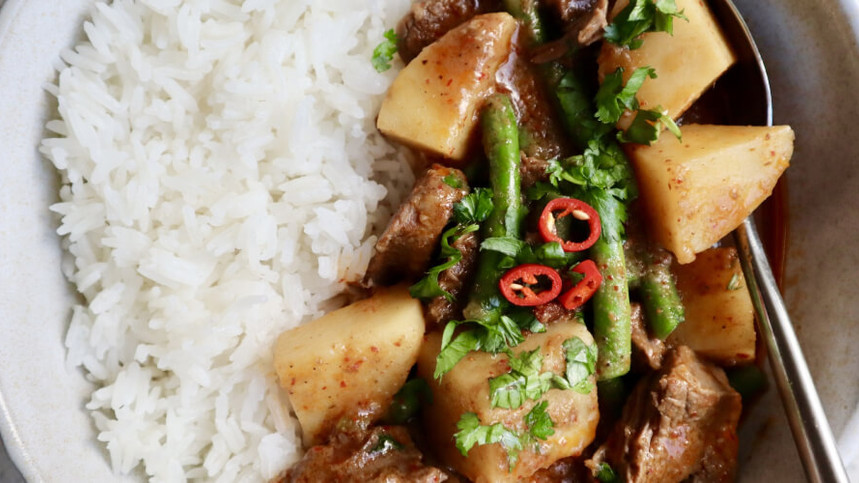 Ingredients
1kg Lamb offcuts
1 Tbs oil for cooking
1 Large brown onion, diced
1 Can Maesri massaman curry paste
400g Can of coconut milk or cream
1 Cup beef stock
3 Large potatoes, peeled and cut into medium pieces
300g Green beans
Cinnamon stick (optional)
Brown sugar (optional)
Coriander chilli and lime wedges for garnish
Directions
Heat oil over medium high heat in a large pan. Trim any large pieces of fat off the lamb offcuts and season lightly with salt. Sear lamb pieces on both sides, being careful not to fully cook any smaller pieces then remove to a plate. Do this in batches if necessary.
Turn down heat to medium and add a little more oil to the pan if needed. Add onions and cook for 2-3 minutes, stirring then add curry paste and stir for a minute.
Put lamb back into the pan, cover well with paste and cook for another minute then add in coconut cream and stock. Add cinnamon stick if using and stir through well.
Bring to a simmer, reduce heat to low then cover and cook for 1 hour.
Add in potatoes and cook for another 30 minutes, covered. Remove lid and check whether meat is close to being ready. Remove the pieces from pan using tongs and seperate the meat from the bones then return the meat to the pan and cook for another 30 minutes. (I would put the rice when potatoes have been in 20 mins)
After 30 mins, remove lid and add green beans- cook for 15-20 minutes uncovered or until beans are perfectly cooked and sauce is reduced. While it's cooking you can skim off some of the oil/fat that's risen to the top if you wish. Taste and add brown sugar 1 tsp at a time if you prefer a sweeter sauce.
Serve over rice and garnish with coriander, fresh chilli and a lime wedge.