Recipes
Jerk Chicken Tray Bake by Chelsea Goodwin
Calculated automatically based on ingredients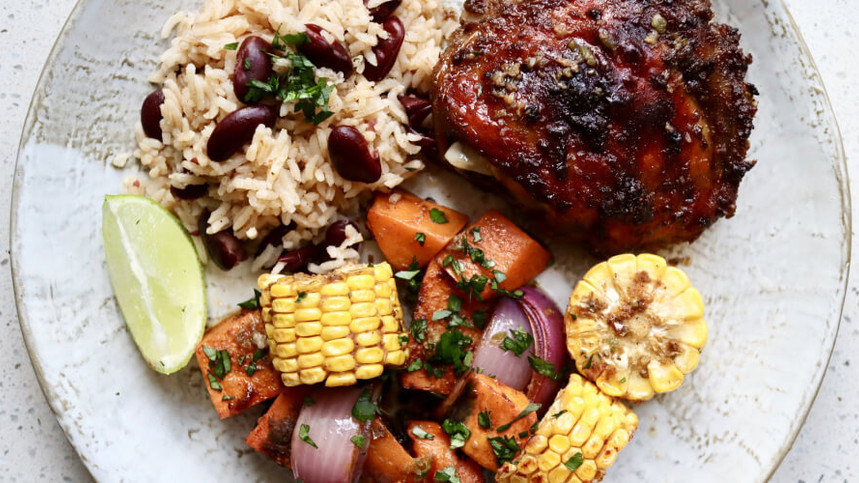 Ingredients
4 x Skin on, bone-in chicken thighs
Vegetables of choice (I used sweet potato, corn & red onion)
3 Tbs Olive Oil
2 Tbs Soy sauce
5 Garlic cloves
1 Small brown onion quartered
1 Green onion, roughly chopped
3 Jalapenos (or 1 scotch bonnet chilli)
4 Sprigs of thyme
1 Tsp salt
1 Tsp pepper
2 Tsp allspice
2 Tsp smoked paprika
1 Tsp ground ginger
1 Tsp cinnamon
Directions
At least 3 hours prior to baking, prepare marinade ingredients by combining everything from the oil down to the cinnamon in a food processor or blender and blitzing it until it's smooth.
Put half of the marinade in a bowl or containeer in the fridge and coat the chicken with the other half. Let the chicken marinate for 3+ hours in the fridge until you're ready to start cooking.
After the chicken has marinated for at least 3 hours, preheat the oven to 200 degrees celsius.
Prep the vegetables and put them into a large bowl. Pour the reserved marinade over them and mix well to coat the vegetables.
Arrange the chicken and veggies in 1 or 2 large shallow baking trays and place in the oven.
Cook for 40-45 minutes or until chicken is cooked through then serve with a wedge of lime.