Recipes
Greek Style Whole Roasted Chicken by Chelsea Goodwin
Calculated automatically based on ingredients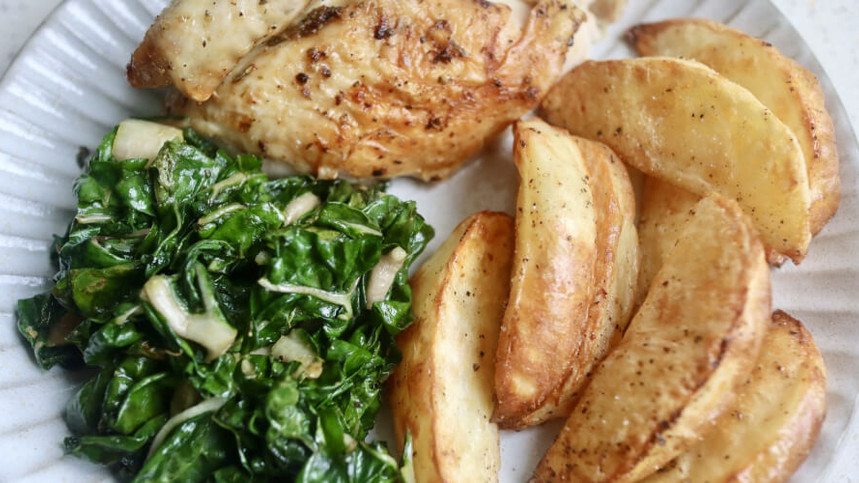 Ingredients
1 large or 2 small whole chickens
Salt & pepper
Juice of 1 large lemon
1/3 Cup olive oil
1 Tbs dried oregano
1/4 Tsp cayenne pepper and/or 1 tsp paprika
4 Large cloves garlic, crushed
1/2 Cup chicken stock
Kitchen string to truss up your chook!
Directions
Preheat oven to 200 degrees. Put your chicken on a tray or in a baking dish. Season it inside and outside all over with salt and pepper (I used about 2 -3 tsp of salt and 1/2-1 tsp of pepper)
Mix the rest of the marinade ingredients together and coat the outside of the chicken- If you can, lift up the skin covering the breast and tip some marinade under there too.
Pop the rest of the lemon that you squeezed into the cavity with any fresh herbs (optional- rosemary, oregano, thyme) then tie up the ends of the legs and tuck the tips of the wings underneath. Make sure your chicken is the right way up (see pics)
Add 1/4 cup chicken stock to the bottom of the dish/tray.
Pop it in the oven for 50-75 mins or until the internal temp reaches 75 degrees celsius. Check half way, rotate the dish and top up the chicken stock if it has evaporated.
Serve with the sides of your choice and reserve the pan juices to pour over the chicken and the sides if you wish.