Recipes
Greek Meatballs With Lemon Potatoes by Chelsea Goodwin
Calculated automatically based on ingredients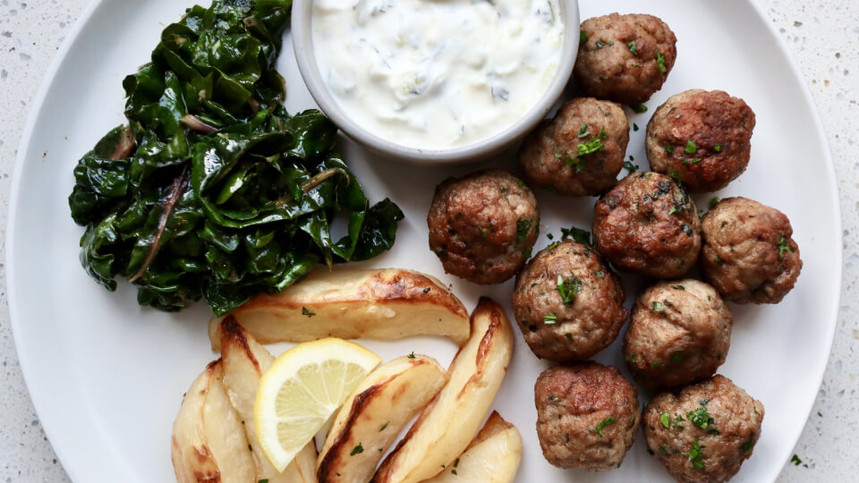 Ingredients
500g Pork mince
500g Beef mince
2 tsp Dried oregano
1 tsp Salt
1/4 Tsp black pepper
2 Eggs
1 1/2 Cups breadcrumbs (I use panko)
1 Red onion, grated or finely chopped
4 Garlic cloves, crushed
3 Tbs fresh mint, finely chopped
3 Tbs fresh parsley, finely chopped
1/2 Cup flour for dredging meatballs
Olive oil for cooking
1 kg Potatoes, peeled and cut into thin wedges
1/4 Cup extra virgin olive oil
5 Tbs fresh lemon juice
1 Tbs dried oregano
1 tsp garlic powder
1 tsp salt
1/4 Cup chicken/vegetable stock
Directions
Combine all ingredients EXCEPT flour and oil in a large bowl and mix together well with hands for 3-5 minutes
Roll into equally sized balls (mine were about a Tbs each) and place on a large plate
If you aren't cooking immediately, cover the plate in cling wrap and put it in the fridge
When ready to cook, heat enough oil in your pan on medium high heat, to be able to shallow fry the meatballs.
Fill a medium sized bowl or shallow dish with the flour and roll each of the meatballs lightly in the flour before popping them into the oil. Be sure to tap any excess off before you put them in.
Cook in batches until they are brown all over and cooked through. If you're making larger meatballs be careful not to have the heat up too high as the outside will brown before the inside is cooked.
Remove each batch to a plate and serve when ready. These are delicious cold so don't worry if they're not piping hot when you serve them
Preheat oven to 200 degrees celsius
Place potato pieces in a single layer on a baking tray
Mix together the olive oil, lemon juice, oregano salt and garlic powder in a small bowl
Pour the mixture over the potatoes and turn them to coat evenly
Pour the stock carefully into the corners of the tray, ensuring that doesn't wash the lemon mixture off the potatoes
Place tray on a rack in the middle of the oven and bake for 35-40minutes or until potatoes are a light golden brown colour and fluffy in the middle.
Serve as is for a crispy potato or for extra flavour,pour any remaining pan juices over the potatoes. This will soften them a little. You can garnish them with freshly chopped parsley and/or crumbled feta cheese.