Recipes
Greek Lemon Chicken & Potatoes by Chelsea Goodwin
Calculated automatically based on ingredients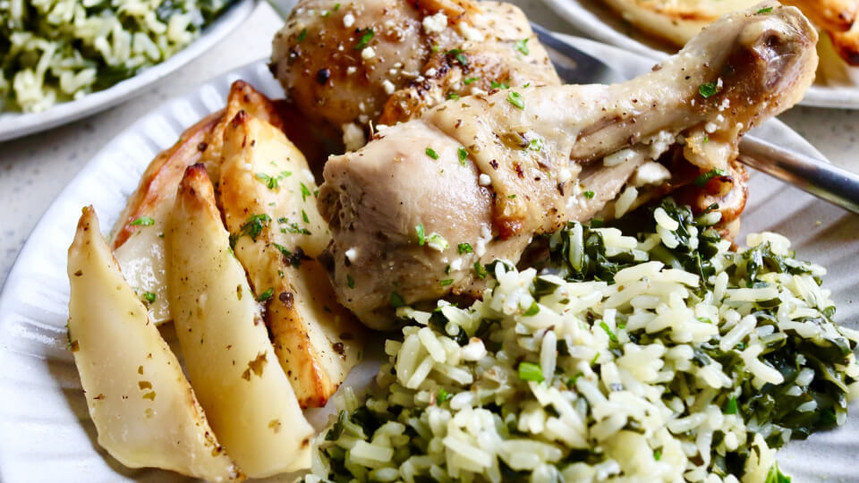 Ingredients
1/4 Cup Oil
1/4 Cup Lemon Juice (about 2 lemons, juiced)
8 Chicken drumsticks
1 kg Potatoes, peeled and cut into thin wedges (suitable for roasting)
2 Cloves garlic, crushed
1 Tbs dried oregano
2 tsp salt
1/2 tsp black pepper
1/8 tsp cayenne pepper
1/4 Cup chicken stock
Fresh flat-leaf parsley and fetta for garnish
Directions
Preheat Oven to 200 degrees celsius.
In a bowl large enough to fit all the chicken, mix the oil, lemon juice, garlic, oregano, salt, pepper and cayenne pepper together until combined.
Add the chicken to this mixture ensuring every piece is well coated then leave to marinate in the fridge overnight or on the bench while you're prepping the potatoes.
Once the potatoes are peeled and sliced into thin wedges, remove the chicken drumsticks from the bowl one by one and arrange in the baking dish, leaving the marinade in the bowl.
Tip the sliced potatoes into bowl and coat with the remaining marinade, once coated well, place the pieces in the baking dish with the chicken. Season with a bit more salt and pepper.
There should still be a little marinade in the bowl. Add the chicken stock to the remaining marinade and pour it carefully into the side of the baking dish, making sure that it goes underneath all of the chicken and potatoes and doesn't wash off the marinade.
Bake in the middle of the oven for about 40 mins but check at 35 mins to see whether potatoes and chicken are cooked. This will depend on the size of the drumsticks and how large the potato slices are. If you're making the spinach rice, start the prep about 10 mins after you put the chicken in the oven.
Once chicken and potatoes are cooked through, you can turn on the grill setting for 5 mins to brown the tops if you wish (keep a close eye on it!)
Garnish with Fresh parsley or fresh oregano and crumbled fetta. Serve with the side/s of your choice!