Recipes
Easy Chicken Pho by Chelsea Goodwin
Calculated automatically based on ingredients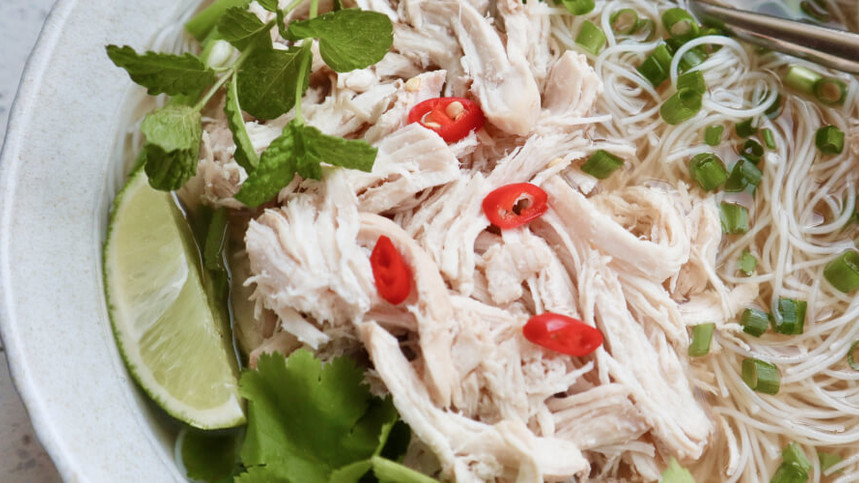 Ingredients
1 Large chicken breast (200-250g)
1 L Chicken stock
150g Rice noodles (flat is best)
2 Whole star anise pods
1 Cinnamon stick
2 Whole cloves
2 cm piece of ginger, chopped
1 Garlic clove, chopped
1 Tbs fish sauce
1 Tbs sugar (I used brown)
1/4 Cup chopped green onion, green and white parts separate
Fresh coriander, mint, lime, bean sprouts and chilli for garnish (optional)
Directions
Prepare the rice noodles according to the packet instructions.
Put the stock, spices, fish sauce, garlic, ginger and the white parts of the green onion into a medium sized saucepan and bring to a simmer on medium high heat.
Add in the whole chicken breast, turn down to medium low and poach the chicken in the broth for 10-15 minutes or until cooked through.
Remove the chicken from the pot and shred it with forks. Strain the broth into a large bowl or jug. Taste the broth and add a little bit of salt if necessary.
Drain the noodles then place them in the bowls, pour an even amount of the strained broth over the noodles in each bowl then top with chicken, green onions, herbs and chilli. Squeeze a bit of lime or lemon into each bowl and enjoy!