Recipes
Chicken Parmigiana by Chelsea Goodwin
Calculated automatically based on ingredients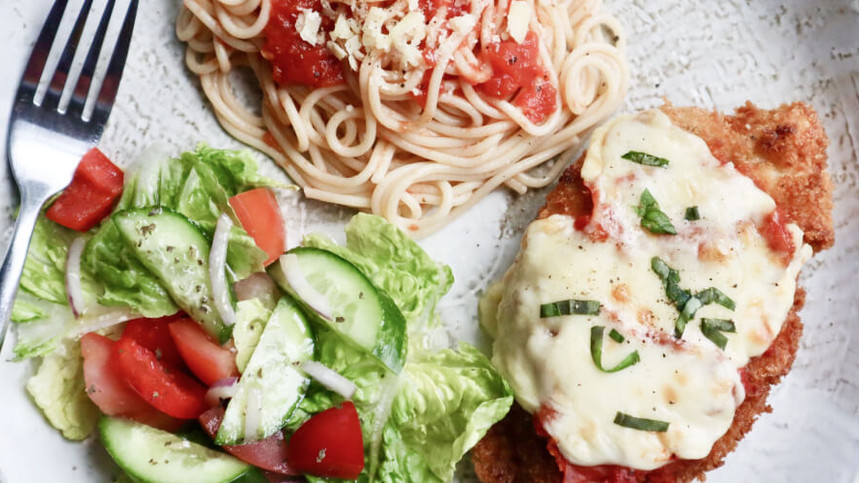 Ingredients
4 Large Chicken breasts, cut in half and pounded thin
Salt & pepper
Dried italian herbs (or dried basil+oregano)
Canola oil (or similar) for frying
1 Cup panko breadcrumbs
1/2 Cup parmesan, grated
1/2 Cup plain flour
2 Eggs
1 Large clove garlic
1 cup napoletana sauce
150-200g mozzarella, sliced thinly or grated
Fresh basil, thinly torn or sliced for garnish
Directions
Preheat your oven to 200 degrees celsius. Halve the chicken breasts (see photos) and pound them until they're at the thickness you want and are all even. Season well with salt, pepper and dried italian herbs
Set up your crumbing stations: 1st shallow bowl will have flour seasoned with salt and pepper. I sometimes add in a pinch of garlic powder too. 2nd bowl will have 2 beaten eggs with garlic, a tsp of water, salt and pepper. 3rd bowl will have panko breadcrumbs and 1/4 cup finely grated parmesan cheese. Set up a large plate or tray to place crumbed chicken on.
Heat oil on medium high (around 2cm) in a pan. Start by dredging chicken in the flour, then egg, then breadcrumbs then place it on a plate. Repeat with all 4 pieces.
Cook chicken 2 pieces at a time for about 5 minutes in total, turning with tongs half way. When they're golden brown, move them to lined baking tray.
Once all 4 are cooked, top them with Napoletana sauce then slices or grated mozzarella cheese and finish off with a 2-3 tsps of grated parmesan on each piece.
Pop the tray in the oven and bake for about 10-15 minutes or until the cheese is completely melted and starts to brown.
Garnish with torn basil leaves and serve with a salad, pasta or your chosen sides.