Recipes
Chicken Noodle Soup by Chelsea Goodwin
Calculated automatically based on ingredients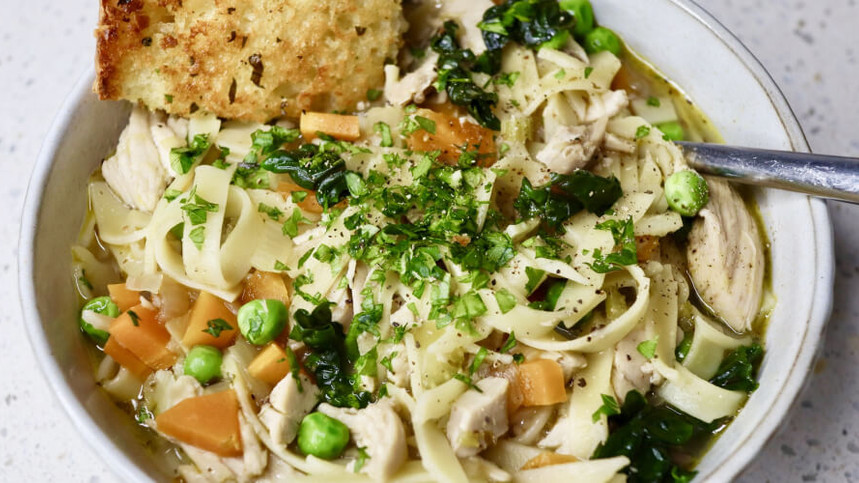 Ingredients
2 Tbs Olive oil (or 1 Tbs olive oil, 1 Tbs butter)
1 Brown onion, diced
2 Carrots, chopped
2 Ribs of celery, chopped
3 Cloves garlic, crushed
1 tsp salt
1 tsp dried oregano
200-400 g Cooked or raw chicken (preferably thigh if raw)
1.5 L Chicken stock + extra if needed (either homemade or store bought)
1 bay Leaf and/or fresh thyme
200g Egg pasta or pasta of your choice
Cracked black pepper
Directions
Preheat oil in a large saucepan or stockpot over medium heat.
Add onions and cook, stirring for a few minutes until softened and transluscent.
Add carrot and celery and cook for another few minutes.
Add in crushed garlic, salt and dried oregano and stir for 1 minute.
Pour in stock and add in chicken pieces. If using bay leaf/fresh herbs add them into the pot now.
Bring to a gentle boil then reduce heat to low so the soup is simmering and cook for 5 mins if using cooked chicken and 20 minutes if using raw chicken.
At the end of the 20 minutes, take out the raw chicken (if using) and shred it with fork or slice it thinly. While you're shredding it, pop in the pasta and cook for 10 minutes or until ready. Add extra cup of stock if liquid levels look low.
If you're adding in green vegetables such as peas, spinach or green beans put them in after the pasta. They all take 5 minutes or under to cook.
Put the chicken back into the pot, taste the broth and season with salt and pepper.
Ladle into bowls and garnish with fresh parsley. Serve with garlic bread.