Recipes
Chicken Adobo by Chelsea Goodwin
Calculated automatically based on ingredients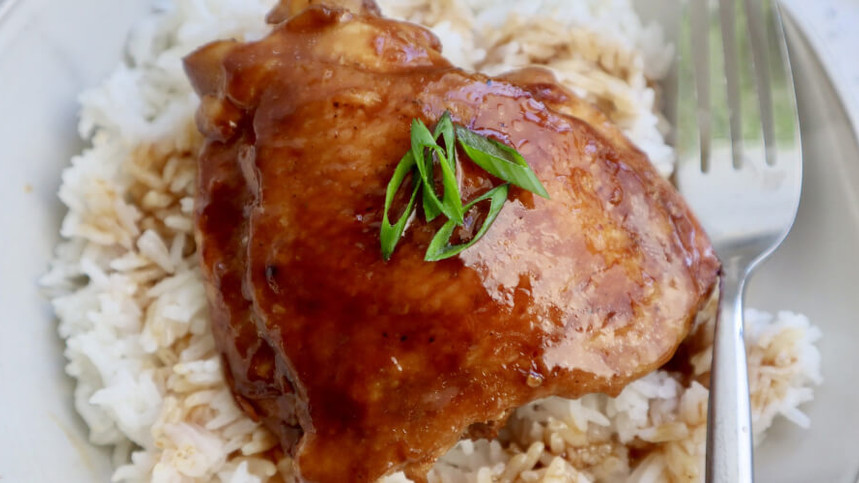 Ingredients
1 Tbs vegetable or coconut oil
4 Large skin on, bone in chicken thigh cutlets (1.2kg)
8 Large cloves garlic, smashed
1/4-1/2 tsp crushed chillies
1 Tsp whole black peppercorns
8 Dried bay leaves
1/2 Cup reduced-salt soy sauce
1/2 Cup white vinegar or coconut vinegar
400g Tin coconut milk
1-3 Tbs brown sugar
Directions
Heat oil in a large pan over medium-high heat. Pat chicken pieces dry with a paper towel and place skin side down in the pan. Cook for 4-5 mins or until skin is light golden brown then turn over and cook on the other side for a few mins.
Remove chicken from the pan (set aside on a plate), turn the heat down to medium low and scoop out all of the fat except for about 1 Tbs.
Lightly fry the smashed garlic cloves, peppercorns and crushed chilli for 1 minute then add in the soy sauce, coconut milk, vinegar, bay leaves and 1 Tbs of sugar
Stir together and increase heat to medium high. When it starts simmering, reduce to medium low and add chicken pieces back in, skin side up
Simmer partially covered for 1 hour, turning chicken, skin down, half way through. If you're serving with rice, put it on just before the 1 hour is up
After 1 hour remove the lid, remove the chicken from the pan to a plate or tray and strain the sauce through a metal sieve over a jug or bowl. Return the strained sauce to the pan and turn up to medium high to allow it to reduce (uncovered) and thicken. Taste and add 1-2 Tbs brown sugar if you would like a sweeter sauce
Optional step: If you want a crispier skin- pop the chicken on a tray under the grill for a few mins (keep an eye on it!) until it's golden brown
Return the chicken to the pan skin side up while the sauce continues to thicken
Serve chicken over rice and spoon the sauce over both the chicken and the rice.