Recipes
Buffalo Wings by Chelsea Goodwin
Calculated automatically based on ingredients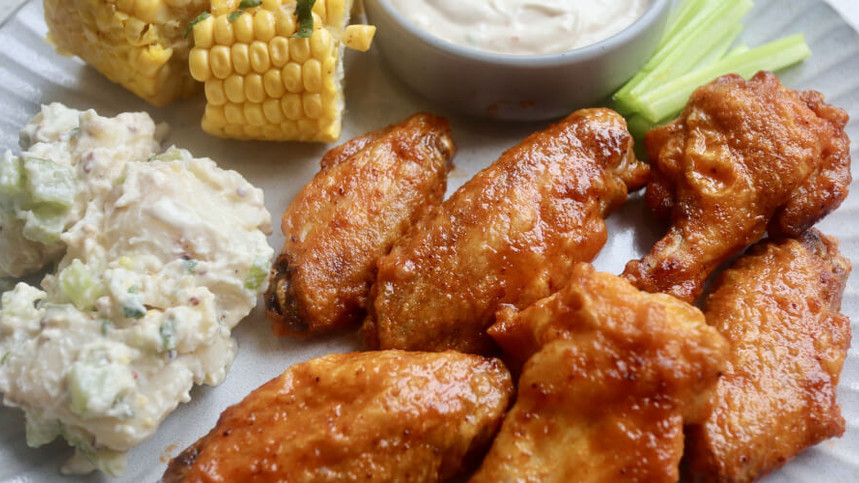 Ingredients
1.5-2kg Chicken wings or nibbles
2 Tbs Baking powder
1 tsp Salt
1/2 Tsp pepper
1/2 Tsp paprika
1/2 Tsp garlic powder
1/4 Cup butter, melted
1/2 Cup franks red hot sauce
2 Tbs brown sugar
Directions
Preheat the oven to 220 degrees celsius. Line 1 or 2 roasting trays with foil and place a rack inside each. Give the rack a light spray with oil
Joint the chicken if you've bought whole wings. Pat each piece dry on both sides with paper towel and place in a large shallow bowl.
Mix seasoning ingredients together in a small bowl then tip over the chicken, ensuring each piece is coated well on both sides
Place each seasoned piece on the oiled rack, leaving a bit of space between them and pop into the oven.
Cook for 20 minutes then turn the chicken to cook the other side for another 20 minutes.
Turn them again and cook for 10-20 mins until they've reached the level of crispy-ness and brown-ness that you're happy with.
A few mins before they're ready, mix the melted butter, hot sauce and brown sugar together in a bowl.
Serve them as is with the sauce on the side or put the wings in a bowl and pour the buffalo sauce over the top to coat them before serving up