Recipes
Beef & Lentil Bolognese by Chelsea Goodwin
Calculated automatically based on ingredients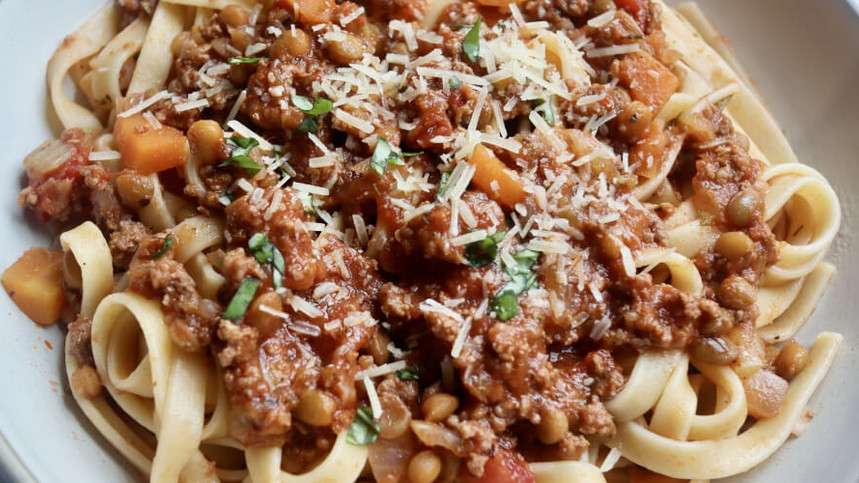 Ingredients
1 Tbs Olive Oil
1 Tbs Butter
1 Brown onion, diced
1 Large carrot, diced
1-2 Ribs of celery, diced
3 Cloves garlic, crushed
1/2 Tsp salt
250g Beef mince (or pork & veal mince) Use 500g if not using lentils
1x 400g Tin brown lentils, drained and rinsed
2 Tbs tomato paste
700g Passata OR 1 x 800g tin crushed tomatoes
1 Beef stock cube, crumbled
1/2 Tsp sugar
1/2 Tsp fennel seeds
1 Tsp dried basil
1 Tsp oregano
Grated parmesan to serve
Salt & pepper
Directions
Heat oil and butter in a large pot over medium-low heat. Add diced onion, carrot and celery and cook for 5 mins, stirring.
Add garlic, cook for one minute then turn up heat to medium high. Add mince and salt, stirring to break up until no longer pink.
Add tomato paste and stir through for 1 minute then add all of the remaining ingredients, stir to combine, bring sauce to a simmer then turn down to low.
Let sauce simmer gently for 15 minutes until it is thick. I would start boiling the water for the pasta once the sauce starts simmering so it's ready at about the same time.
Add lentils and simmer for another 5-10 mins.
Taste and season WELL with salt and pepper, serve topped with grated parmesan.