Recipes
Beef Chilli Con Carne with Rice by Chelsea Goodwin
Calculated automatically based on ingredients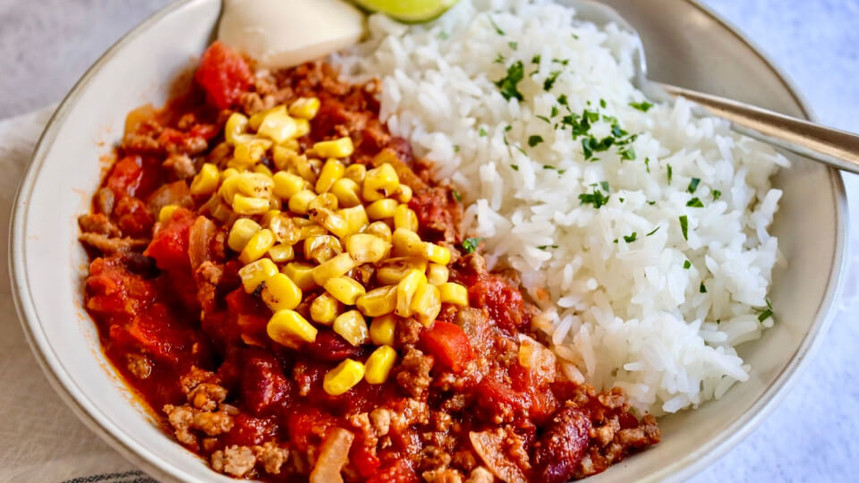 Ingredients
2 Tbs olive oil
2 Onions, diced
4 Cloves garlic, crushed
2 Ribs of celery, diced
1 Capsicum, sliced thinly (optional)
1 Tsp salt
2 Tsp dried oregano
1 Tbs paprika
1 Tbs cumin
1 tsp cayenne pepper (more if you're game, less if you're spice intolerant!)
3 Tbs tomato paste
1 kg Minced beef
800g Diced or crushed tinned tomatoes
2 or 3 Beef, chicken or vege stock cubes
1 cup of Water + more as needed
2 x 400g Cans kidney beans, drained
additional Salt and pepper to taste
Directions
Heat oil in a large saute pan or pot over medium heat then add onion. Cook for 3 minutes, stirring occasionally then add celery and capsicum (if using) and cook for another 2 minutes. Add garlic and cook for another minute, stirring to ensure garlic doesn't burn.
Add cumin, paprika, oregano, salt and cayenne pepper to the mix. Stir in and cook for 1 minute.
Turn heat up to medium-high then add in beef mince, breaking it up and continually stir it until it's mostly browned.
Add canned tomatoes, tomato paste (if using) water and crumble in the stock cubes. Stir together and bring to a simmer. This is a good time to start cooking your rice!
Once simmering, turn down heat to medium-low, add the drained kidney beans and cook with a lid on for 15 minutes then lid off for the final 5 mins, stirring occasionally. Have a taste as you're cooking and season pepper with extra salt as necessary. If the tomatoes you use are quite acidic you may need a tsp of sugar. Add water as you go if it seems too thick or salty- you may need an extra cup.
Taste it again to check if for extra seasoning prior to serving then serve over rice or however you want!
For the 'popped corn' topper, I just drain a can of corn, heat up a small amount of oil (2 tsp)in a small non-stick frypan on medium-high and cook it until until it chars. I season with salt and pepper (sometimes chilli flakes too) and it's super tasty. I only need half the can for this so the other half can go into the chilli with the kidney beans at step 5 or you can use it in cornbread, like I do!