Recipes
Beef Bourguignon by Chelsea Goodwin
Calculated automatically based on ingredients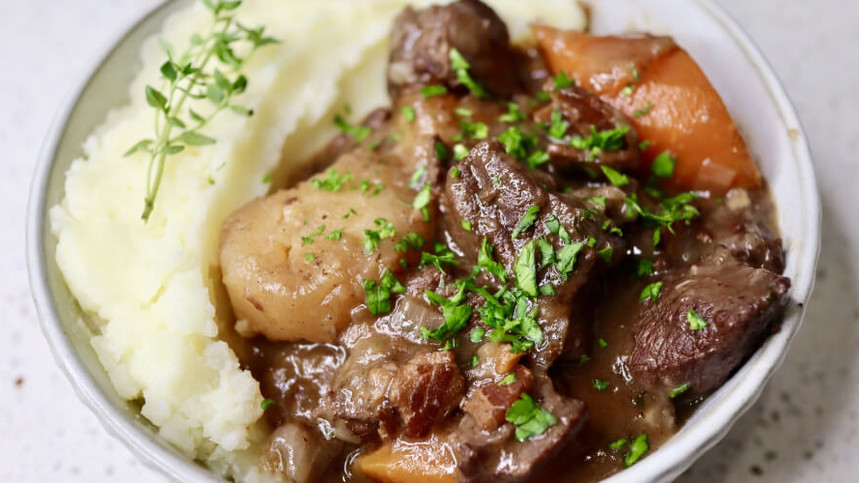 Ingredients
2 Tbs Olive oil
150g Bacon or speck diced
1 kg Casserole beef, cut into 5 cm cubes(gravy or chuck are best)
2 Tsp salt
1 Tsp cracked black pepper
1 Tbs unsalted butter
1 Large onion, roughly chopped
3 Carrots, sliced into pieces 5 cm thick
2 Parsnips, sliced into rounds 3 cm thick
2 Garlic cloves, crushed
1 Tbs tomato paste
4 Tbs plain flour
2 Cups/500 ml beef stock (have more available if necessary)
2 Cups/500ml red wine
3 Sprigs fresh thyme
2 Bay leaves
1 Tsp sugar
Fresh parsley for garnish
Directions
Take beef out of fridge 30-60 mins prior to cooking and let it come to room temp, cut into cubes, dry it with a paper towel and season very well with salt and pepper.
Preheat the oven to 170 degrees celsius.
Heat 1 Tbs of oil in a large oven safe pot/pan (with lid) over medium heat. Add bacon and cook until it is crisp. Once it is well-cooked, transfer it to a plate or bowl lined with a paper towel, leaving the bacon fat in the pan.
Turn up the heat to medium high and brown the beef cubes in batches (I do 500g at a time). You do not want to cook them through, just sear/seal them on each side. Remove to a plate or bowl once browned.
Reduce the heat to medium and add the butter and 1 tbs of oil to the pan. Add onion and cook for 5 minutes, stirring.
Add carrot and parsnips and cook for another few minutes stirring occasionally.
Add garlic to the pan and cook for 1 minute, then add tomato paste and stir it in, cooking for another couple of minutes.
Add wine, thyme and bay leaves and sugar and cook for 5 minutes.
Add 4 Tbs of flour into a cup of beef stock and mix well to combine then pour the mixture into the pan, stirring to combine then add in the 2nd cup of beef stock.
Add the bacon and beef back into the pan and bring the mixture to a gentle boil.
Turn off the stove, put the lid on your pan and transfer it carefully to a rack in the bottom third of the oven.
Cook for 2 1/2- 3 hours, removing the pan at 1 1/2 hours to turn beef pieces.
When beef is falling apart and at the level of tenderness you're happy with, taste the sauce and add in any additional salt and pepper necessary.
Serve over creamy mashed potatoes and garnish with chopped fresh flat leaf parsley.