Recipes
Barramundi with Lemon Garlic Butter sauce & Smashed Potatoes by Chelsea Goodwin
Calculated automatically based on ingredients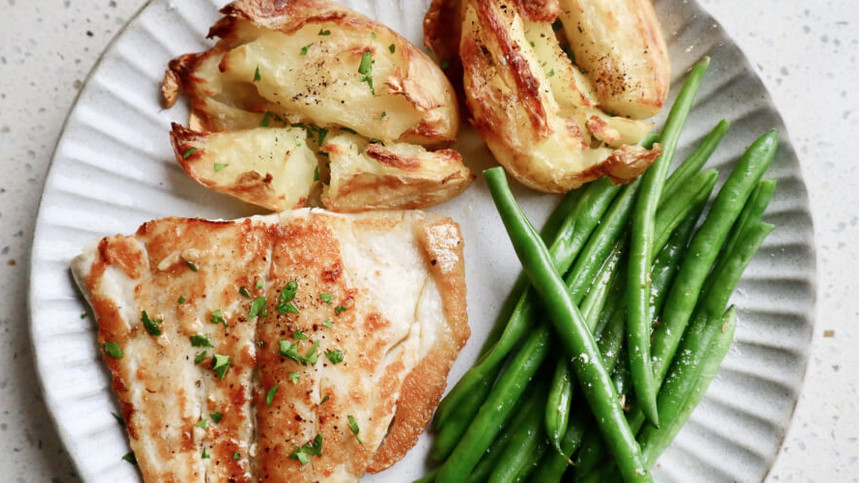 Ingredients
500g Baby potatoes, skin on (red or white)
Salt & pepper
Olive oil
Parsley or chives for garnish (optional)
250-400g Barrumundi fillets (or similar white fish)
2 Tbs butter
1 Clove garlic, crushed
Juice of half a lemon + other in wedges for serving
Salt & Pepper
Oil for cooking (I used olive oil spray)
Fresh parsley for garnish (optional)
Directions
Wash potatoes and add them to a medium sized saucepan then fill up with water until it's a couple of cm above the potatoes.
Bring to the boil over high heat, then reduce to medium and cook for about 20 minutes or until tender. While the potatoes are cooking, preheat the oven to 200 degrees celsius and prepare an oven tray lined with baking paper.
When the potatoes are tender, drain them over the sink and pat dry with a teatowel. Place them spread apart on the lined baking tray. With potato masher or the bottom of a glass, gently squash them (see photos).
Sprinkle with a generous amount of salt and some pepper and drizzle with olive oil then bake for 20-30 minutes or until they've reached the desired level of crispyiness!
Garnish with fresh herbs or a dollop of sour cream. If serving with the fish, you can drizzle some of the butter sauce over them too.
For Fish with Lemon Butter & Garlic Sauce Heat a frypan (I used non-stick) over medium high heat.
Dry fish fillets with a paper towel and season on both sides with salt and pepper.
Spray or lightly coat the fish with oil then place the fillets in the pan.
Cook for about 4 mins on each side until lightly browned and cooked through. Turn heat down to the lowest setting and move fish to a plate while you make the sauce.
Add the butter to the pan and then the garlic- if it looks like it's browning quickly, move it off the heat. It should only take 1-2 minutes max. Turn off the heat and add in the fresh lemon juice, stir in and then spoon the sauce over the fish.