📝 Updates
The 8 Best Low Carb Vegetarian Burger Patties (Keto Friendly!)
UPDATED ON Jan 18, 2023
#

NAME
Protein per 100g
Carb per 100g
Fat per 100g
17.7g
4.4g
15.9g
8.3g
8.2g
13.6g
15.3g
7.7g
18.3g
17.7g
5.8g
14.6g
15.0g
7.7g
11.0g
18.2g
10.3g
13.8g
15.6g
33.0g
12.0g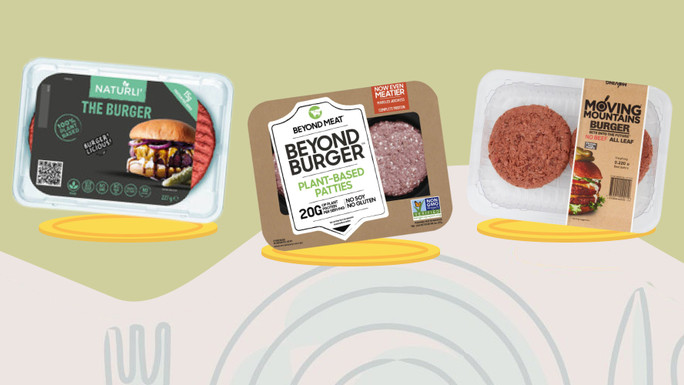 Sticking to a vegetarian diet can be a real challenge – especially if you're new to eating no meat.
Yet when you couple that with trying to eat a low-carb diet too, well, that's a whole other kettle of fish.
Vegetarian options of typically meat items (like burgers!) are often filled out with high-carb ingredients that while aren't unhealthy, they might not align with your goals if you're on a keto or low carbohydrate diet.
Fear not – we're here to help with our recommendation of the best low carb vegetarian burger patties that you can pick up at your local supermarket or online.
Let's go!
Criteria for Low Carb Veggie Burger
To make this consistent and a fair game, we're looking for and recommending veggie burgers that have 15g of carbs or less per 100g (with the average serving size of a burger patty being 125g).
OK, without further adieu and in no particular order…
1. Beyond Meat Burger Patties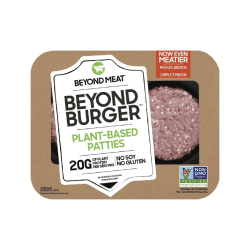 Ah, the classic Beyond Meat burger. Possibly the most meat-like tasting vegetarian (and vegan) burger patty option on the market. The Beyond Burger is a plant-based burger that looks, cooks, and satisfies like beef. It's gluten free FYI, and also has a high 17.7g of protein per 100g. Would rate!
2. Fry Family Quinoa & Brown Rice Burger
Another gluten-free and vegan gem, Fry Family Quinoa & Brown Rice Burger is a true veggie burger. Great for vegans who don't want the taste and look of real meat! Packed with vegetable goodness and with a decent 8.3g of protein per 100g, definitely check this one out when you're on a low carb diet but craving a tasty veg burger.
3. Moving Mountains Plant Burgers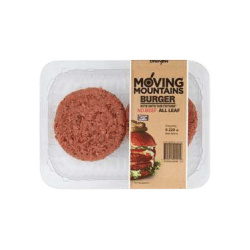 If you're after that carnivore-like texture to your vegetarian burger patty, Moving Mountains might just be your new best friend. Looks like beef, tastes like beef… but isn't beef? With 15.3g of protein per 100g and a low-carb count, we definitely recommend giving this one a go!
4. V2 Plant Based Burgers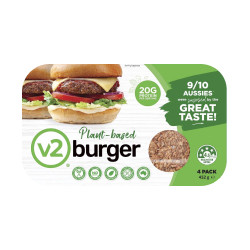 V2 Plant Based Burgers are another burger patty that cooks and tastes like meat – on a similar playing field to Beyond Meat burgers! With 5.8g of carbs per serve, you'll definitely be hitting your low carb goals with this vegetarian patty that when cooked right, has a beautiful crispy outside texture and lovely juiciness on the inside. It's got 17.7g of protein per 100g, and is also gluten-free and vegan!
5. Naturli Pea-Based Burger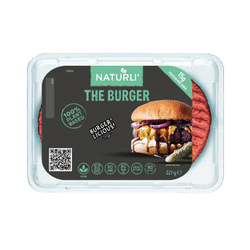 The Naturali pea-based burger is – you guessed it – packed with pea-based protein, with a high 15g of protein per 100g. They're vegan, non-GMO and soy-free (sadly, not gluten free). No aartificial colours, flavours or preservatives and pack a protein punch. Go on, give it a go!
7. Linda McCartney's Mozzarella Burger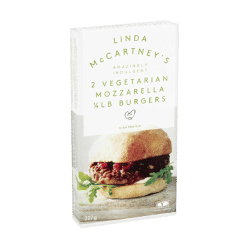 Did someone say delicious, cheesy and low-carb veggie burger? Linda McCartney's Mozarrella burger is low carb and packed with protein (18.2g per 100g). Sadly it's not vegan, as it does contain cheese. Meanwhile, it's not for our gluten-free folks either as it contains barley. With soy protein as its main ingredient, you'll be left satisfied in the belly, and happy in the head that you're staying on track with your low carb goals.
8. Unreal Beefy Co Burger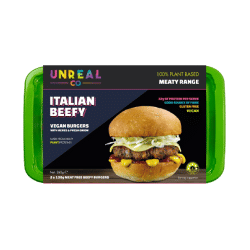 Finally, we have the Unreal Beefy Co Burger. Unreal Co.'s Gourmet Beefy burgers are vegan-friendly and loaded with fresh onion and herbs, for that a delcious flavour and juicy mouth-feel. The Gourmet Beefy is also gluten-free – wooh! It doesn't have the highest protein content compared to similiar products, with 9g per 100g – but it's decent.
Why Go Low-Carb?
There are so many reasons to go low carb! Low-carb diets typically place emphasis on healthy sources of carbs, fat and protein may help lower the risk of type 2 diabetes and heart disease.
A low carb diet can help you lose excess weight and may improve blood sugar and cholesterol levels. As with any new diet, however, it's best to talk with a health care professional to ensure eating low carb is safe for you and your health.
Is Vegetarianism for You?
People eat a vegetarian diet for plenty of reasons: for animal care, to reduce meat intake, for environmental reasons, to try to incorporate more vegetables into their diet… whatever the reason, vegetarianism is a safe and healthy diet, providing you are still hitting all your essential macronutrient goals (carbs, fats and protein). Speaking with a dietitian or nutritionist before starting your vegetarianism journey is always a good idea!
Low Carb & Vegetarian Diet FAQs
What's the difference between vegetarian and vegan?
A vegan diet means you can't eat meat and animal products (meat, poultry, fish, seafood, dairy and eggs), whereas a vegetarian diet only omits  meat, poultry, fish and seafood. Vegetarians can still eat dairy and eggs.
How many carbohydrates is low-carb?
This really depends on each person, but generally a daily limit 20 to 57 grams of carbohydrates is typical with a low-carb diet.
Can I make my own veggie burger at home?
Looking for a yummy veggie burger recipe? Give this one a go!
Ingredients (serving size: 2 patties)
Prep time: 5 mins
Cook time: 10 mins
Total time: 15 mins
1/2 cup chickpeas
3/4 cup veggies, fresh or frozen and defrosted
2 Tablespoons chickpea flour
1 egg white or 1 1/2 teaspoons egg replacer plus 2 Tablespoons water
sea salt and pepper, to taste
Olive oil
Instructions
In a food processor, combine all ingredients and pulse until blended (but not completely pureed) *if you don't have a food processor you can combine ingredients into a large mixing bowl and use a hand-held mixer
Heat a greased or nonstick sprayed pan over medium high heat.
Spoon half the chickpea mixture onto the pan and spread it out to form a patty shape.
Repeat with the other half of the chickpea mixture.
Cook for 3-5 minutes, or until golden, and flip. Cook on the other side for a few more minutes or until golden.
What we love about veggie burgers is you really can add whatever you like and cook them however you like to tailor them to your personal meal plan! Some common herbs and spices you might want to add include paprika, prep, cumin, cloves garlic, garlic powder, and so on.
Other common ingredients you'll find in different veggie burger recipes include almond flour, coconut flour, psyllium, black bean, sweet potato, zucchini etc.
Recipe: Foodie Fiasco
What's the best low carb burger bun?
Sadly there aren't a lot of low carb or keto burger buns on the market, but one we like and have tried are the Woolies Macro Lower Carb Linseed & Soy Bread Rolls. With 4.5g of carbs per 100g, you'll be able to enjoy a delicious burger bun while still keeping on track with your low-carb goals.
What's the best paleo burger patty?
We recommend the Impossible Plant Based Beef Burger patty – grain-free and with a delicious meat-like texture, you can't beat it!
What's the best keto burger for a keto diet?
These Herman Brot Lower Carb Buns are pretty tasty, and with only 11g per 100g (with serving size 1 bun being 70g), it's a great option for those on a keto diet.
What's the lowest carb vegan burger?
With 4.4g of carbs per 100g, the Beyond Meat Burgers are the lowest carb vegan burger on this list.
What are some low carb burger toppings?
Non-starch veggies will always be a great low carb burger topping choice – like:
Tomato
Lettucie
Pickles
Cheese
Onion
Avocado
Cucumber
The list is endless!
Are all the listed burgers available at grocery stores?
All of the listed burgers can be found at local grocery stores, with most available at Woolworths (depending on local stock).
Have we missed your fave? Let us know!
If we've failed to mention your go-to low carb veggie burger, give us a slap on the wrist and let us know in the comments below (no gate-keeping, please and thank you!)