🏡 Lifestyle
These Meal Providers Are Making Sure Our Pets Are Getting The Nutrients They Need!
UPDATED ON Aug 01, 2023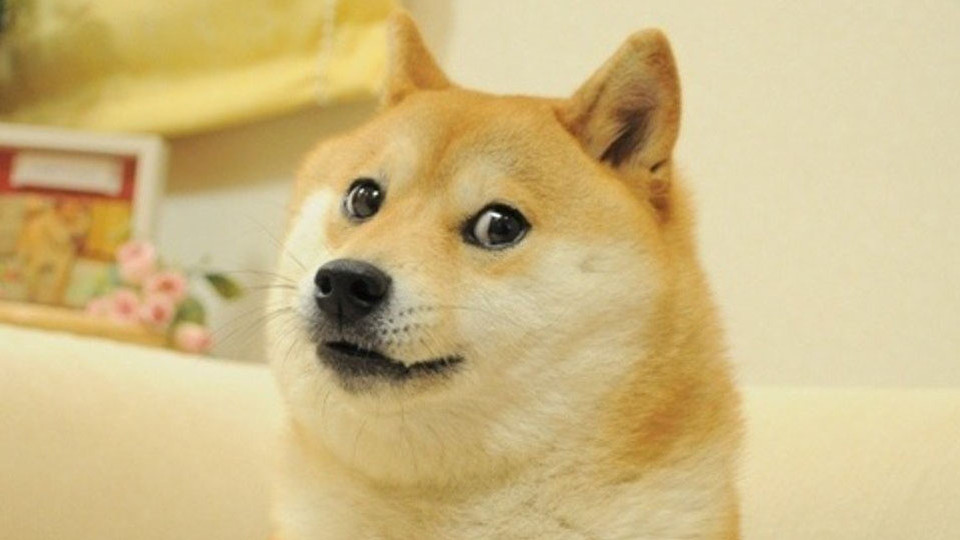 2020 has been a particularly difficult year and has inspired many of us to take better care of our bodies and to start making the most of our time. Thus, meal providers have become our saviours, helping us to achieve our goals by providing tasty, nutritious food and eliminating the lengthy process of grocery shopping and cooking, because let's face it – time is a precious and scarce commodity.
But surprisingly it's not just humans being catered for by meal providers these days, because apparently, our fur babies now have their very own healthy meal providers on standby! But I mean, why not? Our pets are family too and we should be thinking about what goes into their bodies just as attentively as we do ours.
If you think about it, many of us already spend so much time doting on our pets, dressing them up, having them groomed, buying them the best toys on the market only to have them torn up in a matter of minutes. So, is it really that far-fetched to ensure our pets are receiving all of the nutritional benefits we receive with every meal?
We have gone ahead and listed some of the best pet meal providers in Australia, each of which have something a little different to offer our canines, from carefully constructed diet plans for pets who could do with dropping a couple of kilos, to freshly made, human quality meals for fussy fur babies and elderly pets.
So, in no particular order, here are some of the best providers out there, ensuring our beloved pets are receiving all of the goodies they need to live a long and happy life.
Lyka
Founder Anna Podolsky founded Lyka back in 2017 to help fellow Australian dog owners reinvigorate their dog's diet through the use of human grade whole foods. With the help of in-house vet Dr. Matthew Muir, the team at Lyka constructed a handful of freshly made recipes packed with the perfect balance of natural vitamins and proteins to ensure what-ever age, shape or breed, your dog is receiving all of the nutrients necessary to live a healthy, carefree life. The website itself is super easy to navigate and after asking a few questions about your beloved pooch, will provide you with a detailed seven-day meal plan at a very reasonable price with free delivery.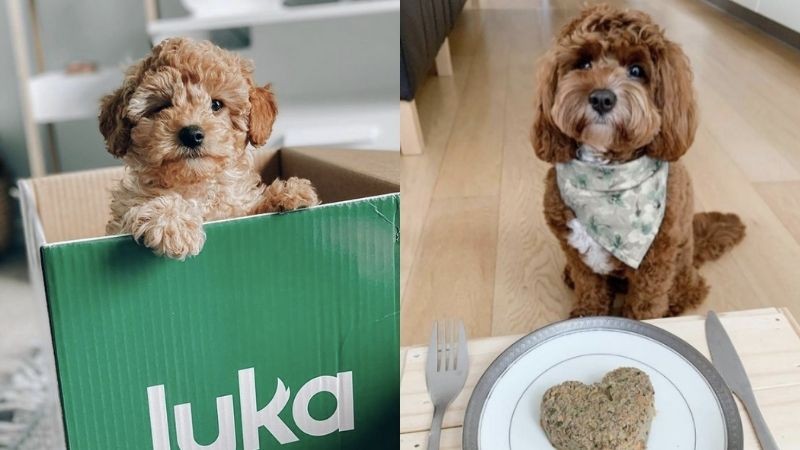 Happy Healthy Dog
Happy Healthy Dog differ from other pet food providers by focusing more on the quality of each meal rather than variety, emphasising that too much variety is not necessarily the best thing for your pup. The team at Healthy Happy Dog still provide a different meal for every day of the week, but incorporate healthy carbs, fruit, vegies and meat in portion-controlled sizes based on your dog's weight, size, age and activity level. Like other providers, Happy Healthy Dog endeavour to make the entire shopping experience quick and easy, labelling each meal with appropriate storage instructions and delivering the food directly to your door.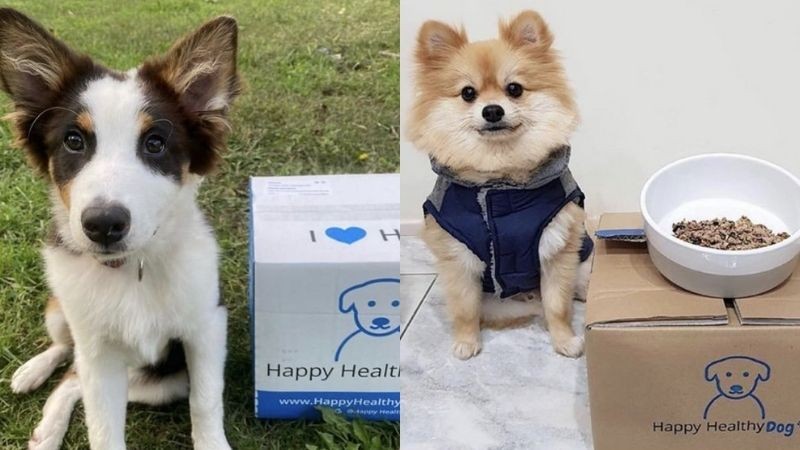 The Wholesome Dog
Keeping things nice and simple, The Wholesome Dog have a three-piece menu consisting of beef, chicken and turkey mixed with natural vegetables and nutrients including sweet potato, pumpkin, Cod liver oil, Vitamin B and more. The website is easy to navigate and informative, breaking down how each ingredient benefits your fur baby and featuring a pet nutrition blog with plenty of helpful health tips. The meals are made fresh to order from their Melbourne based kitchen and allow you to build your own box to suit your pet. The only kicker is, The Wholesome Dog are only delivering to homes throughout Melbourne, but fingers crossed they'll widen their delivery range soon!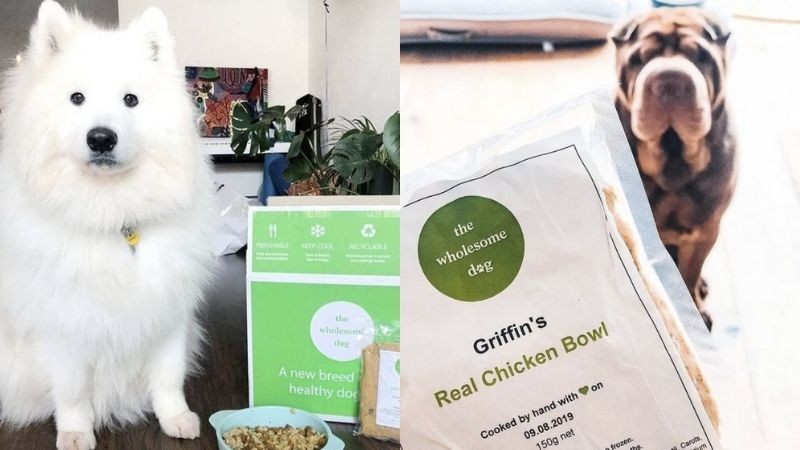 Raw & Fresh
This company provides exactly what they advertise, raw and fresh food for our pets. The best thing about this meal provider is that they do not discriminate by species! Raw & Fresh not only provide healthy, nutrient packed meals for dogs, they also provide fresh meals for our slightly sassier fur babies. That's right, cats are in on the secret too! Raw & Fresh embrace the carnivorous nature of our pets supplying raw, human grade meat for our cats, combined with 10 percent bone content for a healthy dose of calcium; while our dogs will receive raw meat, mixed fresh vegetables and a pinch of brown rice. There are plenty of flavours for you to choose from including chicken, kangaroo and beef and just in case your pet doesn't like it, you can purchase each meal individually to test it out.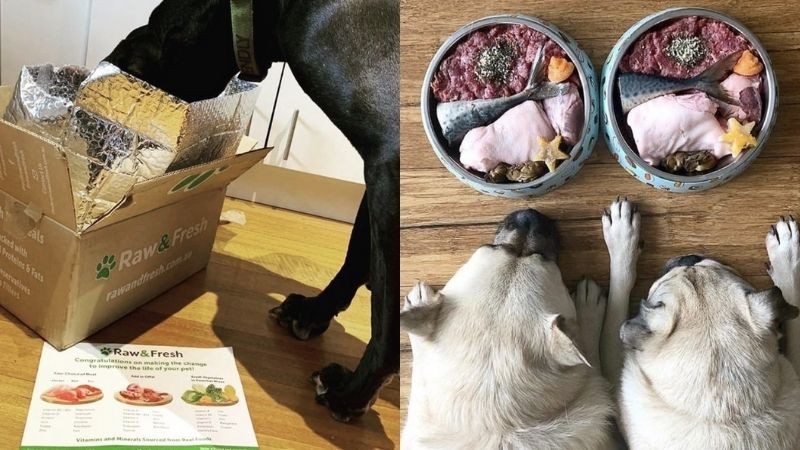 Mad Paws Dinner Bowl
Mad Paws was founded back in 2015 and was originally Australia's largest pet sitting platform, but wanting to ensure all Aussie dogs are eating healthy even when not in the care of professionals, the company decided to launch Mad Paws Dinner Bowls, providing Aussie dogs with raw, high-protein, low-calorie meals delivered straight to your door. Mad Paws believes our pets evolved to eat nourishing raw food, jam-packed with nutrition, natural vitamins and protein, so have dedicated themselves to providing human-grade raw meals to dogs in NSW, VIC, ACT and QLD with more states expected to jump on the bandwagon soon.
It seems entirely appropriate that while you're indulging in fresh, nutritious meals every day, your pets are also receiving the high quality, nutritious food they deserve to live long, happy and healthy lives, while providing us with unconditional love and cuddles. I mean, it's the least we could do for our fur babies right?