Designed for deep muscle treatment, the Theragun PRO is a handheld percussive device intended to enhance your daily wellness routine. If you're wondering whether this investment lives up to the hype, you're at the right place. We've tested the Theragun PRO for 30 days and assembled a review to shed some light on the power, comfort, design, convenience, and features of this massage gun.
If you've recently caught onto the massage gun blaze, you might have heard of Therabody, one of the most popular and well-established brands in that industry. And Therabody is no stranger to the fitness world. Their ambassadors include wildly popular athletes such as Christiano Ronaldo, Maria Sharapova, and Paul George!
Therabody's newest line of Smart Percussive Therapy devices encompasses the Theragun PRO, Theragun Elite, Theragun Prime, and Theragun Mini. You might have guessed it, but fetching the highest price of the series is their best-seller, the Theragun PRO! This professional-grade deep tissue massager comes with an assortment of various features that set it apart from other massage devices.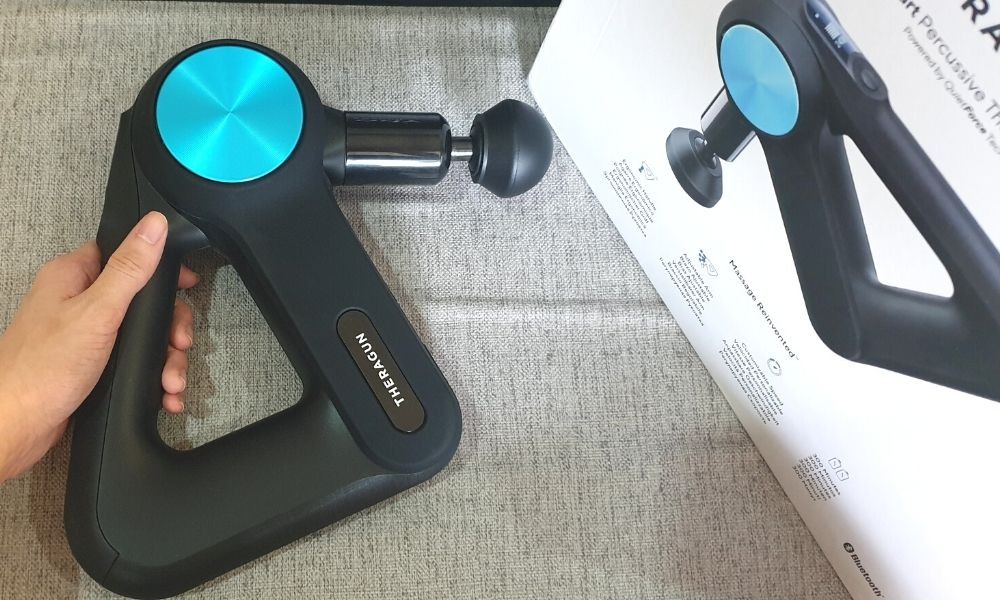 Currently, the price tag of the PRO model averages 899 AUD, which could be considered an extravagant purchase. So before dropping your cash on the Theragun PRO, you may want to read our Theragun PRO G4 Review (2021) to decide if it's a worthwhile investment for you!
Theragun PRO G4 Specs
According to the brand, the Theragun PRO helps to enhance muscle recovery, soothe muscle soreness, and release stress and tension. And to check the right boxes, The Theragun PRO is built with an extensive list of features, some of which are unique to the model or brand.
The Theragun PRO has a QX150 Motor with Quietforce Technology, an ergonomic patented triangle grip, a rotating and adjustable arm, 6 different head attachments, and an OLED screen with a conveniently displayed force meter. It weighs in at 1.31kg.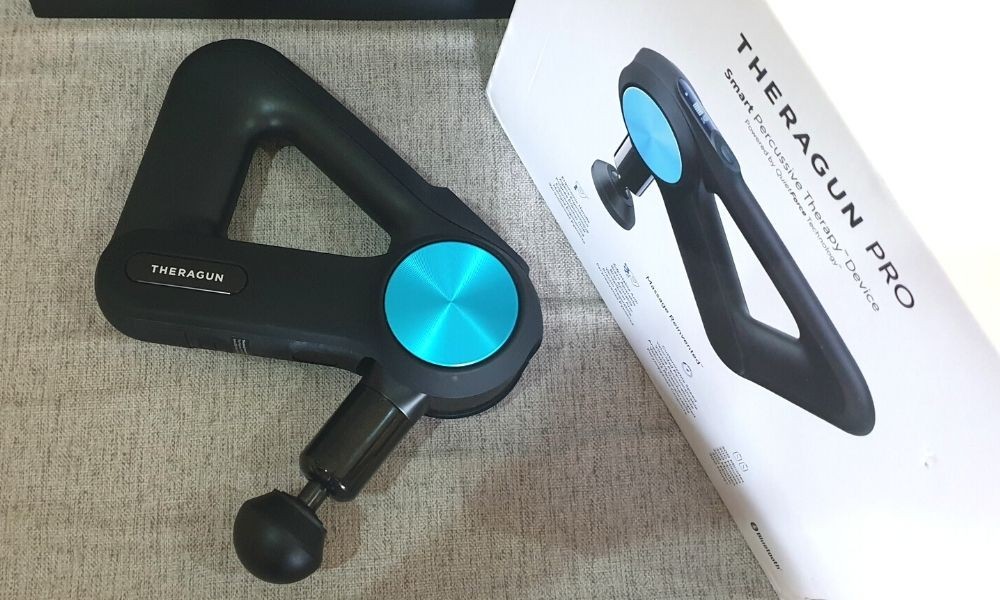 The package comes with two batteries, each providing an estimated battery life of 150 minutes (total of 300 minutes), plus a lithium-ion battery charger. On top of that, the Theragun PRO allows for Bluetooth Connectivity and smart app integration to provide personalised routines and user guides while enabling you to control the device via your smartphone.
As we unboxed the Theragun PRO, we were crazy-excited to give it a go!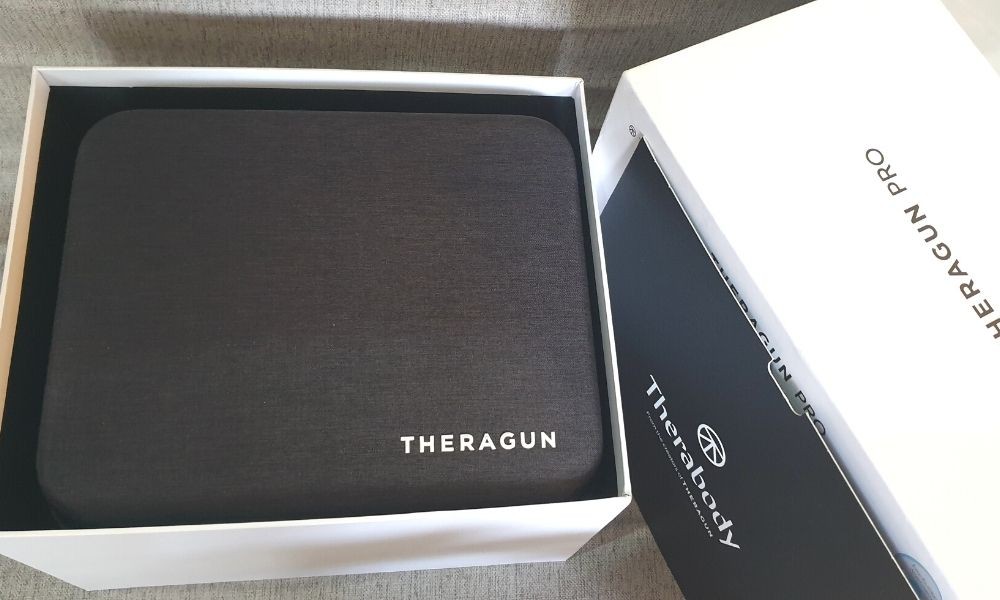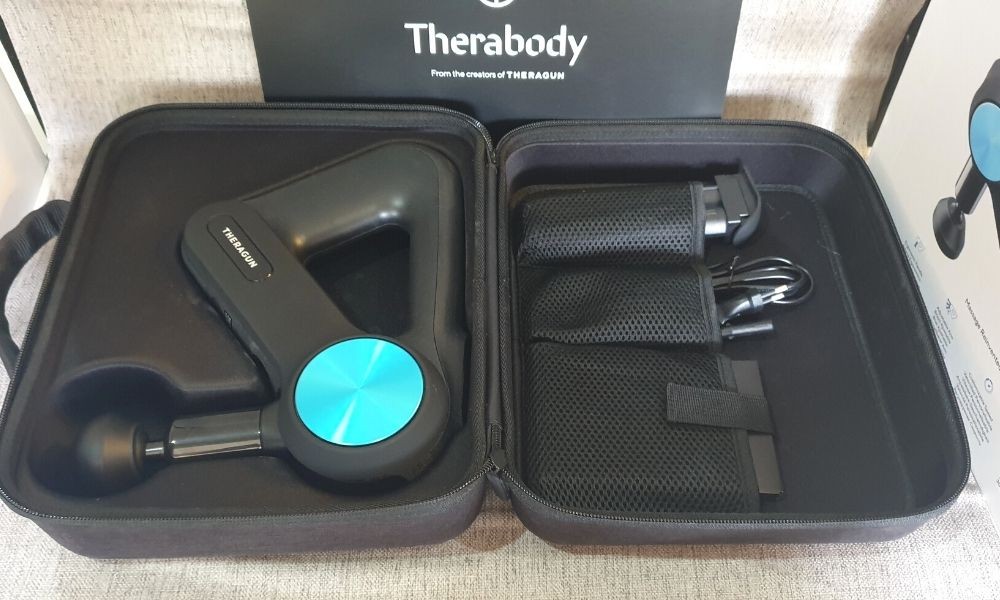 We tested this baby out for 30 days, and our review breaks down how the Theragun PRO fared in five different categories:
Power and efficacy
Comfort and ease of use
Convenience and portability
Smart app functionality
Other features and accessories
Without further ado, here's our 2021 review of the Theragun PRO G4!
Power And Efficacy
Amplitude and stall force
The Theragun PRO was built for deep tissue massage and top-of-the-line percussive therapy. To achieve this, Therabody designed this device to generate repetitive bursts of pressure with a 16mm amplitude and a 60lbs no-stall force!
The amplitude of a massage gun dictates how far and deep the gun drives into the muscles, so a higher amplitude equates to a stronger, punchier, and more intense sensation.
On the other hand, the stall force or stall torque measures how much pressure can be applied before the motor stalls. Hence, a higher stall force allows for greater pressure and force, so you can drive the massage gun deeper into muscle tissue for amplified massage intensity.
And if you were to compare the Theragun PRO with other popular brands in the market, this baby blows the competition away. It achieves one of the highest, if not the highest, amplitude plus stall force combinations amongst massage devices in the market, which means the Theragun PRO is powerful!
Based on our experience, that's 100% true. The Theragun PRO provided an incredibly intense massage experience.
With the dampener head attachment on, we tested it out. Even without exerting much pressure (merely gliding the gun gently over the target muscle group), we could feel how powerful the Theragun was, with each hit penetrating deep into the muscles. So, in terms of strength and intensity, this would be the Lamborghini of the lot!
But then again, not everyone is a fan of the Lamborghini. Likewise, if you prefer light and gentle massages, the Theragun PRO, unfortunately, might not be the best option for you. Ultimately, some people find intense massages relaxing and enjoyable, while that level of intensity may be overwhelming for others.
One of their attachment heads, the Supersoft attachment, is a softer, gentler, and milder option for those who fancy slightly lighter massages. But even with this attachment on, we felt that the Theragun was still impeccably powerful… and those stubborn knots never stood a chance!
Speed
The Theragun Pro has a maximum PPM (percussions per minute) of 2400 with 5 different speed settings to select from, meaning that this beast of a device can hit the muscle at a maximum rate of 2400 times per minute.
While this might seem like a lot, surprisingly, the Theragun does not top the scoreboard for this. Nevertheless, this may not be the biggest drawback. Even at the lowest speed setting (1750), we felt that the preferred intensity was achieved and saw little reason to ramp up the speed to its upper limits.
There are five settings for the speed range that starts at 1750 and hits the limit at 2400. This 5-step customisable speed range is a practical setting but not that much of an outstanding feature to rave about.
Did it work?
Based on our experience, the short answer is yes, it did. But you do have to take into account what your expectations are. This percussion massager successfully removed stubborn knots and loosened tense muscle groups, plus the overall massage experience was relaxing and rejuvenating. Additionally, it served as a fantastic warmup tool for workout sessions.
Does the Theragun speed up post-workout muscle recovery as claimed? That is somewhat subjective and depends on the type and intensity of your training sessions and how you use the Theragun. While using this device on a sore muscle group feels enjoyable and relieving, it's not a 100% guaranteed fix for muscle soreness and pain. Often, it worked for us, though occasionally, it didn't.
In short, the Theragun PRO is hardcore in terms of power, providing incredibly intense massage sessions which are great for warming up, relieving tense muscles, loosening knots, and of course, giving those serotonin levels a much-needed boost!
If you find intense massages relaxing and effective, then this is a god-send! But if not, the Theragun PRO, unfortunately, may not be your cup of tea.
Comfort And Ease Of Use
Ergonomic grip and rotating arm
One of the unique features of the Theragun PRO is its well-designed, patented, triangular, and ergonomic handle. This grip was crafted in this manner so you could hold any side of the triangle to achieve different angles. Ultimately, it allows you to angle the device in a certain way that enables you to target hard-to-reach areas while reducing the strain on your wrist.
On top of that, the Theragun PRO has a rotating arm, which you can adjust and click into place to find the perfect angle and arm position!
As a whole, the rotating arm and multi-grip triangular handle were designed to synergistically enhance percussive therapy results by allowing for different treatment angle applications.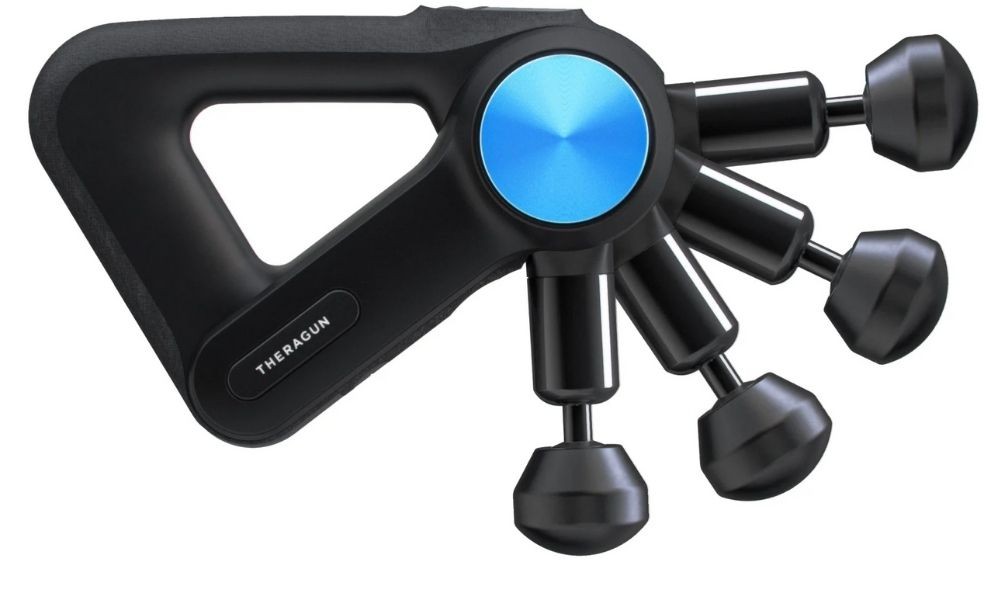 The triangular grip and rotating arm did their job, enabling us to find more comfortable angles when massaging certain areas such as the shoulders and lower back which are typically challenging to target. However, the Theragun PRO is, admittedly, quite heavy. So while the ergonomic grip lessened some strain on the wrist, it became a little tiring to manoeuvre the gun across certain muscle groups after a while, and we found it awkward reaching muscles at the back.
The good news is that you shouldn't have to hold the gun in an awkward position for too long as most experts recommend sticking to a time limit of 2 minutes per muscle group. Nevertheless, you may wish to recruit the help of someone else for a more comfortable, relaxing, and fully immersive experience!
Ease Of Use
You may be wondering how user-friendly the device was. To answer your question, the Theragun PRO is intuitive to use, though it may take a little trial and error playing around with knobs and buttons to figure the entire thing out. It is, after all, a device brimming with tons of features and uses.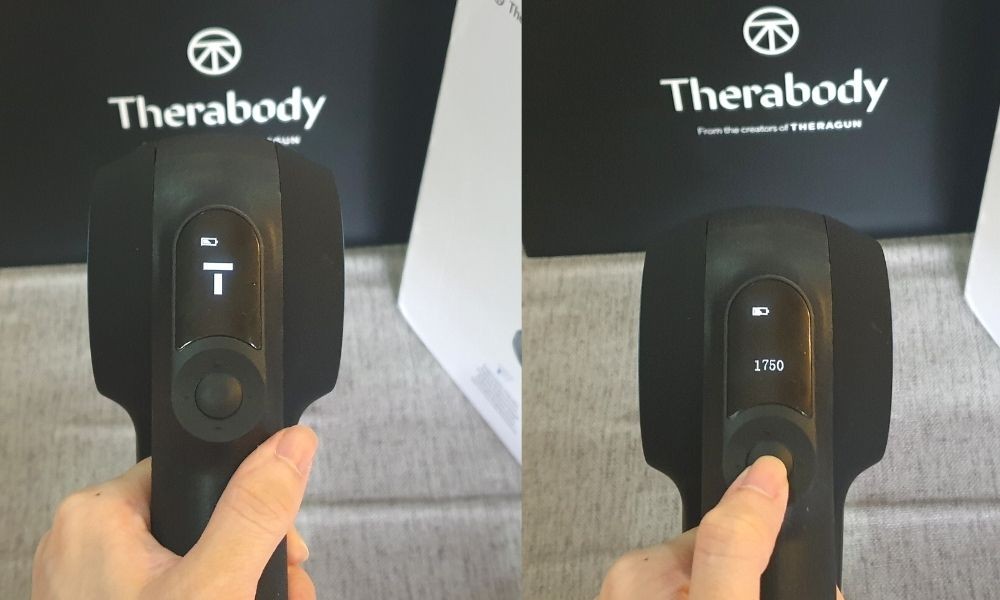 To help ease the process, the brand provides a tremendous amount of detailed information, user manuals, and instructions in physical and digital form. And when we say detailed, we mean comprehensive information specific and exclusive to different sports, routines, and preferences. All this information can be sourced from their physical manual, official website, and the Therabody app.
In this sense, they are the complete package. Whilst the Theragun PRO is packed with an impressive number of features and uses, the company goes the extra mile to ensure their customers are well-informed about how to maximise the device's capacity, accessories, and function. And we absolutely love that they take user experience seriously!
Noise level
The brand manufactured their own commercial-grade brushless motor enhanced with Quietforce technology, and according to them, the Theragun PRO is 55% quieter versus the previous generation! However, the company was transparent and honest enough to inform consumers that the Theragun PRO is still louder than the average massage gun.

Nevertheless, we tested out the Theragun PRO. From that, we derived that it wasn't obnoxiously loud, but you probably couldn't binge-watch your favourite TV series while giving yourself a relaxing massage. Unfortunately, the Theragun PRO isn't the quietest of the pack, which is expected considering its level of power, strength, and sturdiness.
Convenience And Portability
Battery life
Without a doubt, the battery life of a massage gun could be the dealbreaker. No one wants to be left stumbling towards the charging port after having a glorious massage interrupted by a dead battery.
The Theragun PRO is one of the few brands we've seen in the market that includes not one but two rechargeable lithium-ion batteries in the package, each providing an average of 150 minutes of battery life. According to Therabody, this is a massive leap of improvement from their previous generation as the battery life has doubled!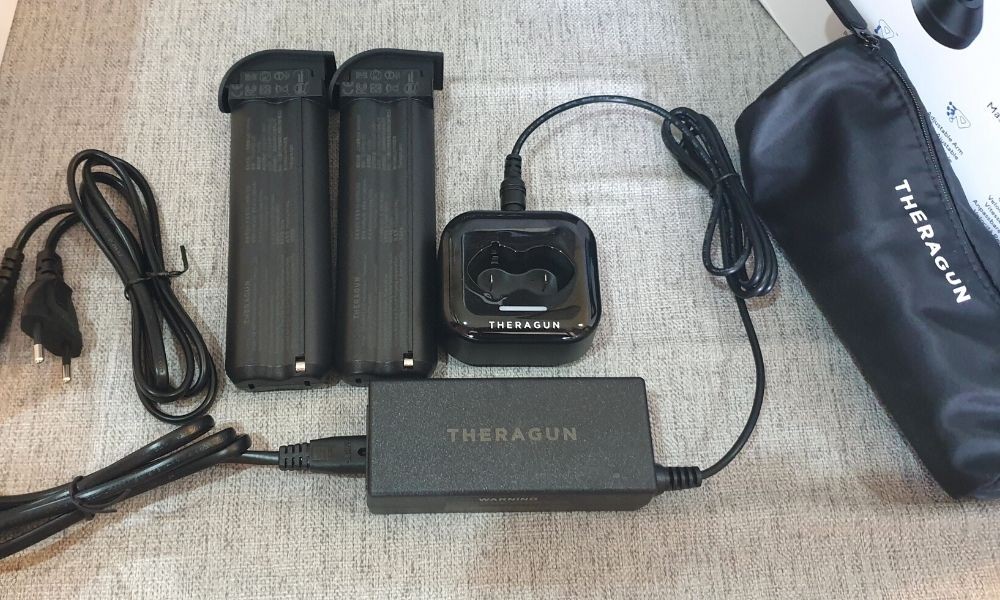 While the Theragun PRO doesn't lead the scoreboard with this battery life, we would say that it's pretty decent. Depending on the duration of your massage session and the speed you select, a fully charged battery could last anywhere from a few days to over a week.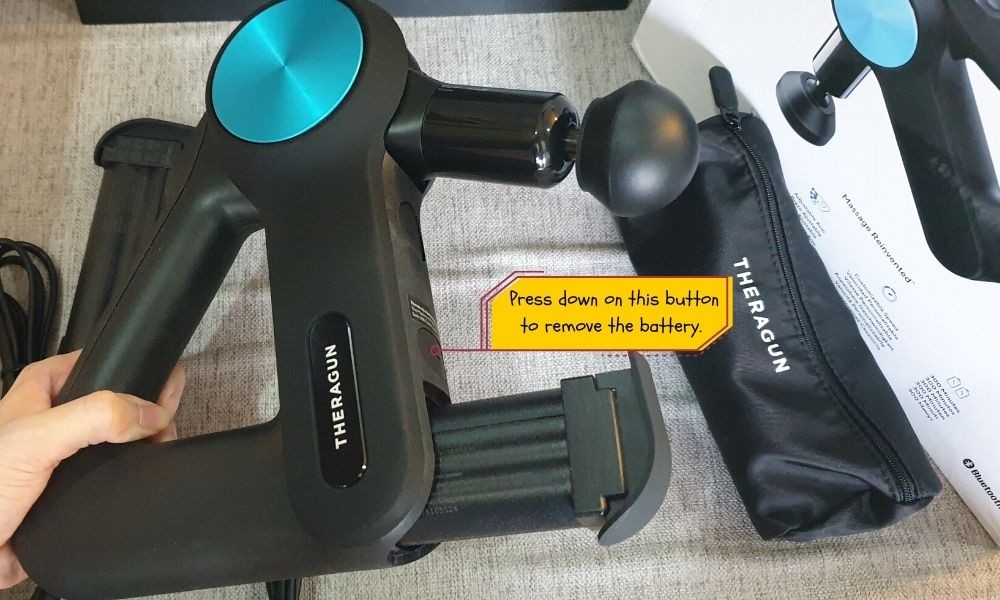 Based on our experience, there wasn't much of a need to recharge often. We could get numerous massage sessions done and dusted before the battery needed a refuel. Plus, the package includes two continually swappable lithium-ion batteries, which is a savvy move as you'll always have a spare battery to use while the other recharges!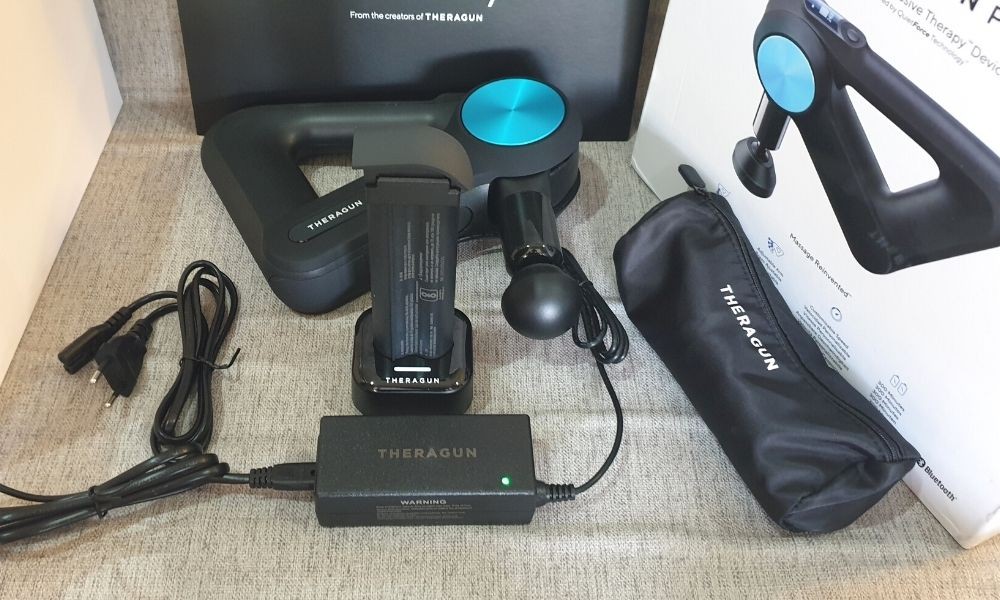 Wireless charging
The Theragun PRO has a wireless charging feature built-in, which further boosts convenience. However, it's important to note that the PRO wireless charging stand is not part of the package, and you'll have to add it on for an extra ~129 AUD.
Carrying case
The carrying case isn't a game-changer, but we tip our hats off to Therabody for covering every aspect with excellence. Their stylish, sturdy, and hardy carrying case is included in the package and serves as a great way to store the Theragun, batteries, charger, accessories, and manual. Hence, if you're always on the go or flying for business trips, the Theragun PRO's carrying case would make travelling with this massage gun a hassle-free and effortless experience!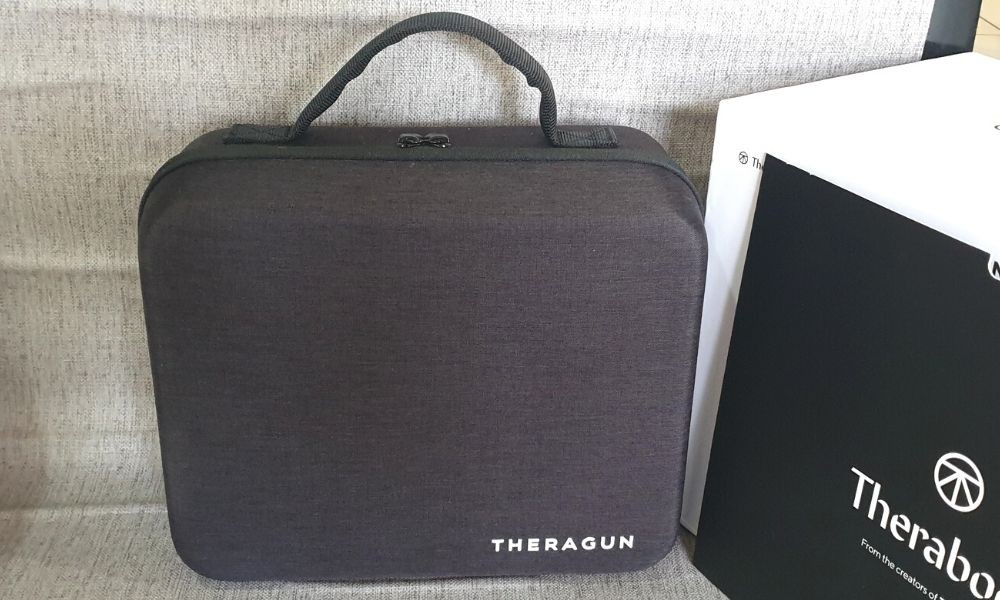 Smart app Functionality
The Therabody app and Bluetooth connectivity
In the past, having a massage gun connected to your phone through an app would be considered a far-fetched dream. Not anymore, though!
The Therabody app allows Bluetooth-enabled devices to link up with the Theragun PRO. After downloading the app, a step-by-step guide walks you through the setup and pairing process, and you can sit back and watch the magic unfold.
From your device, you can control the speed of the Theragun and monitor force with just a swipe of the finger. On top of that, the Therabody app is constantly learning about your real-time activities and routines (this isn't as creepy as it sounds, we promise) via integration with major health apps such as Google Fit and Apple Health.
We took to testing the app out, and we were pretty impressed!
In the Therabody app, you will see four tabs, two of which allow you to view and select massage routines from a wildly extensive library.
Under the 'explore' tab, you will find several categories catering to a multitude of needs. This ranges from activities such as gaming, hiking, climbing, and yoga to sports such as hockey, volleyball, baseball, surfing, kayaking and even ailments such as plantar fasciitis, muscle cramps, and shin splints.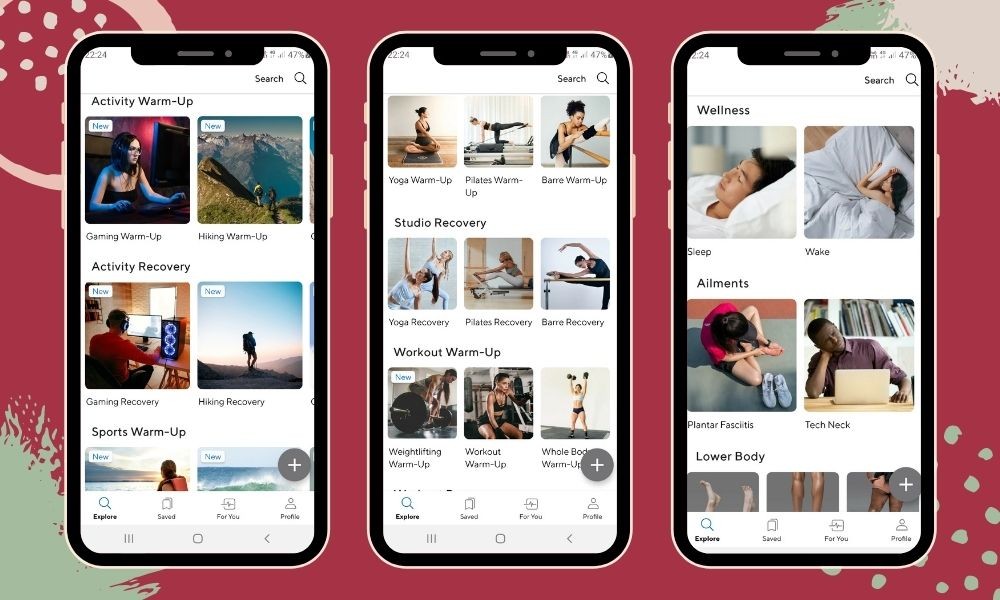 The 'For You' tab allows you to connect the Therabody app with other major health apps. By doing this, you will receive personalised massage routine suggestions that match your real-time needs based on your daily routine and workout regimes.
Under each massage routine, you will be able to watch a video of Dr Jason, the founder of Therabody, explaining its benefits and purpose. As you hit the 'Start Routine' button, a colourful animated 3D model appears at the top of the screen, demonstrating the areas of the body to work on.
You may also see other details such as the suggested time limit for each area and even attachment and grip recommendations. We found this superbly helpful, especially for first-time users who may be a little clueless about how to begin!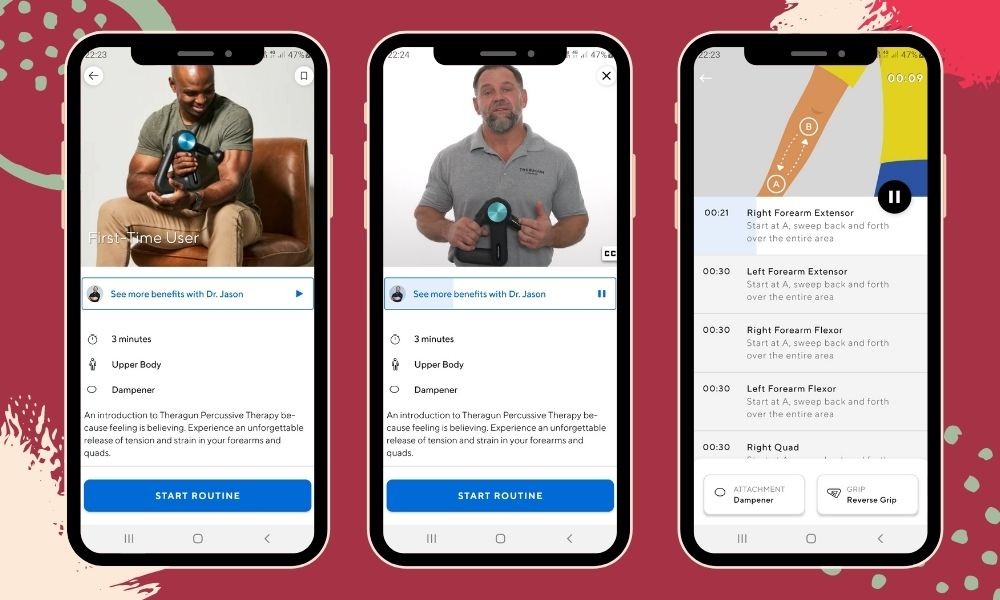 While the app isn't flawless, the amount of attention they pay to such details is highly commendable. Ultimately, the smart app integration function perfectly enhances the entire user experience and adds massively to the classy, high-tech vibe of the Theragun PRO. Other than that, the app also acts as a fantastic, visually engaging, simple, and convenient way to help users maximise the Theragun's capacity and functions, getting the best bang for their buck!
Other Features And Accessories
Attachments
Included within the package are six different massage head attachments:
Supersoft (Impact level: 1/10) – For those who prefer lighter and gentler massages, this one's for you! Additionally, this attachment is better suited for sensitive or sore areas.
Dampener (Impact level: 3/10) – The default attachment head that is perfect for overall use.
Standard ball (Impact level: 5/10) – Another attachment suitable for overall use but more intense than the dampener.
Wedge (Impact level: 5/10) – The brand notes that this is good for the shoulder blade area and 'scrapping' movements meant to loosen tense muscles and increase blood flow.
Thumb (Impact level: 7/10) – The brand recommends this one for the lower back.
Cone (Impact level: 10/10) – Warning: This attachment head is not for the weak. The Theragun PRO is intense and coupled with this attachment, you get pinpointed, high-impact, and greatly directed massage therapy.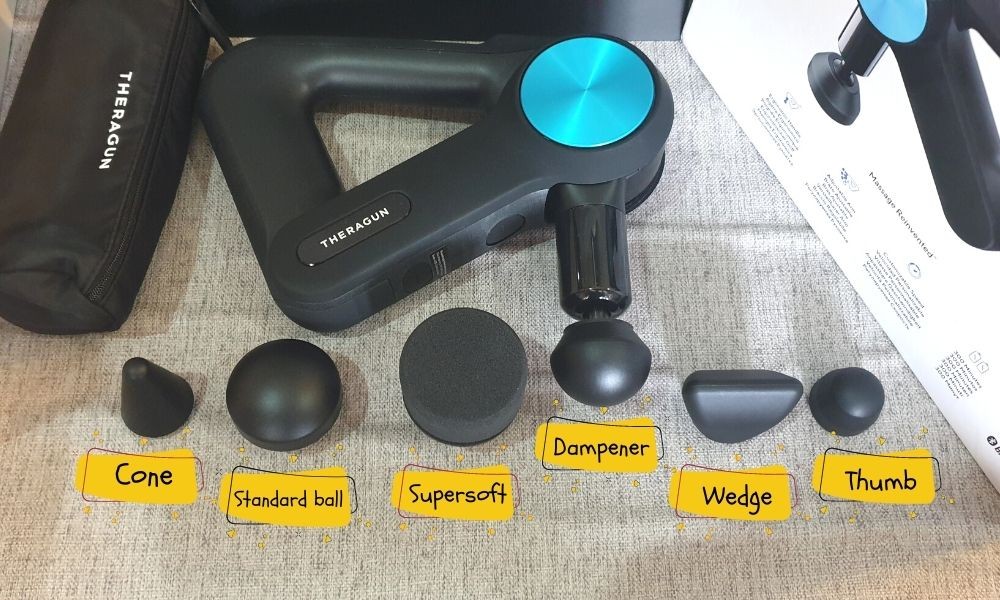 It's hard to say which attachment is our favourite as each serves a distinct role and purpose. Furthermore, everyone's preferences differ; as the saying goes, one man's meat is another man's poison!
Durability
We've only been using the Theragun for around a month, so we might not be in the best position to judge its durability and wearability. From the looks of it, though, the Theragun is assembled utilising high-quality and sturdy materials, and it seems like the Theragun PRO is built to stand the test of time! Nevertheless, only time will tell.
Warranty
The package includes a 2-year warranty, which is pretty impressive, considering that most brands only provide a 1-year warranty.
Who Is It For?
Based on our experience, we would recommend the Theragun PRO to anyone who enjoys massages and would utilise it frequently or on a near-daily basis. The Theragun PRO racks up a pretty steep price, so it might not be a worthwhile investment if you use it only once every few weeks.
Secondly, we would recommend the Theragun PRO to massage therapists or anyone interested in incorporating it as part of their physical therapy sessions to enhance their clients' experience. According to other user reviews, massage therapists labelled the Theragun PRO as one of their best investments. They remarked that it had helped them reduce manual work while improving their clients' overall experience.
Thirdly, if you're an athlete, the Theragun PRO is a great tool to add to your arsenal, both for pre-training warmups and post-workout recovery. It is, of course, not guaranteed to eliminate muscle pain and soreness. Still, based on both our experience and other user reviews, it seems that the Theragun PRO has performed decently well in tackling muscle soreness, aches, and pain post-training.
Precautions
That being said, there are still limits to using the Theragun PRO, or any massage gun for that matter. These machines cannot replace the experience, skills, and craftsmanship of trained massage therapists, chiropractors, or other healthcare professionals.
Hence, if you're expecting the Theragun to be the miracle cure for your chronic muscle pain or other serious injuries, you might be headed for disaster. Massage guns are not designed to remedy long-term pain or severe injuries.
Instead, seeking a trained professional's help, treatment, and advice would be the safest route to take.
Final Takeaway
The Theragun PRO is a powerful, sturdy, hardcore, and high-tech device that proves a formidable candidate if you're looking for a massage gun that provides pretty intense massages. The Theragun PRO is bustling with impressive features that boost convenience and functionality, plus the company strives to provide consumers with updated, extensive, and informative instructions and guides.
Nevertheless, the Theragun PRO still has its flaws, being heavier and louder than the average massage gun, which isn't surprising considering its strength and power.
In a nutshell, if you see yourself putting this device to good use, the Theragun PRO will be a rewarding and valuable investment in your daily wellness routine.
You can get your hands on the Theragun PRO using the button below!
TheraGun G4 PRO on Amazon.com.au