🏡 Lifestyle,📕 Guides
The Best Massage Gun [Australian Buying Guide] 2022
There's a new craze spreading like wildfire in the fitness world, and it's the massage gun! Many professional athletes and fitness enthusiasts are eager to get their hands on these devices. You may wish to consider one for yourself too, whether you're into sports or not.
POSTED ON Jan 23, 2022
#

NAME
Amplitude / Stall Force
Maximum Speed (RPM/PPM)
Max battery life (minutes)
Weight (kg)
Price
16mm / 60lbs
2400 (5 levels)
300 (150 mins per battery)
1.31
899 AUD
16mm / 30lbs
2400 (5 levels)
120
1
416.92 AUD
13mm / Around 60lbs
3200 (3 levels)
150
1.36
599.95 AUD
12mm / 40lbs
3200 (6 levels)
360
1.04
399 AUD
10mm / Not stated
3200 (20 levels)
480
0.97
149.99 AUD
12mm / 66lbs
3200 (4 levels)
360
1.1
299.99 AUD
12mm / 20lbs
2400 (3 levels)
150
0.65
349 AUD
13mm / 57 lbs
Not stated (6 levels)
420
1
399 AUD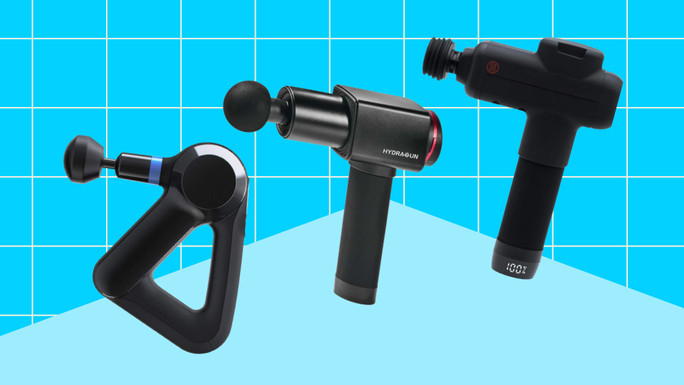 Understandably, the hundreds of products in the market may muddle your thought process in choosing the best massage gun in Australia for yourself. Fret not! We've meticulously crafted a list of some of the most outstanding massagers in Australia.
Plus, we've got your backs with a beginner's 'How To Choose A Massage Gun' guide to help you get the best bang for your buck!
Here's a table compilation of what we think are the best massage guns in Australia!
What Does A Massage Gun Do?
A massage gun is a handheld percussion massager that is most commonly marketed as a post-workout muscle recovery tool. In short, it allows you to reap the benefits of a much-needed massage therapy session from the comfort of your own home. When in action, these guns apply consistent bursts of pressure onto a broad muscle group, thumping away at remarkable speeds!
They're said to optimise healing and combat muscle soreness. Additionally, they may help prevent delayed onset muscle soreness (DOMS), alleviate muscle pain, improve blood flow, ease knots, and reduce muscle tension.
Best Massage Guns In Australia
Undeniably, massage guns can fetch a steep price. However, if you enjoy using them, it's best to invest in a high-quality one that withstands the test of time. Cheaper products often compromise durability and cut corners on materials or features.
We've considered many aspects such as features, quality of materials, power, speed, value for money, noise level, and weight while putting this list together.
Here are some of our top recommendations as a guide!
Best Overall
Therabody, Theragun Pro G4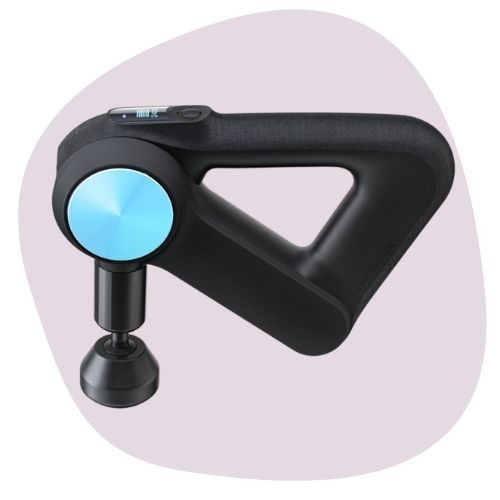 Amplitude / Stall Force : 16mm / 60lbs
Maximum Speed (RPM/PPM): 2400 (5 levels)
Max battery life (minutes): 300 (150 mins per battery)
What's good?
High amplitude and stall force for greater intensity
Triangular ergonomic grip design allows better reach
Bluetooth connectivity plus smart app integration
OLED screen displays current speed and force meter
Many head attachments to pick from (6 attachments)
What's not so good?
Not as quiet as presumed
Heavy
Expensive
This high-end and high-quality beast of a machine is carefully designed for powerful and professional performance. The Theragun Pro G4 consists of a commercial-grade brushless motor with QuietForce Technology, enabling this device to dock off some decibels compared to previous generations.
While it still isn't the most silent on the list, some impressive features to note is its higher amplitude and stall force to achieve deeper muscle penetration, making it a formidable candidate for use in percussive therapy.
Other than that, Theragun's remarkable features work together ingeniously to make this device stand out from the crowd. These include an adjustable arm, a patented ergonomic grip design, Bluetooth connectivity, an OLED screen with a force meter, and smart app integration (that recommends individually-tailored massage routines).
The Theragun has successfully helped numerous users alleviate muscle pain and stiffness, including post-workout muscle soreness. Additionally, massage therapists may find this device offers tremendous assistance in releasing and loosening clients' muscles so that they don't have to do it manually.
However, numerous users agree that the Theragun isn't as quiet as they expected. Plus, the device is one of the heaviest on our list, making it awkward to use on oneself.
Great Value-For-Money
Theragun Prime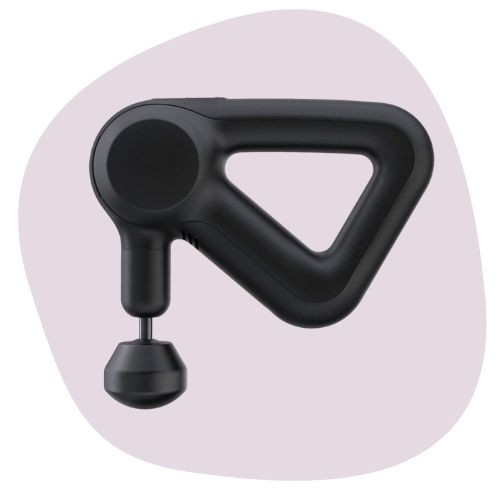 Amplitude / Stall Force : 16mm / 30lbs
Maximum Speed (RPM/PPM): 2400 (5 levels)
Max battery life (minutes): 120
What's good?
Higher affordability compared to the Pro
Very lightweight
Smart App Integration via Bluetooth
App-guided routines available
What's not so good?
Not as powerful as the Pro
Battery life is on the lower end
The Theragun Pro has a less expensive alternative, the Theragun Prime. This well-designed cousin of the Pro comes at around half the cost.
The Theragun Prime has a stall force of 30lbs compared to the Pro's 60 lbs. However, it is lighter than the Pro, not to mention that it comes with several extra features, such as LED-speed indicators and app-guided presets. It also comes with 4 different attachments and has a battery life of 2 hours.
Overall, the Theragun Prime is a no-frill version of the Pro, sporting a range of practical features, a decent battery life, and a good number of attachments to add variety to your massage routine!
You can also pair your Prime with the Theragun app, with which you can remotely adjust the speed and choose from various guided treatment presets.
Many users are pleased with the Prime's performance, noting that it is easy to manoeuvre (due to its lower weight) and powerful enough for effective muscle penetration. Plus, several users mention that it serves as a fantastic tool for pre and post-workout massages. And at that price, we would say it's excellent value for money, especially for those who prefer light and lower-intensity massages.
Hyperice, Hypervolt Plus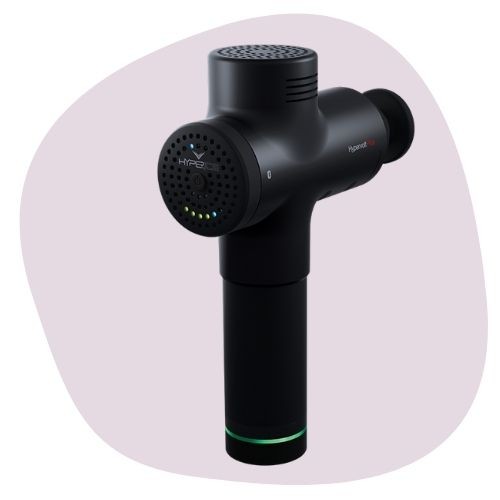 Amplitude / Stall Force : 13mm / Around 60lbs
Maximum Speed (RPM/PPM): 3200 (3 levels)
Max battery life (minutes): 150
What's good?
Seamless Bluetooth connectivity and smart app integration
Heavy-duty and high-intensity (great for professional use)
Extensive mix of head attachments (5 attachments)
Simple controls and easy-to-use app
What's not so good?
Not suitable for light or low-intensity massages
Design makes it hard to target hard-to-reach areas
Heavy and expensive
Carrying case not included in purchase (pay more to add on)
Boasting a patented QuietGlide technology, the Hyperice Hypervolt Plus utilizes a brushless motor and a 24-volt lithium-ion battery to deliver robust and longer-lasting performance.
Similarly to the Theragun Pro, this device caters for Bluetooth connectivity. Plus, with the Hyperice App, you can pick a massage routine, and the device automatically adjusts to follow along. Additionally, Hyperice's Pressure Sensor technology will provide you with a digitally-displayed indication of how much pressure you are applying.
Overall, users remark that the Hyperice Hypervolt Plus is a sturdy, heavy-duty device with unrivalled power and stability. In addition to that, they state that it's perfect for intense massage sessions, pre-workout warmups, and post-workout recovery, all while staying relatively quiet.
Besides that, many users rave about the user-friendly and highly convenient app that recommends personalized massage routines based on the information you key in. Plus, its seamless Bluetooth connectivity works like a charm.
However, for those who prefer light massages, this may not be your cup of tea. And while its attachment mix is meant to target different areas of the body, the overall design of the model makes it harder to grip or reach areas such as your back. In addition to that, the device's heavier weight docks a few points off portability and comfort.
Best Low-Noise Massage Gun
Hydragun, The Quietest Massage Gun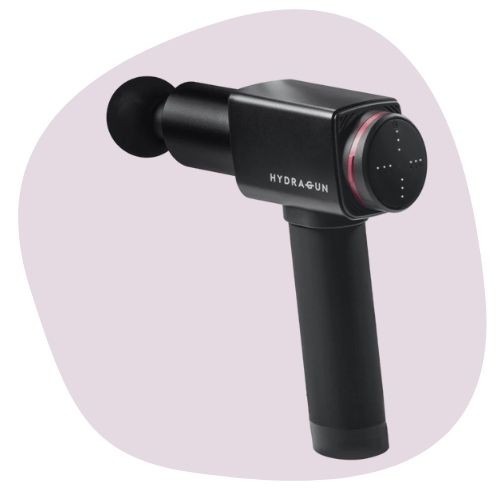 Amplitude / Stall Force : 12mm / 40lbs
Maximum Speed (RPM/PPM): 3200 (6 levels)
Max battery life (minutes): 360
What's good?
Incredibly quiet
Good battery life
Built from high-quality materials to ensure durability
Nano silicone sweat-resistant handle for better grip (non-sticky)
Many head attachments to pick from (6 attachments)
What's not so good?
No adjustable arm
On the heavier side
This device weighs slightly over one kilogram and is impressively durable, thanks to its lightweight aluminium casing that doubles up as sound insulation. Hydragun also comes with a sweat-resistant silicon grip and 6-speed settings for you to choose from!
But its most impressive feature is derived from the powerful premium SmoothDrive motor, the quietest brushless motor that exists right now! The motor's components are put together with high-efficiency materials to reduce noise and mechanical wear. As a result, the Hydragun is so stealthily silent, emitting only 30-50dB of noise. It's quieter than a regular conversation (60dB)!
According to user experience, the Hydragun helps with combatting muscle stiffness and muscle pain. Additionally, because the intensity is easily adjustable over a wider range, this device is a good option for various groups of people with different preferences, including office workers and athletes.
While the Hydragun is lighter than the Theragun and Hypervolt, certain people may still find it heavy and taxing to handle after a while. Furthermore, the lack of an adjustable arm means that users can't adjust the angle for improved reach.
Best Budget Alternative
RENPHO, C3 massage gun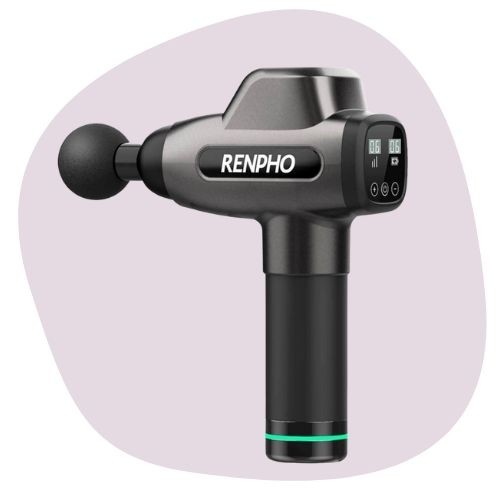 Amplitude / Stall Force : 10mm / Not stated
Maximum Speed (RPM/PPM): 3200 (20 levels)
Max battery life (minutes): 480
What's good?
Impressively long battery life
20 adjustable speed settings
Many choices of attachment heads (6 attachments)
Touchscreen showing battery life and speed settings
Affordable
What's not so good?
Not as powerful/intense than other brands (lower amplitude and stall force)
Bulky design and large handle grip
No adjustable arm
Loud on higher speeds
The RENPHO C3 Massage Gun is lighter than the Hydragun, Theragun, and Hypervolt. Plus, another feature that stands out is the incredibly long battery life, offering up to 8 hours of massage therapy without requiring a recharge.
In terms of speed, the RENPHO C3 Massage Gun blows the competition away with its adjustable 20-speed settings going up to 3200 RPM, so you'll bound to find just the right intensity for your liking! However, this device may be as powerful or heavy-duty as compared to other brands.
Hence, this device may be better suited for regular everyday use than for serious athletes or massage therapists in-clinic use.
For the price, users are happy with what the massage gun offers. Generally, they like its widely adjustable speed settings, different attachments heads, convenient travelling case, and good value for money.
However, due to the shape and design of the device, it can get pretty hard to reach certain spots. And because the grip can be large for some people, it can get tiring to handle after a while. Plus, a few have noticed that the motor stalls when higher pressure is exerted.
Healsage Massage Gun Pro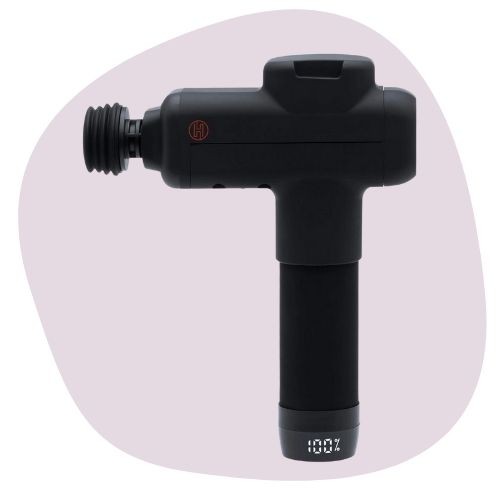 Amplitude / Stall Force : 12mm / 66lbs
Maximum Speed (RPM/PPM): 3200 (4 levels)
Max battery life (minutes): 360
What's good?
Decently long battery life
Relatively quiet
6 attachment heads for different target areas
Can withstand higher pressure (greater stall force)
Affordable
What's not so good?
No adjustable arm
Slightly on the heavier side
Healsage Massage Gun PRO offers professional percussion therapy with a maximum speed of 3200 RPM! This device has a decently long battery life of 6 hours (360 minutes), so users can sit back and immerse themselves in a worry-free and noise-free experience. It's one of the quietest guns on our list, coming in second after only the Hydragun!
It's a great workout buddy to take along to the gym, as many users have attested that it's perfect for pre-workout warmups and post-workout recovery. Plus, the Healsage Massage Gun PRO has garnered the approval of many! They remark that it's easy to use, decently silent, and powerful enough to push deep into sore muscles without stalling.
However, a few have mentioned that the battery life isn't as long as advertised, and its handle's design makes it a little challenging to reach the shoulders and back.
Best Portable Massage Gun
Therabody, Theragun Mini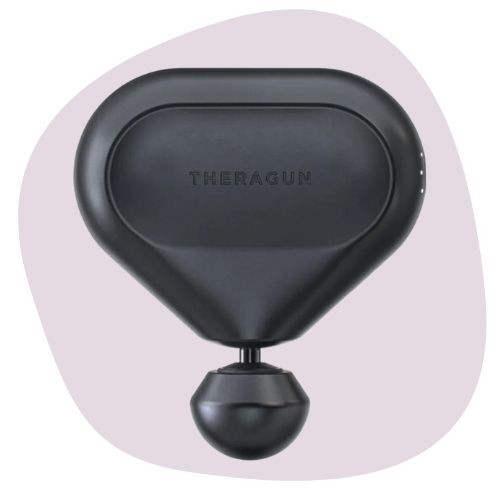 Amplitude / Stall Force : 12mm / 20lbs
Maximum Speed (RPM/PPM): 2400 (3 levels)
Max battery life (minutes): 150
What's good?
Lightweight and compact
Relatively quiet
Ergonomic triangular grip design for easier handling
What's not so good?
Less powerful/intense (lower amplitude and stall force)
Only 1 head attachment
No adjustable arm
This compact, pocket-sized massage gun is the perfect travel buddy, especially if you're always on the go! It's convenient, highly portable and impressively quiet with decent battery life (150 minutes)!
The Theragun Mini also comes with a patented triangular grip design. This device significantly reduces the strain on your wrists and arms with its unique grip design and minimal weight.
While it's not as powerful as its counterpart, the Theragun Pro, users still find that it reliably helps with loosening muscle knots, relieving muscle soreness and reducing muscle tension. Additionally, they appreciate its compact size and portability, making it great for trips and holidays.
Still, this device only comes with one attachment (pay more for additional ones or borrow them from the Theragun Pro/Elite). It may not be a con for you, though, especially if you only really use one attachment based on previous experiences.
Users note that it doesn't pack as much of a punch in power or deep tissue penetration. Other than that, it can get a little hard to handle when going around your back. But considering price and weight, the Theragun is a formidable candidate if you're looking for a high-quality and lightweight massage gun.
Solbasium, S2 Massage Gun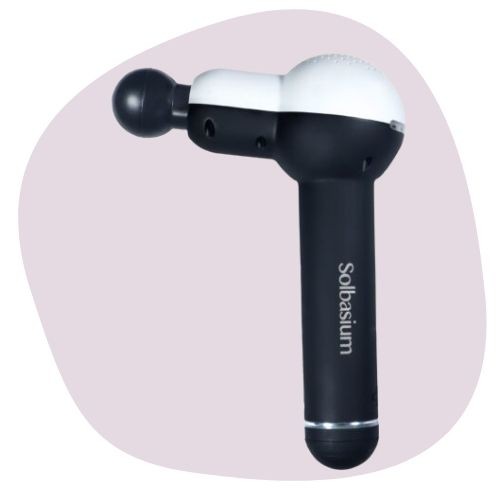 Amplitude / Stall Force : 13mm / 57 lbs
Maximum Speed (RPM/PPM): Not stated (6 levels)
Max battery life (minutes): 420
What's good?
High stall force allows greater pressure application
Impressive battery life Has a built-in USB charger
Has a built-in USB charger
Want a device that offers de-stressing massages while doubling up as a portable power bank? The Solbasium S2 Massage Gun is the first (and only) massage gun in the world that comes armed with a built-in battery bank and USB charging port for mobile phones or headphones, so you can fuel your devices' batteries while on the go! Plus, another impressive feature is its whopping 7-hour long max battery life, which is a plus point for convenience.
The brand notes that the Solbasium S2 Massage Gun aids in releasing muscle tension, stiffness, and soreness, and is the perfect gym buddy for pre-workout treatment and warmup. Furthermore, this device may help enhance muscle efficiency and improve post-workout recovery so you experience reduced downtime.
The Sobasium S2 Massage Gun is priced similarly to the Hydragun at 399 AUD. The Sobasium massage gun trumps the Hydragun in terms of amplitude and stall force, plus its max battery life is an hour longer. However, the Hydragun aces the competition in terms of noise level, while both guns weigh in at around 1kg. Hence, there isn't an apparent winner between the two, so if your budget lands in this range, pick the one that suits your preferences best!
If you want to indulge in a nice massage without having to rely on movie subtitles, the Hydragun is probably the best pick due to its impressively low noise level. But those who thoroughly enjoy more intense massages may opt for the Sobasium massage gun instead!
How To Choose A Massage Gun
These machines can fetch extravagant prices, so you would want to know which models are worth the investment. Here are some features you may wish to consider when selecting the best massage gun in Australia!
One of the most well-established models is a percussion massage gun called Theragun Pro G4. This baby has an impressive 16mm amplitude! But what does this mean? In short, the amplitude dictates how far and deep into the muscles the gun hits. Therefore, a higher amplitude equals a 'punchier' sensation as the massage head drives deeper and further into those sore muscles. Hence, devices with higher amplitudes will feel more intense even at lower speeds as compared to devices with a lower amplitude. But a greater amplitude isn't always better. For example, athletes might prefer larger amplitude devices, but the regular day-to-day user might find it too harsh and intense.
Stall force is also known as stall torque. Without getting too technical (in case you have nightmare flashbacks of physics classes), the stall torque defines the amount of force or pressure you can exert on the device before its motor begins to stall and the machine stops moving. A higher stall force means that you can apply a greater load or pressure, allowing the gun to go deeper into the muscle tissues. Amplitude and stall force come hand-in-hand. So even if a device has a higher amplitude, you won't be able to exert much pressure if it has a low stall force. Again, choose based on your preference. If you enjoy a light massage, there's no need to drop extra cash on a device that offers a high stall force. In the end, you won't maximise its capacity!
The speed, also known as the rate per minute (RPM) or percussions per minute (PPM), measures how many times the gun hits the muscle per minute. A faster PPM will equate to a more intense massage experience. There's no 'best' speed because different people fancy different things. But you may opt for a device with adjustable speed settings. This allows you to warm up at a slower pace and increase the speed level based on what you like.
Massage guns come with a rechargeable battery, so having to recharge your device all the time is a dealbreaker for many. A wireless mini-massage gun with a longer battery life would boost convenience and enjoyment. Hence, try to go for a device with minimally one hour of battery life. Besides that, other features contribute to the convenience and portability of the device as well. For example, keep your eyes out for USB-rechargeable devices. In addition to that, some brands include two interchangeable batteries in their package, such as the Theragun Pro G4, to boost total battery life. Lastly, a protective carry case (which some brands include in the purchase) may be helpful if you want to take your massage gun along for your next business trip!
While the device's weight won't have you lugging it around, using a heavier device can increase the strain on your wrists and make the experience less pleasant overall. Other than that, a weightier device would also make it more challenging to target hard-to-reach spots. Your best bet will be getting a lightweight mini-massage gun or sourcing the help of someone else!
The design of the massage gun is much more than just aesthetics. The model's design can contribute to the weight, and ultimately, how much strain is put on your arms and wrists when utilising the device. Other than that, some models come with adjustable arm positions, which allows you to lock the massage gun arm in certain angles to reach awkward spots. One unique feature of the Theragun Pro G4 is this: A patented triangle ergonomic design handle that allows you to hold the device in various ways. Thus, you can target more areas while reducing the strain on your wrists.
Different head attachments work for various muscle groups. For example, some brands include U-shaped heads meant for the shoulders, neck, and spine, while the ball head works on larger muscle groups. Additionally, many brands also include the bullet head attachment, designed for deep tissue massage and targetting smaller muscle groups in the hands and feet. Having various types of attachment heads will offer an all-rounded experience. Several people find that they only really use one attachment head, though!
Due to the motor in the device, massage guns will emit a certain level of noise. When you're using the massage gun, loud noises can be bothersome enough to ruin the experience, especially if you're working on areas closer to the ears. Furthermore, you don't want to be yelling at the top of your lungs while having a conversation with someone else in the room. Understandably, it can be tough to gauge the noise level of the device based on the stated decibels alone. Hence, watching online review videos may help you estimate how noisy the machine is. However, it's always best to test the device in person at the store!
With the multitude of products in the market, various brands offer a wide array of additional and unique features that serve different purposes. For example, the Bluetooth feature of the Hyperice Hypervolt Plus model allows the device to be linked to your smartphone. With this, your smartphone can control the device's speed and give you personalised recommendations for massage routines via the Hyperice app. The Theragun Pro G4 is also Bluetooth compatible, and its app provides user instructions, tailor-made recommendations based on your usage and helps you troubleshoot problems. Other extras may include a stylish charging dock and a convenient travel case. Besides that, try to take note of their warranty duration. Many brands typically offer a 1-year warranty period, though some include two or more.
Do Massage Guns Work?
While massage guns have been promoted to boost athletes' recovery and performance, there is no objective evidence that concretely proves the benefits. Then again, they are new devices that have just taken the world by storm, possibly explaining the lack of studies.
Undeniably, massage guns check the convenience box. But still, they are no match for a skilled and experienced massage therapist. These are artificial machines that can't tell the difference between a light or severe injury or the difference between bones, muscles, tissues, and nerves.
Furthermore, if you're buying these machines to cure a serious injury or a nagging pain, you could be headed for disaster. These devices are not meant to fix impaired function or long-term trauma. The safest route to take is seeking treatment from a health professional if you experience severe or concerning pain that does not go away.
But say you want a massage gun because it feels nice and helps you relax after a hectic day. Or maybe you want some help with pre-workout warmups. If that's the case, just go for it! But do remember to start low and go slow.
How To Use A Massage Gun Safely
The famous saying goes, 'no pain, no gain.' Not in this case, though. Some may find a particular muscle group that hurts more and think they should massage their area longer to promote recovery.
Overmassaging can bring more harm than good. Commonly, the manufacturer's instructions will recommend spending a maximum of two minutes on one muscle group. Additionally, pay extra attention and care to pulled muscles, muscle sprains, or bony areas. While massaging the neck isn't highly recommended, be extra careful if you choose to do so. Plus, it's best that you start the gun on a lower setting and gradually increase the speed.
Warning:
If you are pregnant, taking blood thinners, or have a medical condition known as deep vein thrombosis (DVT), consult your doctor before using a massage gun.
Overall, the Therabody Theragun Pro G4 seems to be the most outstanding amongst its competitors. It's a powerful device (highest amplitude and stall force on the list) with adjustable speed settings and a brushless motor, offering a brilliantly balanced professional massage experience.
Brushless motors significantly trump their brushed counterparts because they have greater efficacy and lesser susceptibility to wear and tear. Hence, brushless motors are generally more durable, have better performance, and emit less heat and noise than brushed motors.
Of course, the Theragun Pro isn't perfect, and the extravagantly high price tag may not be worth it if you don't maximize its capacity. Hence, if you're looking for something highly portable instead, the Theragun Mini is a fantastic option.
Another affordable option to the Theragun Pro is the Theragun Prime, which costs about 50% less than its Pro counterpart.
Or perhaps you're on a tight budget, or you don't feel comfortable dropping loads of cash on something you're unsure about. In that case, the RENPHO C3 massage gun offers excellent value for money.
Finally, the Hydragun is perfect for those who want to binge-watch their favourite shows while getting a soothing massage (without the extra noise)!
References
Massage Gun Advice. (2021). How to Choose a Massage Gun? Step by Step Guide. Retrieved from https://massagegunadvice.com/choose-a-massage-gun/
Capritto, A. (2021). How Effective Is a Massage Gun for Recovery?. https://www.verywellfit.com/do-massage-guns-really-work-5114083