🏡 Lifestyle,🥙 Nutrition
Caitlin Shoemaker's Ultimate Guide To Budget Vegan Meal Prepping
A new year is upon us which means it's time to start working towards those New Year's resolutions! If any of those resolutions include learning to meal prep on a budget, we have you covered – specifically if you're a vegan who's struggled to organise decent and affordable meal prep in the past.
UPDATED ON Apr 10, 2023
Vegan health influencer from the US, Caitlin Shoemaker, has an entire Youtube channel dedicated to vegan recipes, health tips and of course – easily achievable and budget friendly meal prep.
The best thing about Caitlin's content is that she doesn't rule out treating yourself with sweets and includes them as part of her easy to follow meal prep, almost like a well deserved reward for all of your hard work. You don't have to feel bad about noshing down on a few squares of chocolate either because everything included in Caitlin's recipes is healthy and more than acceptable to include in your diet.
Not only does Caitlin provide delicious meal prep for her viewers, but she makes sure to include a variety of different options to avoid a monotonous meal plan comprised of poached chicken and veggies.
Eating vegan isn't exactly cheap or easy, luckily, Caitlin has prepared breakfast, lunch and dinner for the week and all for under $65.00 so long as you purchase your goodies from Woolies. If you're willing to jump from shop to shop, I'm sure you can bring the price down even further by grabbing some of your items from Aldi.
The ingredients you'll need are:
Eggplant – $2.21
Broccoli – $2.61
Carrots – $2.00
Garlic infused oil – $6.50
Mini grape tomatoes – $4.00
Red capsicum – $2.07
Tempeh – $4.50
Risoni – $2.40
White beans – $1.00
Lentils – $0.80
Garlic – $1.25
Italian seasoning – $1.90
Vegan pesto – $4.90
Flat bread – $2.80
Baby spinach – $3.00
Eggplant hummus – $3.00
Lemon – $1.26
Vegan pasta – $2.80
Rolled oats – $1.40
Flaxseeds – $4.00
Peanut butter – $5.00
Banana – $1.26
Vegan dark chocolate – $2.80
Component preparation
Chop up some egg plant and place it in a bowl. Cut broccoli into florets and leave stems to the side, chop the carrots with the skin on to save time or peel if your prefer.
Preheat the oven to 200°C. Prepare a large flat tray with a baking sheet. Drizzle the garlic infused oil over the egg plant and mix to coat. Place on the tray along with the broccoli, baby tomatoes and chopped carrots. Drizzle garlic oil over the carrots and tomatoes to ensure the tomatoes blister perfectly. Place in the oven for 35 to 40 minutes but make sure to keep an eye on them.
Peel the broccoli stems and slice into thin, pasta like strips then cut the capsicum into four quarters. Use a mandolin to thinly slice capsicum and set aside. Grab the remaining carrots and chop into thin sticks. Hot tip – Store the carrots in a small container with shallow water to avoid the carrots drying out before you have a chance to eat them! Slice the tempeh into strips and put aside.
For the risoni, chop two cloves of garlic and place in a hot pan, then cook the risoni in the same pan according to instructions on the package and add some salt and pepper. Stir in a can of white beans, mix together and put aside.
Now you can start on the lentils. Add a splash of water to a pan and some minced garlic. Add lentils and some Italian seasoning for flavour. Cook until fragrant and put aside.
For the pesto tempeh, place the tempeh in a pan and make sure the bootom of the pan is evenly covered. Add a cup of water then turn the heat onto high. Add in some pesto (whatever feels right) and bring to the boil. Continue to cook until the water evaporates and set aside.
Raise the temperature of the oven and chop the flat bread in half (according to preferred sandwich size). Place the flat bread in the oven until browned.
Now we can start packing away our meal prep!
Breakfast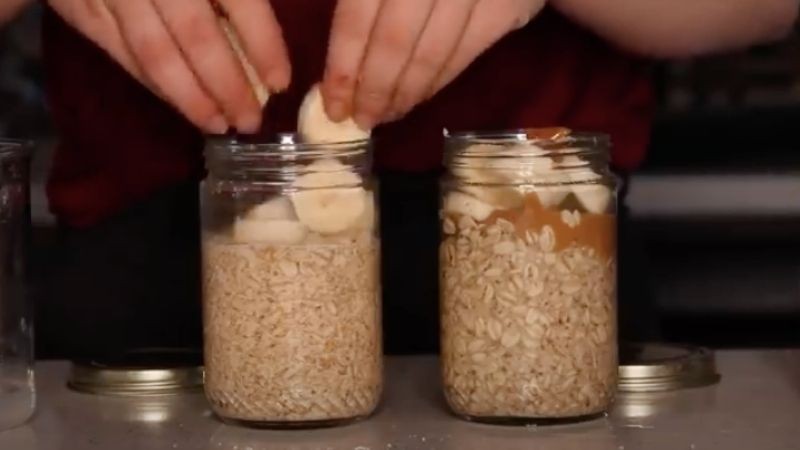 Place one or half a cup of oats into a jar with a tablespoon of flaxseed. Add a tablespoon of peanut butter and some water, mix together and leave to sit for a few minutes. Add more peanut butter on top, along with some chopped banana to finish.
Monday, Wednesday & Friday lunch (lentil and veggie salad)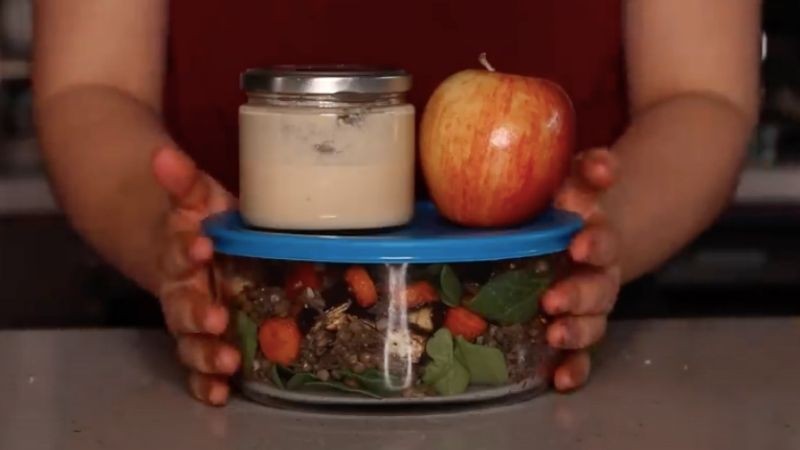 Add a handful or two of spinach into a bowl, a third of the cooked lentils, some red capsicum and roasted veggies (eggplant and carrots). Toss the salad. For the dressing, place half a container of eggplant hummus into a jar along with the juice from one lemon. Shake up well and set aside for use.
Tuesday and Thursday lunch (pesto tempeh sandwiches)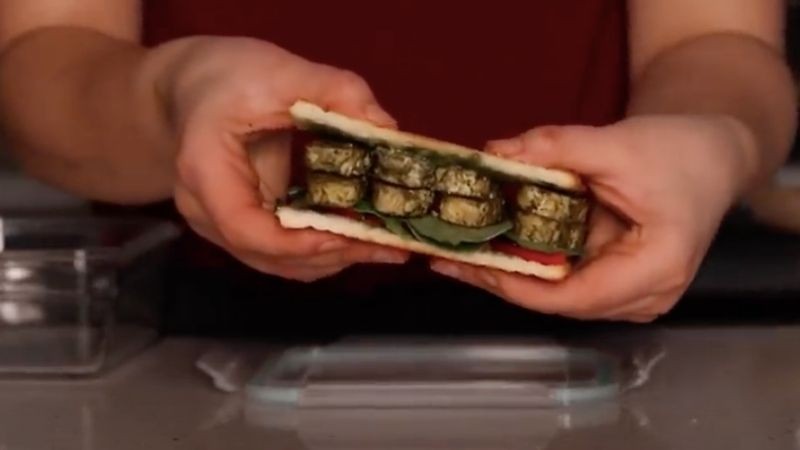 Take two slices of browned flat bread and spread pesto onto the bases. Add the red capsicum, spinach and pesto tempeh onto one piece and then place the second piece on top. Store the sandwich in a container or sandwich bag. In another sandwich bag or container, collect a small handful of carrots and along with a side of eggplant hummus to dip.
Monday, Wednesday and Friday dinner (risoni and veggies)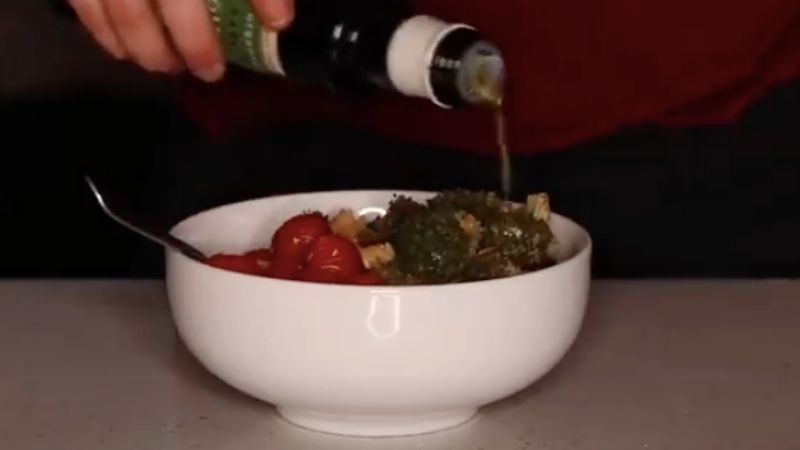 Add a third of risoni into bowl with the remaining broccoli and tomatoes. Add a drizzle of garlic oil and a squeeze of lemon.
Tuesday and Thursday dinner (pesto pasta)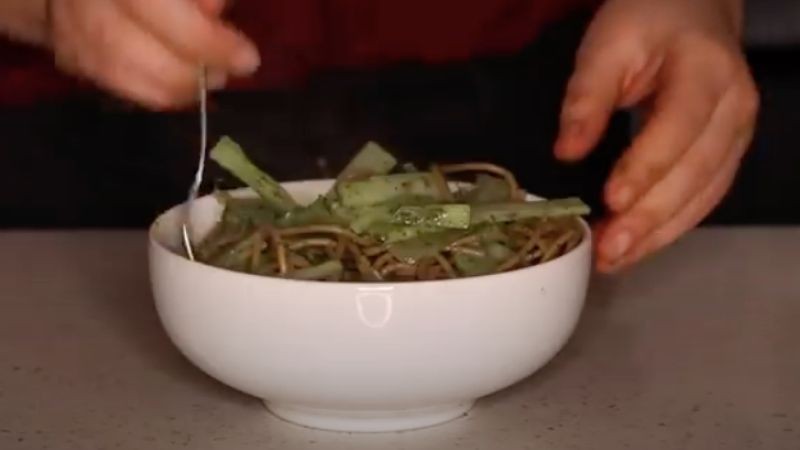 Cook pasta (preferably the day of). When there's about 2-3 minutes of cook time left, add the sliced broccoli stem. Once cooked, drain the water, add some pesto to the pot and stir into noodles. Garnish with vegan parmesan cheese if you're looking for some extra flavour.
Dessert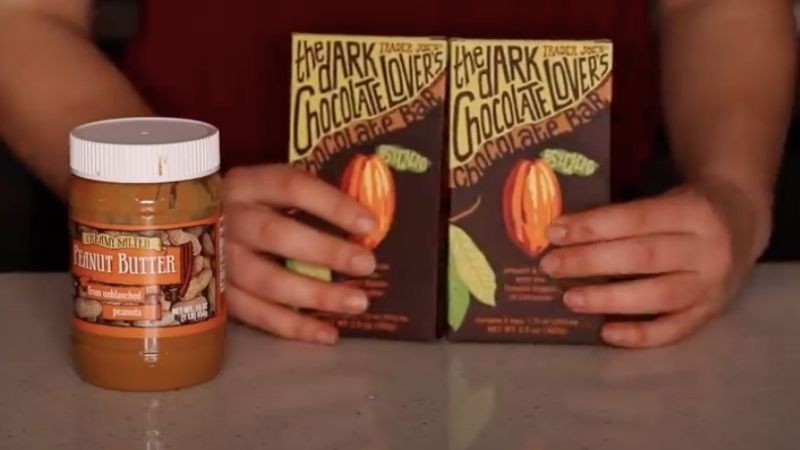 Dark chocolate with peanut butter. Dip the chocolate into the peanut butter at your own leisure, just try not to over do it!
These recipes are easy and surprisingly cheap! If you're liking her budget meal prep guide, jump onto Caitlin's page and check out more of her helpful content for more mouth-watering recipes – you won't be disappointed!