📝 Updates
The Best Meal Providers in Melbourne (2023) 🇦🇺
UPDATED ON Aug 30, 2023
#

NAME
Delivery days per week
Cost of delivery
Deliveries occur between Saturday and Tuesday
$12.00
Saturday & Sunday
Free over $80
Wednesday - Sunday
$15.00 (but free if you subscribe)
Sun, Mon, Thurs, Fri
$12.00 flat rate
Saturday-Sun
Free in CBD and surrounds or $10 outside the CBD
Tues-Sun (select your preferred day when ordering)
$9.99
7 days per week
$15.99 (metro)
Overwhelmed by the number of meal providers in Melbourne and don't know which is best for you and your needs? We've got you covered.
Ready-made meals are amazing – they save you time, save you money and can help you kick some health and fitness goals 👊🏻🫡.
But which meal provider in Melbourne is best for vegans? 🥦 Which Melbourne meal provider is best for athletes? 🏋🏻‍♂️ Are there any good gluten-free meal providers in Melbourne? 🚫🍞
We've gone ahead and done the hard work for you (you're welcome) to create the ultimate list of the best meal providers in Melbourne based on a variety of factors.
Let's dig in🍴
The Best Meal Providers in Melbourne List 👇🏻
Best All-Rounder
1. Chefgood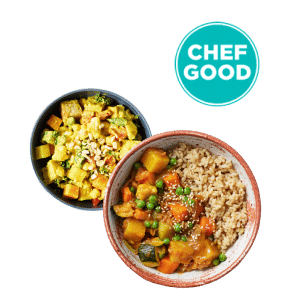 Delivery days per week: Deliveries occur between Saturday and Tuesday
Delivery time frame: Place an order by Wednesday 11.30pm to receive order following Sunday or Monday
Delivery locations: NSW, VIC, QLD, ACT, SA
What's good?
Weekly rotating menu
Lots of meal plan options to suit a variety of diets
What's not so good?
Delivery isn't as frequent as other providers
Chefgood comes in as one of the highest-rated meal providers in Melbourne and you'll find something to suit almost any dietary needs. Chefgood is particularly good for weight loss as a dedicated 'Slim & Trim' weight loss plan, with all meals under 350 calories each. You can choose between 5, 7, 10 or 14 meals per week. They also have meal plans based on dietary requirements like vegan, gluten-free, dairy-free and so on. 
Chefgood creates healthy meals with fresh seasonal produce, working with local farmers and growers in sourcing fresh ingredients. They have a new menu weekly, so you won't get bored of the same meals over and over. In terms of customisation, there's not much you can add or change, but they are pretty good when it comes to dietary requirements, with all meals labelled with whether they are gluten free, vegan, dairy free and so on.
Best Keto Option
2. Thr1ve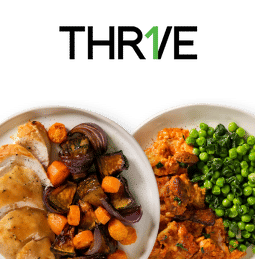 Delivery days per week: Saturday & Sunday
Cost of delivery: Free over $80
Delivery time frame: Order before Wed 11.59pm for delivery on Saturday or Sunday
Delivery locations: National
What's good?
Meals are delivered fresh
Range of meal plans based on individual goals
What's not so good?
Customers have suggested issues with food not arriving on time
Thr1ve has a huge range of keto-friendly meal plans which you can tailor based on your goals. There's an Accelerated Weight Loss Plan, Fat Burn Plan, Intermittent Fasting Plan, Athletic Performance plan and more. 
All their meals are made with healthy fats to help boost your energy while reducing carb intake. THR1VE takes the keto diet seriously, having invested in Australian-first research to ensure their diet meal delivery works. Using fresh, seasonal produce from Aussie farmers, Thr1ve have an extensive range of low carb, low calorie and low sugar meals.
Best for Fitness/Athletes
3. My Muscle Chef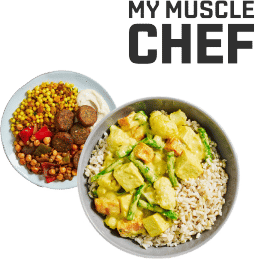 Delivery days per week: Wednesday – Sunday
Cost of delivery: $15.00 (but free if you subscribe)
Delivery time frame: Order by midnight Saturday for next week delivery and choose between 12am-7am, or 8am-6pm
Delivery locations: National
What's good?
Meal plans to suit your fitness goals
Packs to suit a variety of dietary needs
What's not so good?
Some complaints about small portion sizes
Some customers complain about delivery issues
My Muscle Chef has been the number one meal delivery service on productreview.com.au for five years in a row. What's great about My Muscle Chef is its high level of customisation – you can choose from its goal-based plans or its weight loss-targeted fixed sets.
With 50+ high protein meals, vegan options, sustainably sourced ingredients and delivered fresh not frozen, it's no wonder it's such a highly rated meal provider in Melbourne. All meals are low carb, low fat, low sugar meals, with additional healthy snacks and drinks optional. MMC's team of chefs work closely with their Head Nutritionist to develop a wide variety of meals that help with weight loss and dedicated gym goers.
Best for Vegan/Plant-Based
4. Soulara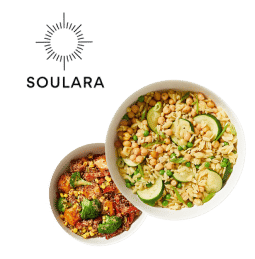 Delivery days per week: Sun, Mon, Thurs, Fri
Cost of delivery: $12.00 flat rate
Delivery time frame: For Thursday/Friday, cutoff is at 8:00am AEST on Saturdays. For Sunday/Monday, cutoff is at 8:00pm AEST on Mondays.
Delivery locations: National
What's good?
Makes plant-based living accessible
Known to throw in a freebie every now and again
What's not so good?
Website is confusing to navigate
Some customers suggest overly-frequent email communication
As a 100% plant-based meal delivery service operating in all major capital cities and regional areas in AU, Soulara serves chef-curated meals made from premium-quality ingredients and superfoods. Meal plans vary depending on how many meals you want each week, ranging from 7 to 24 meals. You can choose meals from their rotating menu that's updated every week.
While they don't offer meal plans like weight loss or low-carb for example like other meal providers do, you do have greater control over the meals you receive in your pack of 7 to 24 (depending on the option you selected).
Best Local Option
5. Lifestyle Meal prep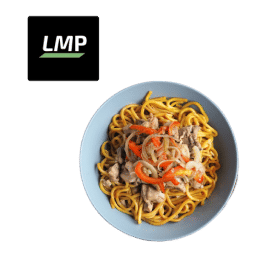 Delivery days per week: Saturday-Sun
Cost of delivery: Free in CBD and surrounds or $10 outside the CBD
Delivery time frame: Order by midnight Tues
Delivery locations: Melbourne CBD & surrounds
What's good?
Menu works on an easy "set and forget" 4 week rotation
Meals can be customised to suit allergies and preferences
What's not so good?
Not as easily customisable as other similar providers
Lifestyle Meal Prep is a local Melbourne provider whose meals work on a four week rotation with new menus released every 12 weeks. They prepare five fresh menu items according to a weekly menu. You can choose to order a minimum of 8 meals weekly (starting at $87 for 'Lean Meals', or you can order 14 meals (starting at $135). It all works on a 4 week rotation. All meals are well-balanced, high protein, clean carbohydrate and low fat.
Best Option to Learn to Cook
6. Marley Spoon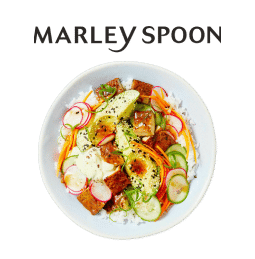 Delivery days per week: Tues-Sun (select your preferred day when ordering)
Delivery time frame: Midnight-7am or 8am-6pm
Delivery locations: National
What's good?
Quality food, recipes and good value
Simple to follow recipe cards
What's not so good?
Some customers have suggested issues with deliveries
If you still like the idea of making and cooking your own meals (without the fuss of shopping or thinking of a menu), Marley Spoon is an excellent meal kit provider in Melbourne. You can choose from 40+ weekly recipes that are updated every week, delivered with pre portioned ingredients in meal kits straight to your door.
Their selections of meal recipes include vegetarian, vegan, family-friendly, gluten-free, dairy-free, and low carb options. Their 6-step recipe cards are chef-inspired and easy to follow. With flexible subscriptions you can skip, pause or cancel at any time. Aside from 2-person and 4-person meal kit boxes, they also offer fruit boxes delivered weekly at $24.90.
Best for Something Different
7. FoodSt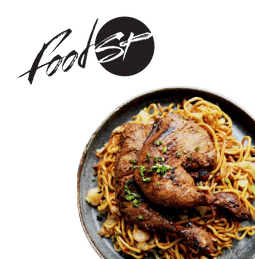 Delivery days per week: 7 days per week
Cost of delivery: $15.99 (metro)
Delivery time frame: 12am and 7am (overnight) or 8am and 6pm (day delivery)
Delivery locations: National
What's good?
Home-cooked style mealsDelivery 7 days a week
Delivery 7 days a week
What's not so good?
Not meal plans like weight-loss, low-carb etc.
Expensive delivery
FoodSt is a very cool concept that's basically a marketplace for cooks to sell their homemade meals. It was originally launched by a mum of two who was working full time with two little kids and struggling to do it all. 
So, the founder decided she wanted to connect home-cooks with time-poor people. Now, there are 36 home-cooks on the books with more than 100 different meals on offer, with dumplings, goulash and beef rendang. These meals are cooked in small batches weekly before they are picked up and brought to FoodSt's headquarters.
You can choose meals for 1 or 2, family meals or small bites. You can even filter your cooking method from microwave to oven or stovetop, as well as filter by cuisine, or by protein, or by diet like gluten-sensitive, dairy-sensitive or vegan.
How Did We Create This List? 🙌🏻
Important:
This list is based on personal experience with each brand, and countless hours of research from actual customer reviews on mealprep.com.au, productreview.com.au and Trustpilot. We made our selection for the best ready-made meals and meal-kit providers based on the highest scores within each "Best of" category.
FAQ
What's the difference between meal delivery service and meal kit?
Meal kits provide you with all the ingredients you need for the meal, along with menu cards and cooking instructions. Basically, they do the shopping and meal inspo for you, and all that's left for you to do is cook. Popular examples include HelloFresh and Marley Spoon.
Meal delivery services or ready-made meal providers provide you with a fully cooked meal that's ready to go (all you need to do is heat it up!)
Which Melbourne meal providers offer keto-friendly meals?
My Muscle Chef
Foober
A Life Plus
Thr1ve
Workout Meals
Nourish'd
Chefgood
Which Melbourne meal providers offer vegan meals?
Soulara
MACROS
My Muscle Chef
Chefgood
My Goodness Organics
Foober
Garden of Vegan
Herbidoor
What's the cheapest meal delivery service in Melbourne?
Youfoodz is one of the most affordable meal delivery services in Melbourne, offering fresh ready-made meals, snacks and beverages by delivery or instore. They also deliver to most areas in Australia with meals starting from $9.95.
Which Melbourne meal providers offer weight loss programs?
Chefood
Lite n' Easy
Workout Meals
My Muscle Chef
Macros
Thr1ve
Be Fit Food
Which meal providers in Melbourne offer NDIS support?
Read our article on the top 7 NDIS meal providers here, otherwise here are just some of the Melbourne meal providers offering NDIS support.

Dineamic
Lite n' Easy
BeFitFood
Kinela
I Hate Cooking
Garden of Vegan
A Life Plus
Nourish'd
Good Meal
Gourmet Dinner Services
Tender Loving Cuisine
Herbidoor