As a nutritionist, I'm a big advocate of plant-based wholefood eating. That doesn't mean you need to be vegan or vegetarian, but it does mean your diet emphasises plant products rather than meat and processed foods.
Soulara is an online subscription-based delivery service that aims to offer nutritious, 100% plant-based meals using all-natural ingredients. Unlike some of the other convenient food brands, you won't find their meals high in refined carbohydrates to "fill" you up or additives to enhance the flavour profile.
In their range, you'll find a variety of delicious sounding meals, snacks and juices. Here, I review The Holy Kale which claims to be "a nourishing bowl filled with smokey tempeh, protein-rich quinoa, nutrient-dense kale and veggies and drizzled with a zesty dressing."
So does it stack up or will I be missing the addition of meat?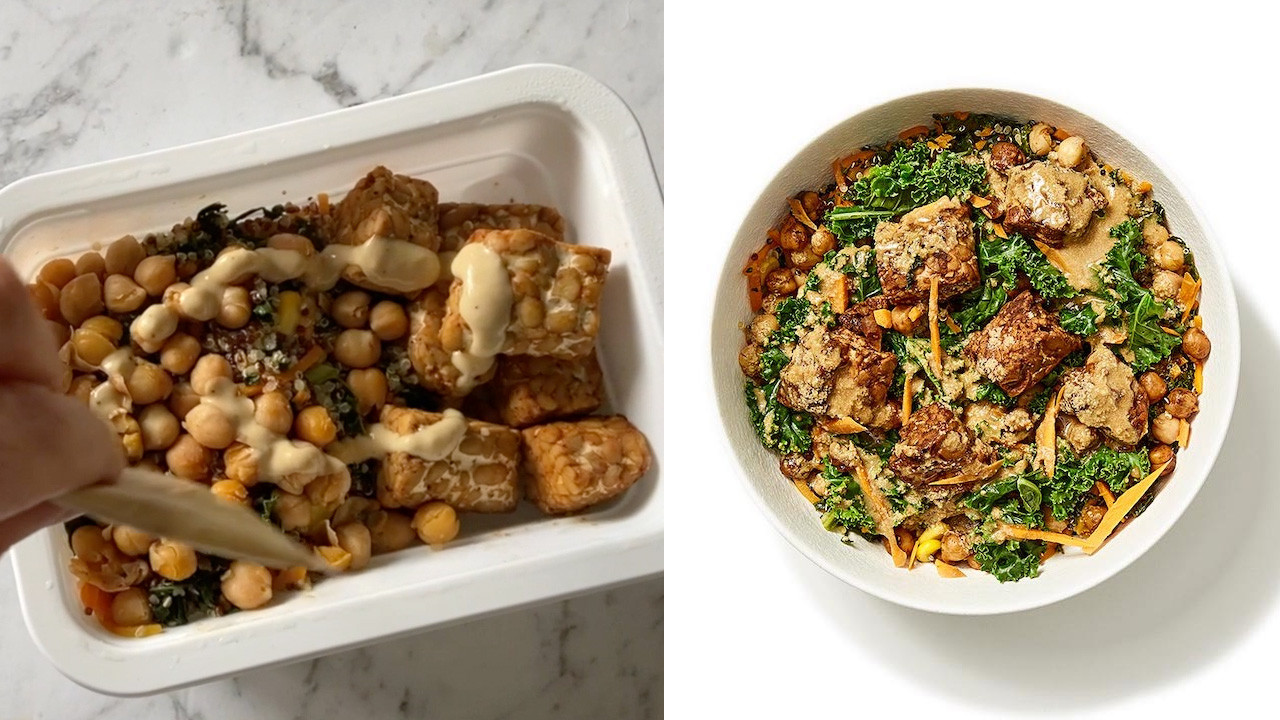 Was the Holy Kale nutritious?
The Hole Kale bowl is part of Soulara's High Protein Range and with 33g in the 350g serve, it is delivering a good portion of protein. This predominately comes from the chickpeas, tempeh and quinoa ensuring you're getting all nine essential amino acids. This is excellent considering there is no meat or other animal products.
As I have mentioned in my other reviews, I am particularly interested in the source of Soulara's tempeh. Tempeh is incredibly nutritious (containing protein, calcium, iron, B vitamins, zinc, selenium, magnesium, manganese and potassium), and being fermented, it is easy to digest.
However, most tempeh is made of genetically modified organism (GMO) soybeans. There is emerging evidence to suggest, GMO soy can disrupt hormones and cause problems particularly relating to reproduction. I recommend tofu and tempeh as part of a whole food diet but tend to advise my clients to only choose organic and consume no more than 2 serves a day.
This meal is about 50% carbohydrates, which is not too bad given it is a vegetarian dish, and given it is a higher protein meal. It's also refreshing to see Soulara are opting for quinoa as their main carbohydrate over ingredients like whole or refined grains. Being a seed, quinoa is an excellent source of nutrients including protein, as well as being fibre-rich and low GI.
The overall fat is just 16g and the sugar and sodium content is low which is great for a ready-made meal.
Like many of their savoury dishes, Soulara has added nutritional yeast amongst their flavourings. While many vegans often use this to provide a cheese-like taste, if fortified, it can increase the intake of B vitamins which are particularly important if you don't consume animal products. Just be aware depending on the source, nutritional yeast may contain MSG.
There is a lot of natural flavouring ingredients in this dish like maple syrup, tamari, apple cider vinegar and coconut aminos, but not a lot of actual vegetable variety especially for a vegetarian dish. No doubt it packs a punch in the flavour but will it offer satiety?
How convenient is the Soulara range?
As an online delivery service, Soulara is incredibly convenient.
Soulara is a weekly subscription model that requires you to sign up and choose from their selected meal plan. While there is no option to just order as you require or choose your own number of meals (7 being the minimum), you can cancel or pause your subscription at any time.
I personally liked their ordering process as I just needed to select the plan that worked best for me and the meals I liked. I knew upfront how much the delivery was going to cost and could easily see how I could make it more affordable by choosing the plans with a greater number of meals.
I also cancelled my subscription after ordering knowing I only wanted to place one order at this time. You can easily reactive your subscription should you choose to do so in the future.
As with all the online delivery services I have tried to date, Soulara has a set cut off and delivery date based on your area. They send a message reminding you of your meal delivery followed by an email when it's delivered. I did appreciate that the email included images of the box at your doorstep to confirm delivery.
How was the taste of Soulara The Holy Kale?
The Holy Kale contains a separate sauce packet. While there are no instructions as to whether this should be heated, I removed it before microwaving.
With plenty of flavourful ingredients and fresh rather than frozen, The Holy Kale looks like it will taste amazing, especially for a ready-made meal.
The first thing I noticed after heating is the smell of the smoked tempeh and after adding the dressing, you could the citrus was evident. There was also enough of it to coat the entire meal. There is a good balance between the tempeh and the quinoa, veggie mix. While there isn't a lot of variety in the types of veggies, there is a good range of textures that adds substance to the dish.
The flavours are really fresh and yummy. However, like all the Soulara tempeh dishes I have tried, the large cubes are a bit dry even with the addition of the dressing. Perhaps this is personal taste?
Have a product review suggestion?
All of our reviews are independent based on our own experiences. If you have a product you want to see reviewed, let me know in the comments below!