📕 Guides
Meal Prep Providers to Try in 2022 (fits into every new year's resolution!)
Set a New Year's resolution to eat healthier in 2022? Don't be like the many that crash before the end of January. Try one of these Meal Prep providers to stay on track.
UPDATED ON Jun 24, 2022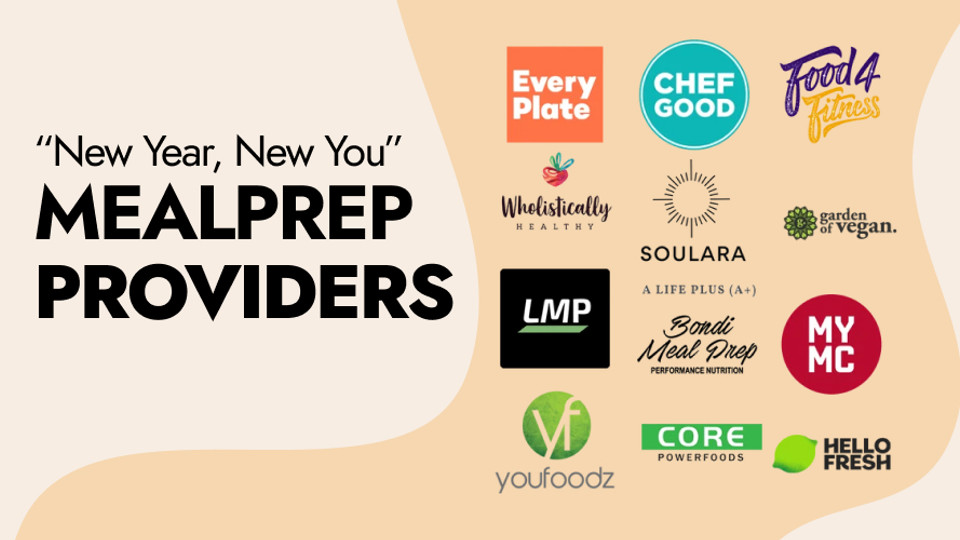 Most people fail their New Year's resolutions because they make them too difficult. They jump straight into the deep end relying on motivation to keep them going. You may have all the best intentions, but motivation doesn't last. And too many changes can often become overwhelming and unsustainable once the holidays come to an end.
One of the most popular resolutions made in January is eating a healthier diet to lose weight, build muscle or simply to keep well. Rather than jump into a restrictive dietary plan, commit to cooking all meals from scratch and clearing out your pantry, there is a more sustainable option.
Subscribing to a meal provider can be one less reason to fail.
Why should you choose a Meal Prep provider?
Subscribing to a Meal Prep provider can help take the stress out of shopping, cooking and prepping healthy food, especially if you're making significant changes to your diet.
It may seem easy to do while you're motivated and on holidays. But return to work and your everyday routine, and maintaining this way of living can be challenging.
Instead, making small bite-sized changes is more sustainable. Whether you choose to subscribe to one meal a day or three, a meal provider can help you get in the groove and reach your New Year's resolution.
As a nutritionist, I recommend many of my clients use meal providers to assist with their health goals as they can:
Be an introduction to a healthy diet
Help save time and money
Replace ordering take-away
Assist with portion control and macro balance
Give you time to focus on enhancing other aspects of your life
Our top picks based on your goals
Just want to eat better without blowing up the budget
My Muscle Chef
They deliver nationally (except TAS and NT) and can be found at most supermarkets and convenience stores. My Muscle Chef is a good introduction to the world of convenience meals. They have one of the biggest, most affordable ranges with goal-based plans.
To see their entire range, head over to their online store and select a plan that suits your goals.
Want to try some more gourmet options that are healthy:
Chefgood
Chefgood is a great provider for those looking for well-balanced, healthy meals that taste delicious without all the hidden crap. They deliver everywhere (except WA and NT) and have a wide variety of rotating menus including meals with guest chefs.
The Chefgood meal reviews are very positive, so we recommend you check out their range.
For athletes wanting to refine their performance or physique:
Food4Fitness
You've probably tried a lot of fitness-focused Meal Prep providers and so have we. Our favourite is still Food4Fitness.
They may be on the pricer end, but their customisation option enables you to individually tailor your meal plan. You can customise your meals to have lots of carbs, no carbs, more protein and even buy bulk packs to use for your own meal prep.
Want to enjoy some good vegetarian food?
Soulara
Soulara could be the answer to your no-meat goals. They're arguably the biggest dedicated plant-based provider that delivers nationally. They are a more expensive option, but the quality of ingredients and emphasis on nutrition is well worth it.
Trust us, you won't be missing meat!
Looking for a vegan provider?
Garden Of Vegan
Garden Of Vegan is the choice for a vegan provider. They deliver to most states (except NT) and use 100% certified organic ingredients. The Garden Of Vegan range is diverse and you can have the option to choose a meal plan that's suitable to your resolution which can make life easier.
Want to try a meal kit provider?
HelloFresh
The industry 'standard' is HelloFresh. It's essentially all the ingredients you need to assemble your meal according to the recipes.
If you're new to this way of eating or a cooking novice, HelloFresh is a good first option as they come with meal cards and the steps are very easy. They also offer family options so a great way to get everyone involved.
Like many meal providers, there are some healthier options than others in their range, so take the time to choose the best for you.
Like the idea of HelloFresh but find the prices a bit too hard to swallow?
Everyplate
Then you need to try Everyplate. Their meal kits are cheaper than the supermarket from as little as $3.98 a plate. Like HelloFresh, you can choose the number of people you're cooking for and how many meals.
They also come with physical recipe cards, unlike Dinnerly.
Our tip if you're using a meal kit provider is to double the number of people you're catering for. That way you'll save time and energy cooking two meals in one session!
Wanted to try Keto but can't be bothered cooking?
A Life Plus
A Life Plus (A+) have you covered. They're one of the dedicated providers that offer healthy keto plans using minimal whole food ingredients. They also offer organic and alkaline meal plans that could be helpful to reduce your toxic load post the festive season.
For those looking for something local
Local providers always have a bit of an edge and there are several we like to give a shout out to.
VIC Lifestyle Meal Prep – If you like smaller providers who are well-reviewed. They offer different sizes and cater to a variety of dietary requirements.
NSW Bondi Meal Prep – Reviewed by Valentina who has loved their freshness and their range is great. Watch Valentina's review here.
WA Wholistically Healthy – Great for ready-made meals and dinner twist for meal kits that are based on the ancient Ayurvedic philosophy.
QLD Club Shredder – Clean, fresh meals that won't make you feel like your missing your restaurant night outs.
What meal provider didn't make the list
Youfoodz
One of the first meal providers but we feel My Muscle Chef just do it better. Their owners have also been caught in controversy in recent years that has affected their popularity.
CorePowerfoods
Available in most supermarket freezers already and generally our review is that they're quite bland to the average person but the macros are great and they are cheap which can help with budget constraints.