Pitango is a New Zealand brand that started out with soups that use "nothing but true, honest ingredients". They've since expanded their range to include meals and broths that claim to only use nutritious ingredients. In this review, I look at the soups, broths and risottos. I was unable to get my hands on their meals as I don't believe they're available in many supermarkets.
So let's zero in and take a look.
How do the ingredients rate in Pitango soups and meals?
The ingredients list is the first thing I inspect when assessing whether a product is nutritionally beneficial. I was pleased to see in most of Pitango's products only feature a minimal amount of ingredients. And what's even better, there aren't any ingredients that are challenging to pronounce or hidden in a random list of numbers.
In some of these meals such as the Organic Pumpkin & Ginger Soup or the Free Range Spring Lamb Soup, there is a conscious effort to choose quality ingredients that are organic or free-range.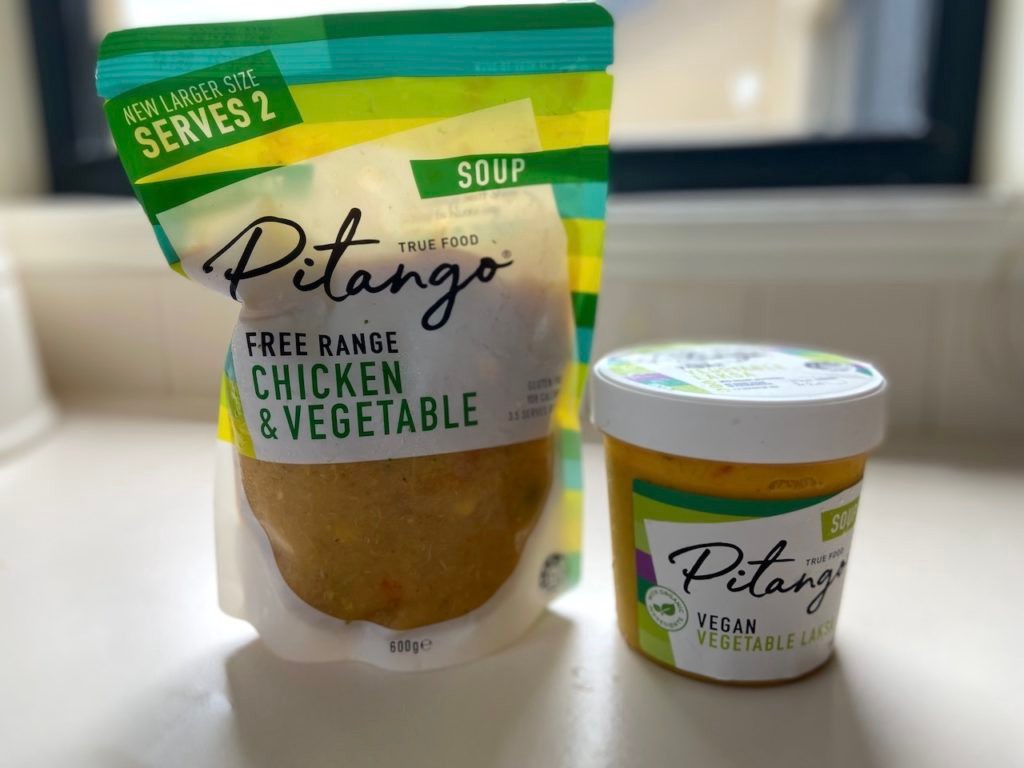 There are a couple of things to consider in regards to the ingredients.
The inclusion of vegetable oils, namely sunflower oil. This is really typical in convenient meals as vegetable oils are cost-effective. The issue I have with vegetable oils is that they are heavily refined and oxidise easily when they're heated. Sunflower oil is particularly high in omega-6 fatty acids which if we eat too much, can lead to inflammation in the body. If you're consuming these on a regular basis or convenient food in general, you may want to assess your overall intake of omega-6 fatty acids because it's likely to be high.
The amount of poultry, meat and fish content in those meals such as the Spring Lamb Soup, Chicken and Vegetable Soup, Smokey Fish Chowder or the Chicken and Garlic Risotto is very minimal on average at only 6-7%. It's really there as a flavour not for the benefit of increasing the nutrients such as protein which you'll notice is very low. This is not a problem, just an observation. Maybe the Fish Chowder should be remained "Smokey Vegetable Chowder with a hint of Fish".
One thing that initially made me roll my eyes was the inclusion of Sunfed Chicken Free Chicken® in the Vegan Thai Style Soup. I thought, 'here we go another Frankenstein Food' however I was pleasantly surprised with the ingredients.
As listed on Sunfed's website, Sunfed Chicken Free Chicken® is soy-free, GMO-free and Palm Oil-free. It contains water, pea protein, cold-pressed extra virgin olive oil, pea fibre, yeast extract and pumpkin. (Keep in mind this ingredients list is slightly different than the one listed on Pitango's products so I'm not sure if it has been updated).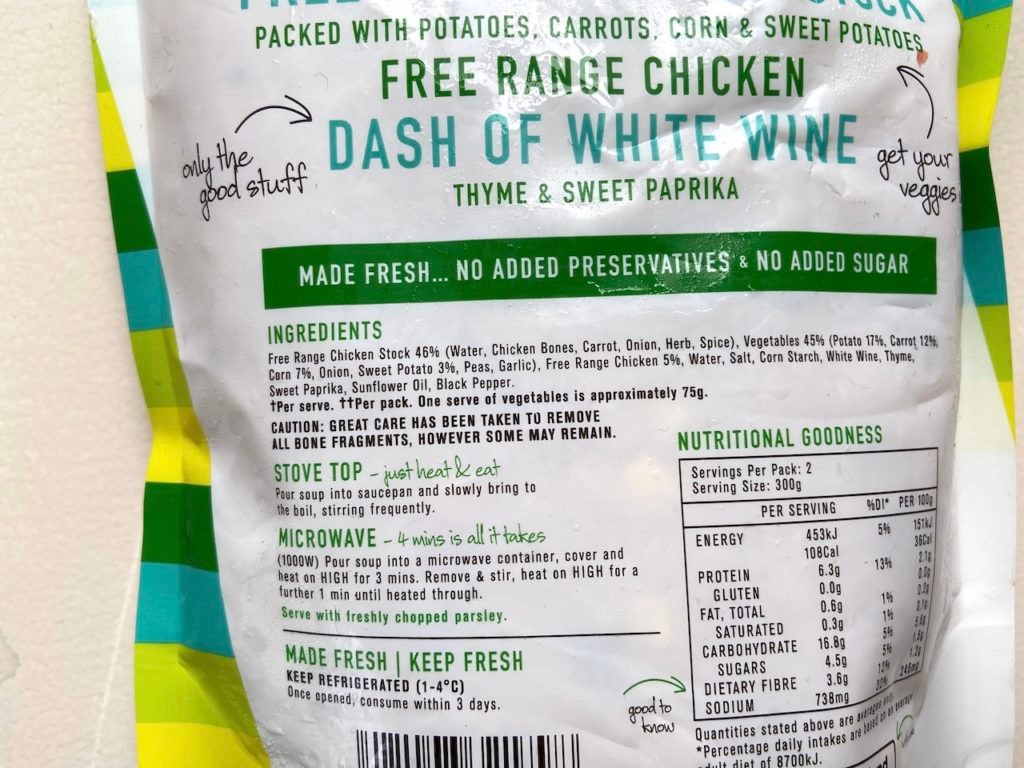 Are the Pitango soups nutritious?
Firstly, the calorie content of the meals varies depending on the product you select. For example, Pumpkin Ginger Soup is only 25cals per 100g. The Swee Potato & Coconut soup is 55cals per 100g and the Chicken and Garlic Risotto are 87cals. So all in all, not much for a meal depending on your portion size.
The protein content is very low across the board in these meals, so you're really not going to want to rely on these meals to fill you up or help you achieve your required protein intake. Obviously, the vegetarian based soups are going to be a little less, but at just 0.7g per 100g for the pumpkin soup, it's very low! Adding some chickpeas, lentils or nuts and seeds could be helpful.
But, the chicken risotto isn't that much better at 2.7g per 100g. This reflects back at just how little chicken they are using in this recipe.
Helpful, but not a nutrient is gluten on the nutritional panel. Guess they're just emphasising the meals that contain no gluten!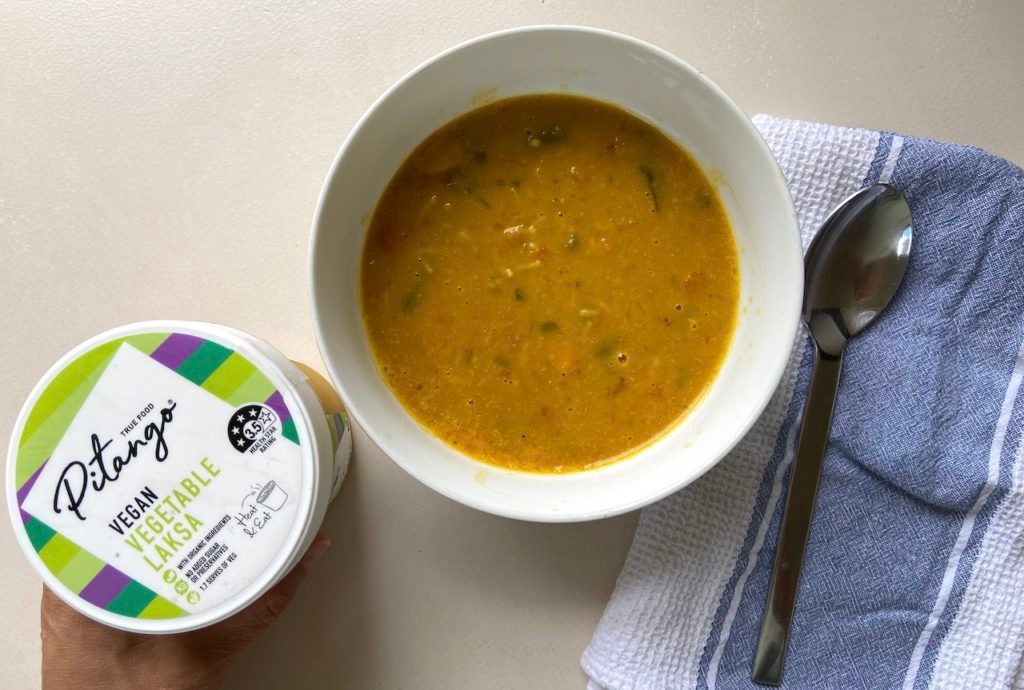 The total fat and saturated fat is relatively low. This is no surprise given the low inclusion of high-fat foods such as meat. It's slightly higher in those featuring coconut or dairy.
These meals are highest in carbohydrates which are mostly coming from starchy vegetables as opposed to refined carbohydrate ingredients. They range from 3.7g of carbs to 14.4g per 100g.
Obviously, the meals with rice such as the risottos or pasta in the case of the Vegetable Laksa will be higher in carbohydrates.
As most of the soups use starchy vegetables, these meals are relatively low in dietary fibre. Again, something to consider when you look at your overall dietary intake.
The good news is that they are low in sugar and sodium. If you are trying to steer clear of these ingredients, the Asian inspired broths tend to be a bit higher.
Overall, these Pitango meals are good options if you're looking for a quick and light meal. They're not high in ingredients that are going to fill you up and keep you going but they can have their place as part of a well-balanced diet. For me personally, it's hard to get excited about a packet of soup but if you're a soup fan, you may put this on your list of 'on the run' supermarket go-to's.