As a nutritionist, Coles PerForm Lean range wouldn't be my first point of call for healthy meals that help you achieve your weight loss goal. While Coles state this frozen meal range will help you "control your calorie intake" it doesn't offer much nutritionally.
With a lengthy list of artificial and refined ingredients and only chicken-based meals, the Coles PerForm Lean range doesn't tick many boxes for me. They are, as Coles claim, lower in calories and their macronutrient balance is fine but I'd argue they aren't going to be enhancing your "health and wellbeing".
Read below the review for my thoughts in more detail.
Were the Coles PerForm Lean meals nutritious?
The Coles PerForm Lean meals are designed to target those on a "low energy budget". At 330g the Lean meals are a smaller portion size than those in the Build range and are less than 400 calories per serve.
The ones I tried were 300-310 calories per meal.
As Coles states, these would be suitable to consume after a low-intensity workout or as a balanced snack if you are regularly exercising. But it all depends on your individual nutritional requirements.
The focus of these meals is the calories, but let's look at their nutrient value.
Ingredients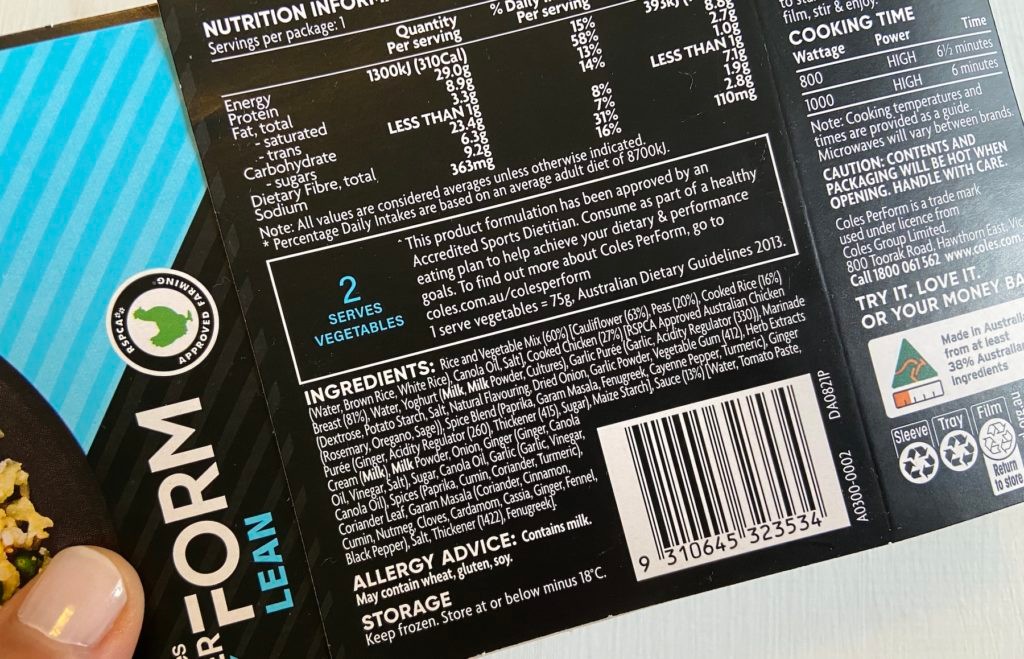 The most noticeable aspect of the ingredients list of the Coles PerForm Lean meals is the length. There are a lot of ingredients for what appears to be a simple meal.
Granted, in some of the meals like the Tandoori Chicken with rice, cauliflower and peas, there are heaps of delicious herbs and spices. The promise of flavour is great!
But in amongst the garlic and spice blends, you'll find cheap and nasty ingredients such as canola oil, milk powder, maize starch, dextrose, vegetable gum 412, thickener 415, acidity regulators, flavouring, natural colour and so on.
None of these ingredients will do anything to enhance "your sporting performance and health and wellbeing" as Coles claim.
I was pleased to see the Coles PerForm Lean meals contain RSPCA Approved Australian Chicken although it would be even better if they used free-range or organic produce.
The vegetable content of Lean meals is also greater than the Coles PerForm Build range which is a positive of over 2 serves. This has resulted in slightly highly dietary fibre which is good to see.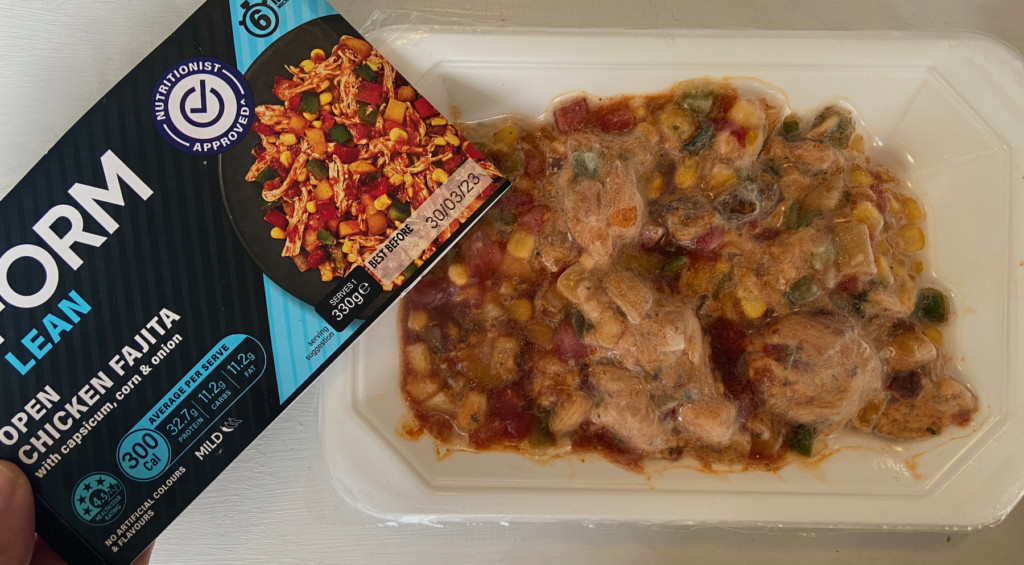 Only a few of the Coles PerForm Lean meals contain grains such as brown rice and white rice, the latter of which is refined but this will increase your fibre intake. The limitation of grains is likely an attempt to keep the meals lower in carbohydrates.
Both the sodium and sugars are relatively low, especially in comparison to other microwaveable meals which is a positive.
The current Coles PerForm Lean meals all contain chicken as their main protein source. Not only does this exclude vegetarians and vegans, but if you're relying on these as a regular meal, you're also missing out on nutrient variety. And how boring!
Calories and Macronutrients
The Lean meals are the lowest in calories of the Coles PerForm range at less than 400 cals per serving. As mentioned the meals I tried were less than 310 cals per serving.
This is just due to the portion size of the meals, not necessarily the ingredients used as they are comparative in calories per 100g to the Build range at an average of 91 calories.
The meals contain slightly less protein at around 9g per 100g, but still, a decent portion at about 30g per 330g serving. This is mainly coming from the chicken and milk.
Of the Coles PerForm range, the Lean range contains the least amount of carbohydrates. Aiming for less than 30g per serve, the highest was 11.2g or 3.4g per 100g which is quite low. This will likely appeal to those wanting to eat a lower carbohydrate, moderate fat and higher protein diet.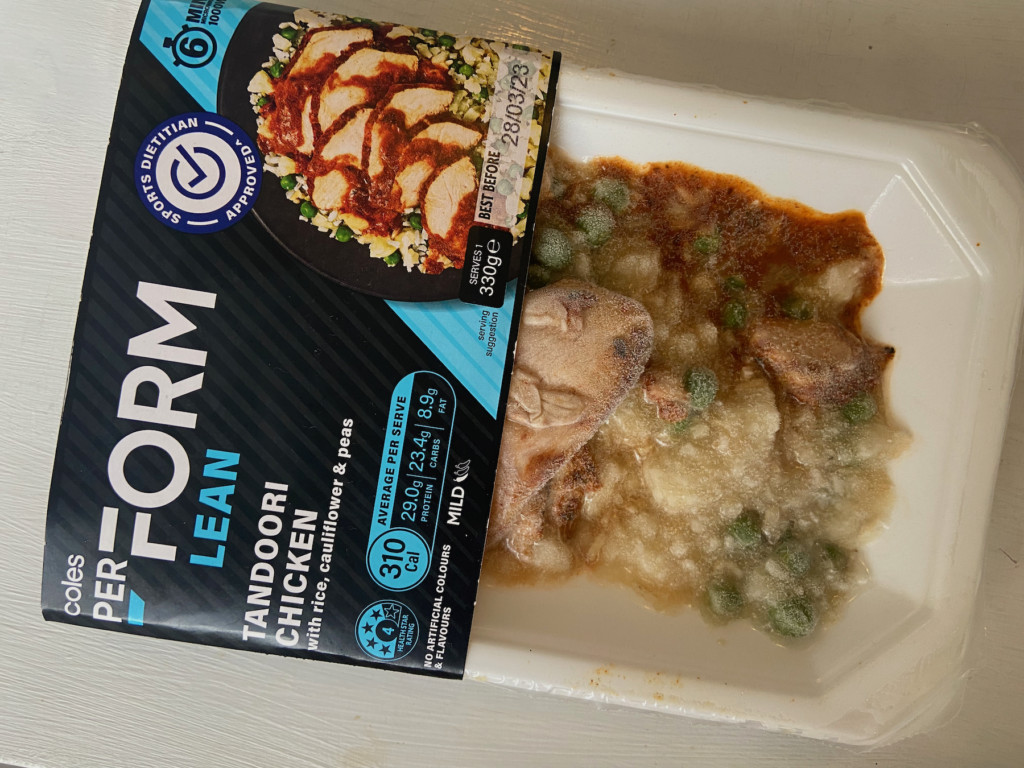 As expected by looking at the ingredients, the fat content is low too. The main sources of fat come from chicken, milk and canola oil with no inclusions of healthy high fat, nutrient-dense ingredients such as olive oil, grass-fed butter, avocado, nuts and seeds. This is because not only do these foods increase the calorie content substantially, but they are also more expensive.
Overall, the balance of macronutrients is fine and may help you keep your calories low and maintain your weight. It all depends of course on the rest of your dietary intake.
Nutrition Tip:
Losing weight or maintaining a lean body mass is more than just calories in and calories out. The Coles PerForm range may help you keep to your calorie limit if that is your goal, but they aren't the most nutritious option.
If you're opting for the Coles PerForm Lean range as part of your weight-loss strategy, it's also important to remember calories are not just the only factor that will determine if you lose body fat. Yes, if you're eating less than you burn, it's a good start but inflammation, macronutrient and micronutrient balance, ingredient quality, digestive function, movement and stress all play a part.
Based on the ingredients, in my opinion, the Coles PerFrom range could be adding to your inflammatory load and contribute to poor digestion. Not great for weight loss or overall health.
How convenient and affordable is the Coles PerForm Lean range?
The Coles PerFrom Lean range is convenient. These are frozen meals that take less than 7 minutes to get from the freezer to your plate. The range though is limited and there isn't much variety in their nutrient or flavour offering.
They are affordable at $8 per meal. However, you can often find them on special at $7 or less. Given these have over a year expiry (thanks preservatives!), you could stock up on these if cost is a major factor.
How was the taste of Coles PerForm Lean meals?
The Coles PerForm Lean meals are edible. The Open Chicken Fajitata had a lot of paprika and chilli powder which was the predominant flavour so, while pleasant, I couldn't taste much else.
I did find the meals to be a little watery and the texture a little mushy. It's a familiar experience with frozen microwavable meals purchased from the supermarket. Microwaving in plastic is also a turn off for me but that comes with the territory of eating frozen meals.
Attesting to their poor quality ingredients, my gut wasn't too happy after I'd consumed the meals. While everyone's digestive function is different, the immediate symptoms were a red flag.
The Coles PerForm Lean range is all marketed toward body transformation. Would I recommend these to clients who are looking for a convenient way to lose weight or eat on their rest days? Not likely. You can find better quality convenient meals, even at the supermarket!