Coles PerForm Build meals are aimed at those who are wanting convenient options to help them reach their body composition and performance goals. Coles say the right thing on the label and may help you reach your protein goals, but as a nutritionist, they miss the mark in creating health-promoting meals.
The Coles PerForm Build marketing says "our range of delicious frozen meals are sports dietitian-approved with tailored macronutrients. Designed to assist in enhancing your sporting performance and health and wellbeing."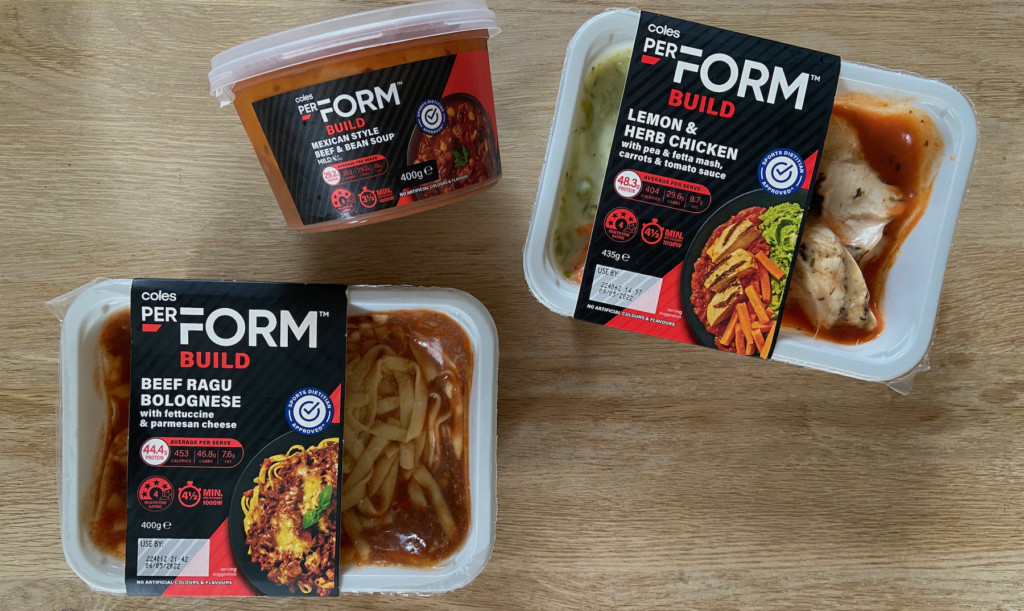 "Tailored" to who? And when do additives, preservatives, natural flavours, canola oil and artificial thickeners help "enhance sporting performance and health and wellbeing"?
As a nutritionist, here are my thoughts on the Coles PerForm Build range (hint: I recommend you look for something else!).
Were the Coles PerForm Build meals nutritious?
The Coles PerForm Build meals have been made with strength and muscle building in mind and approved by a Sports Dietitian (exactly who is not known). According to Coles, the PerForm Build meals contain at least 32g of protein per serve.
The Coles PerForm Build meals range from approximately 350 calories per 400g serving to 524 calories.
The macronutrient balance is the focus of these meals, in particular, the protein content. But let's look at the quality of these PerForm meals and how they rate nutritionally.
Ingredients
The first obvious consideration of the PerForm Build meals is the number of ingredients. The Lemon & Herb Chicken for example contains over 60 ingredients and it still suggests you serve it with a side of brown rice.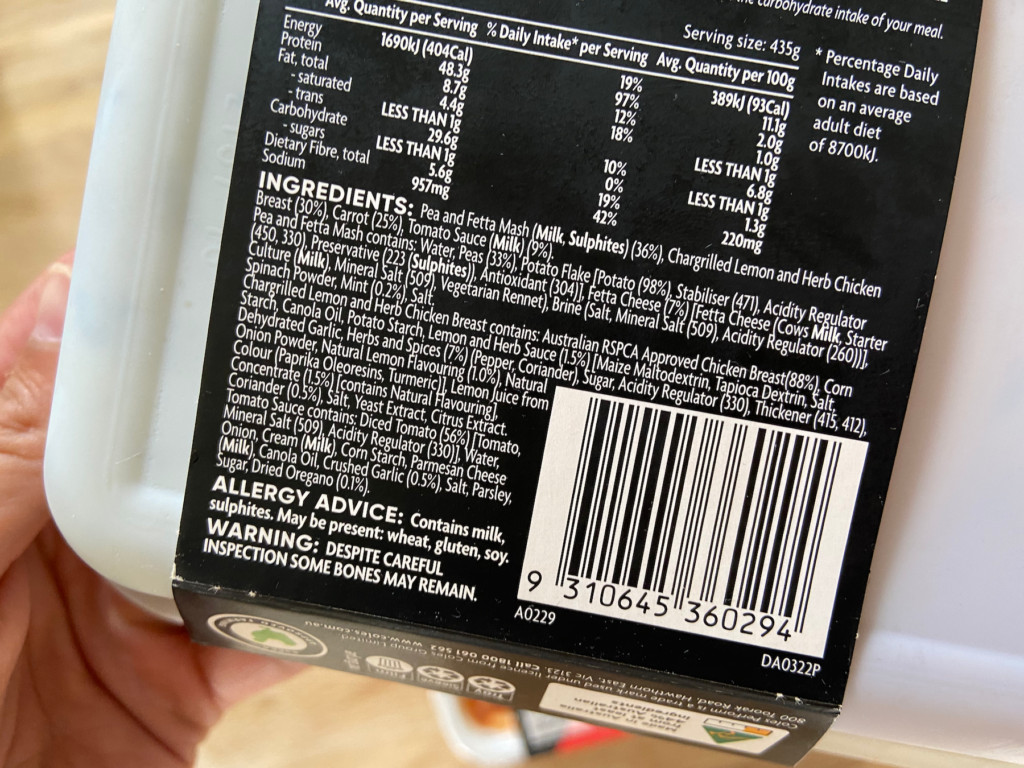 In my opinion, the ingredient quality of these meals is poor and not health-promoting as Coles suggests. There are a lot of preservatives, additives, stabilisers, natural colours and oils that are included to improve the taste, texture and self-life, but don't have a place in a healthy diet.
I do appreciate their effort in including No Added Hormone Beef and RSPCA Approved Chicken. Many protein-focused convenient meals on the market include soy or pea protein to boost up the macronutrient. However, this doesn't make up for the lack of vegetables and vegetable variety, and the inclusion of so many numbers.
While Coles proudly market the serving size of vegetables in their meals, containing one 75g serve of vegetables, in my opinion, is not nearly enough.
At 2g or less per 100g, the PerForm Build meals don't have nearly as much fibre as I would like to see. With no whole grains, nuts, seeds, leafy vegetables and prebiotic-rich ingredients, it's easy to see what's missing to improve the fibre content. Coles has opted for the standard veg that holds up well when microwaved.
There are several forms of sugar in the meals even though the sugar content is kept low. At approximately 200mg of sodium per 100g, these meals are super high in sodium, but keeping it under 120mg is optimal.
Important:
If you are vegetarian, vegan or simply want to consume more plant foods, the Coles PerForm range is not for you with no options available.
Calories and Macronutrients
The Coles PerForm Build meals range from approximately 350 – 524 calories per 400g serving. If you opt for Cole's nutrition tip of adding rice or bread to the meals, this will increase accordingly.
If you're looking to hit a protein target, these meals may help you get there. Meals such as the Beef Ragu Bolognese and The Lemon & Herb Chicken have over 44g of protein per serve.
Some of the soups, however, are a little lower at approximately 29g per 400g serve.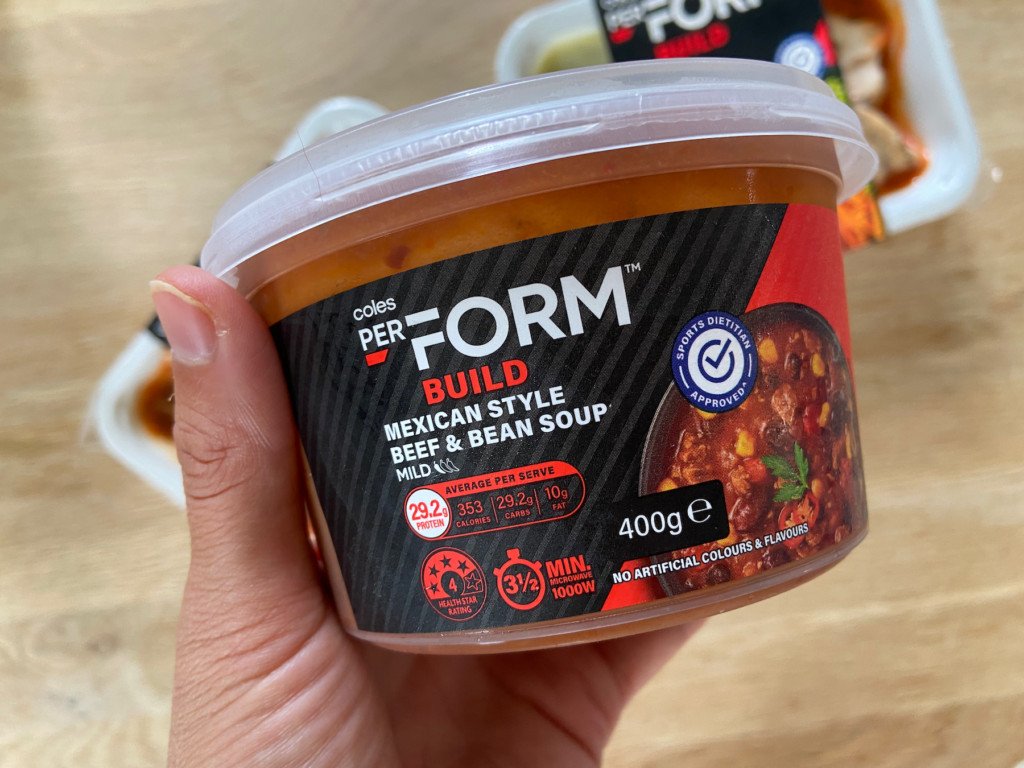 The PerForm Build meals vary in carbohydrates 29g to 47g. The meals with fewer carbs, they advise adding brown rice or wholegrain to boost if needed.
Total fat is less than 10g most of which is coming from meat and dairy.
Keep in mind, that these macronutrients are all relative and need to be considered in relation to your daily food intake and exercise regime. Eating one or two meals a day is not necessarily going to help you gain strength and build muscle.
Take my 48-year-old husband who is 80kg. His maintenance calorie intake is 2400 cals per day. Eating 6 Coles PerForm Build meals a day will keep him in maintenance mode for both weight and muscle. He'd need to increase this to 7 meals if he wanted to experience muscle growth.
Now obviously he wouldn't rely on Coles PerForm Build meals for all his meals, but it does give you an idea of what he would need to consume to enter that "strength and muscle building" mode.
On the other hand, I would only need to eat 2 meals and a protein-rich snack to be eating enough protein to start work towards a goal of muscle gain.
Overall, the low fibre content, lack of vegetable variety and addition of so many numbers don't make the Coles PerForm Build meals appealing to me. Nutritionally, are they the worst supermarket convenient meals? No, but there are better options out there if you look beyond the label's marketing claims.
How convenient and affordable is the Coles PerForm Build range?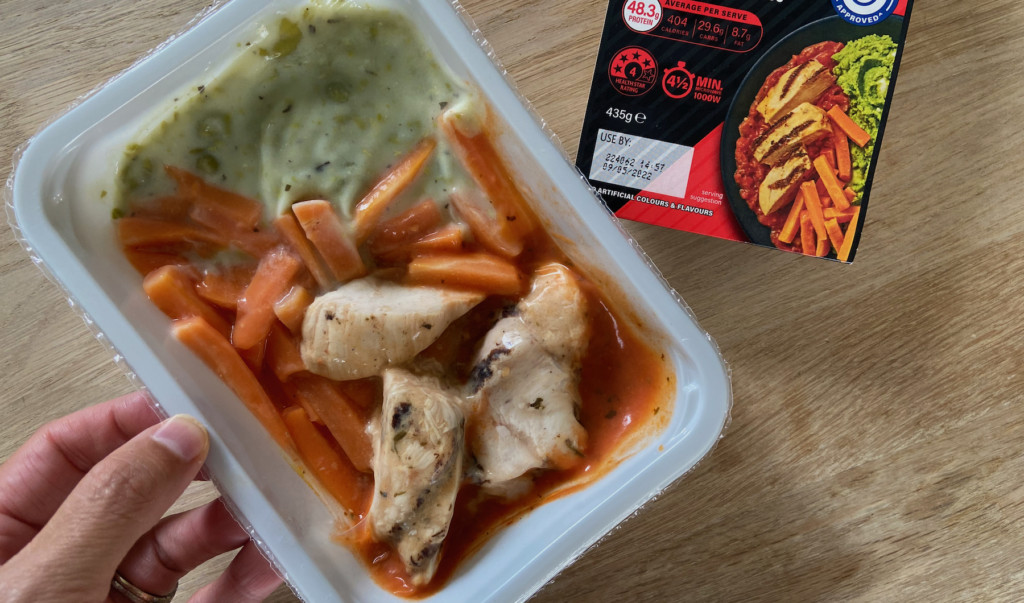 The Coles PerFrom range is convenient. The meals I tasted were all available in the fresh food section rather than frozen. In 6 minutes, you can have a warm meal ready to eat.
If you take up Cole's nutrition tip and serve your meals with a side of rice, this obviously increases your cooking time and the costs of the meals.
At just $8 per meal, the Coles PerForm Build range is affordable given they are using a whole food protein source and a decent amount of calories to keep you feeling full and satisfied until your next meal. Just remember though, this reflects the inclusion of poorer quality ingredients that enhance the taste and texture of the meals.
How was the taste of Coles PerForm Build meals?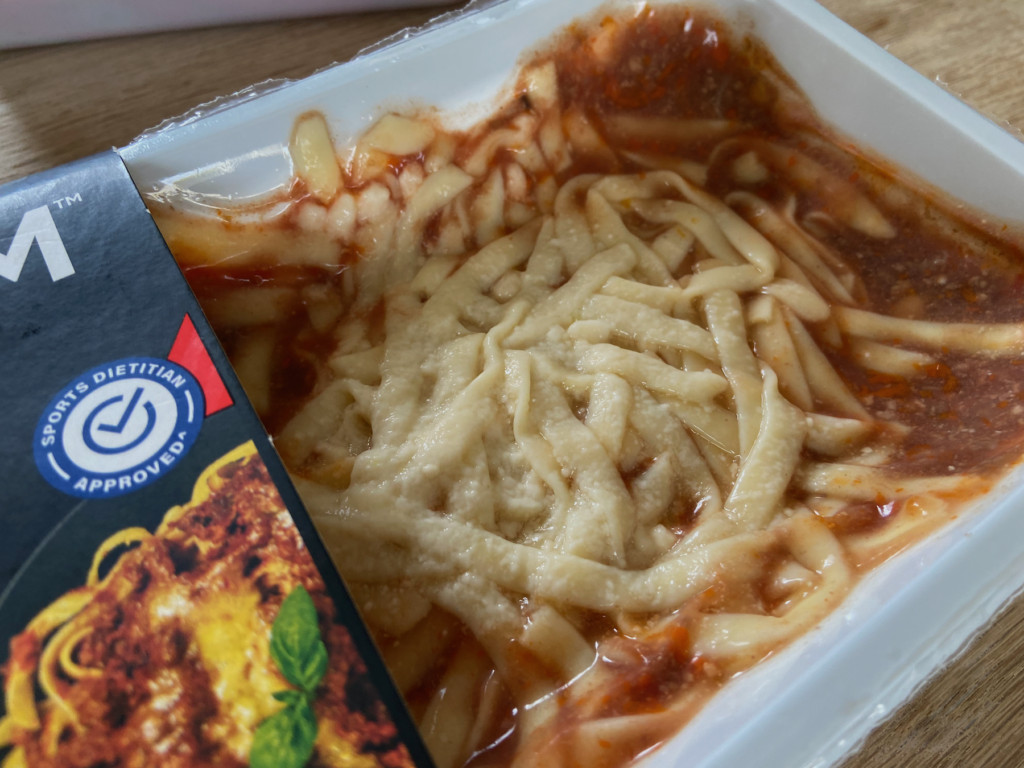 We eat with our eyes…If this saying is true, Coles may have to up their game. The Coles PerForm Build meals do not look appetising. Vac formed and lacking in colour and texture variety, these look like budget TV dinners from the early '80s!
Taste-wise, the Coles PerForm Build meals are okay. The flavours are okay and those vegetables that aren't mashed still have a crunch which is positive. The chicken pieces in the Lemon & Herb Chicken are dry and a bit chewy.
Another noticeable aspect of microwavable meals is that you can't heat them evenly in the microwave so some parts of the meal are scorching hot. This is not a criticism of the Coles PerForm brand, just an observation of convenient meals.
Personally, I'm also not a fan of heating in plastic due to the chemical exposure. I would love to remove them from the packaging before heating but this would likely change the quality of the meal further. Just another reason I wouldn't rely on the Coles PerForm Range in my diet.