Coles have recently released a new range of affordable ready-made meals available in stores and online. The "Coles Kitchen" meals aim to give consumers 'real food, fast' and join their existing convenient meal options including Nature's Kitchen and Coles Finest.
"Coles team of Chef's and Product Developers have trialled, tweaked and tasted every meal to ensure it not only tastes great but is packed with quality ingredients and nutrition," said Brad Cook, General manager of Owen Brand. "The majority of the meals have a 3 or 4 health star rating, the soups have up to 3 serves of veg and unnecessary salt has been removed from the Coles Kitchen range to help support a healthier, balanced diet."
But if we look beyond the marketing, how do the Coles Kitchen range rate nutritionally? Here, I take a look at the variety, ingredients, nutrient balance and overall value.
Was Coles Kitchen range extensive?
There are currently 34 different meal options in the Coles Kitchen ready-to-heat range. These include a variety of cuisines from Italian and Asian to Indian and Australian classics. Some of the meals I tried included Chicken Tikka Masala, Spinach and Ricotta Cannelloni and Cottage Pie.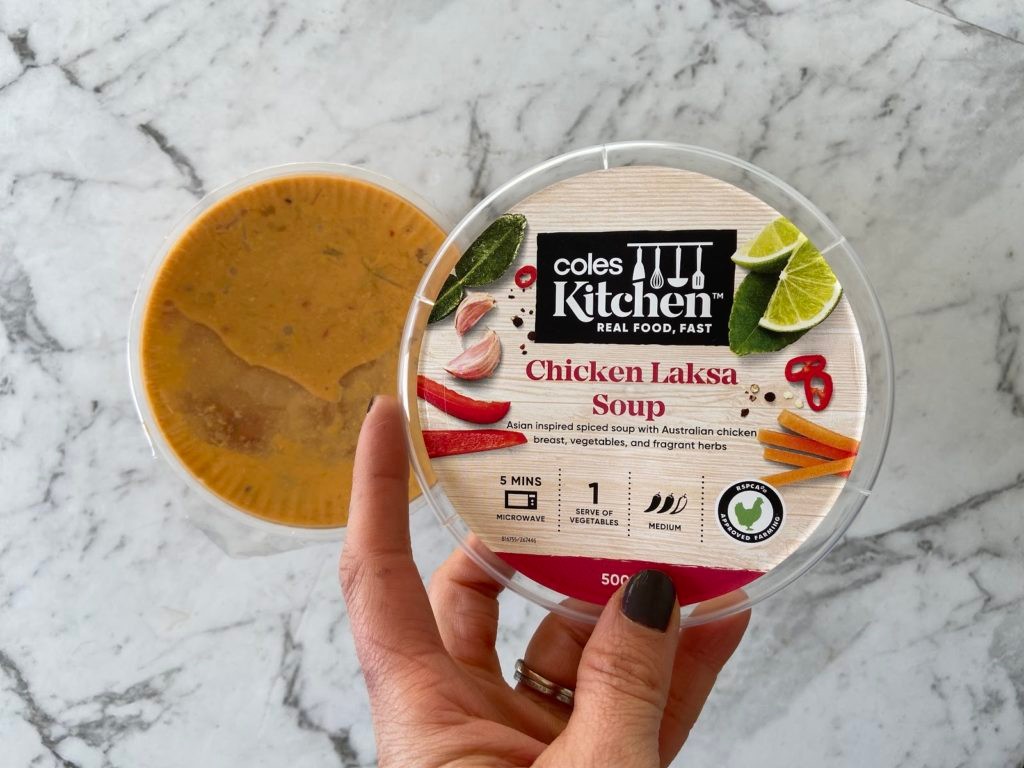 In the range, you'll find soups for just $3 and main meals starting at $6.50 up to $10.00 for a shared meal. Most are single portions of 350g, but you will find a few mains that are designed for two ranging in size from 400g to 600g. Coles Kitchen also features side dishes such as Pilau Rice, Onion Bhaji and Garlic Nann.
Most of the Coles Kitchen range appeared to be comprised of meat or dairy with few vegetarian options. However, their Nature's Kitchen brand is plant-based providing a variety of meal options suitable for vegetarians and vegans.
Were the Coles Kitchen meals nutritious?
The Coles Kitchen slogan is "real food fast" and their packaging is emphasising the use of whole food ingredients, in particular vegetables.
As a nutritionist, I always look beyond the marketing claims on the front and refer to the ingredients and nutrient panel on the back. Firstly, it should be noted you may need a magnifying glass to read the information thanks to the tiny font size!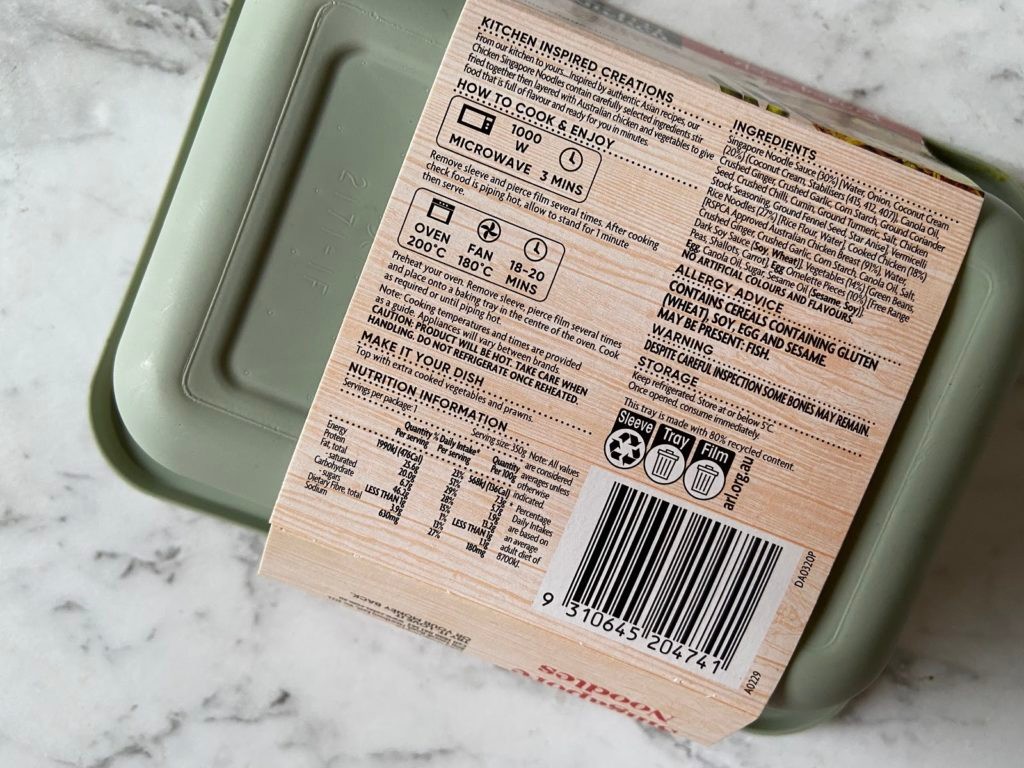 The ingredients clearly show the Coles Kitchen meals don't just contain "real food". In fact, you'll find preservatives, natural flavours, anti-caking agents, modified starches and stabilisers. Not a great start in my opinion and certainly not real, whole food. There are also so many ingredients! In one meal I counted at least 39 ingredients including three stabiliser numbers (415, 412, 407).
The majority of the Coles Kitchen meals also contain refined oils such as Canola Oil. These oils can be quite inflammatory and contain trans-fatty acids which have been linked to a whole host of health conditions.
There are, however, some positive changes when compared to the standard Coles ready-made meals including the use of RSPCA approved chicken and no added hormone beef.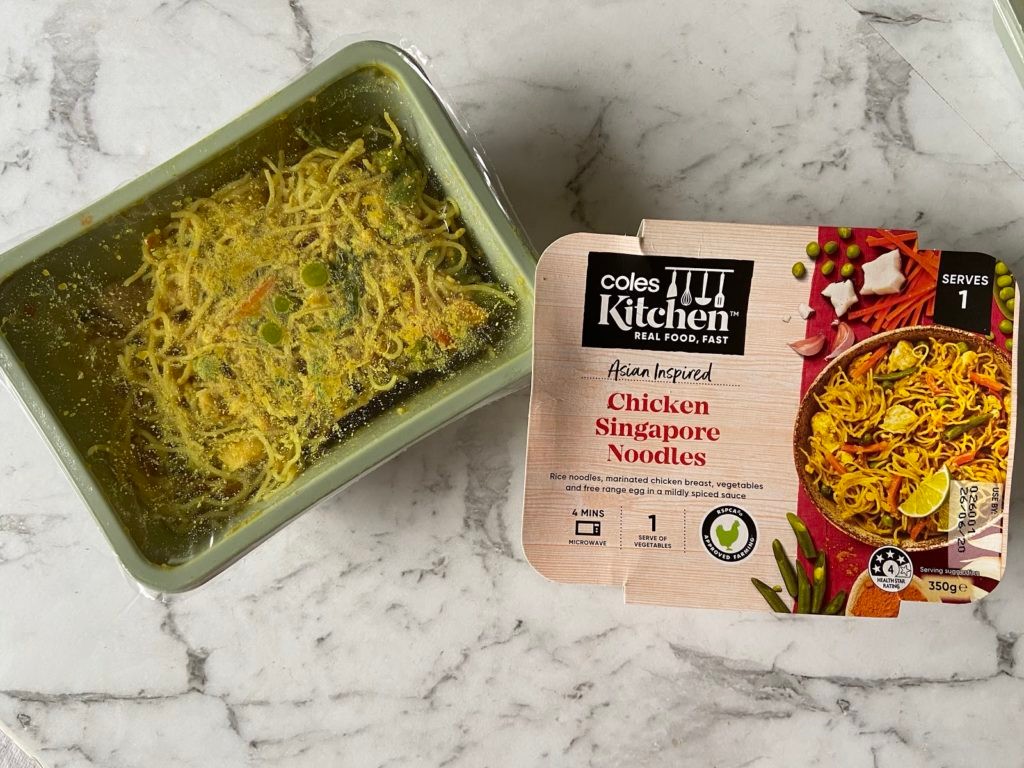 They do contain more vegetables than some of the Coles traditional ready-made meals, however, with the dietary fibre content less than 2g per 100g in all the meals I tried, it's still not a significant portion. Squeezed onto the packaging is a suggestion to 'Make it your dish' with most meals recommending you add veggies or salad. For me, this highlights the lack of vegetables in the ingredients.
When it comes to the nutrition information and the macronutrient balance, while the calories content is okay, these meals aren't really targeting those who are health conscious or looking to reduce their refined carbohydrate intake.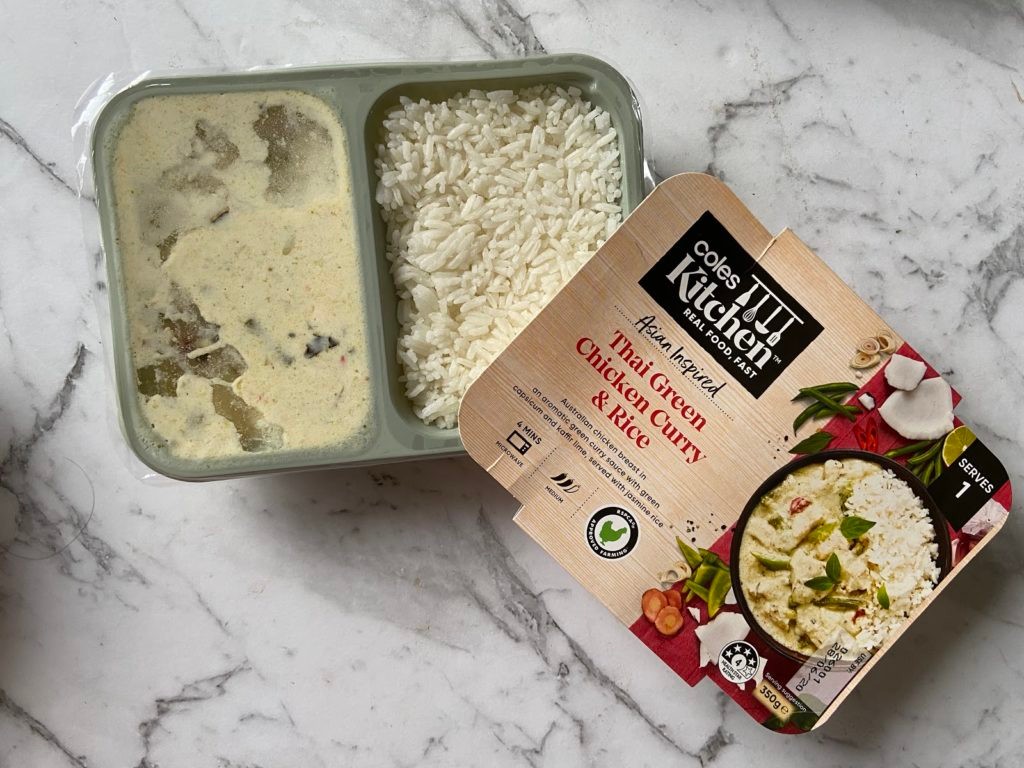 The meals I tried ranged from about 40-65% carbohydrate which mostly came from a refined carbohydrate source such as flour, breadcrumbs, rice or starch. This means rather than the ¼ of your plate consisting of starchy vegetables or grains (my general recommendation), they are filling up half the plate.
Most of the meals did contain a decent portion of protein. The main dishes of 350g contain 19-30g of protein largely coming from the meat or poultry as well as the dairy. The meals I reviewed didn't feature any plant-based protein sources such as quinoa, tofu, nuts etc.
The fat content varied significantly from about 8-30g per serve depending on the choice of meal and the type of meat used and the addition of creamy sauces and dairy products.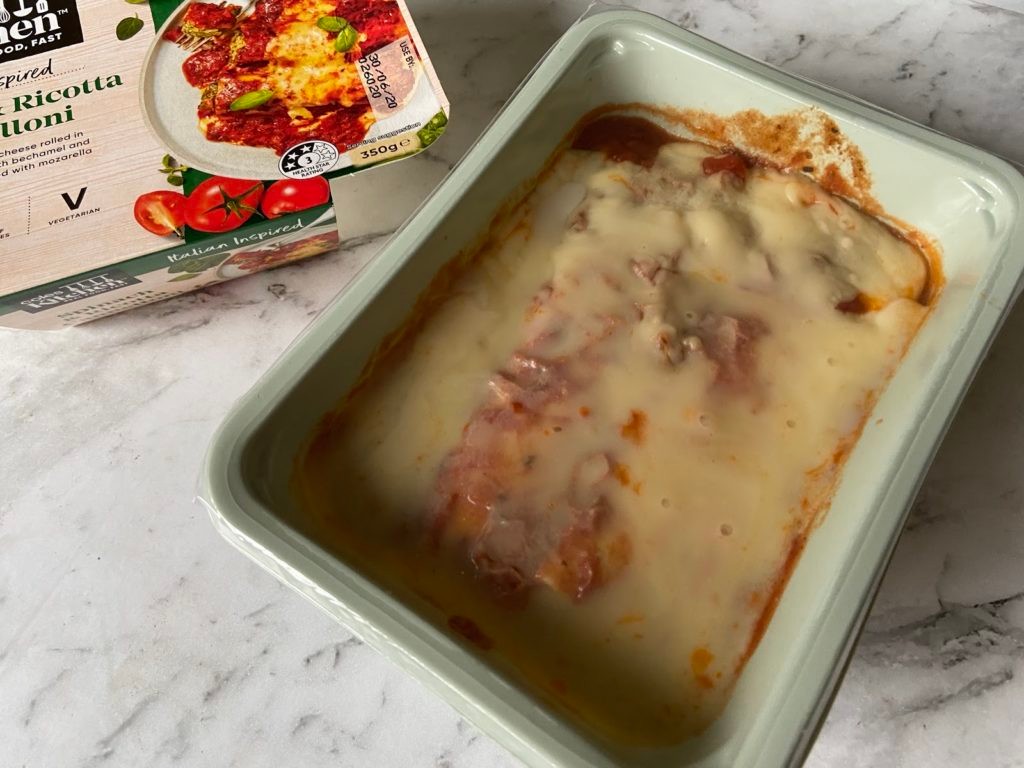 Sodium and sugar are often something I look out for with packaged and processed foods, including convenient style meals. The Coles Kitchen meals are not considered low in sodium as they must contain less than 120mg sodium per 100g, however, they sit within the moderate range of less than 400mg.
While several of the meals did contain a form of refined sugar, the actual sugar content is low in comparison to some of the other ready-made meal providers. The highest meal in sugar I tried was the Spinach & Ricotta Cannelloni containing 3.7g per 100g. This is the main reason why the Coles Kitchen range has been given a Health Star Rating of 3 or above – not because they are actually healthy!
So are Cole Kitchen meals nutritious? They are a slight improvement on their existing ready-made meals, but due to the inclusion of refined and lab-made ingredients and lack of fresh vegetables, I would argue that they aren't a "real food", nutritious meal.
One thing I would like to note is the improvement on the packaging. While Coles Kitchen uses plastic which exposes you to harmful chemicals when heating, the tray is made of 80% recycled content. This is a small but positive step when it comes to reducing waste from ready-made, packaged food.
How did the Coles Kitchen meals taste?
The Coles Kitchen meals are available fresh and most can be microwaved or heated in the oven.
The meals our household tried were all very tasty and certainly carried the flavours and aromas we all associate with the cuisine. The textures were also pleasant with nothing mushy, dry or unpalatable.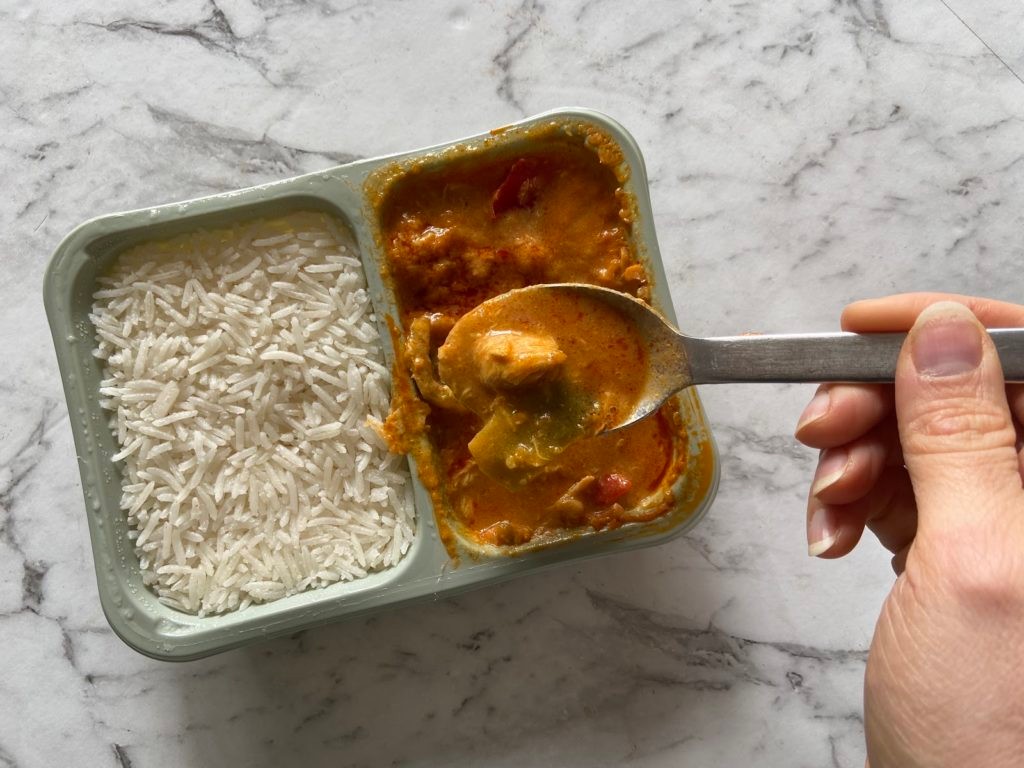 As mentioned, the Coles Kitchen packaging does recommend you add vegetables or a salad to meals. I would agree that you do need to add these to improve the nutrient balance to the meal. My husband, who also tried the 350g meals, also said it's necessary to increase the portion size slightly.
Were the Coles Kitchen meals good value?
Ranging from $3.50 – $7.50 per serve, the Coles Kitchen meals are an affordable option for time-poor consumers or those who simply don't want to cook.
In comparison to some of the other meal providers, particularly those online or subscription models, the Coles Kitchen range is relatively inexpensive. However, you have to question the quality of the ingredients. In this aspect, the Coles Kitchen range doesn't compare to some of the other meal providers I have reviewed such as My Goodness Organics and even those affordable supermarket options such as Fitness Outcomes.
Overall, there are some slight improvements in the Coles Kitchen meals and they are a convenient meal option that won't break the bank. However, most of the changes, in my opinion, come down to marketing not a significant improvement in the nutrient content.
Have a product review suggestion?
All of our reviews are independent based on our own experiences. If you have a product you want to see reviewed, let me know in the comments below!