In amongst fruit, vegetables and meat, Aldi is home to affordable ski gear, $5 sauvignon blanc and homewares you didn't know you needed. It's also home to fresh and frozen convenient meals that have Aldi-lovers raving about.
Curious to know how these meals compare to other supermarket ranges, I've tried Aldi's World Kitchen and delved into their nutrient profile. It's fair to say, these do rate in the taste department, but I was disappointed in the quality of the ingredients.
Were the World Kitchen meals nutritious?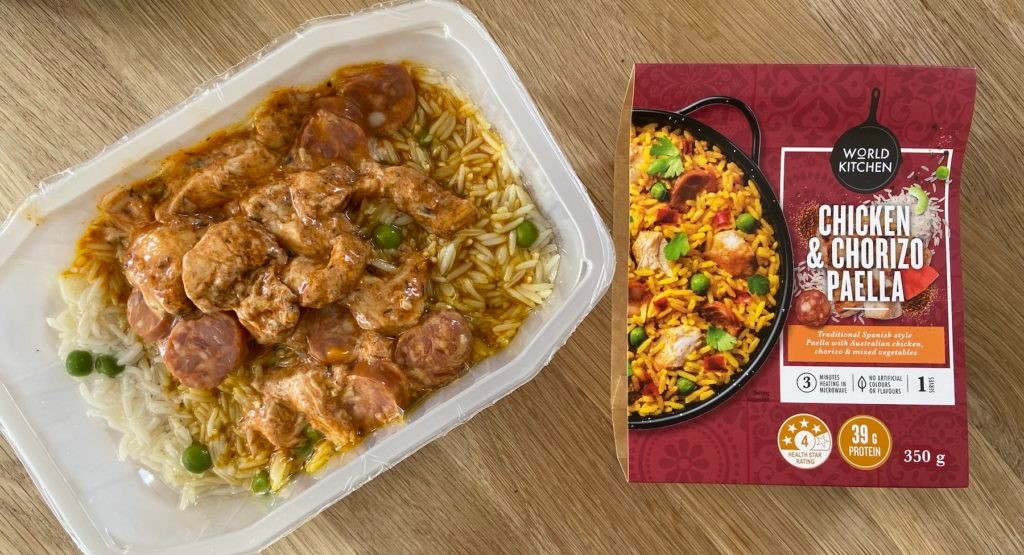 The World Kitchen meals are similar to your everyday, pre-made supermarket options. They're not marketing themselves in the health space, instead, World Kitchen seems to be focusing on tasty meals that you can enjoy with very little effort.
Ingredients
The ingredients of the World Kitchen premade meals are like most of your stock standard supermarket options. All four meals I reviewed contained a number of processed ingredients including modified starch, colours, preservatives, corn syrup, yeast extract and flavours.
Vegetables weren't overly prominent in the meals which is reflected in the meal's minimal fibre content. The meals are either predominately rice or wheat pasta based which has impacted the carbohydrate content as you can read more about below.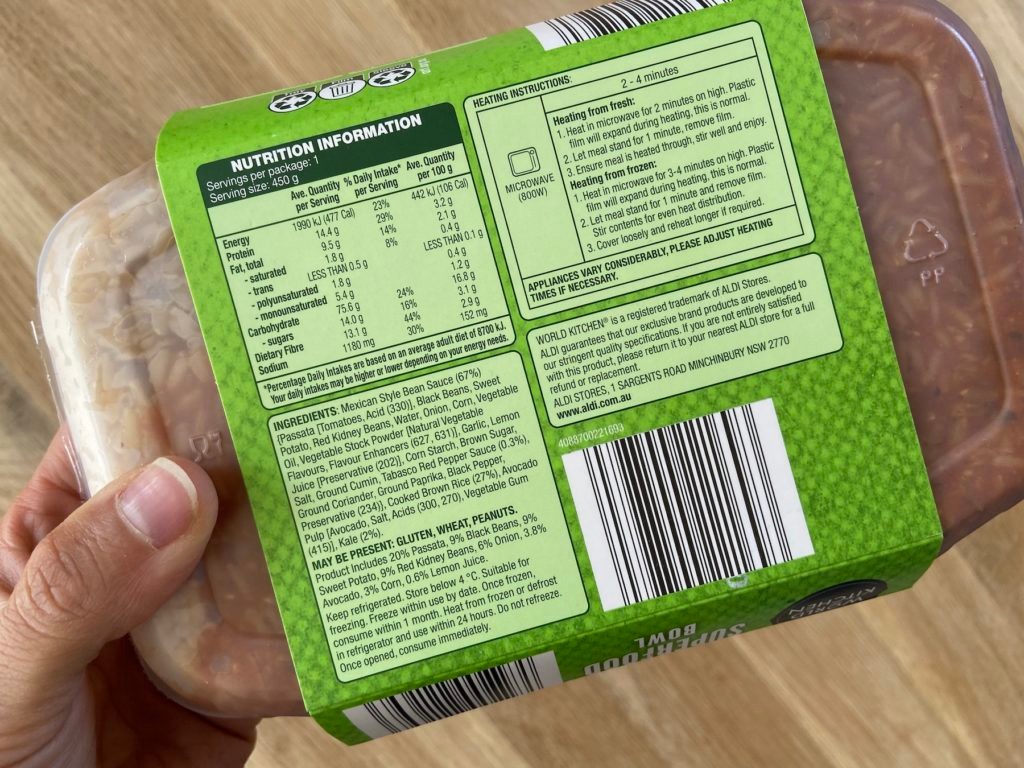 I was pleased to see the World Kitchen range used mostly wholefood protein sources like chicken and legumes, however, there isn't much variation due to the limited number of meals in the range.
The World Kitchen meals contain gluten, wheat, nuts, egg, milk, soy or all of the above, making them not a great allergen-friendly option.
If you're conscious of the ingredients you're putting in your body, I would consider other options that have fewer ingredients and focus on purely whole food sources.
Calories and Macronutrients
The World Kitchen meals are available in 350g or 450g portion sizes. The meals range from 477 calories per serving to 626 calories with the lower-calorie meal being the one vegetarian option.
Excluding the vegetarian meal, the World Kitchen has made its range reasonably high in protein. The Chipotle Chicken Burrito Bowl contains 45g of protein per serve (9.9g per 100g) which is going to make it a filling meal and help you achieve your daily protein target.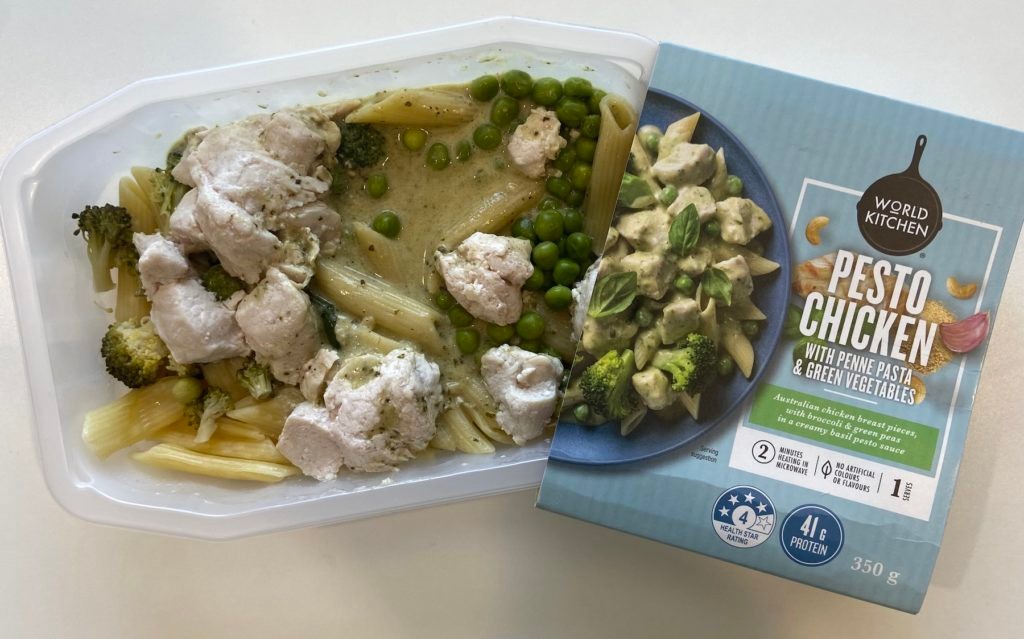 If you're following a low carbohydrate diet, these aren't for you with some meals containing up to 75.6g of carbohydrates (16.8g per 100g) – the highest being the Mexican Style Superfood Bowl. This also has the highest sugar content at 14g which is about 3.3 teaspoons!
As with the other macros, the fat content varies between meals the lowest being 2.1g per 100g and the highest 5.9g. When evaluating the fat content, it pays to look beyond the number. Fats coming from whole foods like quality meat and poultry, oily fish, some dairy, nuts, seeds, avocado and olive oil have a valuable place in the diet. Fats such as vegetable oil, fried foods, baked goods, and processed meats can be inflammatory especially eaten in regular consumption and should be avoided.
Like many supermarket convenient meals, the World Kitchen meals don't contain quality sources of fats. Generally speaking, these ingredients are more expensive and will increase the calorie content. You'll also find these fats don't heat as well either.
Another nutrition factor lacking in these meals is fibre! If you've read any of my previous nutrition reviews, you'll know I'm a big fan of fibre to help keep you feeling full, keep you regulated, balance your blood sugar levels and feed the all-important gut microbiome. It's pretty uncommon to find high-fibre convenient meals in the supermarket so I'd recommend you boost these meals with veggies, legumes, nuts or seeds.
How was the taste of World Kitchen meals?
The World Kitchen meals were flavoursome. It's easy to see why Aldi-lovers are eating these meals up and I'm not surprised given the ingredients as there are a lot of spices and flavours.
The textures were enjoyable to eat with nothing mushy or gluggy. There was just enough sauce that didn't leave the meals dry or too wet.
Were the World Kitchen meals convenient?
Like a lot of Aldi products, you never quite know if your favourite items are going to be on the supermarket shelves so they may not be as convenient as other brands. Having said that, if the World Kitchen meals tick your boxes, you can bulk purchase and freeze them to enjoy later on.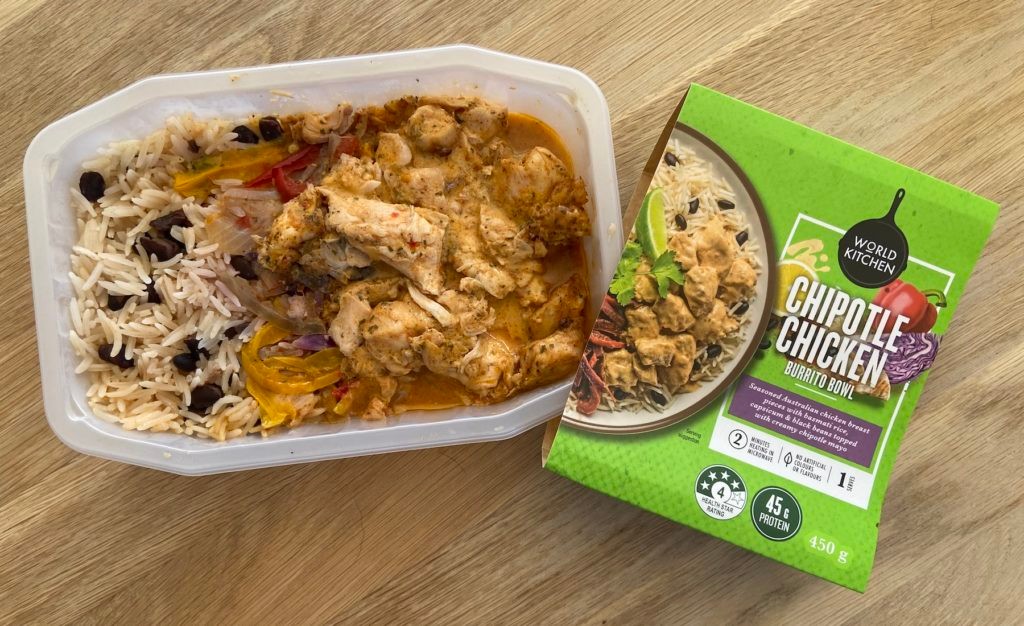 At $7.99 for a 350-450g meal, the World Kitchen range is reasonably affordable. However, they aren't the cheapest if budget is your priority. You can also find supermarket convenient meals with superior ingredients and nutritional profiles for less.
World Kitchen have delivered affordable convenient meals that are flavoursome and enjoyable to eat.

Aside from the good amount of protein coming from whole food sources, the meals aren't kicking many nutrition goals due to the number of refined ingredients used. Having said that, World Kitchen isn't making big health claims either which is refreshing to see.

If nutritional quality is a big priority for you, I'd reserve the World Kitchen range as a one-off, emergency meal.