🏡 Lifestyle
Jon Venus' Budget Meal Prep Thats High On Protein
UPDATED ON Jul 12, 2022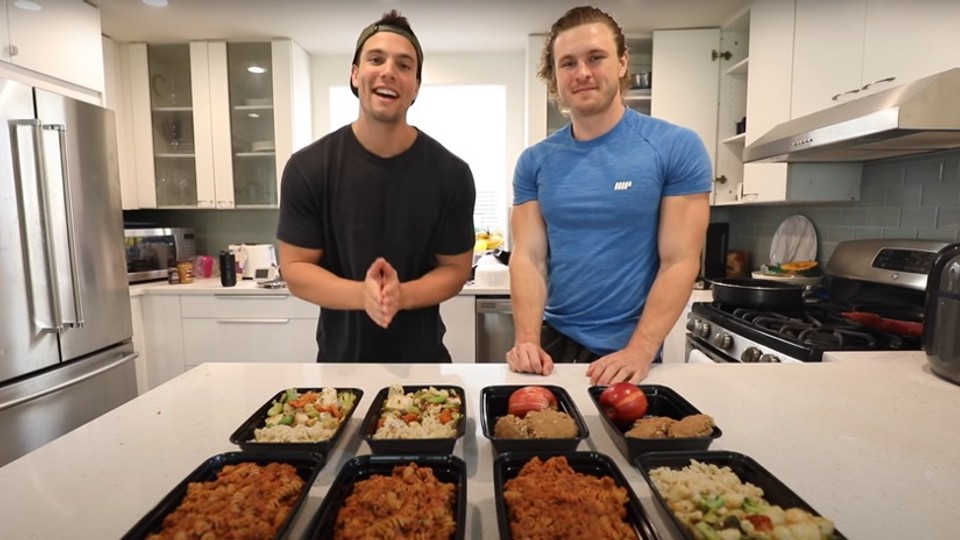 Jon Venus has a fantastic video on his channel on how to recomposition your body (lose fat and gain muscle simultaneously) through the power of a high protein diet without breaking the bank.
That's right turns out that you don't need to spend a fortune on rare steaks or consume a henhouse full of eggs to get the benefits of a high protein diet. This plan costs under $40 Australian (under $30 US) and will feed you for nine meals, or more if you are on a calorie deficit.
Let's dive into his meal plan and showcase how this diet plan is a complete game-changer for newcomers and pros alike.
Why is a high protein diet right for you?
Right from the get-go, we know that a high protein diet is fantastic for recovery from the gym. Your muscles need protein to repair fibers and rebuild damage done in the gym. Having an oversupply of protein available ensures that you have what you need to reach your goals.
It is better to go too high with protein in your diet than too low, especially when it comes to recomposition.
High protein is also satiating (making you feel full and satisfied) and has a bonus thermic effect – your body needs to burn more energy to break down protein.
The science also backs this up. A study from the Journal of the International Society of Sports Nutrition found that a high protein diet combined with a high resistance training program (such as weight lifting in the gym) improved men's and women's body composition.
Even long term high protein diets have no harmful effects. A year-long study published by the National Library of Medicine found that an intake of 3 grams of protein per kilogram of body weight per day over six months had no impact on blood, liver, or kidney function. Plus subjects didn't even put on more fat!
How incredible is that!
High protein diets are scientifically proven to be a game-changer, but what does that look like in meals? Let's follow on with Jon's high protein meal plan.
Totals for the day:
2600 Calories
375g carbs
133g Protein
61g Fat
Shopping List:
Three Bananas – $0.90
Walnuts 150g – $3.50
Peanut Butter – $2
Cinnamon – $1.50
270g/3 cups Rolled oats – $1.65 (for 900g, so $0.50 per serve).
4 1/2 cups/450g Whole wheat rotini pasta – $1.20
Five cups/426g Traditional Pasta sauce – $1.5
30oz/850g organic lentils – $1.50
390g of Lean Mince Beef or Beefless ground for vegans – $5
One cup/190g Dry Long Grain Brown Rice – $4 but you can buy up to 5kg in bulk for next time.
Teriyaki sauce – $2.50
Two lbs/907g firm tofu or 500g of equivalent meat-based protein – Around $10
One large onion – $0.50
Frozen Stir-fry style vegetable mix – $2.00
Broccoli – $1.50
Optional – Protein Powder – $17.25 for 400g or $0.64 for the serving in this recipe.
All prices above are take from the Coles website and are accurate as of July 2020.
Breakfast – Oatmeal Cookies – 2:00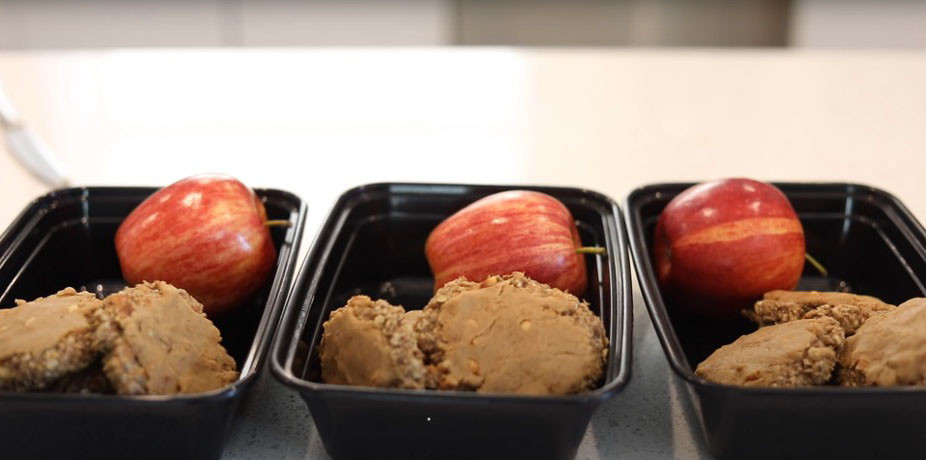 The first meal in the video will give you a massive protein boost to start the day, and who doesn't like Peanut Butter?
Serving size: Three cookies
959g Calories
121g Carbs
34g Protein
36g Fat
Cookie Dough:
Three bananas
56g / 1/2 Cup Walnuts –
3 Tbsp Peanut Butter
3 tsp Cinnamon
270g/3 cups Rolled oats
Peel and mash three bananas, then add walnuts. Then add in the three cups of rolled oats (you will need a big bowl to get it all to fit). Then add three tablespoons of peanut butter, then add the three teaspoons of cinnamon. Roll them up and add them to the baking tray.
Bake in the oven for 25 minutes at 200C/400F, flipping after 12 minutes.
Frosting:
3 Tbsp Peanut butter
3 Tbsp Protein Powder ($1.20)
3 Tbsp water
Combine all three until you get a consistent dry, flaky paste. Add more or less water, depending on the desired dryness.
Once the cookies are brown in the oven and cooked throughout, add the frosting equally on each cookie. Then serve. You can add an apple to the side if you want a sweet treat.
Lunch – High Protein Spaghetti Bolognese – 4:30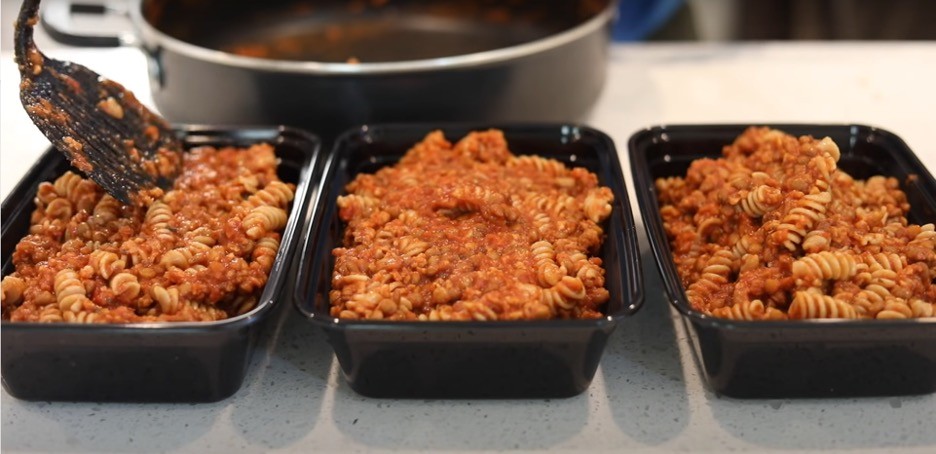 This recipe is mind-blowing because it tastes so good that it is cheap and has four ingredients.
957 calories
167g carbs
60g protein
10g fat
To cut down on the carbs, consider swapping it out for some zucchini spaghetti.
Three Bowls:
4 1/2 cups/450g Whole wheat rotini pasta ($1.00)
Five cups/426g Traditional Pasta sauce ($2.55)
30oz/850g organic lentils ($1.84)
390g of Lean Mince Beef or Beefless ground for vegans
Now you can create the pasta sauce yourself from crushed tomatoes, a little bit of garlic, oregano, and onions. But tomato pasta sauce is so cheap these days from Coles and Woolies that you might buy it and save yourself some extra prep time. Go for the lower shelf, as most sauce brands come from in the same factory, and there is little difference apart from an old Italian man on the bottle.
First, cook the pasta in boiling water. Then as it cooks, wash the lentils in a colander or pasta strainer (which you will need later for the pasta anyway). Then we fry the beef and the lentils in the pan on medium heat. Once the beef cooks (look for lack of water in the pan, no water means that the meat is almost dry throughout and cooked), add in the sauce.
Let the sauce in the pan heat up for around 3-5 minutes and then add in the cooked pasta. Stir it through. That's it!
Serve it out with a little bit of cheese if you like, and put the other two bowls away for the next few days.
Dinner – Teriyaki Stir Fry – 6:30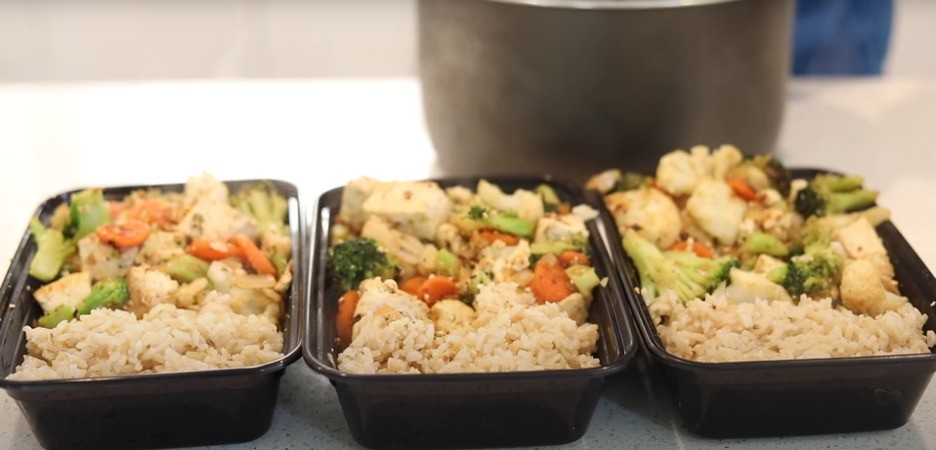 This meal is very versatile and can be a base for any protein. If you want chicken, add it in. Beef works well too. Or vegans can add tofu.
Stir fry:
One cup/190g Dry Long Grain Brown Rice
3 Tbsp teriyaki sauce
Two lbs/907g firm tofu or 500g of equivalent meat-based protein
1 large onion
500g Stir-fly style vegetable mix
Five cups/355g broccoli
First, start by dicing and cooking the protein. Skip the precut meat at the supermarket (generally not the best quality and costs more) and pick up meat from the butcher. Once the protein cooks (remember our water trick from above), add in the veggies. Add in the teriyaki sauce and stir through.
Cook until the onion browns over and then serve.
Serve with the rice.
Totals per day:
676 calories
86g carbs
40g protein
14g fat
That's it — three fantastic cheap and high protein meals that you can whip up in minutes.