The Instant Pot is a multifunctional all-in-one cooker that replaces a bunch of other kitchen devices, including your rice cooker, steamer, pressure cooker, crockpot, and slow cooker.
The 7-in-1 multicooker Instant Pot Duo is a game-changer, reducing kitchen clutter and freeing up counter space.
It's part of the Instant Pot range, which has sold millions globally. Unsure about its practicality? Don't worry, we've checked it out for you and put it to the test for 45 days to see if it's worth the hype.
What is The Instant Pot Duo? 🤔
The Instant Pot Duo is a versatile electric cooker with seven functions:
sautéing
pressure cooking
slow cooking
rice cooking
yoghurt making
steaming
warming
It features easy one-touch cooking with 13 smart programs. It's known for cooking meals 70% faster than traditional methods.
Plus, it's designed with safety features like a safe-locking lid and automatic temperature and pressure control.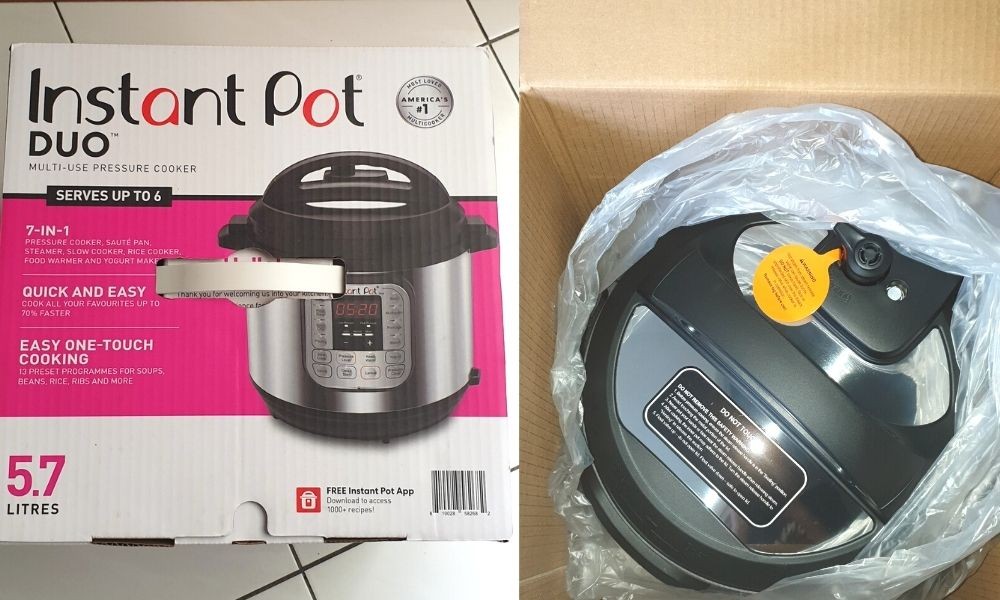 Instant Pot Duo Pros & Cons ✅❌
| Pros | Cons |
| --- | --- |
| Versatility: Cooks almost anything, functioning as a pressure cooker, rice cooker, yogurt maker, steamer, warmer, and sauté pan​​​​. | Manual Steam Release Valve: Requires manual operation, which can be inconvenient​​. |
| Space-Saving: Replaces multiple appliances, helping to declutter the kitchen​​. | Bulky Design: Takes up significant counter space​​​​. |
| Large Capacity: Available in various sizes | Short Warranty: Comes with only a 1-year warranty, which some may find insufficient​​. |
| Healthier Cooking: Preserves more nutrients in food and encourages home cooking over eating out​​. | No Cake Baking Program: Lacks a specific program for baking cakes​​. |
| Energy Efficiency: Saves up to 70% of the energy compared to traditional cooking methods​​. | Learning Curve: Some find it tricky to use and understand its functions​​​​. |
| Speedy Cooking: Cooks food two to six times faster than conventional methods​​. | Price of Extra Parts: Extra parts and accessories can be expensive​​. |
| Safety Features: Equipped with multiple safety mechanisms​​​​. | Short Power Cord: Some users find the power cord too short, though others find it adequate​​. |
| Stainless Steel Construction: Durable and dishwasher-friendly, with no non-stick coating concerns​​. | Absorbing Smells: The silicone seal may absorb odors over time​​. |
| Hands-Off Cooking: Requires minimal intervention once set up​​. | Not WiFi-Enabled: Lacks the convenience of remote monitoring through an app​​. |
| Flavor Development: Helps in quickly developing flavours in foods like soups and stews​​. | Not Suitable for Everything: May not be ideal for certain cooking preferences or dishes​​. |
| Automatic Keep Warm Feature: Can keep food warm for extended periods safely​​. | Cleaning Challenges: Some find it hard to clean due to its size and design​​. |
Because water is needed to produce steam, which leads to pressure increment, pressure cooking will always require liquids. Whether you're cooking rice, meat, pasta, dessert, or vegetables, the Instant Pot manual advises that at least 1 cup of liquid is required for the cooker to come to pressure. Of course, this liquid can be in various forms, such as stock, wine, or water.
Instant Pot Duo Review 🕵🏻
Overview
The Instant Pot is a versatile kitchen gadget with many functions. It can cook a variety of dishes like soups, stews, rice, and more.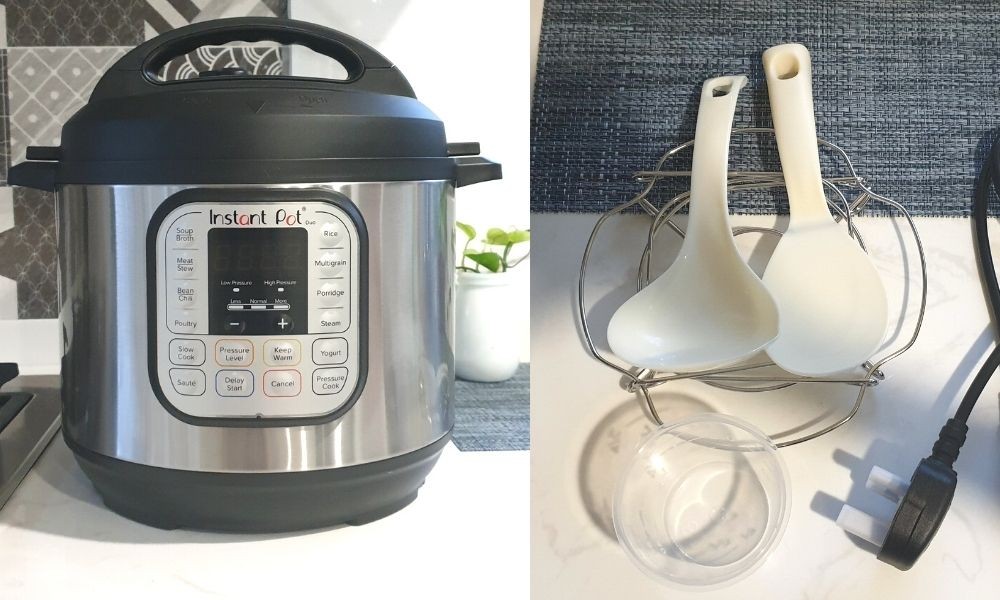 What I Liked
It has many preset cooking programs for different foods and textures, making cooking convenient.
The Instant Pot is especially good for batch cooking, allowing you to prepare full meals with meat, veggies, and rice all in one pot.
It significantly reduces cooking time compared to traditional methods.
The Instant Pot app provides over 1000 recipes with easy-to-follow instructions and a cooking timer.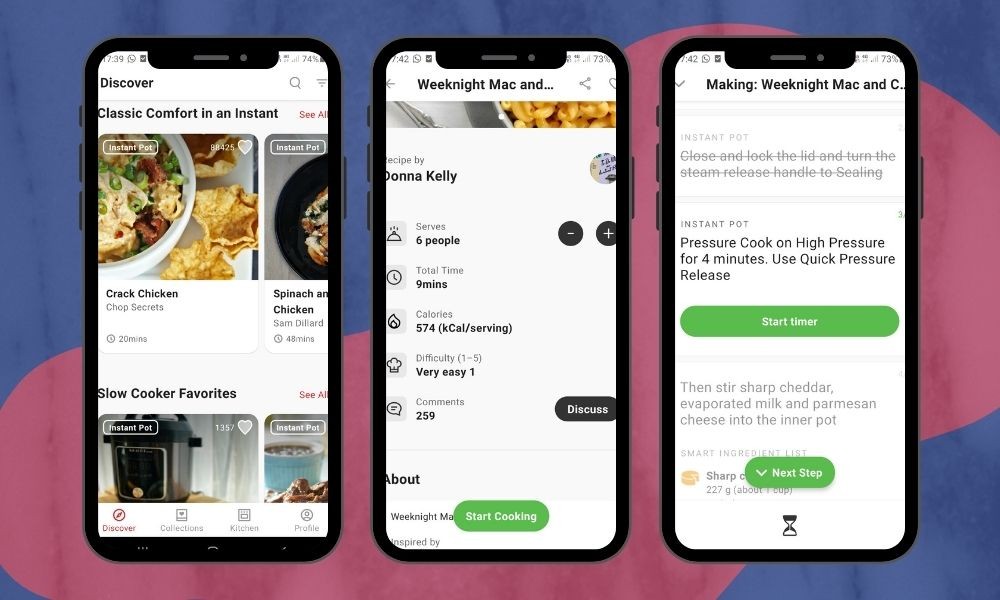 What I Didn't Like
The device is not very intuitive to use at first and requires some learning and reading of instructions.
You can't see inside while cooking, which can be anxiety-inducing for some users.
Some recipes from the app may not always turn out perfectly in terms of taste and texture.
Ease of Use
The Instant Pot has a lot of buttons which can be confusing initially, but they offer a wide range of cooking options.
Reading the manual is essential for safe and effective use.
Cleaning and Safety
Cleaning is generally easy as the inner pot is dishwasher safe. However, using certain release methods can create messes.
The Instant Pot has multiple safety features like a locking lid and pressure indicators for secure operation.
The Instant Pot is highly convenient and time-saving for cooking a variety of dishes, particularly beneficial for batch cooking and long-duration meals like stews and soups.
How Does The Instant Pot Work? 🤔
The Instant Pot works in a few simple steps:
Components:
It has three parts: a stainless steel inner pot, the lid, and the main housing.
The inner pot is where you put your food. It's designed for even heating and is removable and dishwasher safe.
The lid has a silicone sealing ring for a tight seal.
The main housing includes the heating element, sensors, and a control panel for easy operation.
Cooking Process:
The Instant Pot cooks using built-up pressure.
You lock the lid, choose a cooking program, and the pot heats the liquid to create steam.
The steam increases pressure inside, sealing the lid tightly.
Sensors maintain the right pressure and temperature, cooking the food quickly.
Other Instant Pot Models 🥘
The Instant Pot Duo is the most basic model of the lot. Other models come with additional functions and features, though they come with a higher price tag.
Other popular models include: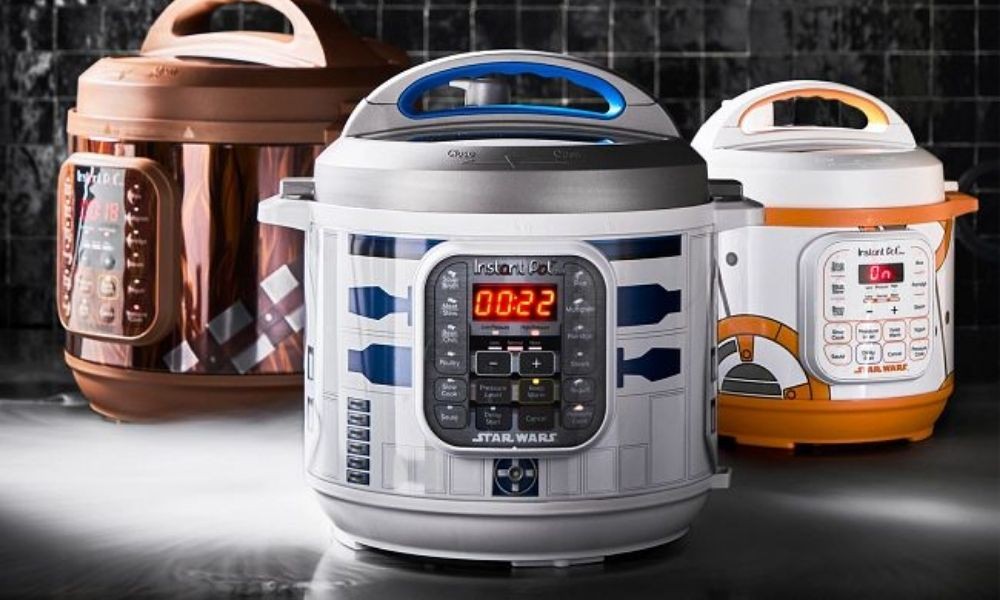 Instant Pot Recipes Australia 🇦🇺
If you're looking for yummy instant pot recipes – whether you have an instant pot air fryer or instant pot duo, instant pot duo nova or another model, Instant Pot has its very own recipe data base to help you out. Just follow the link below!
Instant Pot FAQs
Is an Instant Pot worth having?
Overall, yes! An Instant Pot can be worth having if you value convenience, speed, and versatility in cooking. It combines multiple kitchen appliances in one and can cook a variety of dishes often faster than traditional methods.An Instant Pot is a multi-cooker that can pressure cook, slow cook, steam, sauté, make yogurt, and cook rice. It's designed to simplify cooking by combining several cooking devices into one and offering various pre-set cooking programs.
What does an Instant Pot actually do?
An Instant Pot is a multi-cooker that can pressure cook, slow cook, steam, sauté, make yogurt, and cook rice. It's designed to simplify cooking by combining several cooking devices into one and offering various pre-set cooking programs.
What is the difference between an Instant Pot and a pressure cooker?
What kind of Instant Pot meals can you make?
So many!
Instant Pot pulled pork
Instant Pot risotto
Instant Pot beef stew
Instant Pot chicken soup
Instant Pot butter chicken
And so much more!