📝 Updates
How To Keep Your Meal Prep Hot Or Cold On The Go
One of the things that can stop us from prepping lunch meals during the week is our inability to heat up or keep food cool on the go. This can often result in purchasing a quick fix like take out, servo food or neglecting to eat lunch at all, which won't be doing your body any favours. While lukewarm food isn't fun for anyone, there are a number of solutions to help you not only keep your food at the right temperature, but to save you money on eating out!
UPDATED ON Jul 12, 2022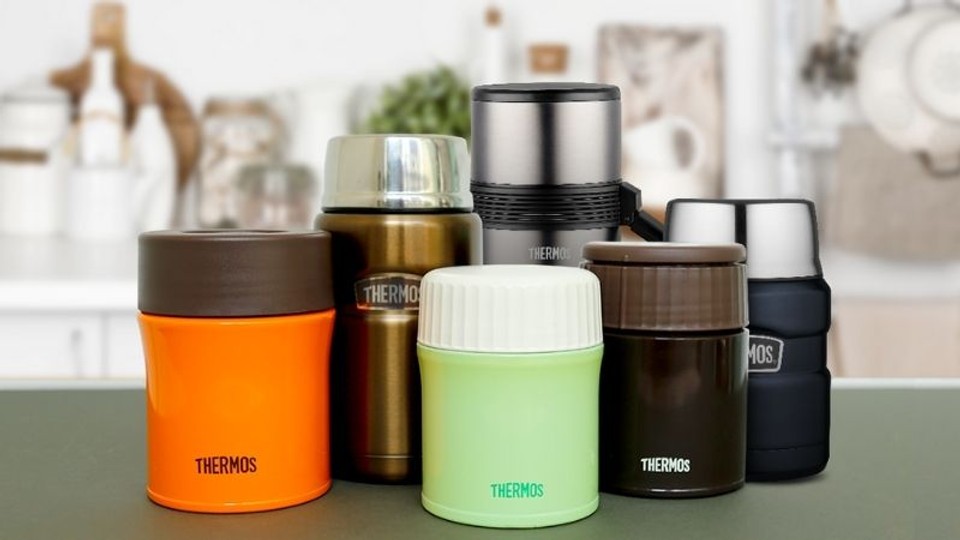 There's really nothing worse than a soggy, temped meal that is nothing more than a fraction of its former glory from the night before. This is normally because we don't have access to the facilities we need to either heat our food up or keep it cold throughout the day. While many of us opt for drive thru meals for convenience or would rather skip lunch all together, there are other options to consider.
Thermos containers will make sure your food stays fresh and temperature controlled on the go, saving you both money and calories. While there are plenty of great options out there, there are a few key features that define a decent thermos that you should consider before spending your hard earned cash.
Price
Size
Thermal insulation technology
Leakproof technology
Easy transportation
When it comes to keeping our food cold throughout the day, there are so many great options for us to choose from, you can almost find a decent insulated food container anywhere!
While finding a container to keep our food cold until lunchtime is fairly easy, keeping our food warm is a little more difficult; we have gone ahead and provided a few different containers for you to choose from, all of which are great quality and super affordable.
Thermos Stainless Food Jar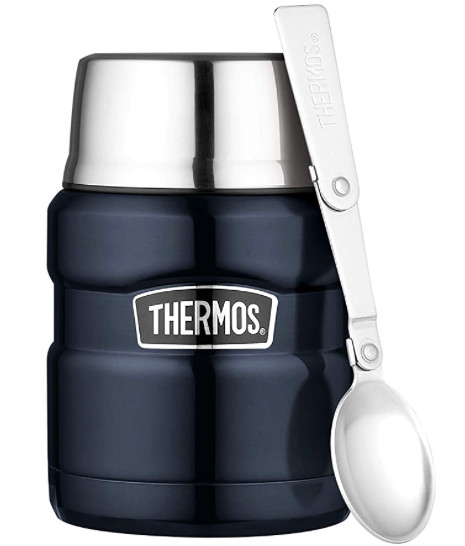 Temp:
Hot for 9 hours, cold for 14 hours
The Thermos Stainless King Insulated Food Jar comes with thermos vacuum insulation technology to ensure maximum heat retention which will keep your food nice and hot for up to nine hours and cold for up to 14 hours.
The food jar has both a stainless steel interior and exterior with a wide mouth which makes it durable, easy to fill, clean and serve from. even though the thermos is stainless steel, it can be filled with piping hot food while still remaining cool to the touch and filled with cold food or liquids without sweating.
The thermos comes in three colours including midnight blue, red and stainless steel. Each thermos comes complete with a serving spoon which folds and stores neatly away in the lid.
Thermos Dual Compartment Food Jar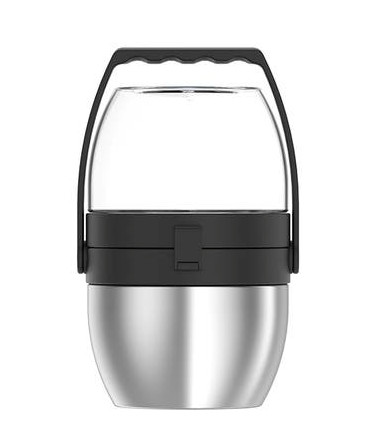 Temp:
5 hours hot, 7 hours cold
The Thermos Dual Compartment Food Jar has a massive 1.1 litre capacity with two separate hinged compartments with locking stoppers to prevent leakage and an integrated carrying handle for easy transport.
The Thermos double wall vacuum insulation will keep your food hot for up to five hours (even when kept in the fridge) and cold for up to seven hours. The jar also comes complete with a foldable steel spork to save you carrying loose utensils around in your carry bag!
There are two separate compartments including a 470ml stainless steel compartment and a 590ml Eastman Tritan compartment to keep certain components of your meal separate.
ThermoBowls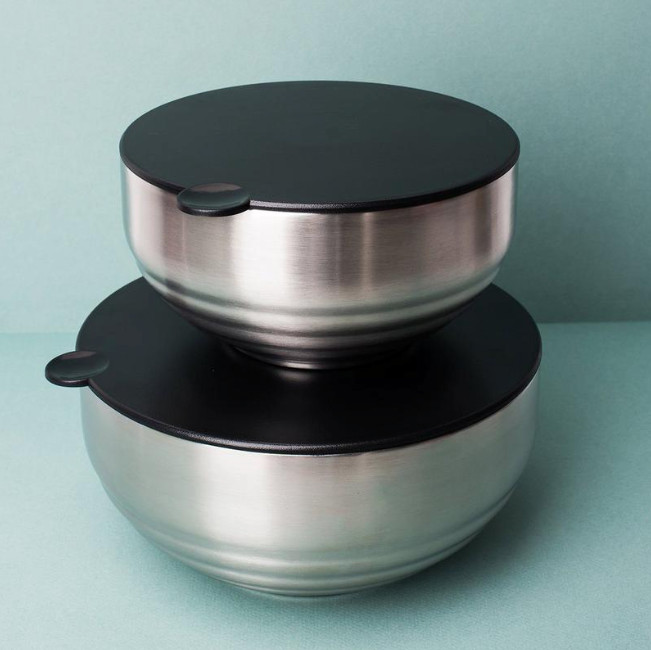 Size:
2.6 litre & 1.4 litre
Temp:
Hot & cold for 1+ hours
This two bowl set is perfect for transporting two separate meal components at a time, making it super easy to throw together a well-balanced lunch on the go. For $119.96, you can nab yourself a 2.6 litre and a 1.4 litre double-walled stainless steel insulated thermoserver which will help you to keep your food temperature controlled for hours.
These two bowls are perfect for storing and serving multi-course hot and cold food, with their double-walled vacuum sealed walls. Both bowls are dishwasher safe but should not be used in microwaves or on stovetops.
Thermo Lunch Box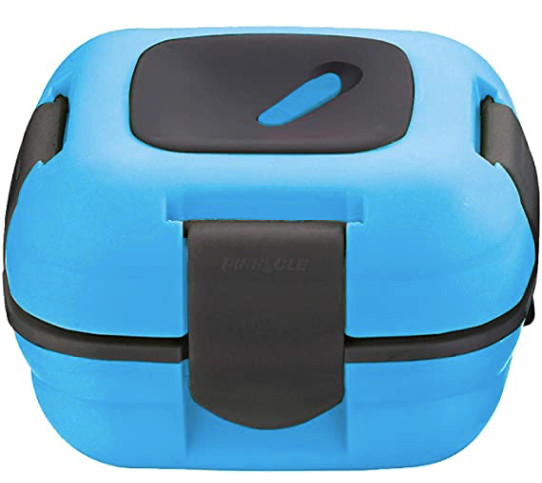 Temp:
4 hours hot, 6 hours cold
The Pinnacle Insulated Leak Proof Lunch Box features an 18/8 stainless steel interior which will keep your food hot for up to four hours and cold for up to six hours. Even with hot food inside, the box is cool to the touch and of course, 100 percent leak proof to prevent any annoying spillage during transport and is small enough to fit in most lunch bags, handbags and tote bags.
The container can retain 16 ounces to assist with portion control  and comes with a. 30 day warranty so if the Pinnacle lunch box doesn't live up to the hype, you can send it back.
ZOJIRUSHI Heat Insulation Lunch Box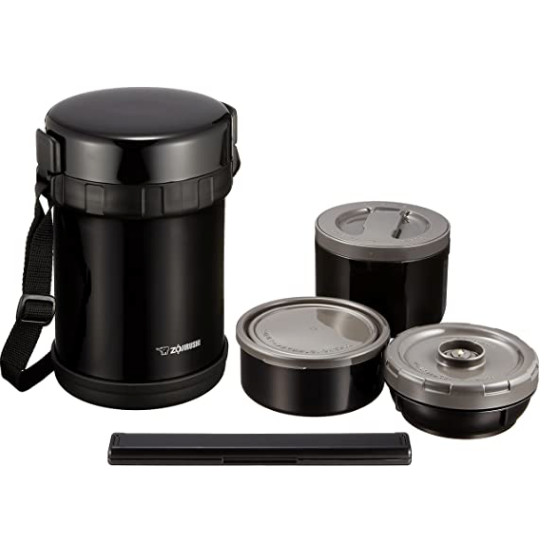 Size:
Rice: 0.59L, Food: 0.4L, Soup: 0.28L
Temp:
69 degrees for 6 hours
Standing 21 cm in height, the ZOJIRUSHI heat insulation lunch box contains three microwavable antibacterial inner containers including a 0.59 litre rice container, 0.4 litre food container and a 0.28 litre soup container.
The stainless steel thermos sports a carry strap along with a set of chopsticks and a chopsticks holder for easy transportation. The thick stainless steel walls help to retain a 69 degree heat for up to six hours, making sure your food is still hotted fresh by lunchtime!
There are so many great options out there to choose from that will ensure you're saving money on food and able to enjoy your meal prep on the go, it's just a matter of narrowing down key features that are necessary to keep your food temperature controlled and leak-free.
For more options including chilled lunch boxes and heat retaining containers, check out Amazon.com.au or Kogan.com.au for more fantastic deals, or if you're willing to splash out for the sake of high-quality, visit Yeti.com.