🏡 Lifestyle,🥙 Nutrition
Healthy Slow Cooker Recipes For Meal Prep
Autumn is finally here which means it's almost time to whip out our winter woollies and make the most of the beautiful seasonal produce we have available to us. It's also time for us to move the pots and pans aside and pull out our trusty slow cookers and crockpots for some wholesome, winter eats! 
UPDATED ON Jul 12, 2022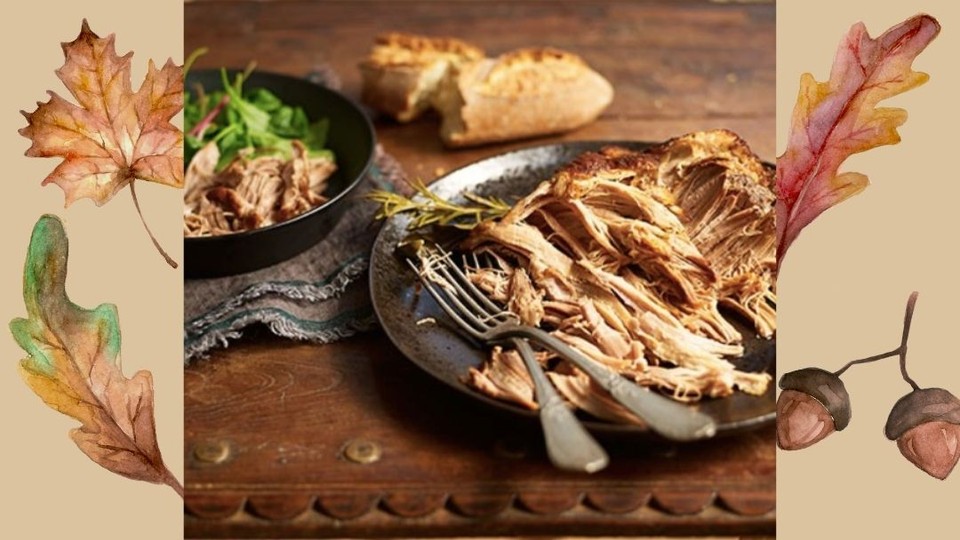 Contrary to what you might believe, slow cooked, comfort food doesn't have to be greasy, fatty and unhealthy; there are plenty of slow cooker recipes out there which eliminate all of the nasties without sacrificing the rich flavours or your precious waistline.
Some of the best things about slow cooker meals is the effortless nature of the cooking style (especially on a busy weeknight), along with the multitude of recipes you can create using the leftover meat. For those of us who live life on a budget, crockpot and slow cooker meals will save you a heap of money and will often provide enough meat to cover several different meals throughout the week or to freeze for a later date.
We have gone ahead and chosen a few of our favourite crockpot recipes and slow-cooker recipes, along with a bunch of follow up recipes for you to try with the leftover meat.
Slow cooked pork shoulder – 245 cals
Serves 6-8 people | prep: 10 min |Cook: 6 hrs and 15 mins – 8hrs and 15 mins
Ingredients:
1.5kg pork shoulder
250ml white wine
2 tbsp olive oil
2 rosemary sprigs
1 tsp black pepper corns
250ml chicken stock
1 garlic bulb
For method, click here.
This mouth-watering dish is packed full of potential and goes beautifully with sweet potato puree and some blanched broccolini! The stunningly tender meat will fall apart under your fork and weighs in at a low 245 calories. If you're cooking this magnificent piece of meat for two, you will have a crazy amount of meat left for future meal prep. Here are some different iterations of pork shoulder you can create for some damn delicious left overs!
Pulled-porkburritoswith green apple & cabbage slaw
Pork shoulder with roasted pumpkin, pine nut & feta salad
Vietnamese banh mi
Pork shoulder with roasted potatoes and green salad
Crockpot BBQ chicken – 166 cals
Serves 4 people | prep: 5 min |Cook: 6 hrs and 5 mins
Ingredients:
566 grams ofchicken breasts
¼ cup chicken stock
1 cup of low sugarBBQsauce
For method, click here.
This remarkably simple chicken recipe will supply you with enough BBQ chicken to fill out at least two more lunch or dinner meals. With only 2 grams of fat, 6.7 grams of carbs and 26.3 grams of protein, the low macro count will help you get that little bit closer to your weight loss goals. This crockpot chicken recipe will undoubtedly leave you with plenty of leftovers, unless you're cooking for the whole family. Here are some of the yummy meals you can prep for the week with your leftover crockpot chicken:
Gluten freeBBQchicken burgers
BBQChicken with rice and American slaw
BBQchicken pizza with a GF cauliflower base
Slow cooker beef brisket – 213 cals
Serves 6 people | prep: 15 min |Cook: 6 – 7 hours
Ingredients:
907 grams of beef brisket
1 medium sized onion, thinly sliced
4 garlic cloves, thinly sliced
4-5 sprigs of fresh thyme (or dried oregano or basil)
Salt & pepper
For method, click here.
One of my personal favourites, beef brisket (if done right), is so beautifully tender, the meat will basically melt in your mouth. I like to pair my brisket with fluffy mash potatoes and broccolini or other nutritious veggies but there are plenty of other great Mexican, Italian and western meals you can throw together which will do your brisket justice.
Beef ragu
BBQbeef brisket nachos
Beef briskettacoswith salsa
Pulled beef brisket salad
All of these dishes are absolutely perfect for mass meal prep and will provide you with a huge variety of options to ensure your dinners never get boring. So, what are you waiting for? Wipe the dust off those slow cookers and dig in to some easy, delectable, wintery eats!