🏡 Lifestyle
Shake Up Your Meal Prep With These Healthy Bento Box Recipes
Making and eating the same meal prep day in and day out can become very monotonous, but finding different meals for every day of the week can prove to be difficult and can take a lot more creativity than many of us have time for. If you're officially bored of the same old chicken and veg and are running short on inspiration, why not try out a traditional Japanese bento box?
UPDATED ON Jun 21, 2022
There are many different ways for us to organise our weekly meal prep, from cooking bulk meals you can reheat throughout the week, to cold food like salads which are quick, easy and great for eating on the go. But aside from the regular food prep concepts we all know and love, there's another great meal prep style which is perfect for the average health seeker looking to portion out their meals.
Enter, Bento Boxes!
What is a bento box?
Traditional bento boxes were created by the Japanese around 1000 years ago and have made their way both into everyday use throughout Japan and into regular use throughout western countries around the world.
A bento box is a portioned take-away box originating in Japan. Originally, the boxes were created wooden and were carried around with dried rice inside, ready to be cooked with water. People eventually began adding other food, wrapping the extra food items in bamboo, ready to combine with the rice at lunch time. People seen with bento boxes were usually considered wealthy, which indicated that the food inside was of high quality.
The box comes in multiple different sizes dependent on exactly how much food you require and allows you to portion your food into different sections to separate each item and stop flavours from mixing.
What's in a bento box?
There's a common misconception that bento boxes are strictly for Japanese style dishes which simply isn't true! The traditional bento box does normally contain meat, rice or noodles, a side of vegetables and a sauce of some description, but with multiple different compartments to choose from, there are truly endless meal possibilities.
Making the perfect bento box is all about achieving the right balance of ingredients and using food that you can eat cold or at room temperature. Japanese food blogger Yumiko has the perfect Tonkatsu Bento recipe for bento beginners to try at home! If you'd prefer a western take on the bento box, US food blogger Lisa Bryan has her own take on the quick and easy bento box.
Japanese
Tonkatsu Bento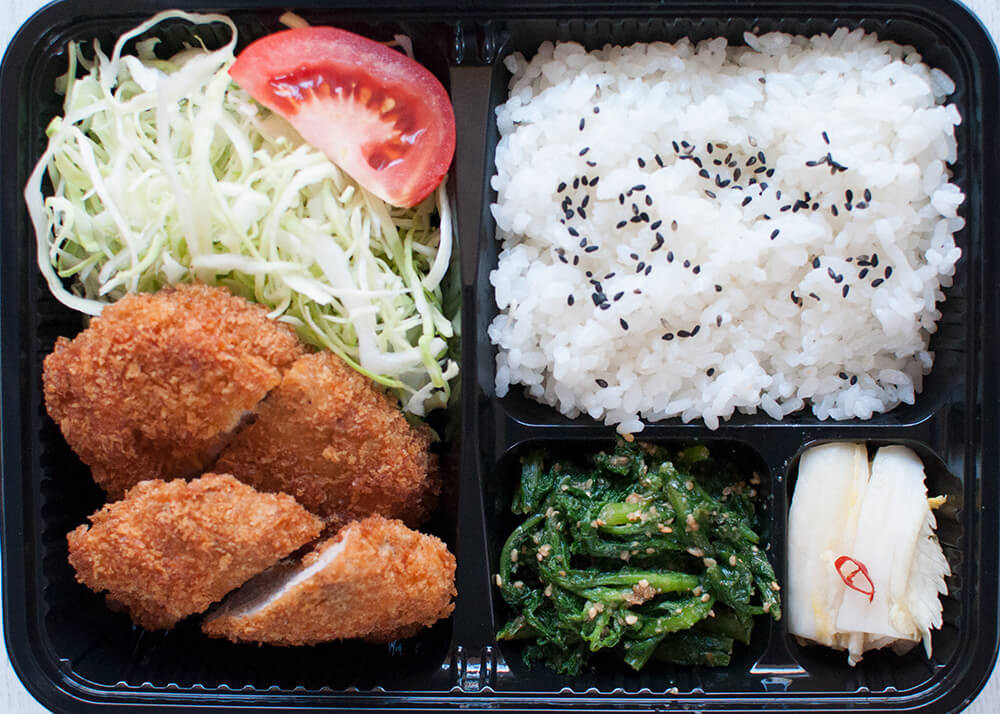 1 cup cooked rice
50g Goma-ae with snow pea shoots
2 tomato wedges
50g Japanese Potato Salad
A handful of shredded cabbage
100-150g Tonkatsu cut into 2cm/¾" wide strips
Black sesame seeds with salt (optional)
Tonkatsu sauce in a tiny bottle/jar/container
A bento box of your choice
A mini foil cupcake liner
Western
Lisa's Bento Box recipes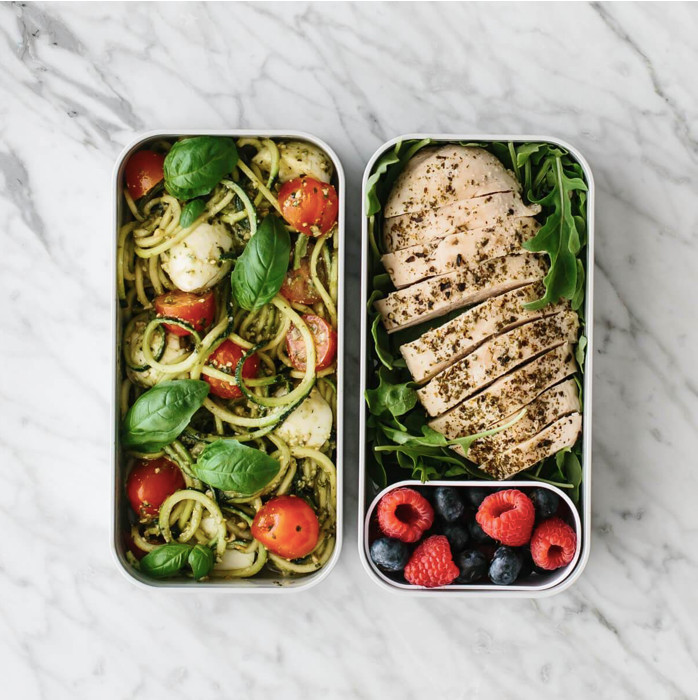 ZUCCHINI NOODLE CAPRESE AND BAKED CHICKEN
1 recipe zucchini noodle caprese
1 boneless skinless chicken breast
1 cup baby arugula
1/3 cup raspberries and blueberries
TUNA SALAD SANDWICH AND MELON SALAD
1 recipe tuna salad
2 slices gluten-free bread
1/4 avocado, sliced
1 recipe melon mozzarella salad with basil
1/2 cucumber, sliced
GREEK SALAD AND HARD BOILED EGGS
1 recipe greek salad
1 recipe hummus
1 hard boiled egg
2 stalks celery , chopped
SMOKED SALMON PINWHEELS AND WATERMELON SALAD
1 recipe smoked salmon pinwheels
1 cup baby spinach
1 recipe watermelon, cucumber and feta salad
1 recipe matcha pistachio bliss balls
So, if you've been short on inspiration why not try out Yumiko's traditional Tonkatsu Bento or Lisa Bryan's modern/western take on a well balanced bento box? If these don't tickle your fancy, you can turn just about anything into a bento box, all it takes is some careful planning, portioning and balancing of flavours!
Follow the link for more bento box inspo!