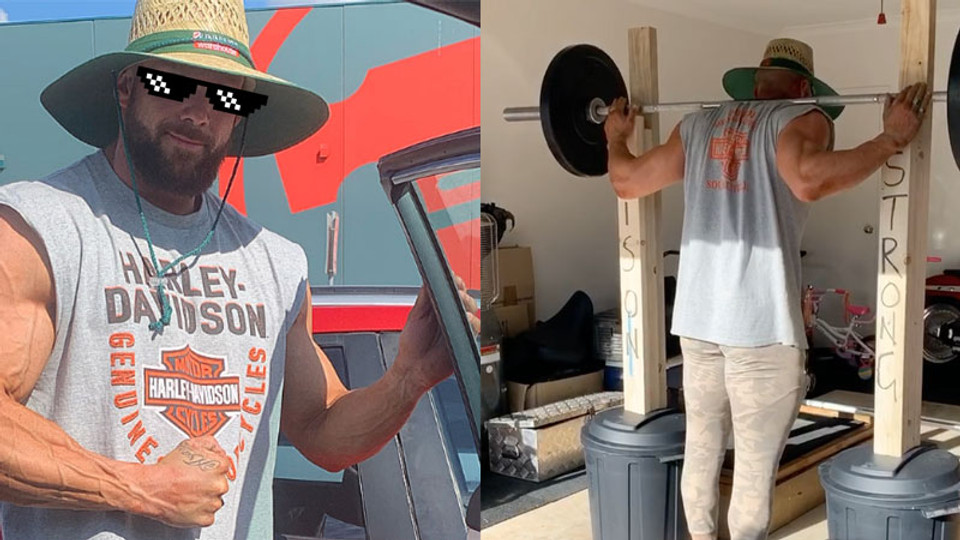 Hot off placing 🥇1st in the Classic Physique division at the Arnold Classic Pro Australia, Benson Milgate like many of us have been doing what we can at home.
With his trade background and the love of being hands on, he concocted a cheap and simple to build squat rack that's made entirely from Bunnings.
The basic premise of it is sticking structural pine cut at varying lengths together vertically, then securing it at the base in a cement filled bin. You won't be able to load hundreds of kilos on it, but it's still brilliant.
What it took to build the Bison Ranch Squat Rack:
Total = $131.57 AUD
How it was put together
Place the timber inside the bin and measure where on the timber you want the bar to sit. Mark and cut the timber to length.
Cut the back (longest) piece that can be any height you like. Benson's was 2m.
Cut the front piece 40mm longer than the middle timber as this will lock the bar in from sliding off.
Glue all 3 pieces together and put in a screw every 500mm top to bottom.
Place it into a 60l bin, add the concrete, and mix well.
Use a leveller to make sure each side are level and in the centre of the bin.
Once concrete has set. You can put a bar in place and the squat rack is ready to use.
BONUS: Add the bench press and rows components by adding more pieces of timber to the preferred side.
⛑ 🥽 SAFETY FIRST!
While it's sturdy, we're not suggesting everybody goes and builds their own. If you do, be please be sensible.
On a serious note, if you want a daily dose of inspiration and see some true work ethic, follow Benson over at @benomilgate_
Have you built your own home gym? Send us your pics and stories to [email protected]