As a nutritionist, I am often asked for healthy ready-made meal recommendations. Being time-poor is one of the biggest reasons our good intentions slip and poor eating habits creep in. As a result, more convenience style meals that aim to support your health goals have flooded our supermarkets.
Coco & Lucas plant-based frozen meals are one such product that promotes the use of wholesome ingredients which are "vegetarian, flexitarian and vegan friendly".
In their adult product range, they have five single-serve (350g) meat free meals which are available only at Woolworths for $8.00.
Below, you'll find a review of the Coco & Lucas Plant-based Chickenless Rendang.
Was the plant-based Chickenless Rendang nutritious?
The Chickenless Rendang is composed of 29 ingredients, all of which are well recognised with no unusual lab-made ingredients that you can't pronounce. There are also some great ingredients such as ginger, lemongrass, tamarind and turmeric which really speak of those South-East Asian flavours.
The meat-less component makes up 20% of the meal and is made of water, flours and soy protein. Together with the jasmine rice, this makes the meal reasonably carbohydrate heavy at 60% and problematic if you are gluten sensitive or intolerant.
For a plant-based meal, the amount of protein is reasonably good, totally 25.0g. This is mainly from the addition of soy protein rather than plant-based wholefood ingredients. There are no artificial preservatives, flavours or colours which is great to see, however, there are thickeners and vegetable oils that I tend to steer clear of as they can be quite inflammatory especially when consumed on a regular basis.
What stands out is the lack of vegetables, especially given this is a plant-based product. Besides garlic, onion and ginger there are no other vegetables which is limiting the micronutrients and the fibre content of the meal. This is relative in that fibre is not listed on the Nutrition Information panel. I would suggest you need to add vegetables to make it a nutritionally balanced and complete meal.
For a ready-made meal, the sugar, saturated fat and salt content is relatively low which is reflective of the 3.5 Health Star Rating. Keep in mind, there is a lot of controversy surrounding the validity of the Health Star Rating
Related: 5 Ready-Made Meal Services That Are Low In Sodium
How convenient are Coco & Lucas' range?
The Coco & Lucas frozen meals can be heated in the microwave for 4.5 minutes or conventional oven for 9 minutes. All you need to do is remove the sleeve and place it in the oven in it's packaging. No pricking of the plastic film required.
These can remain in the freezer, so helpful for those who want to keep some emergency meals on hand. The cardboard sleeve and tray are both recyclable which is a bonus and also reduces the amount of plastic that needs to be heated.
At $8.00 they are reasonably priced. Keep in mind, you will have to prepare and add vegetables if you want to make this a more complete meal.
How was the taste of Coco & Lucas' Chickenless Rendang?
The Chicken-less Rendang looks pretty similar to the photo on the packet and the South-East Asian aromatics are definitely present when heated making the meal smell very appetising.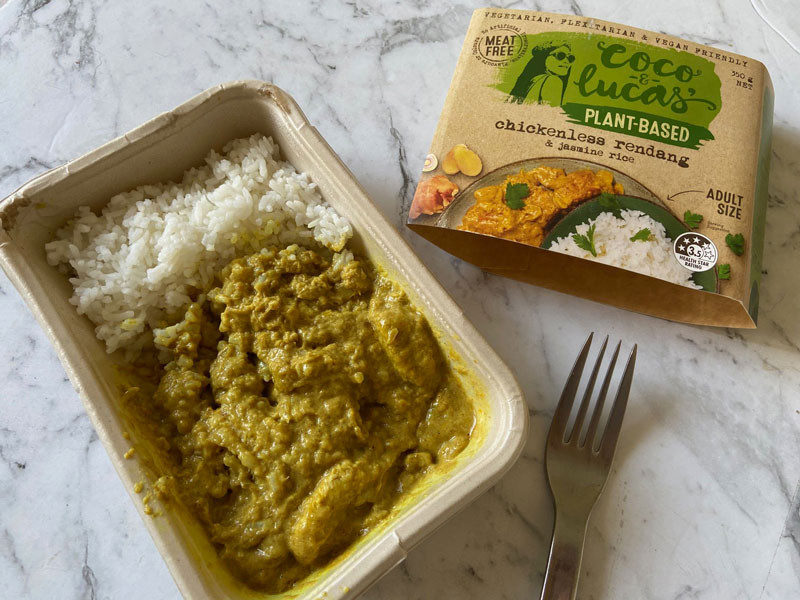 The meal is half rice and half sauce with a good number of chicken-less pieces, similar to what you'd find in a chicken curry. The sauce is very rich and really needs the jasmine rice for relief. It could also benefit from vegetables to help balance the flavours and boost the nutrients.
The chicken-less pieces have a spongy texture which after a few bites becomes less appetising. Remember, they're only made of flour, water and soy protein to hold it together – and it tastes like that. Although it doesn't claim to taste like chicken, there is no resemblance in texture or flavour.
Where can you buy Coco & Lucas meals?
Their meals are available at Woolworths Supermarkets across Australia.
Have a product review suggestion?
All of our reviews are independent based on our own experiences. If you have a product you want to see reviewed, let me know in the comments below!