📝 Updates
The Best Christmas Deals from Australia's Top Meal Delivery Providers
UPDATED ON Dec 26, 2022
We don't know about you, but it feels like Christmas this year has crept up faster than ever before. Wasn't it just Easter like two days ago?
With December already off to a flying start, Santa will be flinging himself down your chimney in no time at all, while your friends and family will be knocking on your door expecting a Christmas feast for the ages.
We love a good Christmas feed, but sometimes, Christmas cooking and cooking around the busy holiday period can be a huge hassle and a half.
The shops are busier than ever, and you're too busy catching up with friends and family and other end of year events to even get the groceries – let alone cook for yourself…
That's where meal delivery providers come in. Whether you're looking for a great Xmas recipe inspo with all the ingredients and recipe cards sent to you, or you want your meals cooked and ready to heat whenever you need, meal delivery services are the best way to keep yourself happy, sane, healthy and fed this Christmas period.
We've rounded up our favourite providers who have some pretty bloody good offerings (and epic discounts) to make your Christmas easier and tastier than ever. Let's get to it!
Christmas Deals from Australia's Best Meal Delivery Providers
Here are some of the best Christmas deals and discounts from the best meal delivery providers across Australia.
1. Chefgood – Fresh, Local & Natural Xmas Meals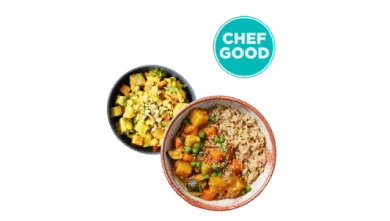 Delivers to: VIC, NSW, QLD, ACT, and SA
For a Christmas feast that's on the healthier, fresher and more natural side, check out ChefGood. From everyday meal plans to weight loss meal plans, vegan meal plans, gluten free options and more, there's something for everyone at ChefGood.
Choose from 5, 7, 10 or 14 meal plans per week – depending on how busy your Chrissy schedule is! And if you want $50.00 total off your first two orders, you can use our exclusive code at checkout and receive $30.00 off your first order and an additional $20.00 off your second order! Use the code MEALPREP 50.
2. My Muscle Chef – To Keep Lean During Christmas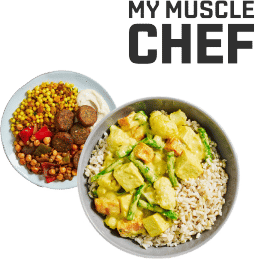 Delivers to: NSW, VIC, ACT, QLD, SA, WA
Want to keep lean during the festive season? My Muscle Chef is just the way to do it. Enjoy a range of 70+ high-protein meals crafted by MMC's chef and nutritionist team. All foods are nourishing and packed with flavour, and you can order a la carte or choose from a range of meal plants like Calorie Control, Muscle Gain or Weight Loss.
And, you can save up to 15% on meals using our Bulk Discount code, so if you order 25+ meals, you'll save 15%! How good! Click the order now below to automatically apply the discount.
3. Garden of Vegan – Best for Vegan Eaters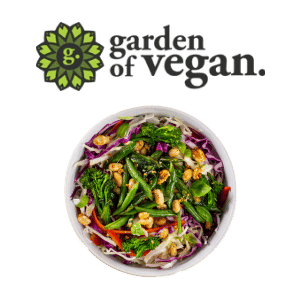 Delivers to: VIC, NSW, QLD, ACT, SA, TAS, WA
Most people associate a Christma feast with ham, turkey, prawns and a lot of, well, meat. But you can get a banging Christmas meal that's entirely vegan from the team at Garden of Vegan. Leading providers of ready-made vegan food, you can order off the menu or you can choose a meal plan, from Cleanse & Detox, to Weight Loss, to Back to Health, Shred & Sculpt and more. From creamy alfredo to potato bake and more, make Christmas food planning easy with Garden of Vegan.
Get $25.00 off your first order using the code MEALPREP.
4. Workout Meals – Ideal for Gymgoers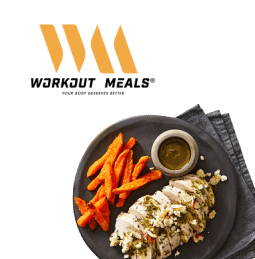 Delivers to: NSW, VIC, QLD, ACT, SA
If you want to keep fit and healthy over the Christmas period, look no further than Workout Meals. From low carb Shepherd's pie to roast beef and veg, Workout Meals has a range of healthy menu items, or you can choose from a dedicated meal plan to keep you on track with your gym goals. Whether you're low carb, keto or gluten-free, Workout Meals will keep you in tip top shape this Christmas.
Get $10.00 off first order by using the code MEALPREP10.
5. Food4Fitness – For the Ultimate Xmas Customisation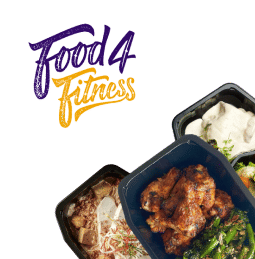 Delivers to: NSW, VIC, SA
If you want to keep your gains this Christmas or fully customise your Xmas meal, check out Food4Fitness – the ultimate customisable meal delivery service. With a custom meal builder where you can choose your protein, carb, vegetables and even sauce, down the 0.05g detail, Food4Fitness is the leading provider for bodybuilders, athletes and fitness enthusiasts. You can choose pre-made meals for weight loss, maintenance or weight gain, and you can even buy cooked protein in bulk to help put together your Christmas spread.
Get $30.00 off your first ordering using the code code MEALPREP.
6. A Life Plus – Great for Keto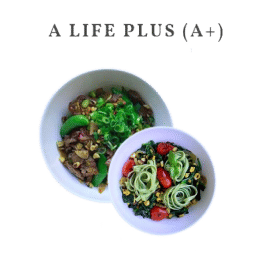 Delivers to: NSW, VIC, ACT, QLD, SA, TAS, WA
For a keto Christmas spread, look no further than A Life Plus. In fact, A Life Plus is one of the most dietary and allergy friendly ready made meal providers in Australia. Whatever dietary requirements you have – from vegan to gluten free, keto or alkaline, A Life Plus can tailor your meals to suit you. They can also tailor it down to the calories per serve! Healthy & delicious meals using local ingredients which include no added chemicals, sugars or preservatives, all meals are hand-cooked to order.
7. Soulara – For Plant-Based Christmas Meals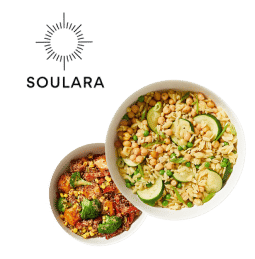 Delivers to: NSW, VIC, QLD, ACT, SA, TAS, WA
Another great plant-based provider delivering across all of Australia, Soulara is the ideal choice to keep your fridge stocked and tummy full this festive season. You can filter your meals to calorie controlled or high protein, and choose between 7, 9, 12, 15, 18, 21 or 24 meals delivered each week. With meals like Roast Summer Veg & Romesco Sauce to Singapore Spirit Noodles, there's something tasty for all plant-based eaters.
Get $30.00 off your order with the code MEALPREP30.
8. EveryPlate – For a Budget Friendly Meal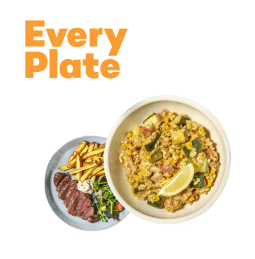 Delivers to: NSW,VIC, QLD, ACT, WA
For a budget-friendly Christmas, give EveryPlate a go. EveryPlate is a meal kit provider, meaning the meals aren't ready to heat and eat but rather you receive the ingredients and recipe card to make the meals yourself. There are several boxes you can choose, from classic to family, vegetarian to flexitarian. With recipes for meals like pork and spinach cottage pie with cheesy mash, to honey jerked spice chicken with roast veggie couscous, whether you're trying to keep the fridge full in the lead-up to the busy holiday season or order a box to use for your Christmas Day spread, EveryPlate has you covered.
Get up to $150 off your first five boxes! Code is automatically applied when following the link below, or you can use the code MEALPREPLATE.
9. Be Fit Food – Dietitian Approved Christmas Meals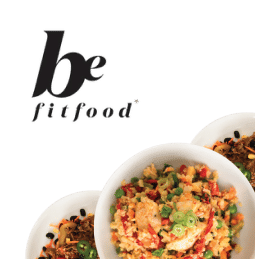 Delivers to: NSW, VIC, QLD, ACT, WA
For a dietitian approved Christmas feast, check out Be Fit Food. All meals are low in carbs, high in protein, under 500mg/Sodium per serve, contain a minimum of 4-12 vegetables and are a good source of dietary fibre. Be Fit Food only uses real foods in their meal programs and takes the guesswork out of weight loss and healthy living. From healthy meal bundles to weight loss programs, Be Fit Food will keep you healthy and happy with delicious meals this silly season.
10. HelloFresh – For Budding Chefs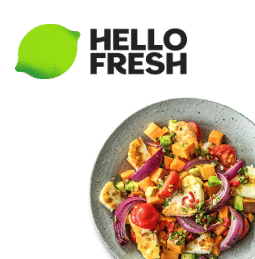 Delivers to: NSW, VIC, QLD, SA, ACT, WA and NT
Love to cook at Christmas but dislike having to find recipes and shop for ingredients? HelloFresh is for you. HelloFresh is a meal-kit delivery service designed with flexibility in mind. You choose the meals you like, and we'll deliver the recipes and ingredients you need to make them at home. Plan deliveries to fit your schedule so you can stay flexible during this busy Christmas period. You can choose meal plans based on filters like vegetarian, protein rich, quick and easy, carb smart, family friendly and more.
Get up to $130 off your first 4 boxes. Discount is automatically applied when following the link below or use the code MEALPREP130.
11. Providoor – Xmas Feasts From Top Restaurants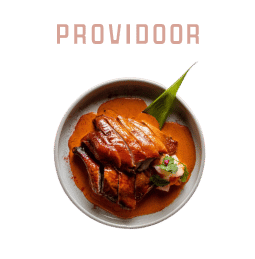 Make this Christmas easy by serving crowd-pleasing spreads from the best restaurants and chefs. Providoor has gathered a range of Christmas feasts to make your holidays fuss-free and delicious. Whether you are looking for a show-stopping centrepiece or salads, sides and all the trimmings to make a ham shine, they have a meal fit for the occasion. With meals from leading restaurants like Chiswick, Three Blue Ducks & Rockpool Bar & Grill, if you're looking for a fancy Xmas feast at home, Providoor has you covered. Orders for Christmas Day close Friday 23 December at 4 PM.
12. Harris Farm – Xmas Lunch Entrees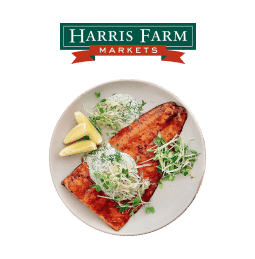 Delivers to: NSW, VIC, QLD
Need your Xmas entrees sorted? Harris Farm has some options for you, especially if you're into your seafood. Choose from large Sydney rock oysters, or perhaps a sweet chilli soy baked salmon. Need a salad side for your Christmas table? There's a tasty Bresaola Salad – with Peach and Goats Cheese on offer too.
13. Dinner Ladies – Traditional Christmas Spread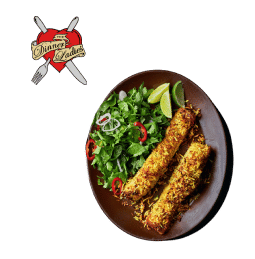 Delivers to: NSW, VIC, QLD, WA
To take the fuss out of Christmas cooking and leave it to the pros, order your spread from the Dinner Ladies. There are plenty of delicious meals on offer, like Pink pepper eye fillet with tarragon cream, Mini boneless ham with orange glaze and Fennel and herb-crusted King trout. There are also a bunch of salads, sides and desserts you can order to really take the hassle out of Christmas cooking and just sit back and enjoy the day knowing your food is taken care of.
14. Gourmet Dinner Services – Gluten Free Xmas Menu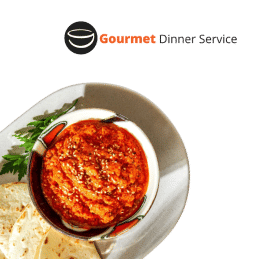 Delivers to: NSW, VIC, QLD, ACT
Take the stress out of the festive season and order a sumptuous Christmas feast from Gourmet Dinner Service. The team at GDS have been cooking Christmas food for the past 20 years so know how to put on a good spread! They have a great combination of both traditional and modern dishes to choose from, including gluten-free and vegetarian options.
The menu is divided into starters, mains desserts and even hampers packed with their most popular entree, main & dessert options, ready to serve 4, 6 or 8 people.
15. Food St – Homemade Festive Feasts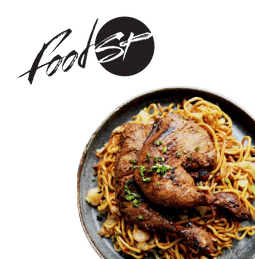 Delivers to: NSW, VIC, QLD, ACT
FoodSt cooks have curated an outstanding selection of delicious homemade festive feasts for you to enjoy. Every dish is made in small batches for an authentic home cooked foodie experience, and delivered right to your door in time for the party season. With meals like pork loin, turkey breast, turducken sausage rolls and more, if you're responsible for putting food on the table this festive season, it's time to sit back, put your feet up, and get your Christmas spread sorted with the help of FoodSt.