🏡 Lifestyle
Chloe Ting's Budget Meal Prep For Weight Loss
UPDATED ON Jul 12, 2022
Trying to lose weight has never been easier, or cheaper, thanks to a new meal plan put together by famous fitness idol Chloe Ting. The meal plan can be made for as little as $50 Australian for over fifteen meals to suit your fitness goals.
And won't take long at all to prepare. The trick is with these meals is that not only are they high protein (proven to refuel you after the gym and encourage fat loss), but they are light on the calories as well. Plus they can be easily modified for vegans.
Let's dive in and learn what the secret ingredient is in her latest video.
Ingredients list:
Rolled oats – $1.65
Peanut Butter – $1.80
Almond Milk – $2.00
Maple Syrup (real and not flavoured sugar) – $6.25
Cinnamon Powder – $1.50
Strawberry/Grape/Blueberry Jam – $1.30 (lots of different types here).
Eggs – $3.50 for 12 (but we only need one)
Baking Powder – $2.50
Chickpeas – $0.80
Capsicums (Bell Peppers) – $0.98
Carrots – $0.37
Can of Tomatoes – $0.60
Sundried Tomatoes – $3.30
Tuna – $1.15 (can be bought cheaper but spring for the sustainably harvested version).
Olive oil – $3.00
Brown rice – $3.20 for 1kg bag
Chicken Thighs – $8.40 (can be found cheaper at the local butcher)
Onion – $0.54
Garlic – $1.50
Paprika – $2
Cayenne Pepper $1.30
Oregano – $1.30
Salt Pepper – $1
Total cost: just over $49
All ingredient prices are from Coles' website and are accurate as of June 21st, 2020.
Breakfast – Peanut Butter and Jelly Oats Bar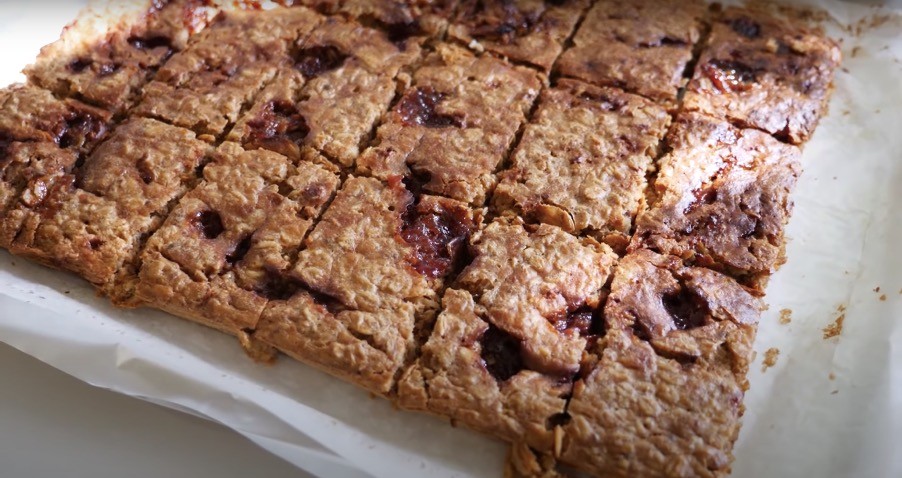 Ingredients are:
1.5 cup of rolled oats
200-250g of Peanut Butter (Depends on how much peanut butter you like)
1 cup of Almond Milk
3-5 Tablespoons of Maple Syrup.
One teaspoon of Cinnamon Powder
1/8 teaspoon salt if you need it.
140g of Strawberry/Grape/Blueberry Jam
One egg
1/2 teaspoon of Baking Powder (I've also excluded coconut oil in this recipe. You can add a tablespoon if you wish to)
The first on this list the most delicious in the morning, a healthy take on the classic peanut butter and jelly sandwich.
Start by mixing the Almond Milk, Maple Syrup, Egg until whisked. Then add in the dry ingredients of oats, peanut butter, cinnamon powder, and baking powder. Then pour it all into a tray and add the jam on top. Bake in the oven for 30 minutes at 180 degrees heat. Bake and then cut it up into portions.
You can also add coconut oil if you want a bit more good fat.
Lunch – Tuna Salad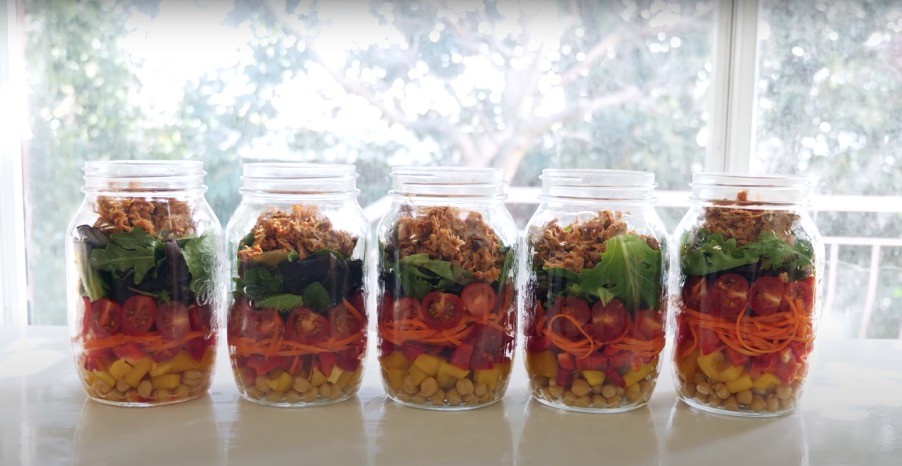 Ingredients are:
One can of chickpeas
2-3 Capsicums (Bell Peppers)
2 Carrots
Tomatoes
Sundried Tomatoes
One can of tuna (450g)
Spices: Salt Pepper Paprika Olive oil
This one not only tastes divine but its an Instagram dream. Impress your trainer and your followers with one simple, budget recipe.
Start by mixing the tuna with some olive oil. The tuna is an excellent source of protein, and the oil has plenty of needed healthy fats (not the type around your waist, but the type in your joints). Add in some salt, paprika and pepper to taste.
In a separate bowl, slice and add the carrots, red pepper, tomatoes and add in a can of chickpeas (another high protein source). Add in sundried tomatoes. Then eat!
Another flavour instead of the sundried tomatoes that work well is lemon juice or another vignette. Stay away from sugary salad dressings (like creamy caesar salad dressing) as they are packed with sugar and calories.
Dinner – Chicken and Rice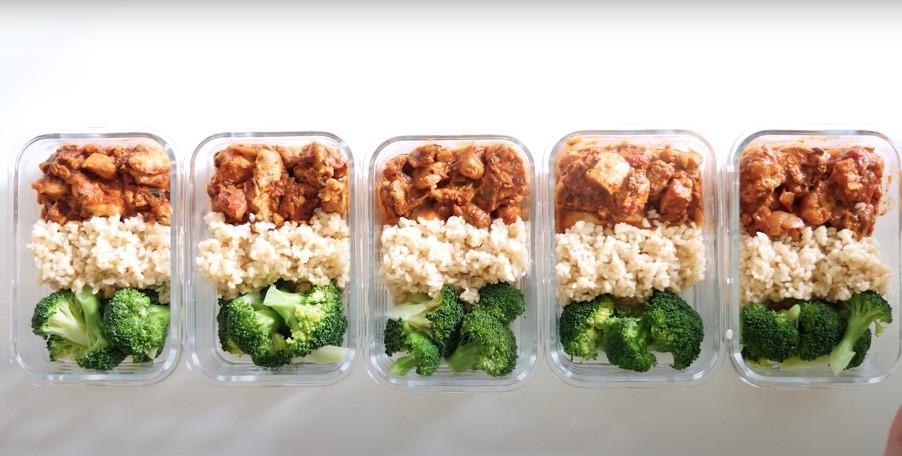 Ingredients are:
800g of Chicken Thigh
1/2 An onion
Two cloves of garlic
Spices: Paprika Cayenne Pepper Oregano Salt Pepper
Not only is this recipe cheap, but it's also super simple to make. The rice provided a low-gi source of carbohydrates (that keep both you and your wallet full) and chicken for a healthy source of protein after the gym.
Start by cooking the cup of brown rice for around 30 minutes with two cups of water. Then its time to tackle the chicken stir-fry. Start by oiling a pan, and browning the onion and garlic. Add in some Paprika and Cayenne Pepper, then add the chicken.
The best way to cook the chicken is to fry it on medium heat for around 15 minutes. You will know it is done when all chicken 'juice' has evaporated from the pan, and the outside of the meat starts to go from golden to brown. You can also perform a skewer test – take a fork, knife or a skewer and penetrated the thickest part of the chicken. If it goes all the way through with no resistance, then that means that the meat is cooked throughout.
Add in the can of tomatoes and broccoli, on a light simmer for another 30 minutes until all the water from the can is gone. You can also drain the can before adding to the chicken if you are short on time (but this will mean that the chicken has less time to absorb the flavour).
The broccoli can alternatively be steamed over a pot of boiling water (boil water and suspend the veggies in a metal collider).
Then serve.