📕 Guides
Carbonara Ready-Made Meals: Top Brands Compared
Who doesn't love a delicious Italian fettuccine carbonara complete with crispy bacon, parmesan, and al dente pasta mixed with a creamy sauce? If you need more carbonara in your life and are searching for easy carbonara that's ready to heat and eat, here's how ready-made meals compare.
UPDATED ON Jun 22, 2023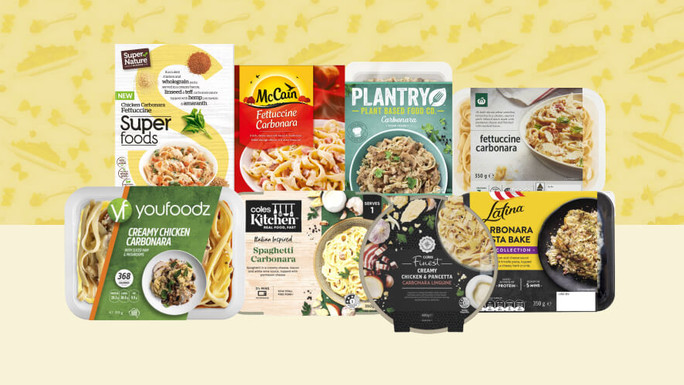 When it comes to pasta recipes, it doesn't get much simpler than an easy carbonara. With minimal cooking time and even less prep time, it's definitely a quick weeknight dinner to pull together when you're in a hurry.
But do you know what's even easier when you're pinched for time or just can't be bothered cooking at the end of the day? A ready-made carbonara meal. There are plenty of ready-made carbonara meals you'll find on your local supermarket shelf, but which is the best?
Well, that will depend on you – what are your health and fitness goals? Is protein content most important to you? Perhaps you're trying to lose weight so you're tracking your calories. Whatever your goals, there's a carbonara out there for you. We've gone ahead and found some of the best ready-made carbonara meals and broken down things like calories, macros and cost so you can find the best one for you.
Transport yourself to Italy with these ready-made carbonara pasta dishes you can find in your local Coles, Woolworths or online dedicated meal delivery service provider.
The table at the top of the page shows you the top ready-made carbonara meals on the market, and below we've broken it down into some key info you might find useful!
PS – Wanna know the best ready-made meal of other classics like butter chicken, lasagne, spaghetti bolognese and more? Head here!
Which Ready-Made Meal Brand Has the Healthiest Carbonara?
So, who has the healthiest carbonara? Coles, Woolworths, or dedicated ready-made meal delivery providers? Well, if we're looking just at calorie content from Coles and Woolworths:
✅ Super Nature Super Foods Carbonara Chicken Fettuccine Frozen Meal has the healthiest carbonara with just 323 calories per serving.
❌ Latina Fresh Carbonara Pasta Bake 350g has the highest calorie content with 722 calories per serve.
But that doesn't mean it's bad for you or unhealthy! If it fits your macros and fitness goals, you can enjoy whichever brand of carbonara you like.
What about ready-made meal prep providers?
✅ Creamy Chicken Carbonara from Youfoodz has 368 calories per serving with 31p, 45c, 28f.
✅ BAKON CARBONARA from HerbiDoor has 587 calories per serving 28p, 39c, 10f (Vegan option).
✅ FUEL'd Carbonara from Youfoodz has 511 calories per serving, with 37p, 56c and 13f.
Find and Compare Any Meal Macros with Our Super Handy meal Finder
⚖️ If you're more interested in knowing which carbonara has lowest fat, or perhaps the lowest carbs, you can check out our meal finder and sort through the data yourself. Simply type in "carbonara" and it will instantly return all the results from our meal providers.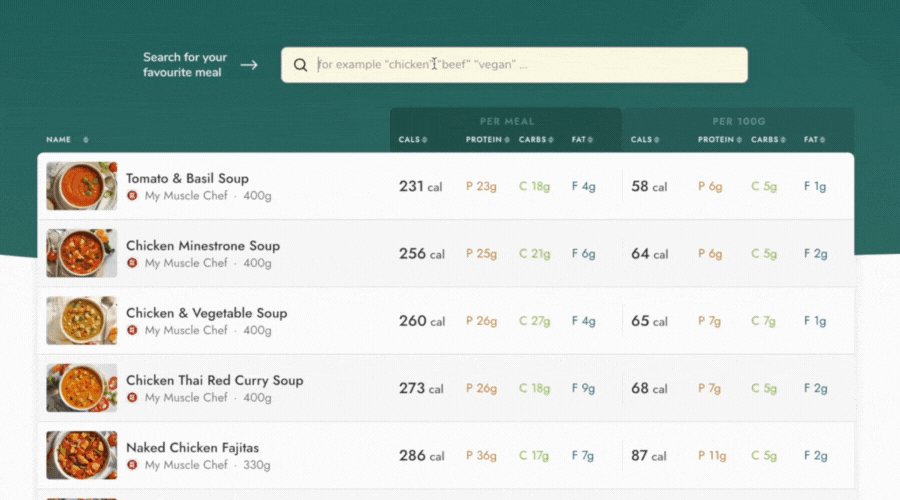 Note:
Both datasets is available on Google Sheets. Meals from Coles & Woolworths and those from our meal prep partners on mealprep.com.au. Feel free to use them but please credit us with a link to our website!
Is Carbonara Healthy?
Carbonara is a delicious and indulgent dish, but it's not typically considered a healthy option due to its high fat and calorie content. Traditional carbonara recipes contain ingredients like bacon or pancetta, eggs, cheese, and pasta, which can contribute to a high calorie and fat intake.
However, it is possible to make healthier versions of carbonara by using leaner proteins like turkey bacon 🥓 or ham , reducing the amount of cheese 🧀 and using lighter cheese options, and incorporating whole wheat or alternative grain pasta. Adding vegetables like peas or spinach can also provide some nutritional value. It's important to watch portion sizes and balance carbonara with other nutritious foods to maintain a well-rounded diet.
Ultimately, whether carbonara fits into a healthy eating plan depends on factors such as portion size, ingredient choices, and your overall macro and calorie goals.
What's in a Carbonara?
A classic spaghetti carbonara recipe consists of cooked pasta, guanciale or pancetta, a creamy carbonara sauce made from an egg mixture made from egg yolks (or whole eggs), and grated pecorino romano or parmesan cheese. Some carbonara recipes contain added veggies, different types of hard cheese, or heavy cream. Typically, you'd use fettuccine pasta or linguine past.
A Quick Pasta Carbonara Recipe
If you want to make your own pasta carbonara, it's pretty simple. Here's a quick and easy carbonara recipe to sink your teeth into!
Cook the pasta in a large pot of salted water, and leave the pasta cooking until al dente.
Drain the pasta, reserving some of the pasta water.
Add olive oil in a separate pan over medium heat, and then add diced bacon or pancetta. Cook until the bacon or pancetta is crispy.
Whisk together grated cheese, raw eggs, and a splash of reserved pasta water.
Add the hot pasta to the pan with the cooked bacon or pancetta.
Pour the egg and cheese mixture over the pasta, tossing quickly to coat the pasta evenly. If needed, add more reserved pasta water to create a creamy sauce.
Remove from heat and let it rest for a minute. Garnish with additional grated cheese and ground black pepper.
Serve immediately using tongs to plate the carbonara.
Note:
It is important to handle the egg mixture carefully to avoid scrambling the eggs. The residual heat from the pasta and hot ingredients will help cook the eggs partially and create a creamy sauce.
FAQ
Can you find ready-made carbonara meals that are gluten-free?
It can be hard to find ready-made carbonara that's gluten free. Your best bet would be to create your own with gluten-free pasta or even zucchini noodles for a keto option.
What's the nutrition information of carbonara?
The nutrition information of carbonara can vary based on specific ingredients and quantities used. You should refer to the packaging or recipe for accurate nutritional details. Check out our guide on how to read nutrition labels here.
Are there raw eggs in carbonara?
Yes, traditional carbonara recipes often include raw eggs as part of the sauce mixture. The residual heat from the pasta and hot ingredients helps to cook the eggs partially.
Are ready-made carbonara meals high in carbs?
Carbonara meals typically contain a significant amount of carbohydrates because a main component of the dish is pasta.
Can you find pre-made vegan or dairy-free carbonara?
Yes, you can find pre-made vegan or dairy-free carbonara options. Woolworths stocks an entirely plant-based carbonara from Plantry.
Is carbonara high in cholesterol?
Yes, carbonara can be high in cholesterol due to the use of eggs and cheese, but the cholesterol content can vary based on the recipe and ingredient quantities.
So, Which is the Best Ready-Made Carbonara?
We love the Youfoodz ready-made carbonara with sliced ham and mushrooms. With just 386 calories per serve, including 28g of protein, this really is one of the best (and healthiest) ready-made carbonaras on the market.
YouFoodz has been delivering ready-made meals across Australia since 2012, so you know they know what they're doing when it comes to ready-made food. You can order Youfoodz meals on a subscription-based model, or if you want to give YouFoodz a go without making a large order, you can buy selected meals in selected supermarkets across the country (Coles typically has the biggest selection).
If you want to give Youfoodz a go for yourself, you can enjoy a total of $95 OFF throughout your first 5 boxes! Click ORDER NOW and give it a try.