🏡 Lifestyle
Burn Calories Without Leaving Your Desk
POSTED ON Nov 30, 2020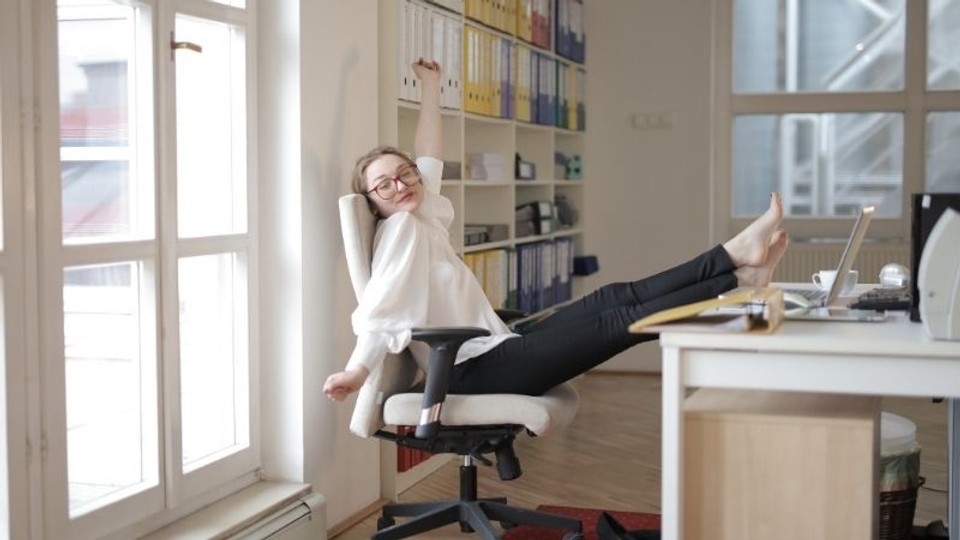 2020 has been a very difficult year for all of us, although somehow, it's never been easier for us to stay on top of our fitness. With COVID-19 forcing gyms to close and Australians into lockdown, we've been forced to adapt to our reality and to find new ways to stay fit and healthy without the luxury of gyms at our disposal.
For many of us, purchasing enough equipment to replicate our local gym as best we can is simply not an option, nor is fitting in elaborate and lengthy workout routines on a busy schedule. Instead of resisting the change or waiting it out until we're given the all clear on COVID-19, many health and fitness companies have adapted to our circumstances catering to the busy, working class, especially those working from home.
Since COVID-19 swept the nation in early 2020, the global demand for home fitness equipment has skyrocketed, with most of the world now more aware of their health than ever before. As demand has risen, so too has the popularity of seated and office friendly exercise equipment due to its convenience, compact size and effortless nature. The below list of exercise equipment provide users with the ability to burn calories, count steps and stay on top of their health and fitness without even having to leave their desk.
Seated elliptical
Taking the less subtle standing elliptical and instead creating a low-profile, under desk elliptical, Sunny Health & Fitness supply the perfect office workout. This contraption is absolutely ideal for office workers who struggle to make time for exercise and make a habit of working overtime! The seated elliptical comes complete with a digital monitor to help you keep track of your calories, distance and speed and eight levels of resistance, enabling you to choose your optimal level of difficulty.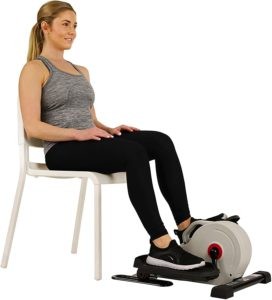 Sitting treadmill
This adorable piece of equipment replicates the functionality of a treadmill but at half the size! The pre-built sitting treadmill by North American Health, can be easily popped under a desk or in front of the couch for those who don't have enough time in the day to hit the gym. The sitting treadmill comes with adjustable back legs to adjust the incline for those keen to push themselves a little harder.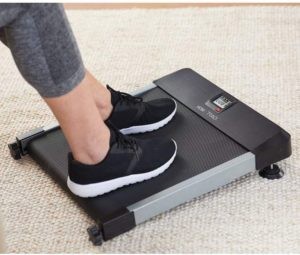 Desk Cycle 2
The desk cycle was designed with an office environment in mind, sporting a quiet magnetic resistance so you can pedal to your heart's content without upsetting your co-workers. The Desk Cycle 2 has extremely smooth pedal motion and adjustable legs to allow for maximum desk clearance and non-strenuous cycling which won't distract you from your work. Even if you're not stuck at a desk, why not jump on your Desk Cycle while your scrolling through Instagram, watching TV or reading a book?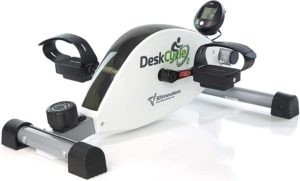 Fitness Task 2.0 2-in-1 Folding Under Desk Treadmill
This treadmill is not exactly subtle in its size or appearance! the Fitness Task 2.0 is designed to be slid under a standing desk enabling the user to reach speeds of up to 8km/h and can be used to the same extent as a regular treadmill. Unlike normal treadmills however, the Fitness task 2.0 supports a quiet, energy efficient motor, great traction and moisture resistance ensuring whoever you're working next to, won't have to listen to the noisy thumping of feet all day long. One of the best things about this particular model is the built-in Bluetooth speakers and integrated smartphone app. Using the foldable tablet stand, you can prop up your phone, computer or iPad and after hours, tune into your favourite show, podcast or playlist while you work-out!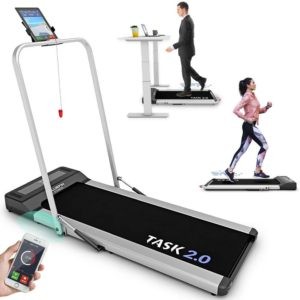 FlexiSpot Home Office Standing Desk Exercise Bike
If you prefer the full range of motion provided by a regular sized exercise bike without losing time at work, this nifty piece of fitness tech is exactly what you're looking for! With a built-in adjustable desk, the quiet FlexiSpot Standing Desk Bike offers eight levels of resistance to meet all fitness levels, a bike metre to measure calories burned, speed, time and distance as well as an adjustable seat to suit every height range.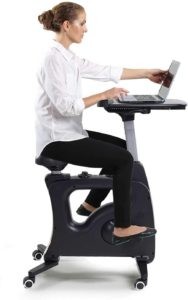 It's far too easy to forget to make time for our health and well-being, but it's extremely important that we do! Whether it be heading outside for a quick walk or nabbing yourself a sitting treadmill to use while you work, ensuring your body is getting close to 30 minutes' worth of exercise daily, is extremely important for our health long term. To explore more time-conscious exercise equipment visit Amazon.com.au.