🏡 Lifestyle,📕 Guides
10 Best Blenders In Australia For Smoothies, Soups, Sauces, & More
Blenders are versatile kitchen appliances with impressive culinary potential. And they do more than just smoothies. Sauces, dips, purees, drinks, hot soups, and even desserts—these are all on the list of items this trusty kitchen helper can whip up. In this article, we'll take a look at 10 of the best blenders in Australia.
POSTED ON Jan 26, 2022
#

NAME
Price (AUD)
Capacity
209
~1.8L
499
~1.5L
445
~1.4L
239
~2.1L
149
~2L
99
~0.95L
69
~1.5L
259
~1L
19
~0.3L
259
~1.5L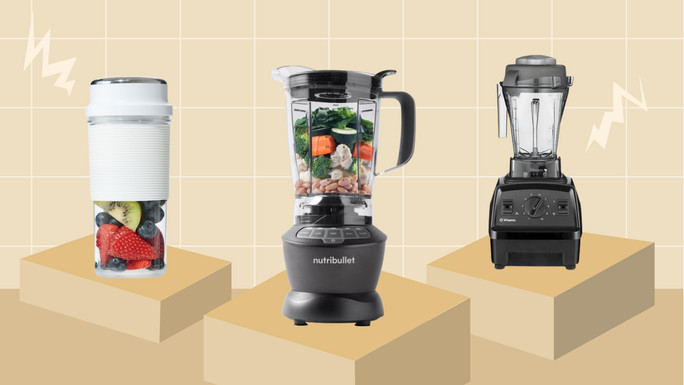 Without a doubt, blenders are one of the most popular kitchen gadgets. They're a worthwhile investment for avid cooks and meal preppers alike.
While the first thought that pops into your head at the mention of the word 'blender' is probably smoothies or milkshakes, you're not wrong, but there's so much more this kitchen assistant has to offer!
You'll be able to prep a bunch of recipes, including sauces, nut butter, soups, dressings, dips, desserts, purees, ground meat, batter, and different beverages.
Nonetheless, the massive range of blenders readily available in the Australian market can be a blessing and a curse. The wide array of impressive-looking models may leave you spoilt for choice. So, we understand if you're having trouble selecting a suitable model that caters well to your needs due to the vast number of options.
Don't worry. We've done all the heavy lifting for you and compiled a complete buying guide as well as a list of the best blenders you can find in Australia!
Best Blenders in Australia 2022
Choosing the perfect blender for your kitchen needs can prove daunting. But here's our list of some of the best blenders in Australia. Hopefully, this will help you narrow down your options!
Best Versatile
Nutribullet Blender Combo 1200W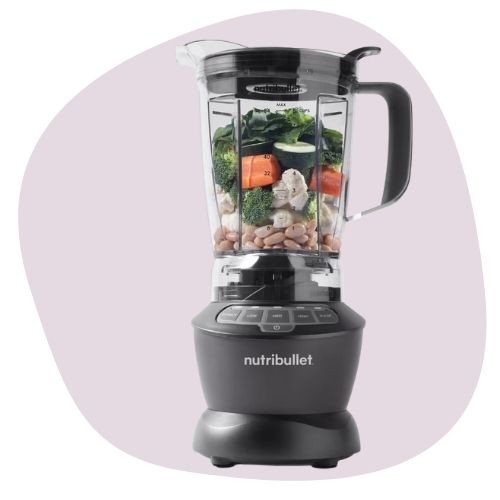 What's good?
Powerful motor enhances versatility
Easy-to-clean design with dishwasher-safe jug
Comes with an interchangeable pitcher and cups of different sizes
Can handle hot soups and ingredients
Clocking in over 1000 watts of power, the Nutribullet blender caters to massive versatility! With this power-packed blender and its extractor blade, you can whip up an array of different foods and beverages.
Nuts, dates, ice cream, smoothies, juices, yoghurt, and even carrots—name it, and it'd blend it! But that's not all. You can also use the vented pitcher to blend hot soups and sauces, and the pulse function allows for a more precise blending of delicate ingredients.
The brand's preset extractor program draws out maximum nutrients and vitamins from fresh fruits and vegetables, breaking down such ingredients into a delicious nutrient-rich smoothie.
The package is inclusive of a 64oz (~1.8L pitcher) and Nutribullet cups with a smaller capacity, allowing you to switch and match based on the quantity and type of ingredients you'll be blending. These pitchers and cups have been manufactured from durable, BPA-free, and dishwasher-safe plastic.
In addition to that, users mention that the jug is a breeze to clean, as food remnants wash off easily and do not get caught in hard-to-reach areas.
However, some users have noted that the blender can get pretty loud, especially when breaking down harder ingredients!
Breville The 3X Bluicer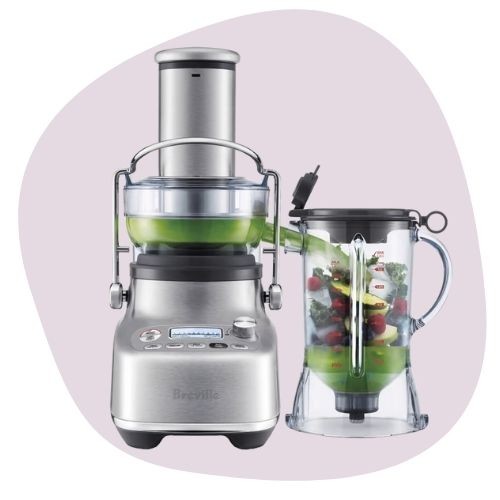 What's good?
Relatively low noise, fast, and efficient
Juicer and blender in one appliance
Large chute allows for juicing without any pre-cutting
What's not so good?
Too large to be placed in a dishwasher
A little manual pouring required due to a design flaw
Can't decide between a juicer and blender? You can get both with the Breville 3X Bluicer. This high-performance blender is designed to create various beverages, including frappes, fresh cocktails, slushies, and smoothies.
Their five different one-touch programs allow you to pick between various speed and time combinations to produce optimal results. On top of that, precise speed control is attainable with ten different available speed settings.
And if you're wondering whether this 'bluicer' can handle ice, the answer is a resounding yes! You can choose to transform ice into snow or crush ice to top fresh cocktails.
Breville brings a whole lot of convenience to the table. If you don't want to go through the hassle of chopping up fruits before juicing them, this 'bluicer' lets you juice whole fruits and vegetables by depositing them through the extra-large chute. No pre-cutting is required.
Users are well-pleased with how efficient, powerful, and quick the Breville bluicer is. In addition to that, it is decently low-noise with great juicing and smoothie results.
Nonetheless, is it too large to fit in the dishwasher, so cleaning it by hand or taking it apart before placing it into the dishwasher will be your options. Some users have also pointed out some issues with spillage and a design flaw with the juice spout. There may be a little liquid left in the juicer, which you would have to pour out manually.
Vitamix Explorian Series E310 High-Performance Blender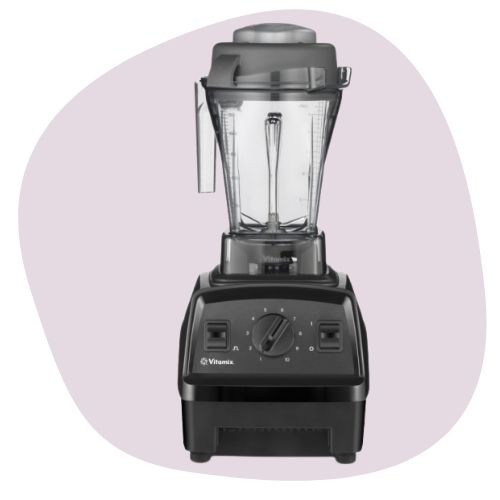 What's good?
10-different speed settings to increase versatility
5-year warranty included
Easy cleanup
What's not so good?
May overheat rather quickly
Expensive
This Vitamix blender was built with versatility in mind, helping you assemble desserts and appetisers with ten variable speed settings that create a wide range of textures. Equipped with a powerful high-performance motor, this gadget can effortlessly pulverise tough ingredients like nuts and ice.
One attractive buying point is the 5-year warranty attached to the purchase. Plus, a handy recipe book is included in the package. This multipurpose blender can whip up all kinds of appetisers, condiments, and desserts with precision and ease, including sorbets, salsas, creamy soups, fresh smoothies, and delicious dips.
If you appreciate gadgets that pose little trouble to clean and maintain, you'll enjoy how quick and straightforward the cleanup process is with this one. There's no need to take the device apart. Just add a dash of soap and some warm water. Then, allow your blender to spin for under a minute, and you're good to go!
According to user reviews, they enjoy the simple and easy controls and the silky-smooth results. But even the best put-together gadgets have their share of flaws.
Unfortunately, because the Vitamix blender packs a great deal of power, it can overheat rather quickly, mainly when blitzing thicker liquids. Plus, some users report that the canister does not sit very snugly on the base and requires some fiddling to get into place.
Nutri Ninja BL642 Duo With Auto IQ Blender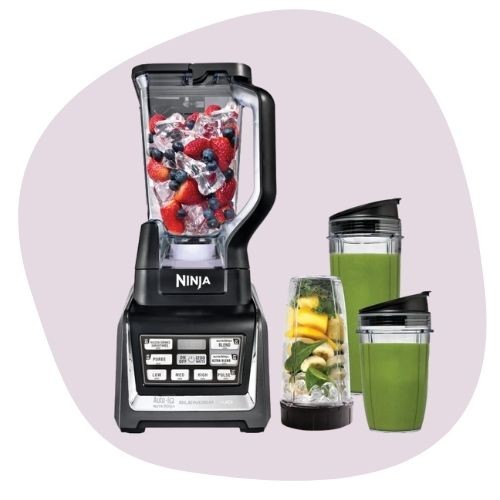 What's good?
Large-capacity blender jug
Auto-IQ feature for one-touch operation
Powerful motor for crushing ice and frozen ingredients
What's not so good?
Food and water may get trapped in the handle
Rather loud
Equipped with the unique Auto-IQ feature, this Nutri Ninja blender eliminates guesswork and comes with preset programs that combine various blending, pulsing, and pausing patterns for optimal results. With these one-touch programs, you'll get smoothies, juices, and purees with perfect texture and consistency each time!
Other than that, this appliance also comes armed with a 1200-watt motor and durable blades so that you can crush ice, frozen fruits, and other frozen ingredients without much hassle. Cleanup should be a breeze because the jug is BPA-free and dishwasher safe!
Overall, users are pleased with how powerful this blender is and how effectively it crushes, pulverises, and blitzes without leaving noticeable lumps behind.
However, some buyers have noted that the blender can get rather loud, especially when blaring off at higher speeds. Furthermore, some have mentioned that blended food particles and water can get trapped in the non-leakproof handle, and the only way to clean that thoroughly is to open it up with a screwdriver. That's a hassle indeed.
Sunbeam Two Way Blender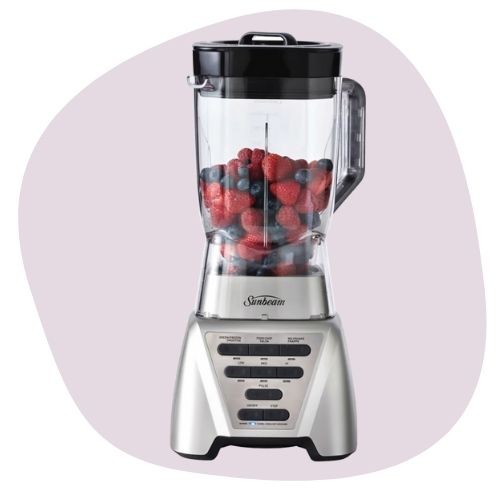 What's good?
Simple and easy-to-use interface with pre-programmed settings
Food particles do not get trapped beneath blades
Powerful motor and stainless steel blades for crushing ice
The Sunbeam Two Way blender stands out for an innovative feature synonymous with its name. Designed with a two-way stainless steel blade, the blender generates a unique spinning action that ensures all ingredients are drawn into the vortex created. Ultimately, what you get is a more even, smoother blend.
This no-frill kitchen device doesn't come with fancy bells and whistles. But what it has is three pre-programmed settings for frozen smoothies, salsas, and milkshakes and four manual settings for various speeds, including the pulse function. Because of its powerful 1100-watt motor and heavy-duty blades, this blender can crush ice and frozen ingredients.
Based on reviews, users commonly rave about how intuitive and simple the entire contraption is to use. The control panel is highly user-friendly, and the jug clicks in and out of the base with ease.
In addition to that, users comment that food particles don't get trapped under the blades (which is a common downfall in other brands). They appreciate the lightweight jug, compact build, and stylish design. And all this for a very affordable price, too!
The most common downside users have noted is the rather loud noise produced by the blender. But hey, for that power and functionality, we reckon it's a pretty fair trade-off!
NutriBullet Blender 900W Mega Pack Nutrient Extractor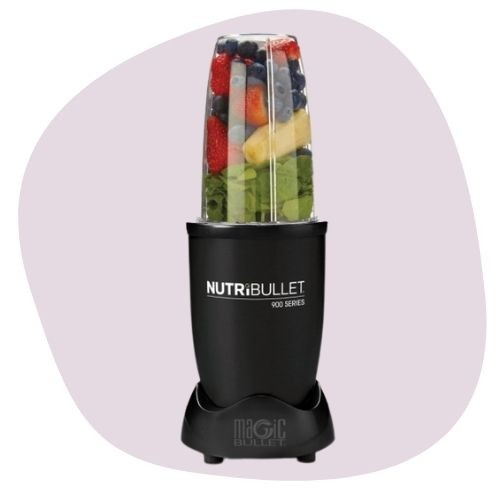 What's good?
Lightweight and compact
Detachable blades for easy cleaning
Very affordable
What's not so good?
Overheats easily
Loud noise
Next on our list is a lightweight and compact blender designed with the perfect balance of convenience and power. This Nutribullet blender may not have a motor as powerful as some other brands on the list, but it can blend frozen fruits and tougher ingredients such as nuts and seeds.
Another feature that stands out is its detachable blades. After use, twist off the blades, rinse it under lukewarm water, then plop the cup into the dishwasher. This way, you won't have to fuss over bits of pulverised food stuck under the blades.
On top of that, the company has designed this blender to be intuitive and user-friendly. All you have to do is twist the cup on and hit the button to get things rolling!
Overall, users love the value for money this product offers, noting that it is straightforward to use and clean, plus compact enough for hassle-free storage. Despite its more petite build, most are impressed by the versatility offered, while a few have mentioned that it's powerful enough to crush ice!
On the flip side, some users have remarked that this blender overheats pretty quickly, especially when past the 30-second mark. A few others pointed out leakage issues and the cumbersome, loud noise emitted when in use.
Best Budget
Russell Hobbs Desire Jug Blender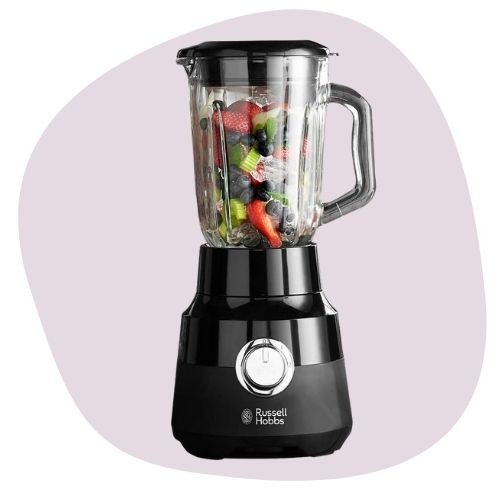 What's good?
Good value for money
Easy to set up, operate, and clean up
Stable build with non-slip feet and sturdy jug
If you're looking for something affordable, simple, and does the job, the Russel Hobbs Desire Jug Blender is a worthy candidate. Though its motor only operates at 650 Watts, don't underestimate its capabilities. This kitchen gadget is armed with stainless steel serrated blades to enhance blending performance.
Being user-friendly is one of the strongest plus points of this device. It comes with just two speeds and a pulse function. Essentially, it's a no-frill and simple-interface device.
As a whole, users are well-pleased with the non-slip feet that keep the blender stable and stationary while it whizzes away. They note that it is powerful enough for crushing ice and frozen ingredients to form a smooth blend without being obnoxiously loud. Solid and easy to set up and clean—we reckon you'll be getting the best bang for your buck!
Best Stick Blender
KitchenAid Cordless Stick Blender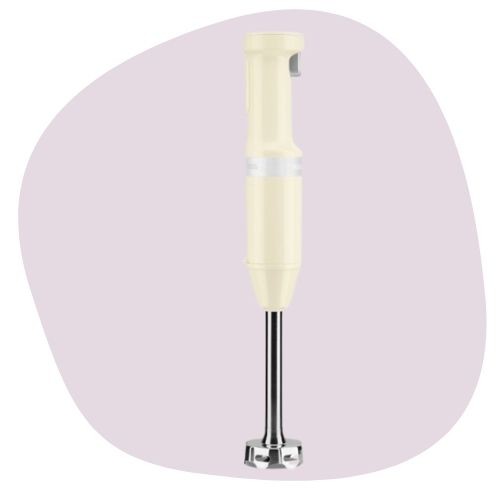 What's good?
Cordless and rechargeable with decent battery life
Pan guard protects your cookware
Comes with a chopper and whisk attachment
What's not so good?
On the heavier side
No graduation or percentage of battery life displayed
Do wires and cords get in the way of your cooking endeavours? The KitchenAid Cordless Stick Blender is one of the few on our list that is, well, cordless. Designed with a four-point stainless steel blade, you'll be whipping up beautifully-textured smoothies and soups.
If you're worried about ruining your non-stick pot, its removable pan guard will protect your precious cookware. This handy kitchen appliance runs on a rechargeable lithium-ion battery which can go from empty to charged in just under 2 hours. On top of that, the package consists of a whisk attachment and a BPA-free chopper attachment for augmented versatility.
Based on user reviews, the KitchenAid Cordless Stick Blender is elegant and conveniently multifunctional. Their favourite part about this gadget is that it's cordless but still packs a punch in terms of power. Plus, the battery lasts decently well, and it's reasonably quiet, too!
Best Portable
KMart Portable USB Blender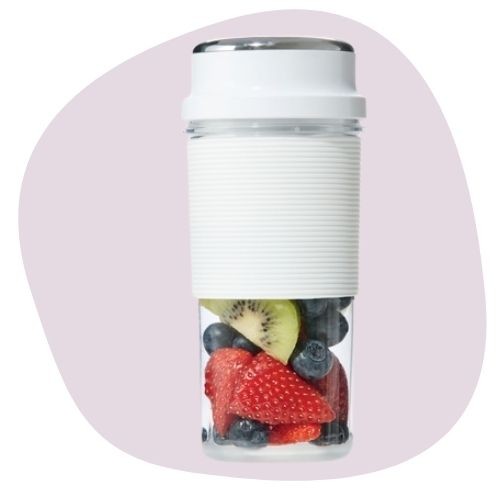 What's good?
Very budget-friendly
Light and highly portable
Decent battery life
What's not so good?
Tiny capacity
Not powerful enough for large-quantity blending or tough/frozen ingredients
Personal portable blenders are a fantastic idea for someone who's always on the go. This popular KMart Portable USB Blender costs less than $20 but carries a pretty decent set of features and functions.
First off, it is safe, waterproof, and constructed from BPA-free materials. Plus, despite its lightweight and small build, you could expect a pretty decent battery life and enough power to whip up smoothies and shakes about ten times consecutively without any recharge needed (from a fully-charged state).
Of course, at that size and price, you can't expect it to crush ice and frozen ingredients. However, users have noted that it does a great job with small amounts of liquid and fruits. Additionally, its capacity isn't large, allowing for a more compact build.
The perfect travel buddy and gym partner, this portable blender is a highly affordable purchase that does its job reasonably well!
Breville The Fresh and Furious Blender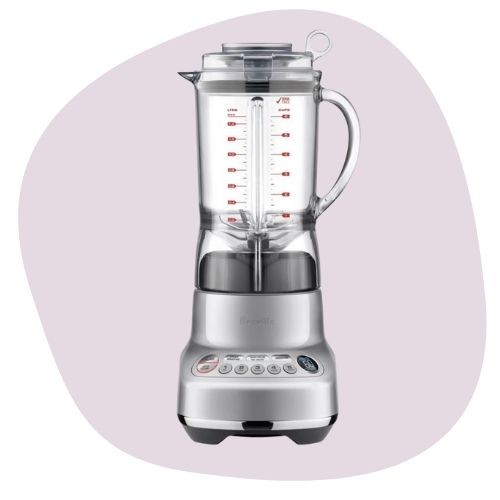 What's good?
Auto-clean feature
One-touch program settings
Breville Assist™ Lid (lid is tightly sealed when in use but still easy to remove)
What's not so good?
Noisy on higher speeds
Non-removable blades
The Breville Fresh and Furious blender come with a quiet and efficient high-torque motor and surgical-grade stainless steel blades that can churn ice into snow and whip up creamy smoothies and soups. This blender is also equipped with one-touch, pre-programmed buttons that trigger various functions such as mixing, chopping, and blending.
Many users have complimented the sleek and lovely design of the blender, not to mention that it comes with an auto-clean feature for boosted convenience. You'll also receive complimentary cards in the package that include recipes for marinades, dips, and smoothies. On top of that, users have also noted that the blender produces a smooth and beautiful texture without chunks.
Nonetheless, some users have noted that the higher-speed functions can get rather loud. Plus, the auto-clean feature doesn't get all the nooks and crannies, so manual cleaning is still required from time to time. The blade isn't removable for cleaning, though.
What's The Difference Between A Food Processor And Blender?
The all-important question is, "Should I get a blender or food processor?" Admittedly, these gadgets share a few overlapping features and functions, but they are not interchangeable. One shared similarity is the motor-powered blades housed in the base of each appliance.
Nonetheless, both serve different purposes.
Blenders excel in prepping smoothies, protein shakes, and milkshakes, or in general, foods and beverages that would end up as a liquid product. These kitchen appliances are almost always better for that smooth consistency in liquids. Crushing ice is usually one of the listed functions, and most modern blenders should handle that task decently.
On top of that, blenders come with cone-shaped work bowls fashioned to generate a mini vortex while in use, where larger food particles fall towards the centre of the reservoir before meeting with the spinning blades. The work bowl is also designed to allow mess-free pouring of liquid products.
On the other hand, food processors are more suitable for more heavy labour tasks. Essentially a chef assistant, this little helper completes time-consuming but simple kitchen tasks in a short time. Usually, food processors come equipped with a selection of different blade types. These blades can chop, dice, mince, shred, and pulverise dry ingredients such as cheese, carrots, and meat, in addition to mixing and kneading dough.
All in all, these two gadgets are not mutually exclusive. Getting one does not replace the other, and avid meal preppers usually find both equally helpful in unique ways.
How about juicers?
The most significant difference between juicers and blenders is the final product. Juicers separate the pulp and fibres from the liquid, resulting in a thin, concentrated, nutrient-dense yield. In contrast, blenders do not separate the pulp, producing a thicker, fibre-rich, filling beverage that usually requires more time to digest.
How To Choose The Best Blender
Blenders can cost anywhere from $30 to over $1000. Some have more functions and features and hence, is paired with a more extravagant price tag. Knowing how to look for the right blender for your cooking needs and kitchen endeavours would mean money well spent, and that's always a big win!
Here's our guide to shopping for the best blenders in Australia!
1. Type of blender
Each of these blender categories would land in a different price range. Hence, it's best to keep your budget in mind while you're shopping so you don't get carried away buying high-end models you won't put to good use.
Traditional blender
The countertop or jar blender is the classic model. The blender's base sits on the kitchen countertop and houses the motor.
This popular model type is less pricey and suffices for lower-intensity kitchen tasks. The lower price tag accounts for the fact that conventional blenders are less powerful than their high-performance counterparts. Nonetheless, most (if not all) come with variable speed settings, a pulse function, and a spouted jug design for easy pouring.
On top of that, many models are equipped with a stainless steel blade designed for crushing ice.
Handheld blender
Immersion hand blenders, or stick blenders, are another affordable option. These cylindrical-shaped gadgets are immersed directly into the soups or beverages being prepared. They are not usually a substitute for conventional blenders but can be purchased in addition to those.
Because of their compact size, they can be easily stored in drawers and cabinets, and these also come in cordless versions. They are ideally used to puree soups, cooked foods, and beverages.
The highlight of this model type is the ability to blend, puree, and combine simmering foods right in their pots. Some are even powerful enough to handle ice. However, most handheld blenders are usually less powerful than traditional-style ones.
Premium, high-performance blender
Multifunctional, premium-priced blenders bring much more to the table compared to their conventional counterparts. In terms of features, these are usually armed with powerful motors that make crushing ice feel like child's play. Additionally, these are designed to whip up a wider variety of foods, such as nut butter, cold desserts, hot soups, spreads, and dips.
On top of that, some models may even be armed with fancy features such as wireless connectivity, smart app integration, a built-in self-timer, and a self-cleaning function. Essentially, the sky's the limit with this beast of a machine.
Personal blender
Personal blenders are one of the latest trends. This blender type is targeted towards people who would like to enjoy protein shakes or smoothies while they're out and about. These usually operate on a rechargeable battery, and hence, may not be suitable for heavy-duty blending due to the weaker motor. Personal blenders are lightweight and compact and are usually cheaper than most countertop blenders.
2. Capacity
The typical jar size of your conventional blender is 64 ounces or approximately 1.8L. This capacity is large enough to batch prep drinks and beverages for up to 9 people.
If that's not enough, you can opt for high-performance blenders armed with powerful motors and razor-sharp blades. Those can handle even larger batches, and some come with an insane capacity. A few go up to 4-litres in capacity! Realistically speaking, though, this won't be necessary for most people.
Personal blenders are easily the smallest of the lot, and most hold around 8-20 ounces or less than half a litre. These are not suitable for families or parties.
3. Durability
Cheaper-end conventional blenders usually come with a plastic blender jar for see-through convenience. These containers are lightweight and do not chip easily, meaning that they're much easier to handle compared to their heavier counterparts.
Glass jugs are more frequently seen with more expensive model types. Unlike plastic jugs, they are durable, see-through, and will not absorb odours from foods you blend.
The most durable type will be high-quality stainless steel containers. Such jars are chip-proof and guaranteed to withstand the test of time, but of course, they come paired with a higher price tag. The most significant downside is not being able to see the contents of the jar during the blending process.
As for the blades, the best type to go for is high-quality stainless steel blades, as they are more likely to be corrosion-proof and highly durable. Some come with removable blades for easier and more effective cleaning, so this is an added feature you may wish to keep an eye out for.
As with most electronic gadgets you purchase, ensure it comes with a reasonable warranty period. You won't know if you'll end up with a faulty unit, so it's best to ensure your investment is safeguarded via warranty.
4. Motor power and speed settings
An average countertop blender could clock in around 300-700 watts of power, and blending common ingredients should not pose too much of a problem. Most conventional models can crush ice as well.
A more expensive model boasting more than 700 watts of power would add more versatility to the mix, allowing you to handle denser and thicker substances such as soups and frozen cocktails.
Premium blenders can pack an average of 1300 watts of power in one sleek-looking machine. These are expensive, but in return, they offer impressive versatility. You can craft nut butter, make soups, sorbets, and spreads, and even grind grains into flour with this type of blender.
You'll be paying much more for this extra kick of power, but if you love experimenting in the kitchen, these insanely powerful blenders would be an exhilarating buy for you!
Most blenders will come with speed control settings, and most models will have a pulse function as well. Three to four different speed settings is usually sufficient. The pulse function comes in handy when blending delicate ingredients.
5. Extra features and function
Most extra features are like extra sprinkles on the top of ice cream. They aren't necessary, but they elevate the aesthetics, functionality, and versatility of the gadget.
As the motor-powered blades spin at 30,000 RPM, you can expect that kind of high speed and immense power to come with a downfall—unnecessarily loud noise. So if you're sensitive to loud sounds, you can either opt for a less powerful blender, such as portable ones, or higher-end appliances built with quality materials that dampen the noise.
Additionally, you may wish to go for blenders with dishwasher-safe parts, but some newer and more sophisticated models may be equipped with a self-cleaning feature. Just by adding a dash of dish soap and some warm water, these models will perform the cleaning for you in under a minute.
Other extra features that may come in handy include:
Smart app integration and wireless connectivity.
Self-timer function.
Pre-programmed settings for different ingredients.
Selecting the gadget that best fits your kitchen and lifestyle comes with some research and looking. A high-performance multifunctional blender is indeed a worthwhile purchase if you have the budget. But if not, many mid or lower-tier blenders would do the trick!