📝 Updates
6 Best Air Fryers in Australia 2023 🍟
Take your meal prep game to the next level with our top picks for the best air fryers in Australia – perfect for meal preppers.
UPDATED ON Nov 22, 2023
#

NAME
Price
Capacity
~$260
7.6L
~$499
7.3L
~$200
7.0L
~$110
8.0L
~$200
5.7L
~$250
10L
Looking for the best bang-for-your-buck air fryer in Australia? Dreaming about the tasty, healthy treats you can whip up with them? We've rounded up Australia's top air fryers, as well as answered some FAQs about these all-rounder cooking gadgets.
Compare Air Fryers Australia 2023 👀
Ninja Foodi Dual Zone Air Fryer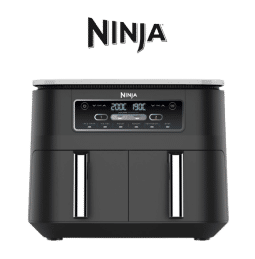 Functions : Max crisp, roast, bake, reheat, dehydrate, and air fry
This air fryer shines with its two separate 3.8L cooking zones, each with its own basket and controls. You can cook different dishes at the same time, with independent settings for each zone. Sync both zones with the Match Cook function for simultaneous cooking. The non-stick, dishwasher-safe baskets and user-friendly control panel make it a breeze to use.
Note: Its dual-zone design means it's not suited for large items like a whole chicken.
Philips Premium Air Fryer XXL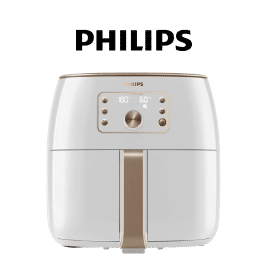 Functions : Fry, bake, grill, roast, reheat
This air fryer's standout feature is its smart sensing technology. Just select the food type and start; it auto-adjusts time and temperature for optimal results. Beyond air frying, it can handle cakes, lasagna, stews, and more with one-touch Smart Chef programs. Its large compartment fits a whole chicken or fish, and the dishwasher-safe, non-stick parts make cleaning easy.
Note: This Philips model is heavy, and a bit noisy, and its size may pose storage challenges.
Nutribullet XXL Digital Air Fryer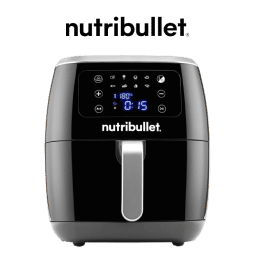 Functions : Roast, bake, dehydrate, and crisp
The Nutribullet XXL Digital Air Fryer features eight cook modes and a large basket for a whole chicken. It uses 360 vortex convection technology for quick, even cooking. If you check on your food, it automatically readjusts the cooking time. You can also manually set the time and temperature.
Note: Users appreciate its time-saving efficiency and ease of use, though its non-stick coating's durability and dishwasher safety are unclear.
Healthy Choice 8L Digital Air Fryer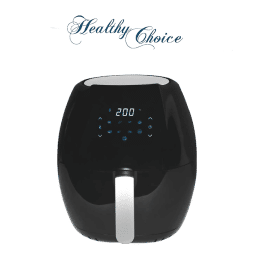 Functions : Preset programs include chips, chicken, prawn, cake, steak, fish, ribs and keep warm
This budget-friendly Healthy Choice air fryer offers the largest capacity on our list without skimping on features. It has a digital display, fits a whole chicken, and includes a non-stick detachable drawer with eight preset cooking programs. You can set the timer up to 60 minutes and temperature up to 200 degrees.
Note: Users find it easy to use and clean, ideal for large batches. However, its non-stick coating may lack durability, and some users report a shorter lifespan for the device.
Instant Pot Vortex Plus Air Fryer XXL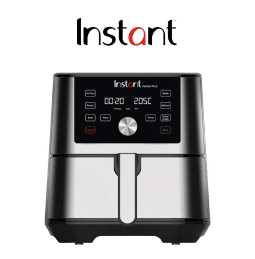 Functions : Air fry, roast, grill, bake, reheat or dehydrate
The Instant Pot air fryer features six programs: air fry, roast, broil, bake, reheat, and dehydrate. It's versatile, letting you bake cakes, broil salmon, or even dehydrate snacks. The user-friendly one-touch control panel and digital display make operation simple, and the removable, dishwasher-safe cooking tray is a breeze to clean.
Note: Users love its memory function for favourite settings. However, its basket is smaller and shallower than others, and it can be noisy during use.
Sunbeam 4-In-1 Air Fryer + Oven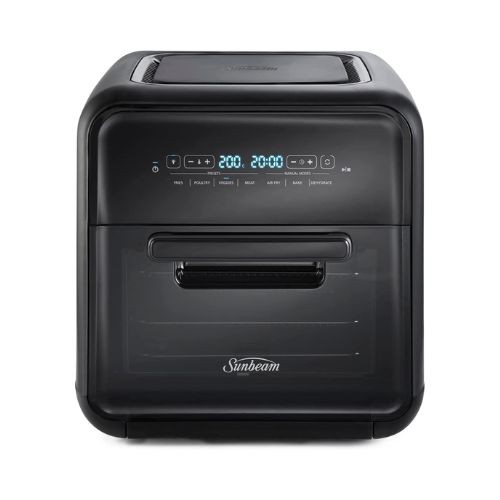 Functions : Air fry, roast, bake,dehydrate
Leading in capacity, this air fryer also serves as an oven with four presets: fries, poultry, veggies, and meat, plus manual options for baking, roasting, dehydrating, and frying. It comes with seven dishwasher-safe accessories, including a mesh basket, airflow racks, rotisserie spit, and a detachable oven door for easy cleaning.
Note: Users appreciate its even cooking, large batch capacity, pre-programmed settings, and user-friendly interface. However, it cooks slower than typical air fryers.
What Should I Look For In An Air Fryer? 🤔
Looking for the perfect air fryer? Keep these key points in mind:
Capacity: Go for larger (around 5 litres) if you're feeding a family or meal prepping. But remember, they're heavier and need more space.

Cleaning: Opt for models with dishwasher-safe parts. Watch out for tricky-to-clean accessories, like mesh baskets.

Ease of Use: Fancy preset programs for hassle-free cooking? High-end models offer digital controls for precise cooking settings.

Safety Features: Look for auto-shutoff and cool-touch exteriors, especially if kids are around. Be cautious with stainless steel models, as they can heat up.
What Can An Air Fryer Do? 🍔
Air fryers are a healthier alternative to deep frying, using much less oil. Instead of soaking drumsticks in oil, air frying needs just a tablespoon or two, cutting down on fats and calories. But remember, they're not a free pass to eat high-calorie, processed foods like fries or nuggets regularly.
While air fryers promise that deep-fried crunch, they often fall a bit short, though they still offer a tasty, lower-fat option. They do take longer than deep frying, but they're not just for air frying – they can bake, dehydrate, grill, broil, roast, and reheat, much like a traditional oven, but quicker.
What Can You Cook in An Air Fryer? 🐟🍗🫛
There's a whole lot you can meal prep using an air fryer. Larger capacity ones (like those recommended above) are handy for batch cooking. Here are some of the best foods you can air fry:
Proteins: Shrimp, chicken breast, wings, legs, and drumstick, salmon, fish, meatballs, steak, ground beef, eggs
Vegetables: Green bean, brussel sprout, broccoli, capsicum, asparagus, mushrooms, brinjal, sweet peppers
Carbs: Potatoes, sweet potatoes
Simple Air Fryer Recipes For Meal Prepping 🥘
Air Fryer Tender Chicken Breasts for Meal Prep
Ingredients:
Boneless chicken breast, garlic powder, salt, pepper, and your favourite herbs and seasoning (oregano, paprika, onion powder, chives, rosemary, ground cayenne pepper, mixed herbs, etc.)
Recipe Steps:
Drizzle a little bit of olive oil onto the chicken breasts before adding and patting on the herbs and seasoning.
Cook at 180 degrees Celcius for 10 minutes, then flip the chicken breast using tongs. Cook for another 7-12 minutes. This would be the estimated cooking time for chicken breasts that weigh around 220-230g.
Immediately take the chicken out of the air fryer. Let it rest before slicing and serving.
Recipe Tips:
The air fryer cooks a lot quicker than your conventional oven. And if your chicken breasts are dry, you're likely overcooking them. The cooking time will depend on the size and weight of your chicken breasts. 

The FDA notes that the food-safe temperature of chicken is 165 degrees Fahrenheit (which is around 73 degrees Celcius). Getting a food thermometer can ensure you don't undercook or overcook your chicken. 

Once your chicken is cooked, take it out immediately from the air fryer. Do not leave it to rest inside your air fryer, which may cause your chicken to overcook and dry out.

This air fryer recipe does not call for preheating.
Quick & Easy Air Fryer Asparagus
Ingredients:
Asparagus, sea salt, black pepper, olive oil, garlic powder (optional: lemon juice and parmesan cheese)
Recipe steps:
Rinse your asparagus and trim off the woody ends.
Drizzle the asparagus with olive oil. If you wish, drizzle with freshly squeezed lemon juice as well.
Season your asparagus with salt, pepper, and garlic powder. Toss gently to coat the asparagus evenly.
Line the asparagus in the air fryer basket in a single layer. If you wish, grate the parmesan cheese on top.
Set the temperature to 200 degrees Celcius. Bake for 6-10 minutes until the ends are brown.
Recipe Tips:
You can easily snap off the tough, woody ends to prep your asparagus. 

You can keep cooked asparagus in an airtight container for around 3-4 days. To reheat, simply plop them into the air fryer or microwave. 

The cooking time will depend on the size of the asparagus. But an air fryer typically takes around half the time compared to a conventional oven.
Garlic Butter Air Fryer Salmon
Ingredients:
Salmon fillet, butter (you can substitute this with olive oil or avocado oil), garlic powder, paprika, salt, and pepper.
Recipe steps:
Brush the top of the salmon fillets with olive oil, avocado oil, or butter.
Sprinkle the seasonings onto the salmon and rub them in.
Preheat your air fryer for around 5 minutes. Cook at 200 degrees Celcius for 6-10 minutes, depending on the size and thickness of your fillets.
Recipe Tips:
Preheating the air fryer helps you obtain a better crisp. 

You can check the doneness of your fillets with a fork. If it flakes off easily, it's good to go. Avoid overcrowding the basket, and air fry in batches if needed. 

You can keep your cooked salmon in an airtight container for up to 3-4 days. It goes well with asparagus, which keeps well for about the same time.
Are Air Fryers Worth It? 💰
The air fryer isn't a must-have. Even larger ones have a limited capacity compared to your typical oven. And yet, they still take up quite a lot of counter or storage space.
But if you have some extra cash to spare, the air fryer is a handy piece of equipment to add to your kitchen arsenal. 
FAQ
How does an air fryer work?
Contrary to its name, an air fryer doesn't actually fry. Your air fryer is quite like a convection oven—on steroids. The heating element will create hot air, which the fan will then circulate all around the drawer to cook the food.
What air fryer size do I need for a family of four?
An air fryer with a capacity of at least 4.7-5 litres and up would be the ideal option for a family of four.
Does an air fryer use a lot of electricity?
No, an air fryer is a rather efficient gadget that consumes a relatively low amount of electricity—not to mention that it cooks rapidly, too. Because of this, you won't have to worry about racking up a high electricity bill in the process.
Is an air fryer really healthy?
Air frying is healthier than deep frying by many measures. This is simply because air-fried foods contain less fat, oil, and calories compared to deep-fried foods. However, the health benefits of an air fryer are limited by your choice of foods. It's not a free pass to eat fried foods every day!
Updates made: Added the Sunbeam 4-In-1 Air Fryer + Oven for more variety in capacity (10L) and a 2-in-one air fryer and oven function.