📕 Guides
A Nutritionist's Guide To Konjac Noodles
Konjac noodles are made from the konjac yam root vegetable native to parts of Asia. Referred to as "miracle" noodles due to their low calorie and low carbohydrate profile, is konjac too good to be true?
POSTED ON Jul 10, 2022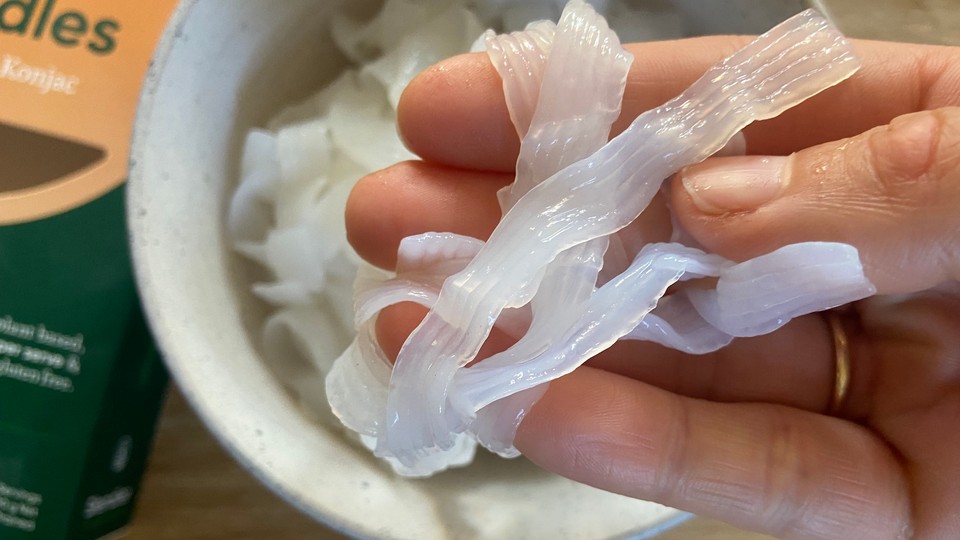 I take a look at the nutrient content of konjac noodles, offer tips on how to use them and discuss what to consider before you add these into your diet.
Nutrient Profile of Konjac Noodles vs Rice Noodles
Konjac noodles and rice noodles have similar translucent appearances and both have a bland flavour, but nutritionally they are different. Let's take a look at how they compare, noting the nutritional profile will differ slightly between brands.
Ingredients
Konjac noodles are made with water and the corm of the konjac root. Some brands contain as little as 5% of konjac. Rice noodles are made with over 80% rice flour and water. Some will also add corn starch to improve their texture and form.
Depending on the brand, some konjac and rice noodles contain the preservative Calcium Hydroxide.
Both konjac noodles and rice noodles are gluten-free and vegan-friendly.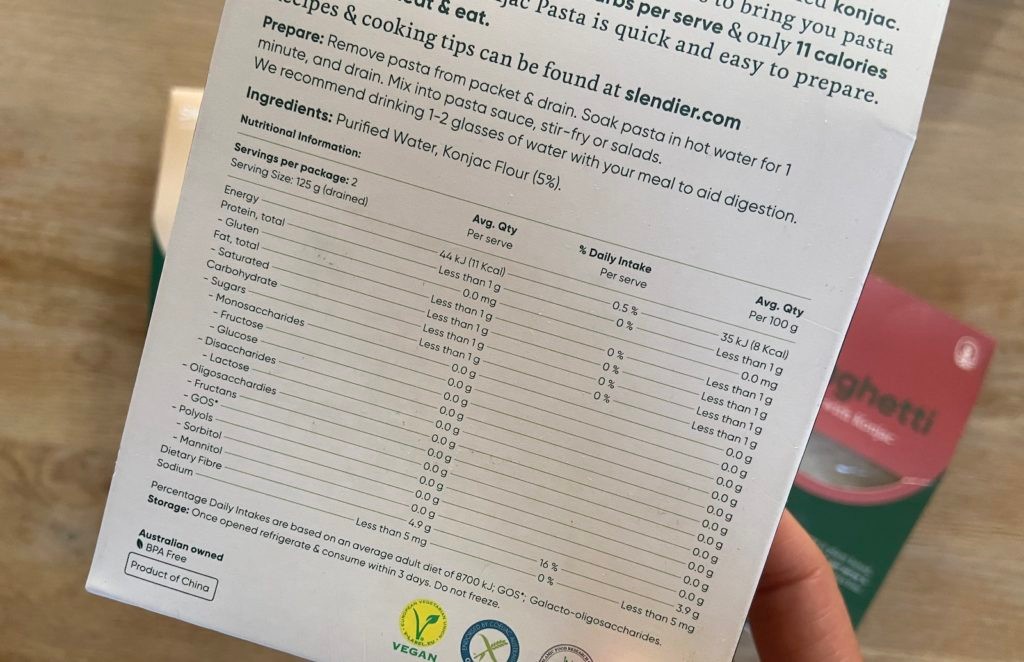 Calories
Konjac contains fewer calories than rice noodles which is why the konjac noodles are marketed as a 'slim' product for those looking to lose weight.
Konjac noodles contain approximately 35 kJ (8 kcal) per 100g. Rice noodles, on the other hand, contain about 1505 kJ (359 kcal) per 100g.
Macronutrients
Konjac noodles contain considerably fewer carbohydrates than rice noodles and they are virtually all fibre and water. The carb content alone makes konjac a good option for those missing a bowl of pasta or noodle dish while on a low-carbohydrate or keto diet.
Konjac noodles contain less than 2g of carbohydrates per 100g versus rice noodles containing approximately 80g per 100g.
One thing to keep in mind is that konjac is comprised of short-chain carbohydrates that are fermented in the intestines. This can have a lot of benefits including improved insulin sensitivity, increased energy production, increased fat oxidation and improved digestion. However, it can be problematic for some people, particularly FODMAP-sensitive individuals causing digestive upset such as stomach pains, bloating, cramps and flatulence.
In fact, anyone who consumes konjac products frequently and in large portions may suffer from digestive discomfort.
Both konjac noodles and rice noodles contain virtually no fat (<1g per 100g) or protein. Rice noodles do contain more protein than konjac noodles at 1.6g per 100g, but it's not significant enough to rely on as a protein source.
Konjac is praised for its high soluble dietary fibre content. At approximately 4g per 100g, it does contain more dietary fibre than rice noodles.
The konjac root fibre is known as glucomannan and may help reduce total and low-density lipoprotein (LDL) cholesterol levels. From a weight-loss perspective, glucomannan is popular for its ability to make you feel fuller and suppress your appetite. This is due to its ability to absorb water to form a gel before moving very slowly through the digestive system.
Note:
Most research into the health benefits of glucomannan have studied supplements, not noodles. While you may feel full and combat your carbohydrate cravings with a bowl of konjac noodles, you may not see any improvement in your cholesterol or insulin markers.
Micronutrients
Konjac noodles are void of micronutrients other than a small amount of calcium. That's no surprise considering they are about 95% water.
Rice noodles do contain several micronutrients, although in small quantities, including iron, magnesium, calcium and sodium.
To sum up – you won't want to rely on either konjac noodles or rice noodles for their nutrients. It's what you combine them with that will determine how nutritionally balanced your meal is.
Where to Buy Konjac Noodles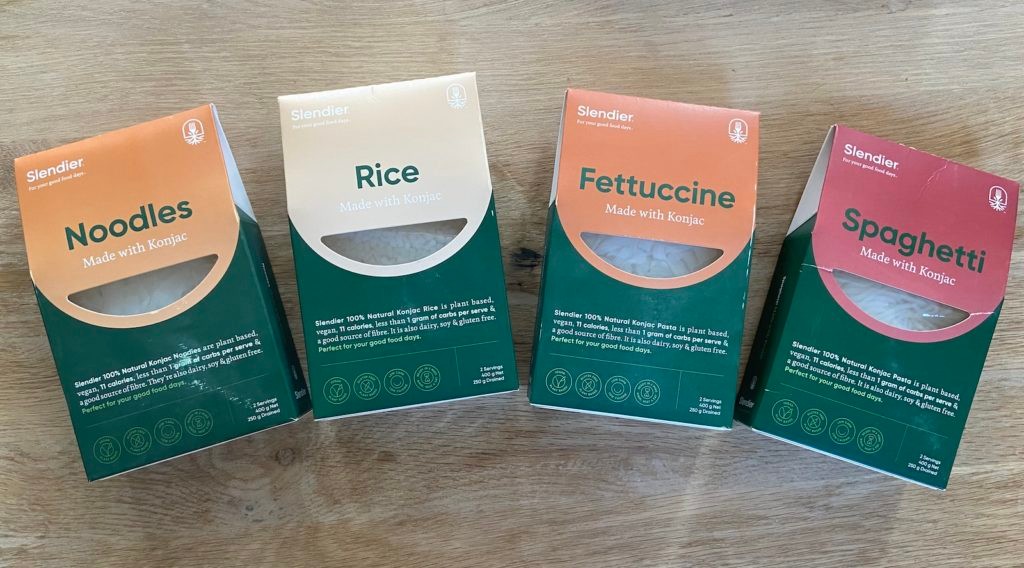 Most leading supermarkets such as Coles and Woolworths will stock at least one brand of konjac noodles. You may also find konjac noodles in speciality stores such as a health food shop or even on Amazon.
Chang's and Slendier are the most commonly stocked brand of konjac noodles.
Slendier also has a collection of pasta and rice products in their konjac range all containing just purified water and konjac flour. The flavour is the same, it's just the form that differs.
Are konjac noodles keto-friendly?
As the carbohydrate content is virtually non-existent, konjac noodles are keto-friendly.
A standard 83g serve of konjac noodles contains just 2g of carbohydrates and can easily fit into even the strictest of keto carb limits of 20g per day.
As konjac noodle popularity grows, some brands are producing ready-made konjac meals. If you are eating a low-carb diet, you'll have to watch the additional ingredients such as sauces, sweeteners and starchy vegetables don't take you over your carb limit.
Warning:
Keto-dieters should also watch for the addition of soy products, such as tofu, in pre-made konjac meals as soy is not a keto-approved ingredient.
Simple Konjac noodle recipes for busy people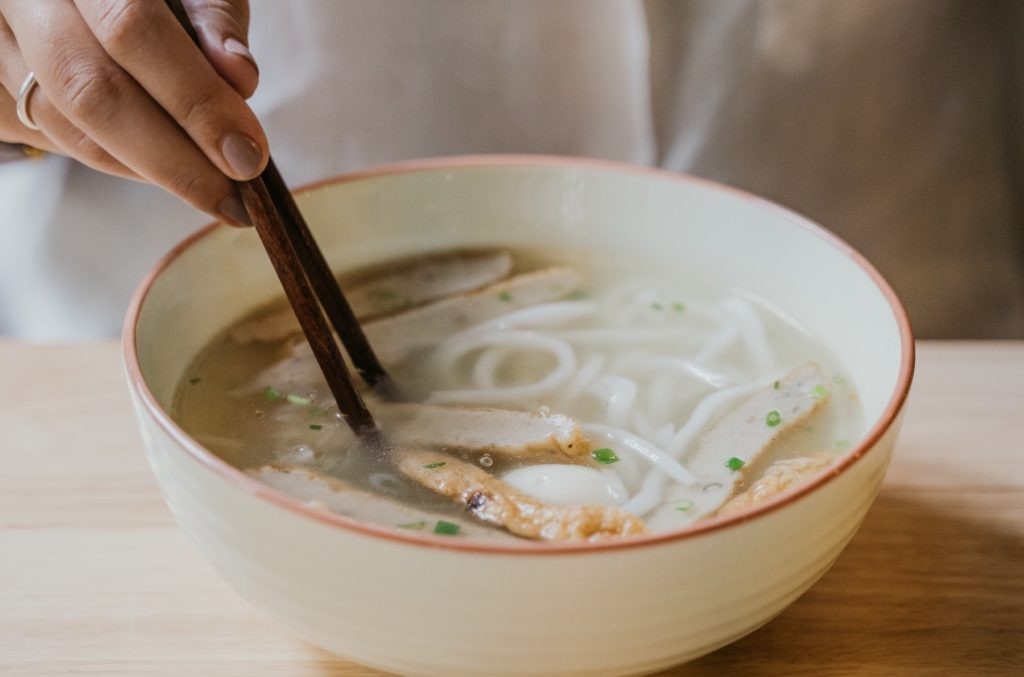 One of the benefits of konjac noodles and rice is how quick and easy they are to prepare.
If you're looking for a simple mid-week recipe or a meal for on the go, take a look at these recipes.
Konjac Noodle Salad
Ingredients
1 packet of konjac noodles
2-3 cups of Asian salad mix
1-1.5 cups of cooked chicken, shredded
Fresh mint, roughly chopped
1 tsp lime juice
1 tbsp fish sauce
1 tbsp rice vinegar
1 tsp garlic
1 tsp honey
Fresh chilli sliced, optional
Method
Rince the konjac noodles and allow them to drain well.
In a small bowl, mix the lime juice, fish sauce, rice vinegar, garlic, honey and fresh chilli, if using.
In two bowls, arrange the noodles, salad mix and chicken. Drizzle over the dressing and garnish with mint.
Stirfry Konjac Rice with Prawns
Ingredients
1 Packet of konjac rice
2 cups of raw prawns, shelled
2 spring onions, finely diced
3 garlic cloves, diced
1 tsp of grated ginger
2 cups of greens of choice (I use broccolini, choy sum and wombok)
2 Tbsp soy sauce more to taste
2 Tbsp oyster sauce more to taste
1 tsp sriracha chilli sauce optional
1 tsp coconut oil
Method
Rinse and drain the konjac rice.
Heat a large pan over medium heat. Add the rice and fry for a couple of minutes. Remove and set aside.
Add the coconut oil and fry the whites of the spring onion, garlic and ginger for 1-2 minutes.
Add the greens and stir fry for 2-3 minutes. If needed, add a dash of water to help steam.
Add the prawns. Cook the prawns until pink.
Pour in the sauces. Taste and adjust if needed.
Stir in the konjac rice and garnish with the green tops of the spring onions.
Konjac Noodle Broth
Ingredients
1 packet of konjac noodles
2 cups of chicken or vegetable broth
2x garlic cloves, minced
1/4 tsp ginger, grated
1 tbsp tamari
2 spring onions, finely sliced
4 bok choy leaves, finely sliced
1 chicken breast or flank steak, thinly sliced.
Handful of coriander
Method
Rinse and drain konjac noodles as per the instructions.
In a pot, add the broth garlic, ginger and tamari. Bring to the boil.
Allow to simmer for approximately 15 minutes before adding the bok choy leaves and spring onions.
Add the chicken or steak and simmer for a few minutes or until cooked.
Remove from the heat and stir through the konjac noodles before serving them into bowls and topping with coriander.
Are there side effects of konjac noodles?
Konjac noodles contain glucomannan which is a viscous type of soluble fibre. This form of fibre ferments into short-chain fatty acids which have a diverse range of health benefits.
But as with many high fibre products, mild digestive issues can be a result such as:
Abdominal pain
Bloating
Nausea
Flatulence
Diarrhoea
It's important not to overeat konjac products and when you do try them out, start slowly increasing your portion over time. This is especially important if you suffer from digestive upset such as irritable bowel syndrome (IBS) or are not used to consuming dietary fibre regularly.
Why was it banned in Australia in the past?
In Australia, konjac root supplements were banned in 1986. This was due to the increased risk of choking as konjac absorbs water and doesn't dissolve readily, and the potential for obstruction of the abdomen.
In 2002, jelly cups containing konjac were temporarily banned due to the increased risk of choking, particularly for children. Later, the Australian Government applied a permanent ban on any mini-cup jelly confectionery products containing konjac.
Konjac noodles, pasta and rice are permitted to be sold throughout Australia.
Are the 'miracle noodles' too good to be true?
Dubbed the 'miracle noodles' due to their zero calorie and low carbohydrate content, as well as their ability to help suppress your appetite, konjac noodles may seem too good to be true.
As a nutritionist, I'm always on the lookout for whole food products that can help support people's health goals and make healthy eating more enjoyable. Konjac noodles may be a good addition to your balanced diet with some considerations. Here are a few of my thoughts on konjac products:
Konjac noodles are gluten-free, vegan, low-carb and keto-friendly but they don't contain any nutrients other than fibre so you want to make sure what you pair them with is nutritionally dense.
They are quick and easy to prepare which is great for those with limited skills or time to cook. They simply need to be drained and rinsed under warm running water.
It's great that most of the konjac products only contain konjac and water, but be mindful of the additional ingredients used in pre-made konjac meals.
If you experience digestive upset, it's likely due to konjac's high fibre content. If you're not on a low FODMAP diet, introduce these slowly and enjoy a small portion as your digestive system adapts to more fibre.
Note:
People consume konjac noodles purely as a way to reduce their calorie intake and fill them up. Some even use the strategy of adding them into their smoothies to prevent hunger (I don't recommend this!). But remember, konjac noodles provide nothing but fibre and I would argue, that the taste and texture aren't overly pleasant!
Konjac Noodle Cooking Tips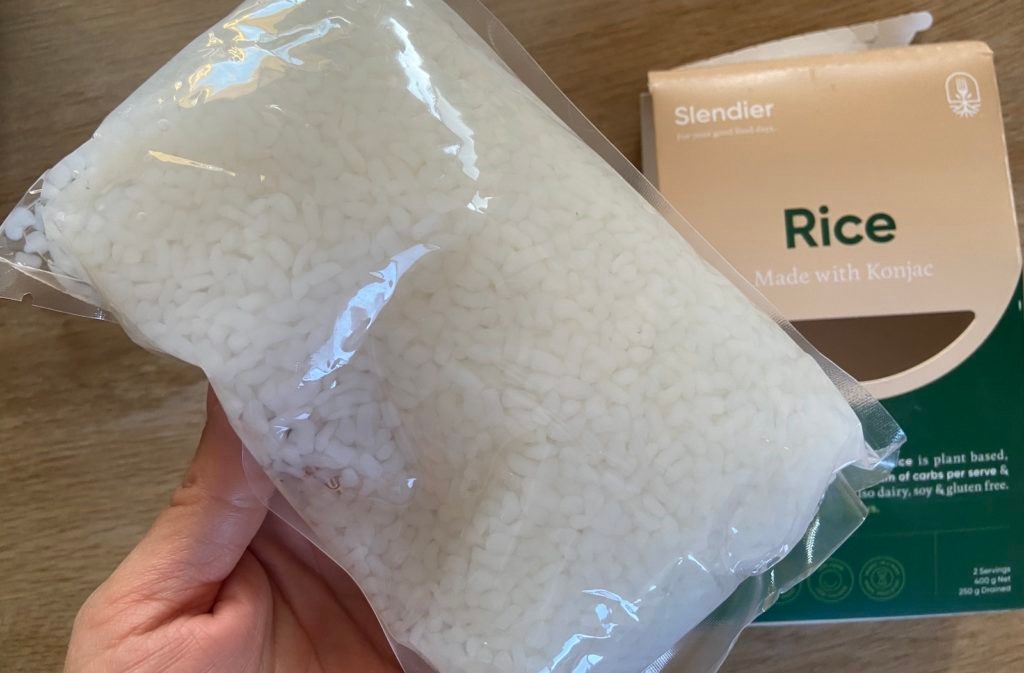 Konjac noodles, rice and pasta generally come packed in liquid and they can get very gelatinous and gluggy. Some people note the texture can be a bit rubbery.
So there are a few tips I recommend to avoid being put off by the texture:
Don't be put off by the fishy smell, this dissipates once rinsed.
Allow them to dry well before adding to the dish otherwise, they can be a bit wet.
You can stirfry the konjac rice or noodles before putting them into a hot, dry pan (no oil). Then add them to your dish at the last minute.
If you find the noodles rubbery, boil them for 2-3 minutes before adding them to your dish.
Konjac noodles absorb a lot of liquid, so you may like to add additional sauce or seasoning.
I prefer them in Asian-inspired dishes rather than as a pasta replacement. They don't hold a bolognese sauce, for example, as well as traditional pasta. If you're looking for a healthier alternative to wheat pasta, I would always suggest a lentil or buckwheat pasta as a substitute.
Konjac noodles, rice or pasta can not be frozen.
Konjac noodles are made from konjac yam grown in parts of Asia.
Konjac noodles are virtually zero calories, contain very little carbs, are keto-friendly, gluten-free and vegan.
Konjac noodles can be helpful for your weight loss goals and suppressing your appetite, however, they contain very little nutrients so shouldn't be a main feature of your diet.
Health benefits of konjac are associated with the glucomannan fibre content with most studies assess the benefits of supplements, not konjac noodles.