🏡 Lifestyle
7 Healthy, Cheap & Cheerful Dinner Recipe Ideas For Couples (All Under $5 Per Serve!)
Eating for two? Trying to kick some 2021 health goals while on a budget? Well, we have just the article for you. Here are 7 healthy, cheap & cheerful dinner recipes for couples on a budget (all under $5 per serve!)
UPDATED ON Jul 12, 2022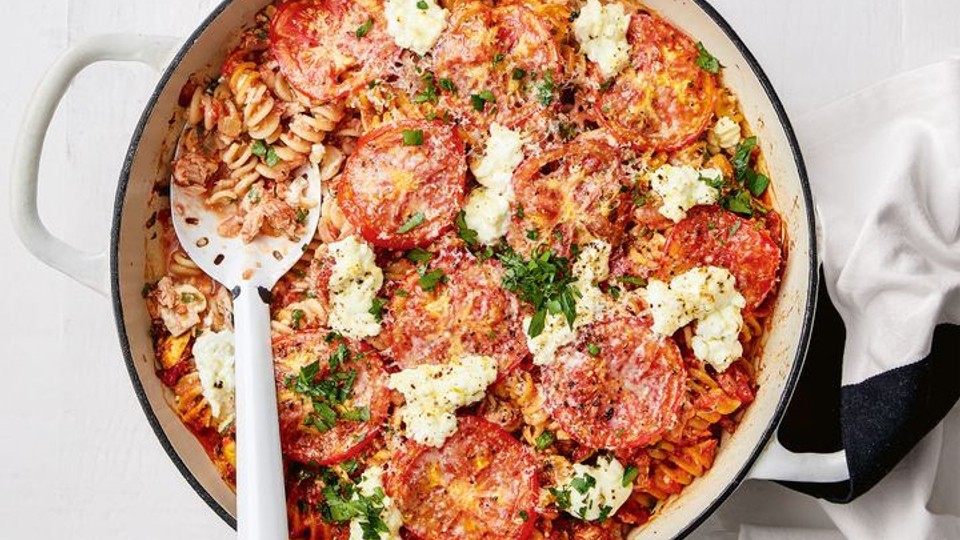 New year, new you, right? For most humans out there, the start of the new year signals a fresh start in many aspects of life – from getting fit and healthy, to becoming better at budgeting and saving money, to meditating daily (one of my personal goals this year!) and so on. As it just so happens, eating better and saving money are two very common new year goals, which is why we thought we'd put together a nutrition guide for budget-friendly and healthy dinner ideas for each night of the week (that's not your typical and boring stir fry). These recipes aren't necessarily for the whole family, but they're great for couples, with all meals making enough for two serves. And, the best part, all the following recipes come in at under $5 per serve. Healthy? Tick. Wallet-friendly? Tick! Check them out below, and if you try a recipe, leave us a comment and tell us how it went!
Monday – Roast Chicken & Sweet Potatoes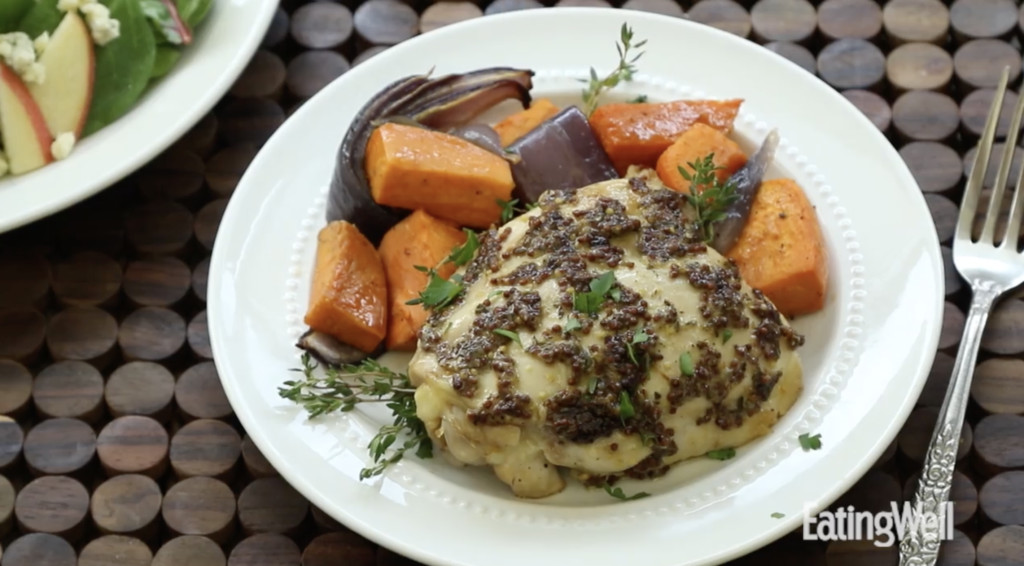 Total time: 45 mins
Servings: 2
Calories per serve: 408kcal
Nothing says Monday night like a delicious crispy roast chicken with sweet potatoes! This dinner recipe is simple to make, healthy, and a tasty way to start your week. This recipe comes from EatingWell.
Ingredients
1 tablespoon whole-grain or Dijon mustard
1 tablespoon chopped fresh thyme or 2 teaspoons dried
1 tablespoon extra-virgin olive oil, divided
1/4 teaspoon salt, divided
1/4 teaspoon freshly ground pepper, divided
750g bone-in chicken thighs, skin removed
1 medium sweet potato, peeled and cut into 1-inch pieces
1/2 large red onion, cut into 1-inch wedges
Method
Preheat oven to 230 degrees C. Place a large rimmed baking sheet in the oven to preheat.
Combine mustard, thyme, 1 tablespoon oil and 1/4 teaspoon each salt and pepper in a small bowl; spread the mixture evenly on chicken.
Toss sweet potatoes and onion in a bowl with the remaining 1 tablespoon oil and 1/4 teaspoon each salt and pepper. Carefully remove the baking sheet from the oven and spread the vegetables on it. Place the chicken on top of the vegetables.
Return the pan to the oven and roast, stirring the vegetables once halfway through, until the vegetables are tender and beginning to brown and chicken thigh is done (about 30 to 35 minutes)
Remove from oven and serve immediately.
Tuesday – Chicken Hummus Bowl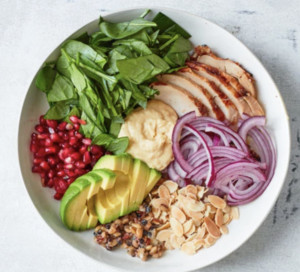 Prep: 20 mins
Serves: 2
Calories per serving: 779kcal
Here's a quick and tasty meal you can whip up in 20 minutes! It's got plenty of protein, healthy fat, carbs and veggies. And, you can easily substitute different veggies, nuts and seeds to your liking. This recipe comes from BBC Good Food.
Ingredients
200g hummus
1 small lemon , zested and juiced
200g mixed grains (quinoa works well)
150g baby spinach , roughly chopped
1 small avocado , halved and sliced
750 chicken breast
100g pomegranate seeds
½ red onion, finely sliced
2 tbsp toasted almonds
Method
Cook your chosen grain as per instructions on the packet.
Heat a teaspoon of olive oil in a medium pan over medium heat, place chicken breasts in and cook until edges are opaque (about 10 minutes. Flip to the other side, then cover the pan, lower the heat and cook for another 10 minutes.
Mix 2 tbsp of the hummus with half the lemon juice, the lemon zest and enough water to make a drizzly dressing.
Divide cooked grains into two bowls. Toss through the dressing. Top each bowl with a handful of the spinach.
Squeeze the remaining lemon juice over the avocado halves, then add one half to each bowl.
Slice cooked chicken at an angle and place in the bowl. Divide pomegranate seeds, onion, almonds and remaining hummus between the two bowls and gently mix everything together just before eating.
Wednesday – Tuna Bake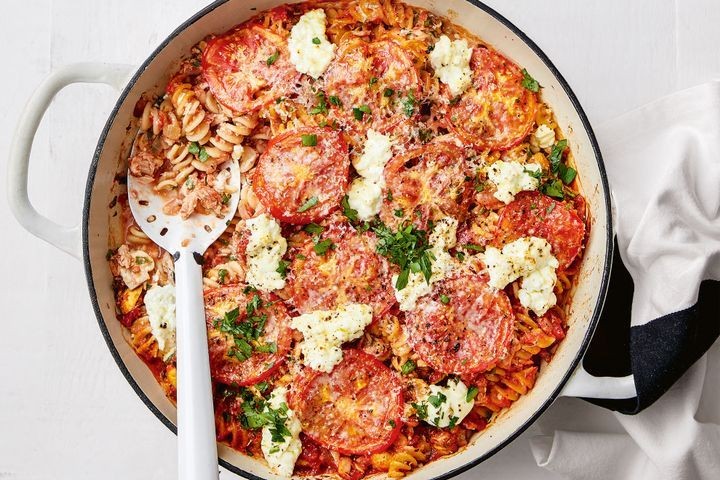 Prep: 20 min
Cook: 20 min
Serves: 6
Calories: 372kcal
Nothing says comfort food and a weeknight dinner like a good old pasta dish, especially tuna bake. It's easy, cheap and personally, reminds me of my childhood. Without fail, my mum would cook tuna bake at least once per week! This tuna bake recipe actually serves 6, but it can easily be put in the freezer to eat at a later date or refrigerated for lunch the next day. This recipe comes from Taste of Home
Ingredients
3 tablespoons butter, divided
4 medium carrots, chopped
1 medium onion, chopped
1 medium capsicum, chopped
1 cup sliced baby mushrooms
300g tuna (your choice!)
2 cups fresh baby spinach
1 cup frozen peas
3 cups uncooked spiral pasta
1 tablespoon all-purpose flour
2/3 cup chicken broth
1/3 cup cream
1/2 cup shredded Parmesan cheese
3/4 teaspoon salt
1/4 teaspoon pepper
Method
In a large skillet, heat 1 tablespoon butter over medium-high heat. Add carrots, onion, capsicum and mushrooms. Cook and stir until tender, 8-10 minutes. Add tuna, spinach and peas; cook until spinach is just wilted, 2-3 minutes.
Meanwhile, cook pasta according to package directions for al dente. Drain pasta, reserving 1 cup pasta water. In a large bowl, place pasta and tuna mixture; toss to combine. Wipe skillet clean.
In the same skillet, melt remaining butter over medium heat. Stir in flour until smooth; gradually whisk in broth and cream. Bring to a boil, stirring constantly; cook and stir until thickened, 1-2 minutes, adding reserved pasta water if needed. Stir in cheese, salt and pepper. Pour over pasta; toss to coat.
Thursday – Peanut Noodle Salad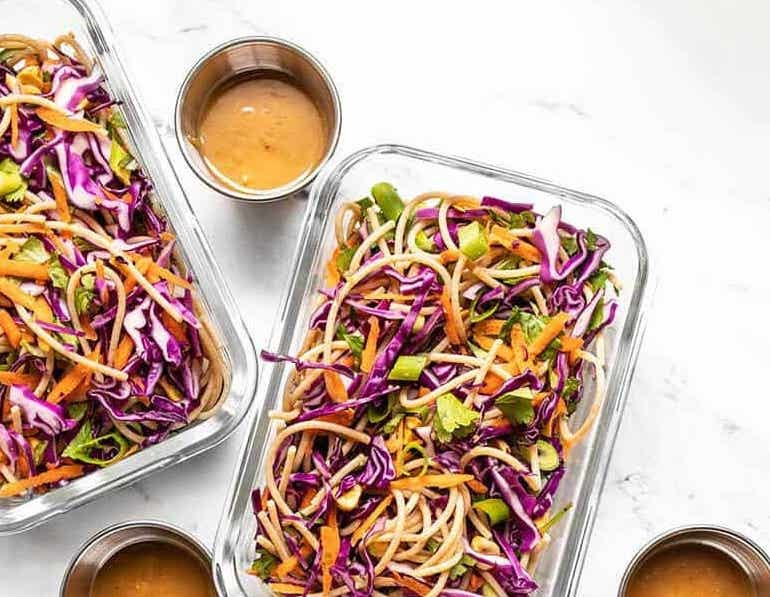 Prep Time: 20 mins
Cook Time: 10 mins
Serves: 2
Calories: 637kcal
This healthy meal from Budget Bytes is perfect for a weeknight. Come Thursday, you're probably not too keen to be in the kitchen. Hey, it's almost Friday and it's been a long week – you're forgiven. The following peanut noodle salad recipe is meatless, super quick to whip up, is low-carb and low-fat, and makes for great leftovers, too.
Ingredients
PEANUT LIME DRESSING
1.5 Tbsp natural-style peanut butter
1/2 Tbsp brown sugar
1/2 clove garlic, minced
1/4 tsp grated fresh ginger
1tbsp lime juice
1 tsp soy sauce
2tbsp olive oil
SALAD
110g spaghetti (wholewheat, if possible)
2 cups finely shredded red cabbage
1 carrot
1/4 cup chopped coriander
2 green onions
1/4 cup peanuts, chopped
Method
To make the peanut lime dressing, combine all the ingredients in a bowl or blender. Whisk or blend until smooth. Set the dressing aside.
Bring a pot of water to a boil for the whole wheat spaghetti. Break the spaghetti in half to make it easier to stir into the salad ingredients later. Once the water is boiling, add the spaghetti, and continue to boil until the pasta is tender. Drain in a colander and rinse it briefly with cold water to cool it off. Let the pasta drain well.
Meanwhile, shred the cabbage as finely as possible using either a knife or the shredding attachment of a food processor. Shred the carrots using a large-holed cheese grater. Roughly chop the cilantro and peanuts. Slice the green onion.
Combine the cooled and well-drained pasta in a large bowl with the cabbage, carrots, coriander, green onion, and peanuts. Toss the salad until the ingredients are evenly combined.
Serve the salad and peanut lime dressing immediately.
Friday – Prawn & Salmon Burgers with Spicy Mayo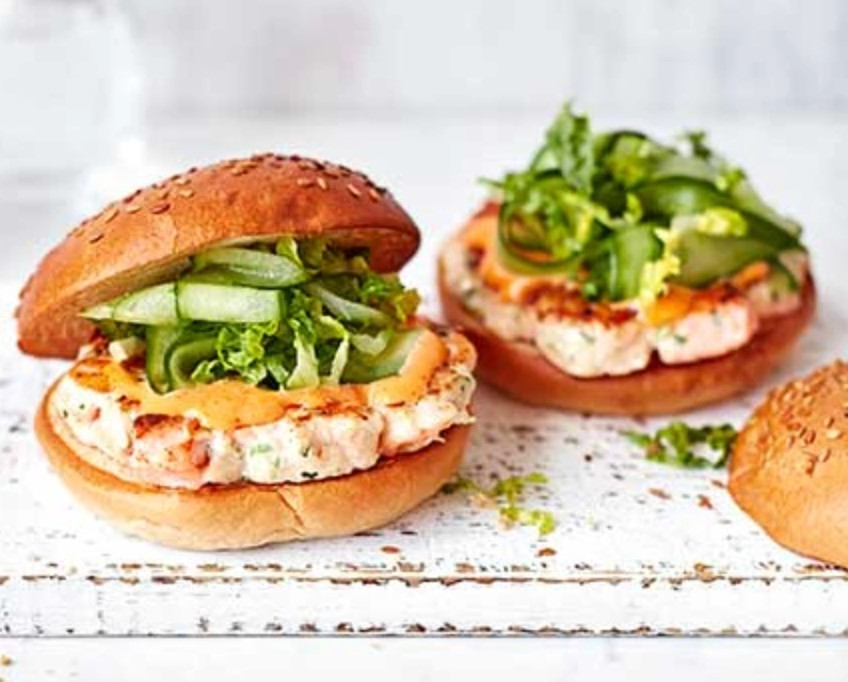 Prep & Cook: 30 mins
Serves: 2
Calories: 504kcal
Another banger from BBC Good Food. You made it to Friday, go you good thing. Chances are, you're feeling like you want to treat yourself, right? There's no need to order a burger from UberEats when you can whip up this delicious prawn and salmon burger with spicy mayo.
Ingredients
40g peeled raw prawns, roughly chopped
2 skinless salmon fillets, chopped into small chunks
1.5 spring onions, roughly chopped
1/2 lemon, zested and juiced
small pack coriander
30g mayonnaise or Greek yogurt
2 tsp sriracha
1 Little Gem lettuces, shredded
1/2 cucumber, peeled into ribbons
1/2 tbsp olive oil
2 seeded burger buns, toasted, to serve (gluten-free, if needed)
Method
Briefly blitz half the prawns, half the salmon, the spring onions, lemon zest and half the coriander in a food processor until it forms a coarse paste. Tip into a bowl, stir in the rest of the prawns and salmon, season well and shape into two burgers. Chill for 10 mins.
Mix the mayo and chilli sauce together in a small bowl, season and add some lemon juice to taste. Mix the lettuce with the cucumber, dress with a little of the remaining lemon juice and 1 tsp olive oil, then set aside.
Heat the remaining oil in a large frying pan and fry the burgers for 3-4 mins each side or until they have a nice crust and the fish is cooked through.
Serve with the salad on the side or in toasted burger buns, if you like, with a good dollop of the spicy mayo.
Saturday – Vegan Coconut Chickpea Curry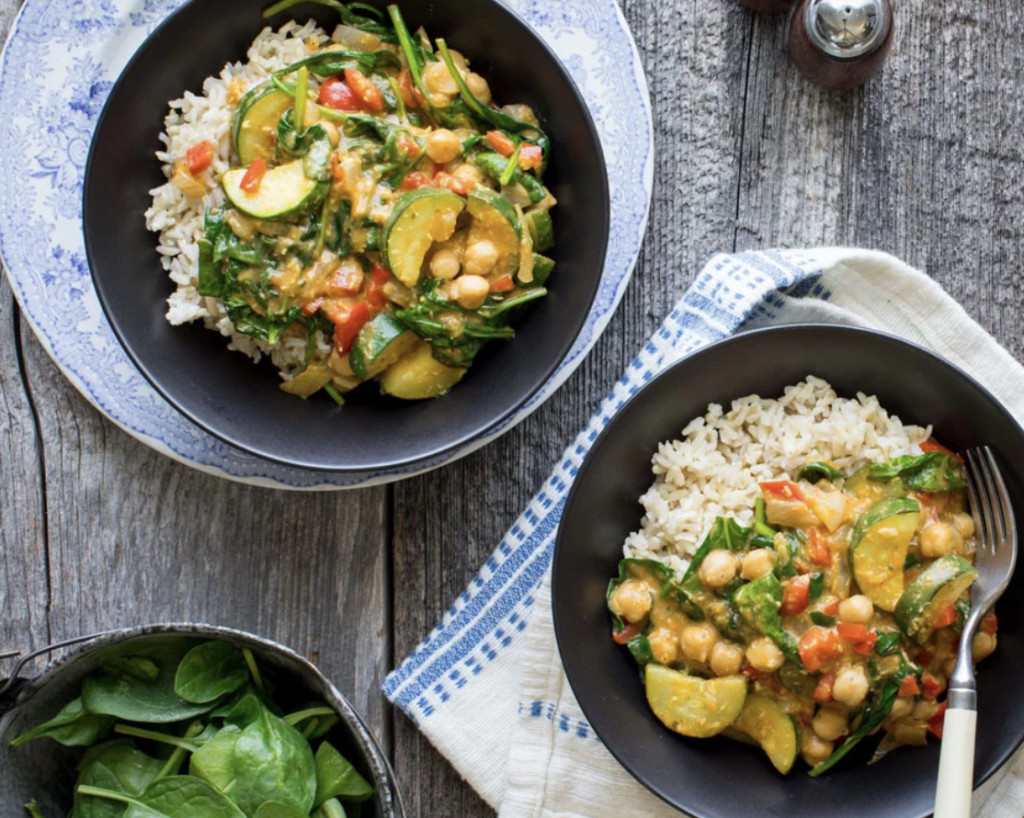 Prep and Cook time: 20 mins
Servings: 2
Calories: 471kcal
If you're not heading out this Saturday night (good for you for staying Covid safe!), you probably want to eat something you can easily put together in the kitchen. Say no more. This veg-filled, Vegan Coconut Chickpea Curry from EatingWell should do the trick. You can even treat yourself to a glass of white wine, too.
Ingredients
1 teaspoon avocado oil or canola oil
1/2 cup chopped onion
1/2 cup diced capsicum
1/2 medium zucchini, halved and sliced
1/2 can chickpeas, drained and rinsed
1 cups coconut curry simmer sauce
1/4 cup vegetable broth
2 cups baby spinach
1 cup green beans
1 cup precooked brown rice, heated according to package instructions
Method
Heat oil in a large skillet over medium-high heat. Add onion, pepper and zucchini; cook, stirring often, until the vegetables begin to brown, 5 to 6 minutes.
Add chickpeas, simmer sauce and broth and bring to a simmer, stirring. Reduce heat to medium-low and simmer until the vegetables are tender, 4 to 6 minutes. Stir in spinach just before serving. Serve over rice.
Sunday – Pesto-Prosciutto Flatbread Pizza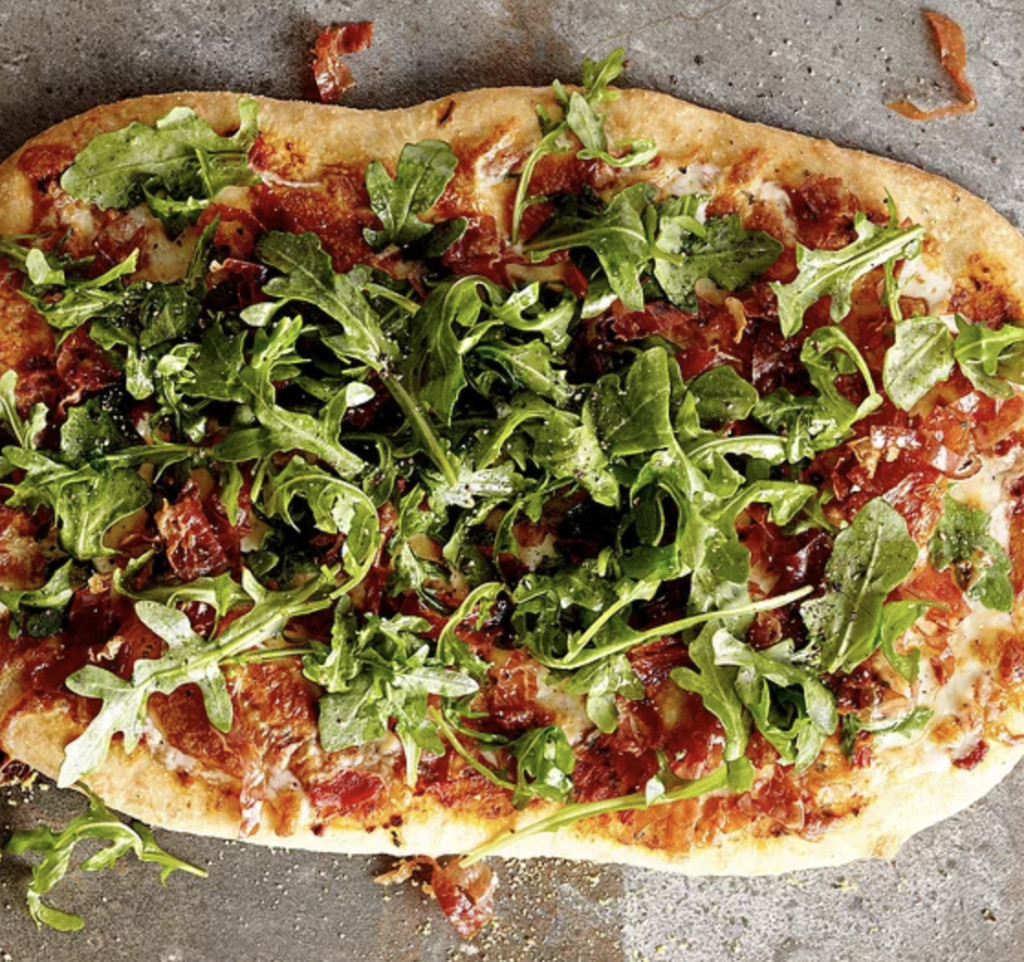 Prep: 20 mins
Cook: 16 mins
Servings: 6
Calories: 352kcal
Growing up, Sunday night was always homemade pizza night at my household. When we think pizza we don't necessarily think healthy, but there are plenty of ways to make healthy pizza. This pesto-prosciutto flatbread pizza is tasty and healthy, especially if you make your own flatbread. This recipe comes from Better Homes & Gardens, and you can make your own healthy Keto flatbread – follow this quick and easy recipe here).
Ingredients
Flatbread (store-bought or home made)
2 tablespoons olive oil
100g thinly sliced prosciutto, cut into strips
3 tablespoons dried tomato pesto
4 ounces provolone cheese, shredded (1 cup)
1 tablespoon lemon juice
1 cup baby arugula
Method
Preheat oven to 230°C. On a lightly floured surface roll and stretch the dough into a 12×8-inch rectangle or oval. Lightly brush with olive oil and cover with plastic wrap.
In a large skillet heat 1 Tbsp. oil over medium heat. Add prosciutto. Cook, stirring occasionally, until browned and crisp. Remove to paper towels to drain.
Spread pesto over dough. Sprinkle with prosciutto and cheese. Bake about 16 minutes or until crust is golden brown.
In a medium bowl whisk together the remaining 1 Tbsp. olive oil and lemon juice. Add arugula and toss to coat. Top pizza with arugula mixture.