🏡 Lifestyle
5 Tasty Meals For Couples All Under 500 Calories
Cooking for two can be a whole heap of fun, but it's easy to get carried away each night with delicious meals laden with sauces and added calories. But fear not, there are plenty of tasty meals that are healthy and low-calorie. Here are 5 that are sure to tickle your tastebuds.
UPDATED ON Jul 12, 2022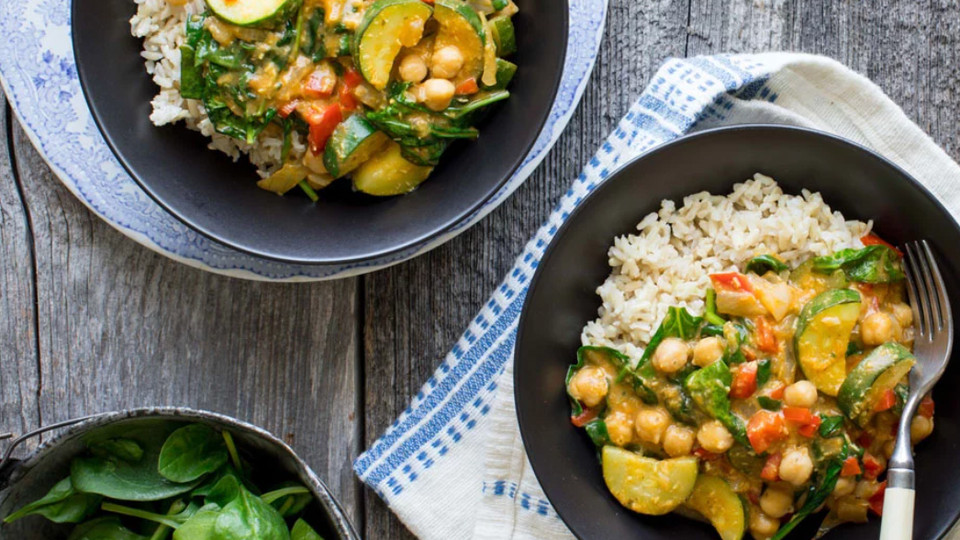 Cooking for one often isn't all that fun, but cooking for two, especially when you're both getting in the kitchen and helping bring a delicious meal to fruition, is one of life's greatest joys (at least for me, it is!) However, I know my partner and I are guilty of adding one too many tablespoons of sugar, or extra splashes of oil and sauce to make the meal extra tasty – but by extension, extra calorific as well. Now, I'm not saying a meal heavy in calories is bad, but if you're watching your weight or trying to lose weight, it's important you keep your calories under control. That's why I've put together this article with five scrumptious meals that are all under 500 calories. And yes, I promise, I've tried a few of these myself and they are incredibly filling and delicious. Check 'em out below.
1. Vegan Coconut Chickpea Curry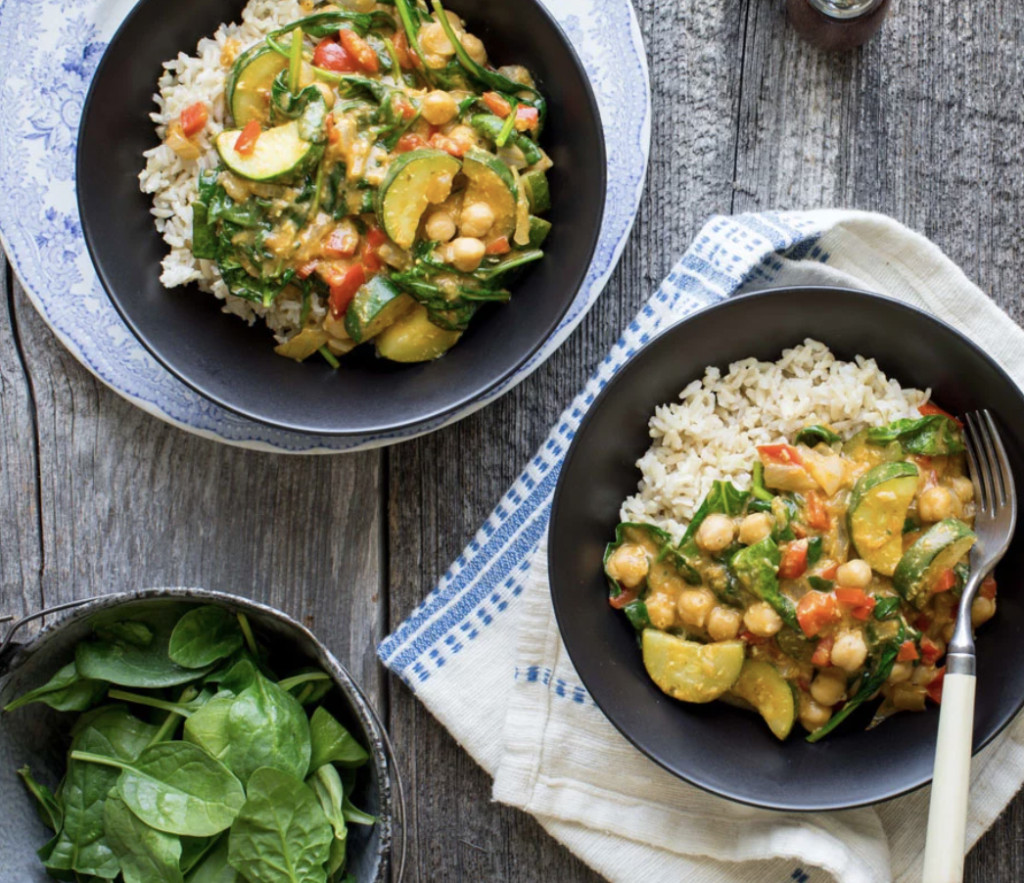 For the vegan couples out there why not give this banging vegan coconut chickpea curry a go? It's under 500 calories and better yet, all up takes 20 minutes to make. Or, quick tip, if you buy pre-cut veggies, it'll be ready and in your belly even faster! Serve with brown rice or quinoa for a really filling and wholesome meal. To ensure the meal is under 500 calories, when shopping for a simmer sauce, look for one with 400mg of sodium or less. Also, double check there's no cream or fish sauce to keep it completely vegan.
Fast facts
Total time: 20 minutes
Serves: 4 (enough for leftovers!)
Serving size: 1.5 cups of curry and 0.5 cups of rice
Calories per serving: 471 cals
Protein: 10.9g
Carbs: 65.8g
Fat: 18g
Find the recipe over at Eating Well.
2. Spanish Stir-Fry Chicken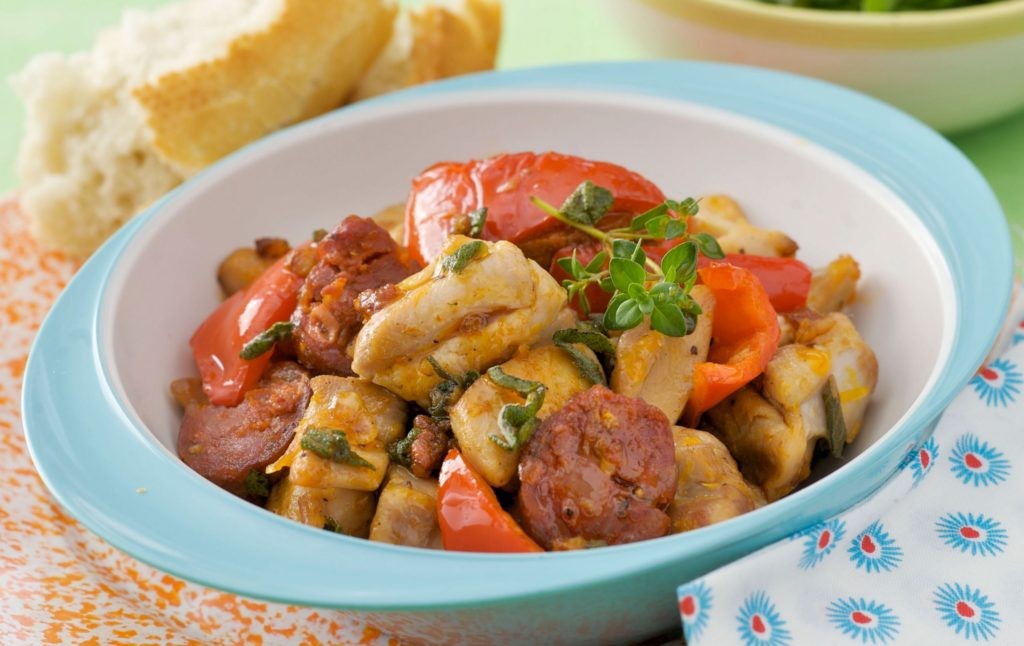 Spanish stir-fry chicken – need I say more? A dish that's packed with flavour, protein and Mediterranean zing that will make your tastebuds and your tummy happy. All you need is some chicken, chorizo, capsicum and lemon juice and you're good to go. You can add rice to the meal (but this will increase the calories), and you can also swap red capsicum for yellow capsicum if you prefer. A dash of Sriracha wouldn't go amiss in this recipe, either.
Fast facts
Total time: 15 minutes
Serves: 2
Calories per serving: 370 calories
Fat: 20g
Find the recipe at GoodtoKnow
3. Chicken Chilli Con Carne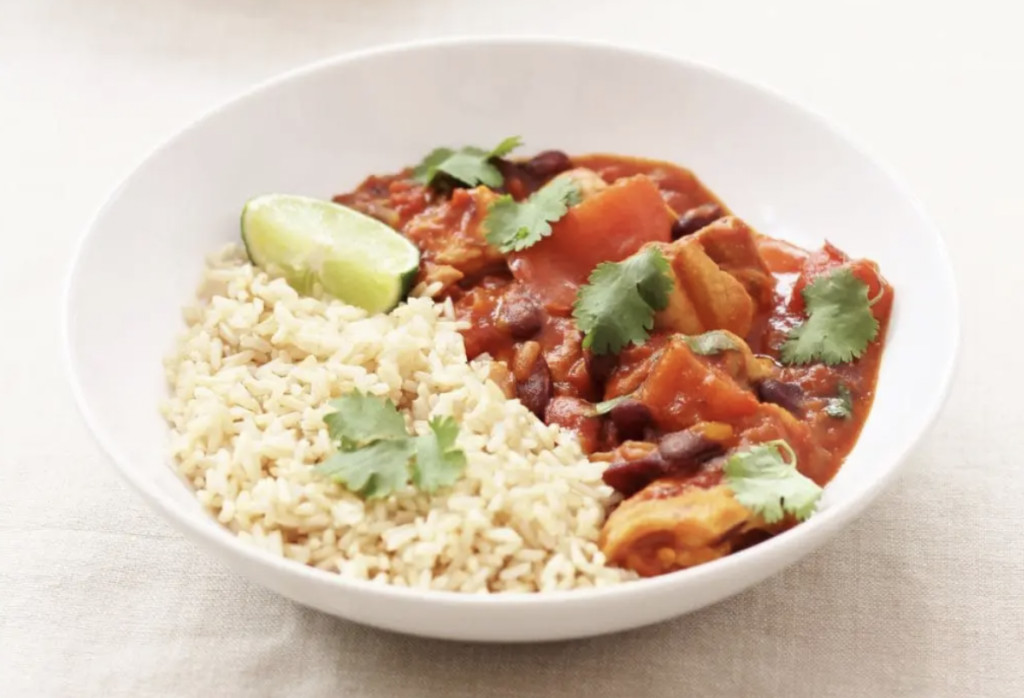 We all know and love beef chilli con carne, but the thing about beef is it takes a while to cook, and really, who has an hour to make a meal? Enter: chicken chilli con carne which takes an easy breezy 30 minutes to cook. Still packed with protein, still delicious as ever. You can serve this meal on brown rice, or in low-calorie tortillas. If you're feeling extra hungry, whip up some guac and salsa to go with it (but again, this will increase the calories). This meal is also suitable for freezing if you want to save it for another night later during the week.
Fast facts
Total time: 30 minutes
Servings: 4 people (yay, leftovers for lunch!)
Calories per serving: 360 calories
Protein: 35g
Carbs: 35g
Fat: 10g
Check out the recipe on Easy Peasy Foodie
4. Grilled Salmon with Salsa Verde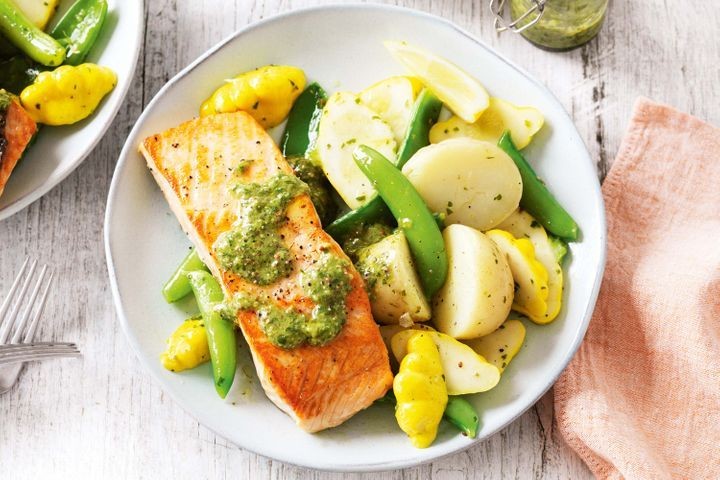 Grilled salmon with salsa verde has to be one of my favourite meals. The fattiness (good fat, of course) of the salmon paired with the citrusy and zesty flavours of salsa verde. It's so refreshing and so tasty, not to mention very easy to whip up. I'd recommend buying salmon directly from a fish shop for the ultimate meal, but supermarket salmon works too. With leftovers, I like to pan-fry the salmon with some eggs and veggies in the morning for a filling and protein-rich breakfast.
Fast facts
Total time: 25 mins
Serves: 4
Calories per serving: 498 calories
Fat: 28g
Protein: 33g
Carbs: 27g
Find the recipe on Taste.com.au
5. Chinese Tofu Chopped Salad With Orange Sesame Miso Dressing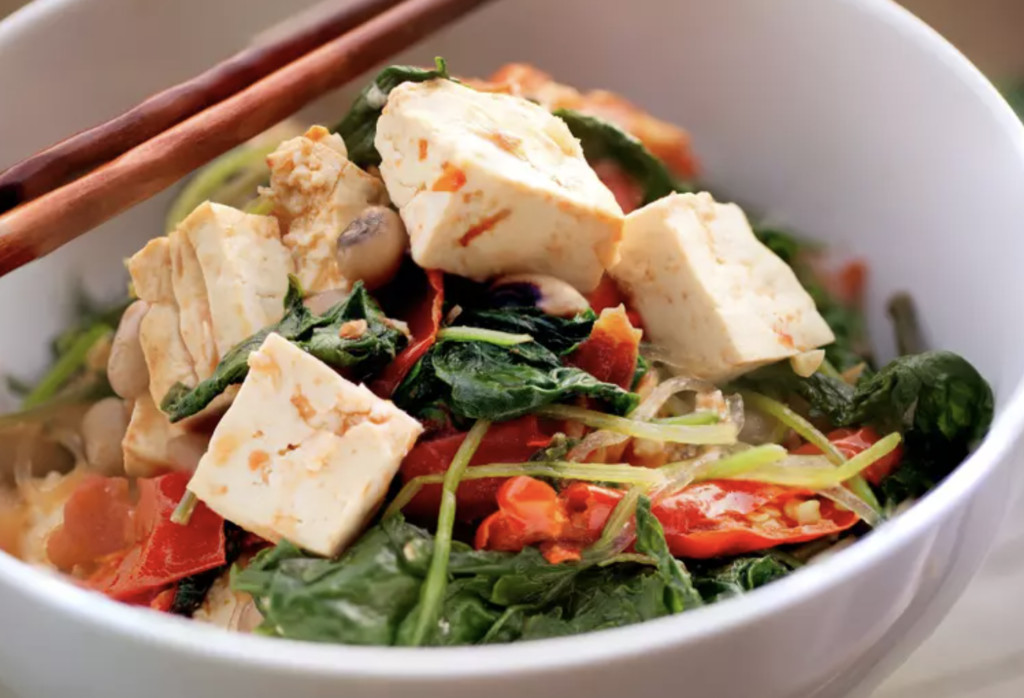 Another one for the vegan couples amongst us – a Chinese tofu chopped salad with orange sesame miso dressing. Sounds like something you'd order at your favourite Asian restaurant, right? This salad has it all – it's fresh, crunchy, sweet, and savoury. The tofu gives it a nice protein kick, and it's definitely a meal you can pack as your lunch the next day too. If you're not a fan of tofu, I imagine chicken or beef would be a great swap.
Fast facts
Total time: 40 mins
Serves: 4
Calories per serving: 324 calories
Find the recipe on The Daily Meal